Xbox 360 Featured Items

Borderlands: The Pre-Sequel - Xbox 360
Downloadable version also available
ESRB Rating: M - Mature
Genre: Shooter
Brand: 2K Games
Platform: Xbox 360
Model #: 710425494055
Item #: N82E16874113089
Return Policy: Consumable Product Return Policy

Ride to Hell Retribution Xbox 360
ESRB Rating: M - Mature
Genre: Action
Brand: Deep Silver
Platform: Xbox 360
Model #: 816819010648
Item #: N82E16874811011
Return Policy: Consumable Product Return Policy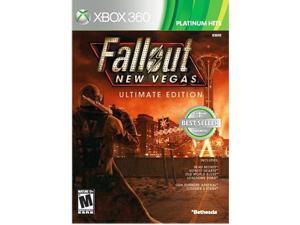 Fallout New Vegas Ultimate Collection Xbox 360 Game
ESRB Rating: M - Mature
Genre: Shooter
Brand: Bethesda
Platform: Xbox 360
Model #: 093155125919
Item #: N82E16874149058
Return Policy: Consumable Product Return Policy
Xbox 360
Microsoft broke the mold when it debuted the Xbox 360. The console is one of the best on the market and has only garnered further acclaim with the release of new features and games.
The Xbox 360 acts as a media hub. The device has apps for Hulu, Netflix, ESPN and HBO Go so you can watch almost any movie, television show or sporting event. The 360's optical drive can also play DVDs so you can view your entire collection if some titles aren't available over streaming services. Additionally, the console has music services like Slacker Radio.
The roster of games available for the console is even more impressive than its multimedia features. Almost every major franchise produces titles for the Xbox 360. Some of the most popular video game series like "Halo" are Xbox-exclusive, so consumers are out of luck if they don't own the console.
Building a game library can be expensive, but fortunately there are bundles that can help you save. There are deals that include the console and popular titles like "Halo 4," "The Elder Scrolls V: Skyrim," and "Forza Motorsport 4." Some collections even feature Kinect, Xbox's motion gaming hardware.
The Kinect turns gamers into the controllers. Through a camera, the Xbox 360 tracks movements to direct the action. Instead of button commands and joystick rotations, players can run, dance or perform any movement to control their avatars.
All the Xbox's games are even more entertaining when played online. You have to subscribe to Xbox Live, but you can choose the best plan for your needs. Many subscriptions are billed monthly, but you're offered discounts if you sign up for a longer period.