"My new favorite Echo device"
- TechCrunch
"The Echo Spot is a must - have."
-CNBC
"Amazon's best - looking Echo device to date." -Digital Trends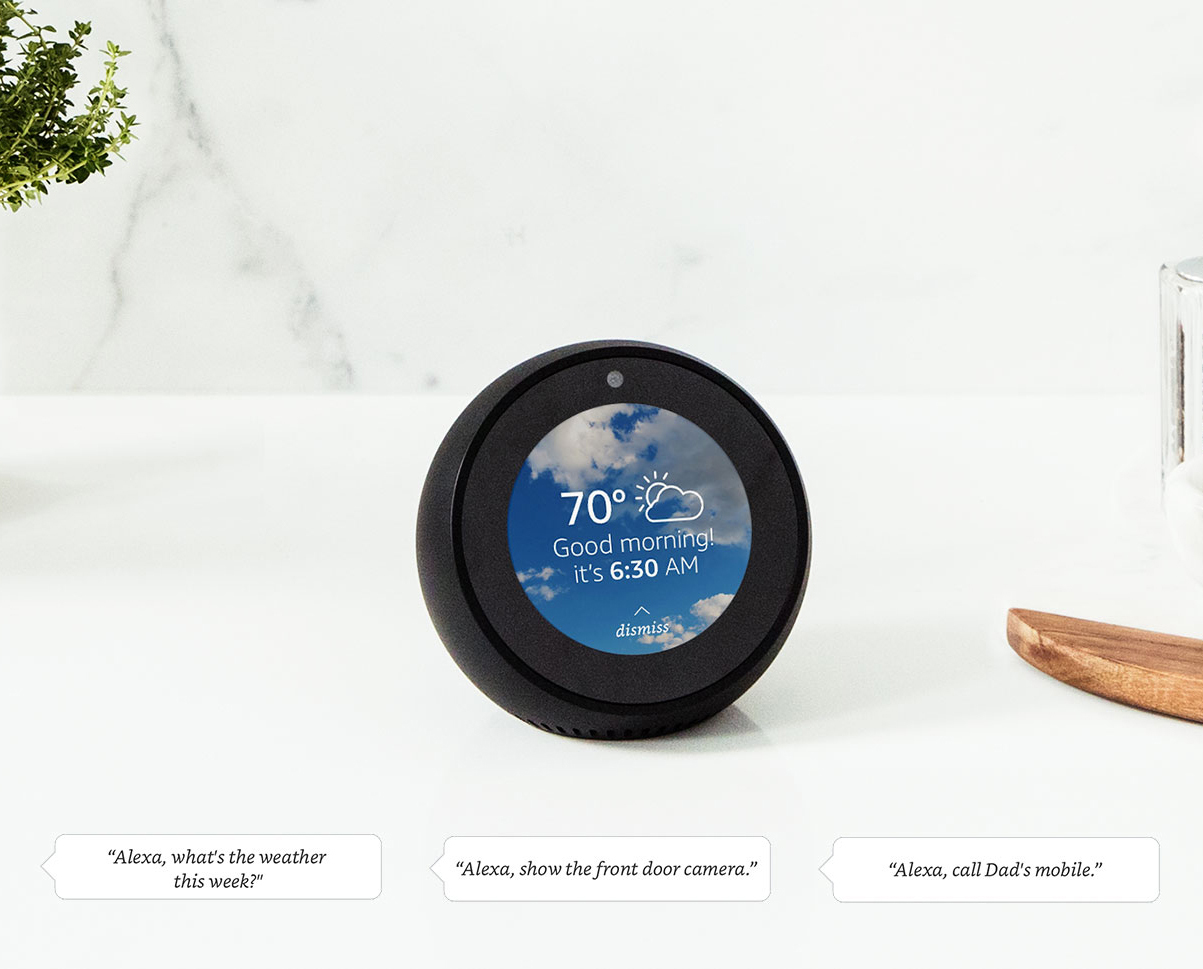 Echo Spot brings you everything you love about Alexa, in a stylish and compact design that can show you things. Just ask to see the weather, get the news with a video flash briefing, set an alarm, see lyrics with Amazon Music, see your calendar, browse and listen to Audible audiobooks, and more. Personalize your Spot with a collection of clock faces to suit your style or set a photo background from Prime Photos. Plus, make calls to friends and family or make video calls to anyone with an Echo Spot, Echo Show, or the Alexa App.
Echo Spot features far-field technology with four microphones, beamforming technology, and enhanced noise cancellation, so it can hear you from across the room-even while music is playing.
Minimalist design, maximum entertainment
Echo Spot provides hands-free voice control for your music. Watch as the display comes alive to show song lyrics, custom stations, curated playlists, and album art with Amazon Music. You can also listen to audiobooks from Audible, podcasts, radio stations, news briefs, and more.
Echo Spot also connects to Spotify, Pandora, iHeartRadio, and TuneIn-giving you voice control for all of your music. Echo Spot is Bluetooth-enabled so you can stream other popular music services like Apple Music from your phone or tablet.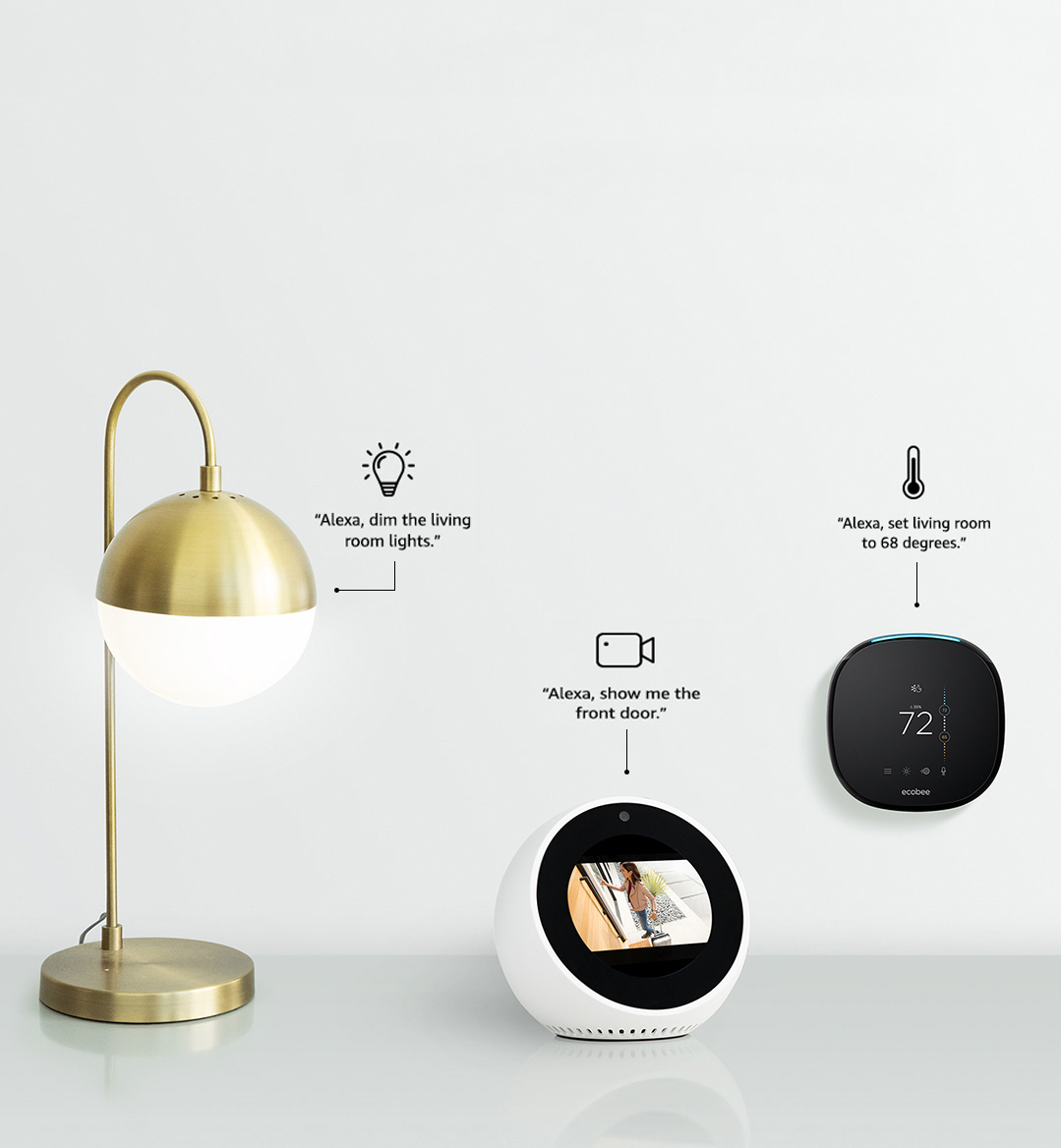 Control your smart home
Use Echo Spot to see a live camera feed from the nursery or your front door. Turn on the fan or dim the lights from the couch-all without lifting a finger. Control multiple devices at scheduled times or with a single voice command, like locking the doors and turning off the lights when you go to bed.
Echo Spot works with smart home devices such as cameras, lights, TVs, fans, thermostats, garages, sprinklers, and more.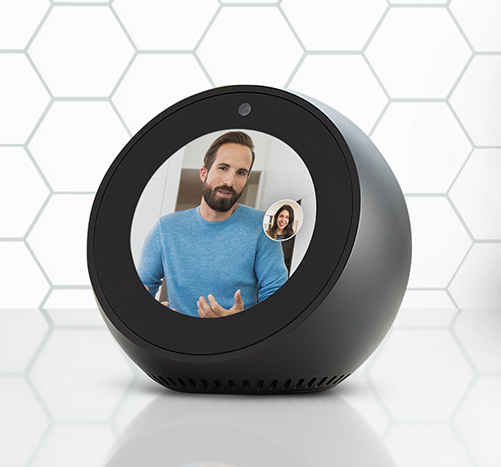 Be together more
Make hands-free voice calls to almost anyone, or video calls to friends and family who have an Echo Spot, Echo Show, or the Alexa App. Use the Drop In feature when you want to connect instantly with other compatible Echo devices in your home. For example, you can drop in to ask what time dinner will be ready, see the baby's nursery, or check in with a close relative. With Alexa Announcements you can also use Echo Spot to broadcast a quick, one-way message to all other Echo devices in your home.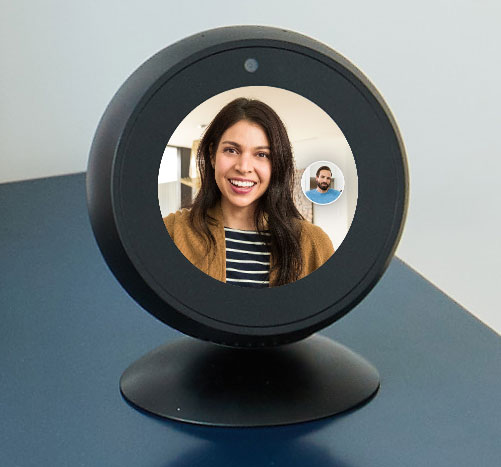 Making calls with Alexa is easy. Set up your voice profile and teach Alexa to recognize your voice. When you say, "Alexa, call Mom", Alexa will call your mom, even if you have multiple users in your home. With the Alexa App, conversations and contacts go where you go. When you're away from home, use the app to make a quick call or send a message to your family's Echo.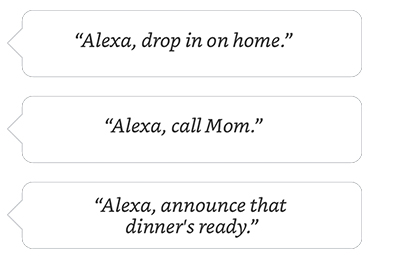 Info at a glance
For news and information you can see and hear, just ask Alexa for your video flash briefing from CNN, Bloomberg, and more. Curious about the latest movie trailers or showtimes? Just ask.
Echo Spot helps keep you organized at home. Start a timer in the kitchen and watch as it counts down, or easily see and manage your family's calendar. Sign in to the Alexa App to take your to-do and shopping lists with you. Just add an item to the list from home, and whoever is out shopping will see it added instantly on their Alexa App.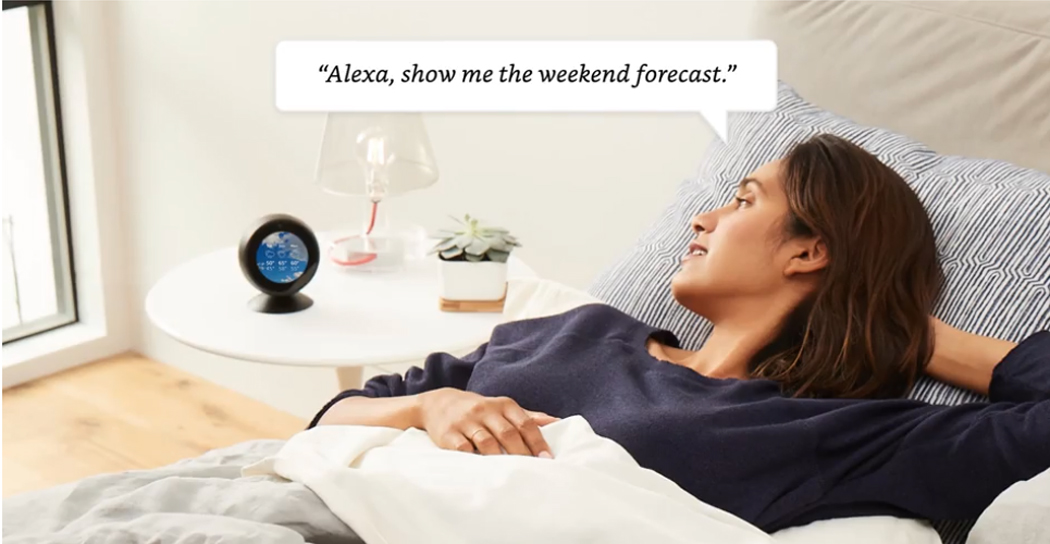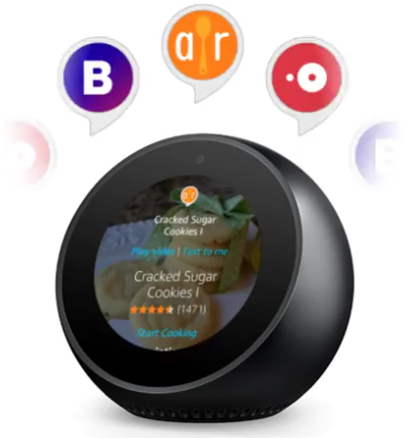 Be together more
Echo Spot is always getting smarter-the more you use Echo Spot, the more Alexa adapts to your speech patterns, vocabulary, and personal preferences. With tens of thousands of skills and counting, Alexa can order a pizza from Domino's, request a ride from Uber, track your fitness with Fitbit, control your TV with Dish or Sony, and more. To enable new skills, just ask Alexa.
Designed for any room
Echo Spot is small and compact, and fits easily into any room of your home. The compact size and viewing angle of the screen make Echo Spot ideal for use on a nightstand or desk as a smart alarm clock that can also turn your lights on and off, show your commute time, get the weather, or show your calendar. Or use Spot in the kitchen to easily set and see timers, call friends and family, see shopping and to do lists, and more.
Echo Spot can connect directly to speakers using a 3.5 mm stereo cable or Bluetooth to add voice control to your home stereo system in the living room or den. Plus, with multi-room music, play your favorites throughout your home across multiple Echo devices (Bluetooth not supported for multi-room music).

Simple to Set Up & Use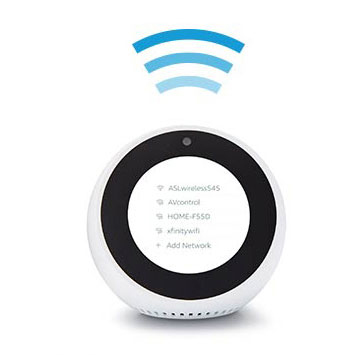 2. Connect to the internet using Echo Spot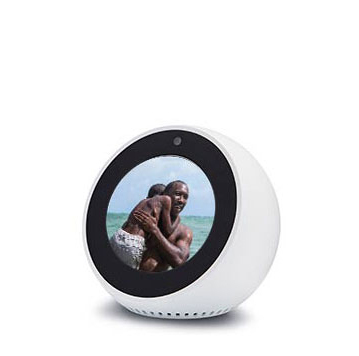 3. Just ask for music, weather, news, videos, and more