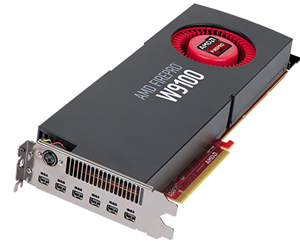 Introducing the new AMD firepro w9100
The new AMD FirePro™ W9100 professional graphics card is designed for the most demanding workflow and delivers the ultimate 4K experience in next-generation workstations. Powered by OpenCL™, creative and engineering professionals can work with multiple graphics- and compute-intense applications in 4K and in real-time.
The AMD FirePro W9100 delivers cutting-edge graphics performance and is equipped with an industry-first 16GB GDDR5 of ultra-fast on-board memory.The AMD FirePro W9100 is also the first graphics card to deliver 2.62 TFLOPS of peak double-precision and 5.24 TFLOPS of single-precision compute performance With such visual supercomputing performance, you can work the most complex engineering and creative projects in ultra-high resolutions, helping you to keep track of even the smallest details.