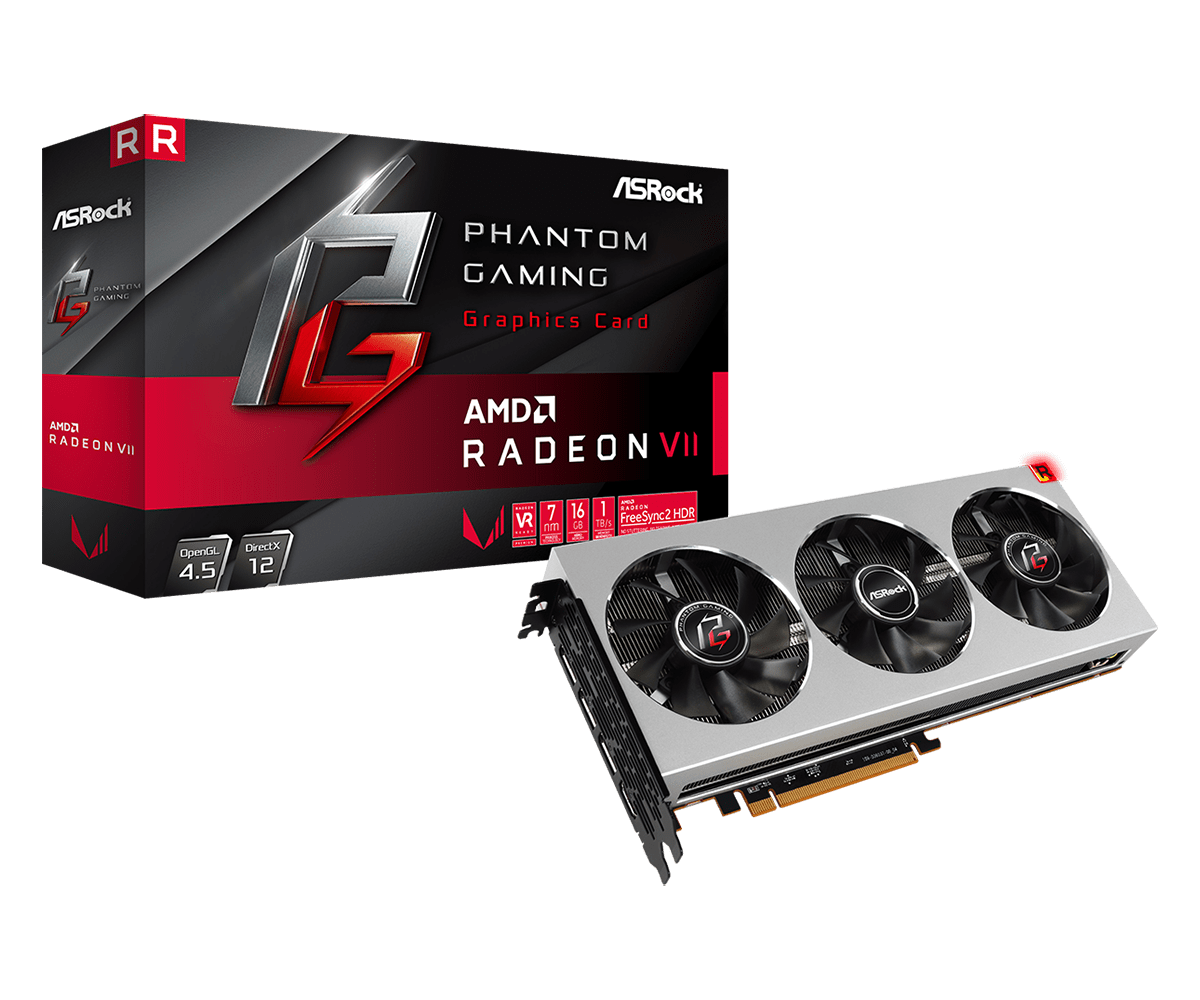 Phantom Gaming X Radeon VII 16GB Graphics Card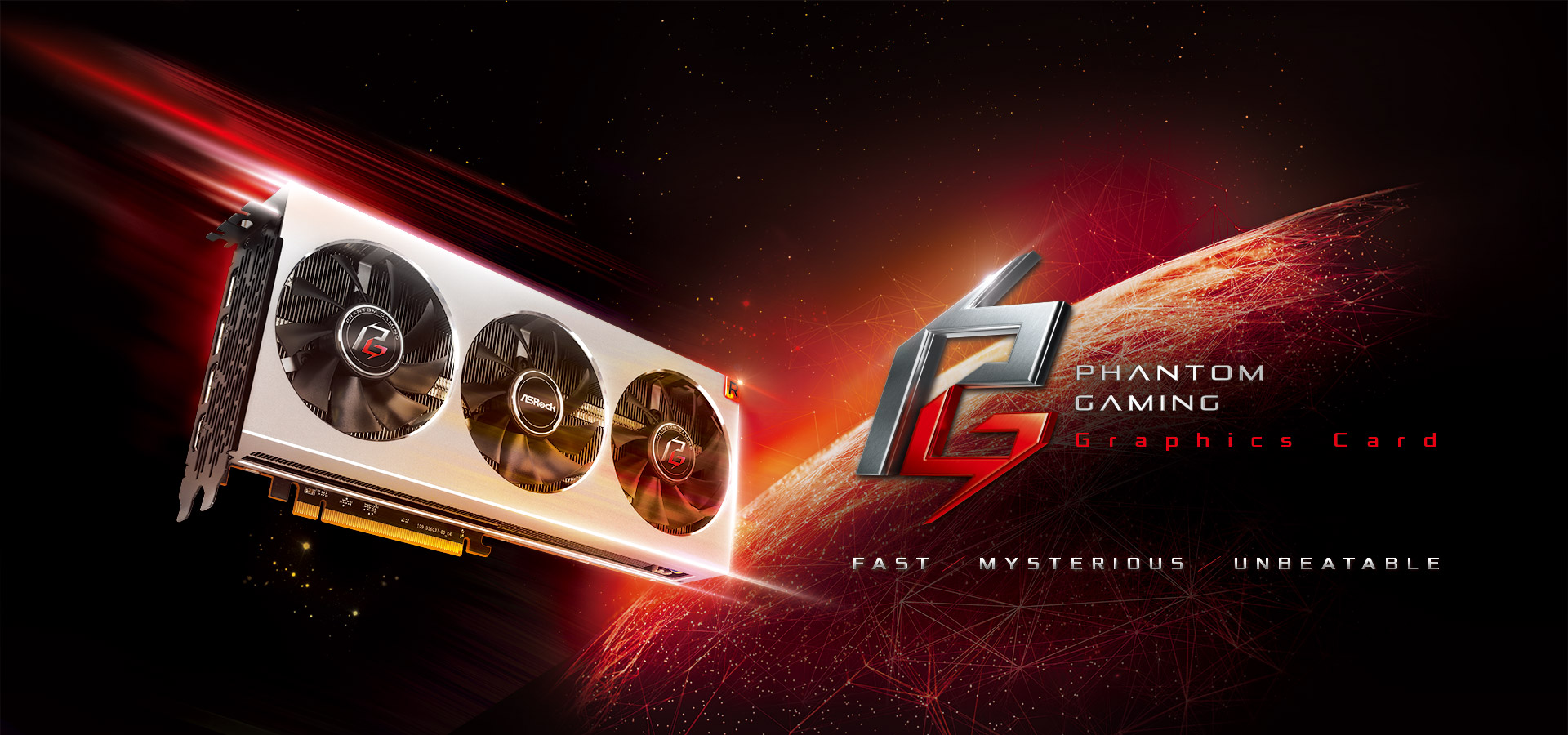 World's First 7nm Gaming GPU
EXTREME PERFORMANCE FOR GAMING AND CREATION
The ASRock Phantom Gaming X Radeon VII 16GB graphics card delivers extreme graphics performance to humble the most visually demanding games and real-time content-creation programs. Powered by 7nm technology, Radeon VII has 45% more memory and 66% more memory bandwidth than other competitive gaming GPUs in its class. All in all, this card delivers vivid gaming visuals up to 4K and virtually limitless content creation in 8K, VR and more.*
16GB HBM2
Get 2X the memory of previous-generation Radeon RX GPUs.
1TB/SECOND
Get 2.1X the memory bandwidth compared to previous-generation Radeon RX GPUs.
* As of Jan 9, 2019. Radeon VII features 16GB of memory. Radeon RX Vega 64 features 8GB of memory. NVIDIA RTX 2080 Ti features 11GB of memory. Radeon VII features 1,024GBps of memory bandwidth. Radeon RX Vega 64 features 484GBps of memory bandwidth. NVIDIA RTX 2080 Ti features 616GBps of memory bandwidth.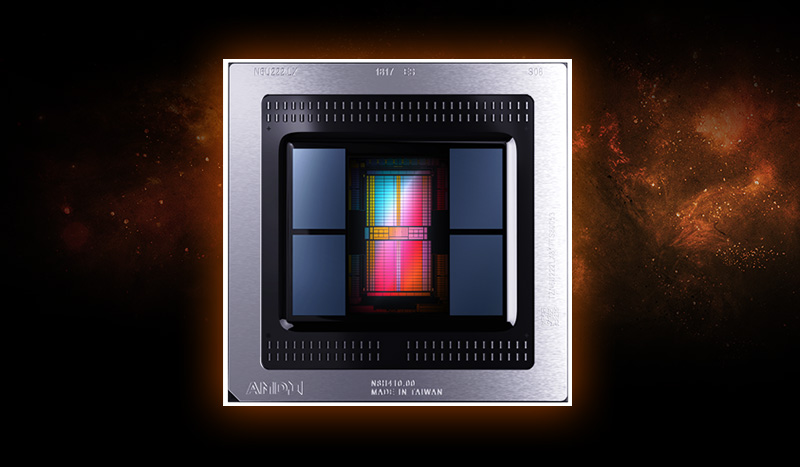 Extreme Gaming
The ASRock Phantom Gaming X Radeon VII 16GB graphics card is future-ready and built to meet the demands of high-performance gameplay with support for DirectX® 12 and Vulkan® features to deliver incredible gaming experiences at ultra-smooth and consistently high framerates in 1440p, ultrawide and 4K. Reinvigorate your favorite esports games and get unrestrained HD game streaming with virtually no performance impact.** The Radeon VII GPU is in a class of its own.
** Testing done by AMD performance labs 1/3/19 on Ryzen 7 2700X,16GB DDR4 3000MHz, Radeon VII, AMD Driver 18.50, and Windows® 10. Using Fortnite 1080p Max settings, Radeon VII scored 127fps. Using Fortnite 1080p Max settings and HD streaming to Twitch 1080p (1080p @ 60fps, 6Mbps, AMF encoder), the Radeon VII scored 123fps. PC manufacturers may vary configurations, yielding different results. All scores are an average of 3 runs with the same settings. Performance may vary based on use of the latest drivers.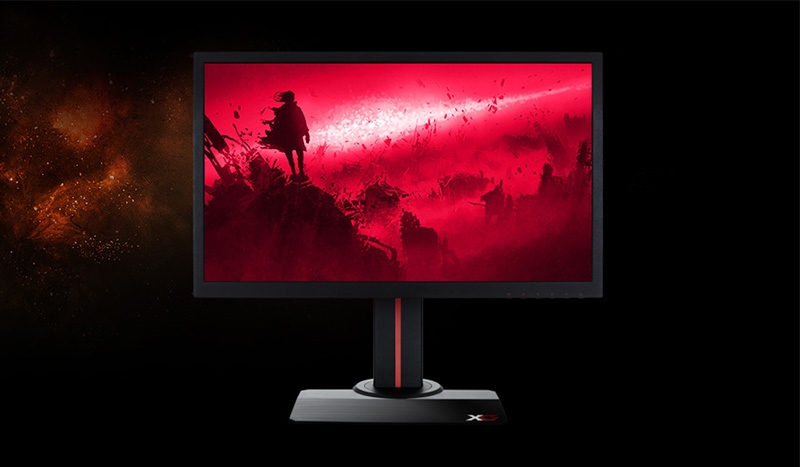 Extraordinary Creation
The ASRock Phantom Gaming X Radeon VII 16GB graphics card packs mega memory muscle and great graphics performance to enable hyper-realistic visuals. With 16GB of HBM2 memory, up to 1TB/second of memory bandwidth and a 4,096-bit memory interface, the AMD Radeon VII is perfectly suited for memory intensive and graphically demanding applications. Embrace content creation—even in 8K resolutions, VR and beyond—that's so quick and responsive it's practically clairvoyant.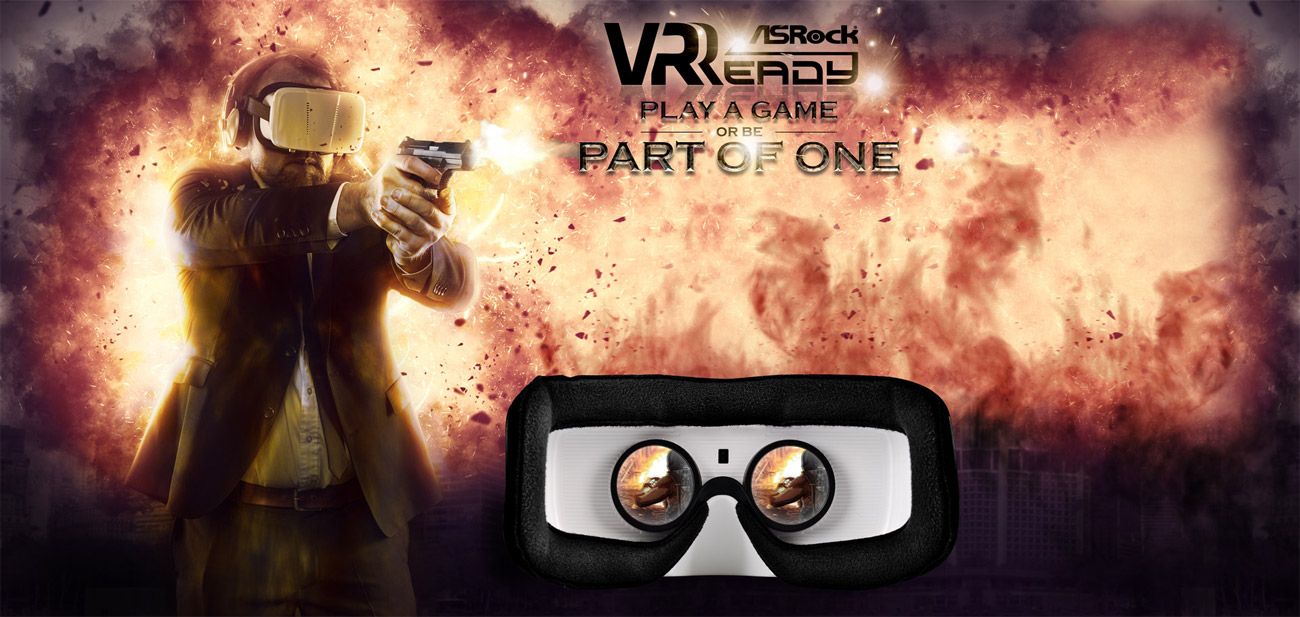 Armor Your VR Machine
Ready to enjoy the impressive world of virtual reality? Before that, you have to make sure everything is qualified, including hardware, software and drivers. Motherboards are the key to connect every critical component and ASRock's VR-ready products are definitely the ones you'll need. Premium quality is assured by rigorous testing during development. The sturdy components and rock-solid performance completely immerse you into any VR scenario. ASRock users can be assured they'll experience VR enjoyment without any compatibility problems.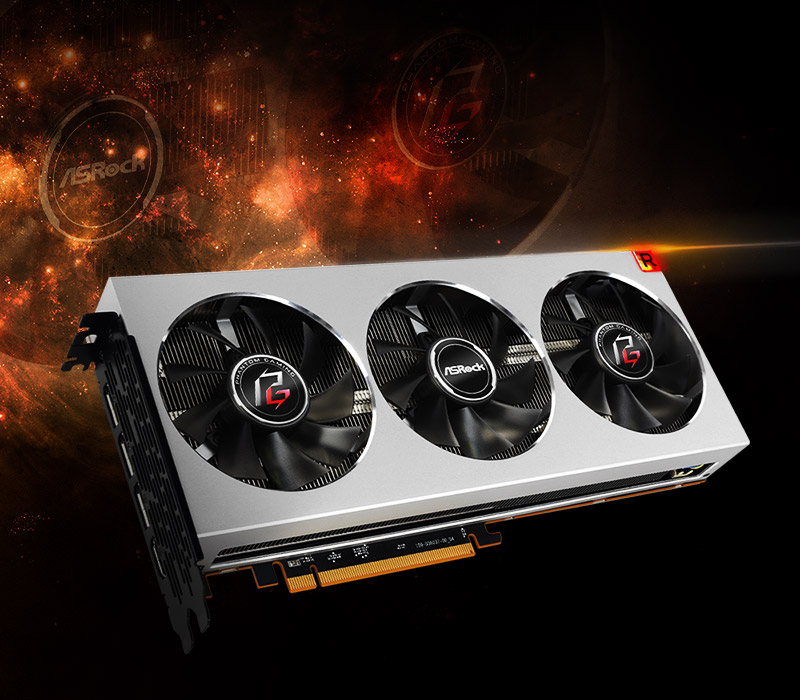 Triple Fan Design
Having a triple fan design helps optimize system cooling to reduce the operating temperature.
Metal Backplate
These cards' metal backplate makes the graphics card more strengthened and well-protected.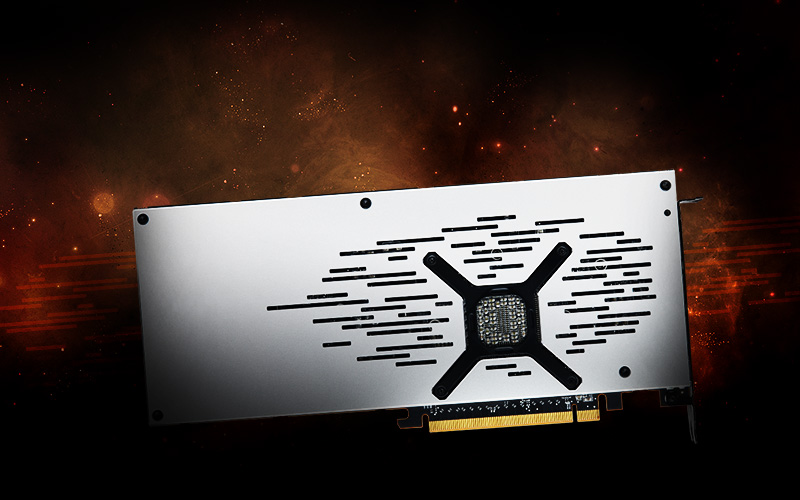 Super Smooth Gaming
Pair your AMD Radeon VII GPU with the world's largest-selection ecosystem of adaptive-sync gaming monitors, those equipped with either Radeon FreeSync™ or Radeon FreeSync™ 2 HD- enabled monitors for stutter-free, tear-free and artifact-free super-smooth gaming.*** Radeon FreeSync™ 2 HDR pushes the boundaries further, combining fluid gameplay and plug-and-play HDR gaming at low latency, without needing to tweak your settings. No stuttering, no tearing, just gaming.

*** Requires a monitor and AMD Radeon™ graphics, both with FreeSync support. See www.amd.com/freesync for complete details. Confirm capability with your system manufacturer before purchase. Number of FreeSync technology-enabled screens available (254) at https://www.amd.com/en/products/freesync-monitors - Largest ecosystem when compared to publicly available listings of competing product solutions at https://www.144hzmonitors.com/list-of-g-sync-monitors/ and https://www.blurbusters.com/gsync/list-of-gsync-monitors/ which list 58 screens respectively, as of October 2018. FreeSync 2 HDR does not require HDR capable monitors; driver can set monitor in native mode when FreeSync 2 HDR supported HDR content is detected. Otherwise, HDR content requires that the system be configured with a fully HDR-ready content chain, including: graphics card, graphics driver and application. Video content must be graded in HDR and viewed with an HDR-ready player. Windowed-mode content requires operating system support.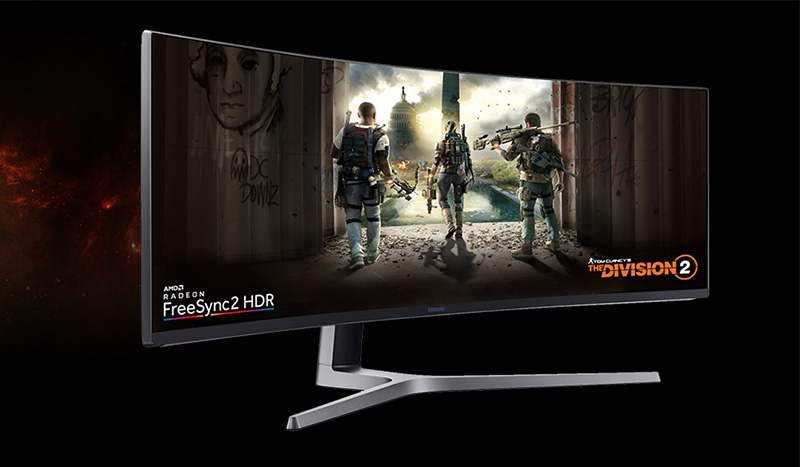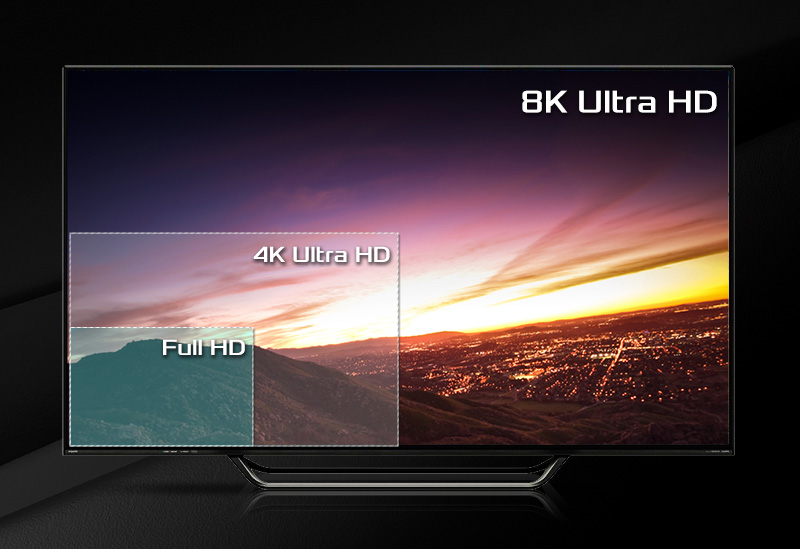 8K Resolution Support
Of course this card handles 4K graphics—but it also supports the next-generation 8K video output for the ultimate visual experience.
AMD Eyefinity Technology
AMD Eyefinity technology expands the traditional limits of desktop computing by multiplying your screen area. With multiple monitors, games become more immersive, workstations become more useful and you become more productive.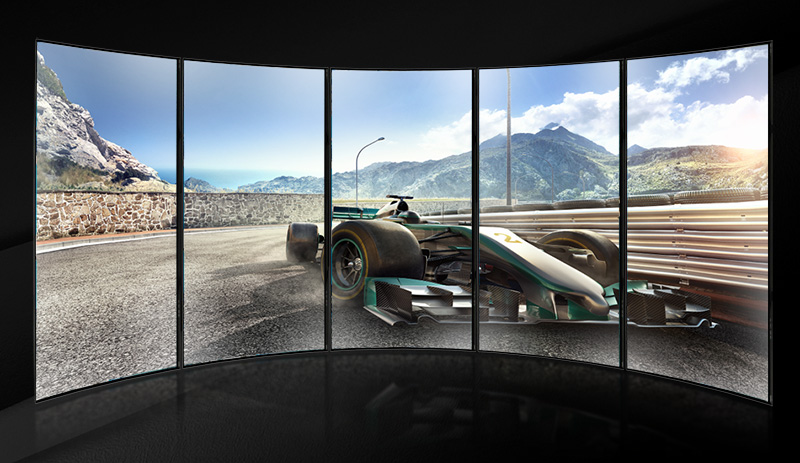 Phantom Gaming Tweak
A fast and easy tool that provides users with an abundant collection of subtle settings for professional tweaking such as fan speed, core clocks, memory frequency and so on. Users may also choose the most optimized mode based on their needs, like OC mode, Silent mode or default mode. Phantom Gaming Tweak delivers more than enough voltage configuration options for anyone who wishes to pursuit extremes.
Radeon Software Adrenalin 2019 Edition
The AMD Radeon™ Software Adrenalin 2019 Edition gives you more control over your gaming experiences. The software's intuitive interface enables players to stream, share and tweak graphics settings in real-time without missing a second of the action or compromising in-game performance.
Seize your gaming victories with easy streaming capabilities of

Radeon™ ReLive

Work smarter and cooler with

Radeon™ Chill

—dynamically helping save power while gaming
Tailor your gameplay with custom profiles and enhance your PC performance with

Radeon™ WattMan

****
Tailor preferences without having to leave your game with

Radeon™ Overlay

Get

Day-0 driver support

and more
**** Overclocking AMD processors, including without limitation, altering clock frequencies/multipliers or memory timing/voltage, to operate beyond their stock specifications will void any applicable AMD product warranty, even when such overclocking is enabled via AMD hardware and/or software. This may also void warranties offered by the system manufacturer or retailer. Users assume all risks and liabilities that may arise out of overclocking AMD processors, including, without limitation, failure of or damage to hardware, reduced system performance and/or data loss, corruption or vulnerability.