Asus ROG Phone 3
GAME CHANGER
Designed to redefine your mobile gaming experience on Android phone. It's power-packed with the latest Qualcomm Snapdragon 865 Plus 5G Mobile Platform with advanced 5G1 mobile communications capabilities, and a 6.59"(2340 x 1080) full-view display boasting 144 Hz refresh rate. Immerse yourself in the action with powerful stereo sound from dual front-facing speakers tuned by Dirac. Your phone stays cool and comfortable in extended gaming session, thanks to advanced GameCool 3 thermal design. And its 6,000 mAh large battery2 means non-stop gaming for hours, so you can focus more on the play and worry less about recharging.
Information from seller:
This ASUS ROG Phone 3 5G is international CN version. It has Global system, and fully Google Play services. It is unlocked, you can use it worldwide by simply insert your SIM card into the phone.
This ASUS ROG Phone III is only compatible with GSM carriers all over the world, such as AT&T, T-Mobile and so on. They are not compatible with CDMA carriers, such as Verizon and Sprint.
This ASUS ROG Phone III supports dual SIM card.
You can change the language to whatever you would like on the first screen when you set it.
This model has been released that only 12/16+512GB version comes with cooler fan in the box.
NETWORK Technology GSM / LTE / 5G
5G: 1, 3, 41, 77, 78, 79
4G: 1, 2, 3, 4, 5, 7, 8, 20, 28, 34, 38, 39, 40, 41
3G: 850, 900, 1700, 1800, 1900, 2100
PERFORMANCE
Play to Win
Powered by the world's fastest3 Qualcomm Snapdragon 865 Plus 5G Mobile Platform, the latest LPDDR5 RAM and UFS 3.1 ROM, ROG Phone 3 delivers the ultimate in overall performance and gives you a super-smooth gaming experience.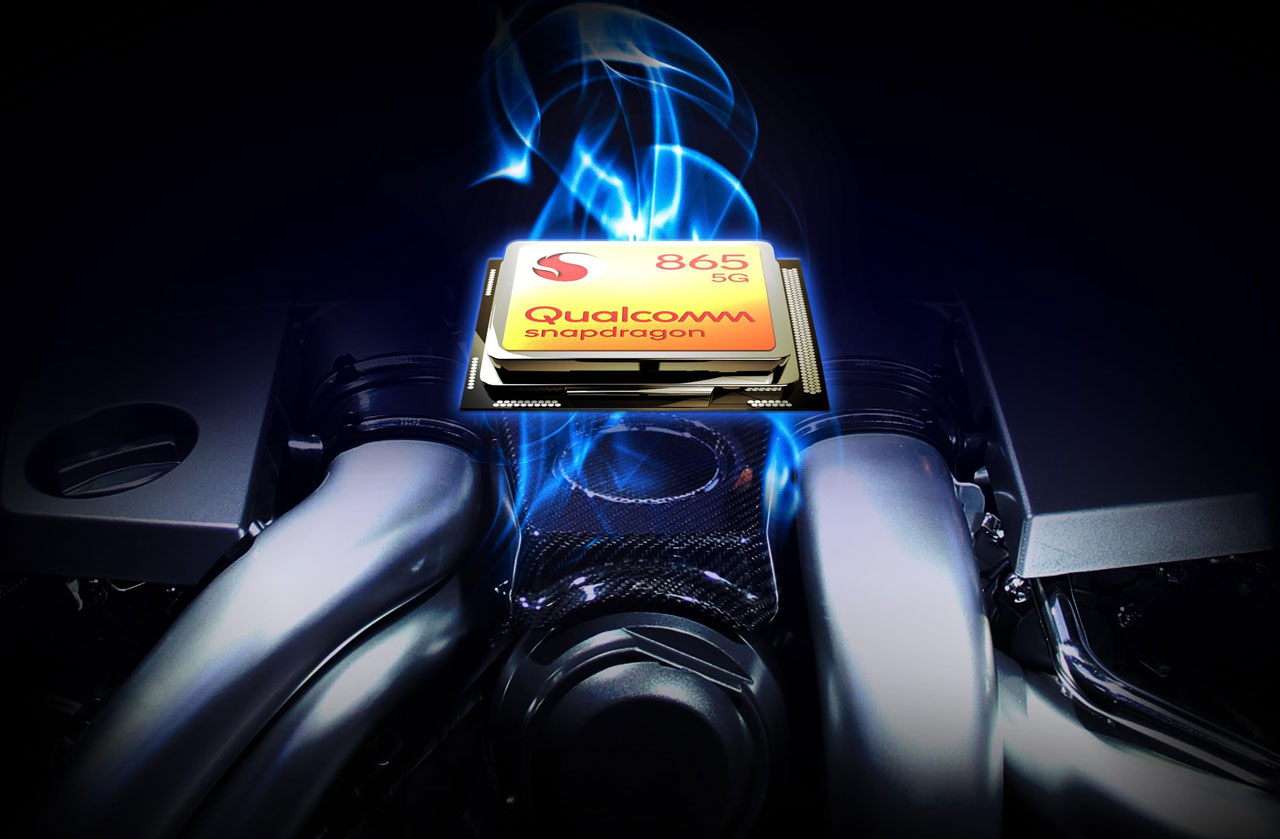 GAMECOOL 3
Play Cool
The GameCool 3 cooling system in ROG Phone 3 uses an advanced 3D vapor chamber and a large heat sink that are precisely located to eliminate hotspots. The cooling system is incredibly effective at removing heat during full-speed operation via its specially designed vents.
This comprehensive cooling system allows ROG Phone 3 to easily sustain peak performance during heavy gaming sessions, eliminating throttling to give you an expert edge against the competition.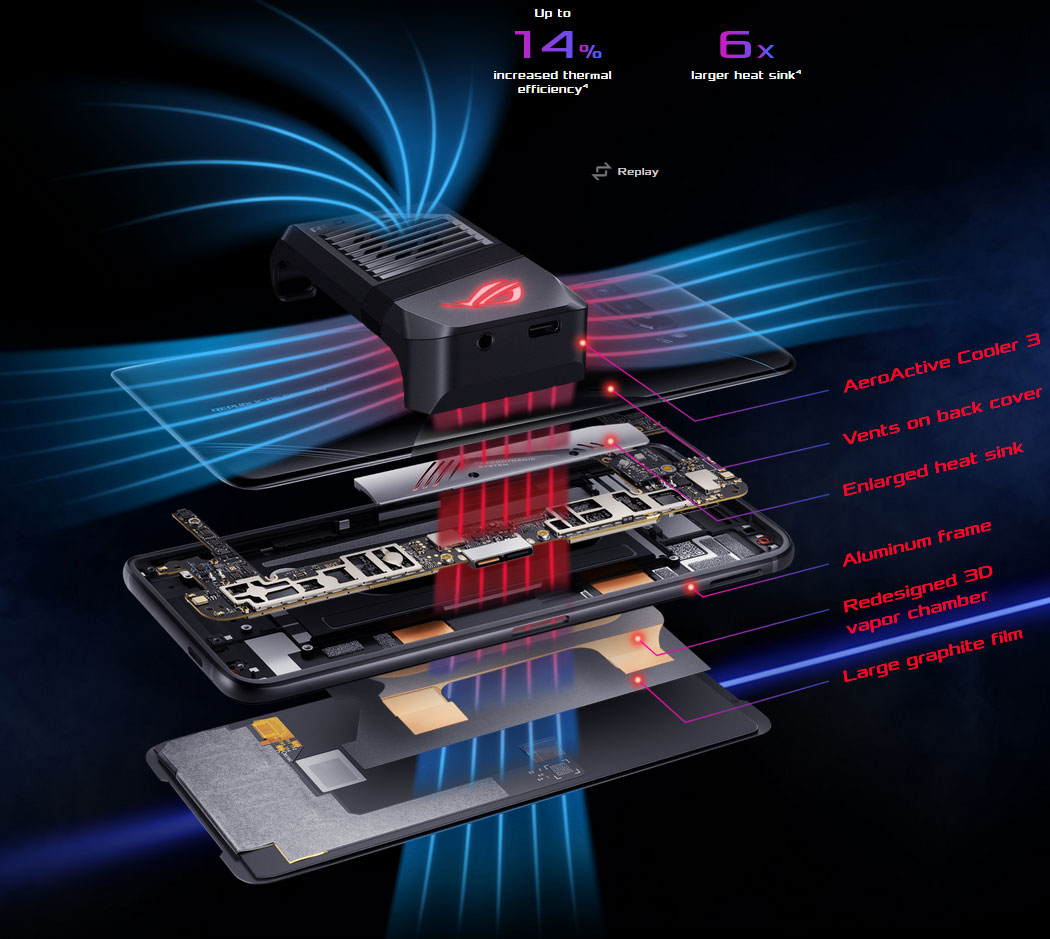 The AeroActive Cooler 3 (optional) clip-on external cooling fan delivers increased airflow to hotspots on the casing, particularly the area around the CPU and 5G chip. It can lower the surface temperature by up to 4°C5, but it's still incredibly compact and connects easily to the side-mounted port.
The state-of-the-art thermal design of ROG Phone 3 ensures that you can always maintain full speed, no matter how long you play.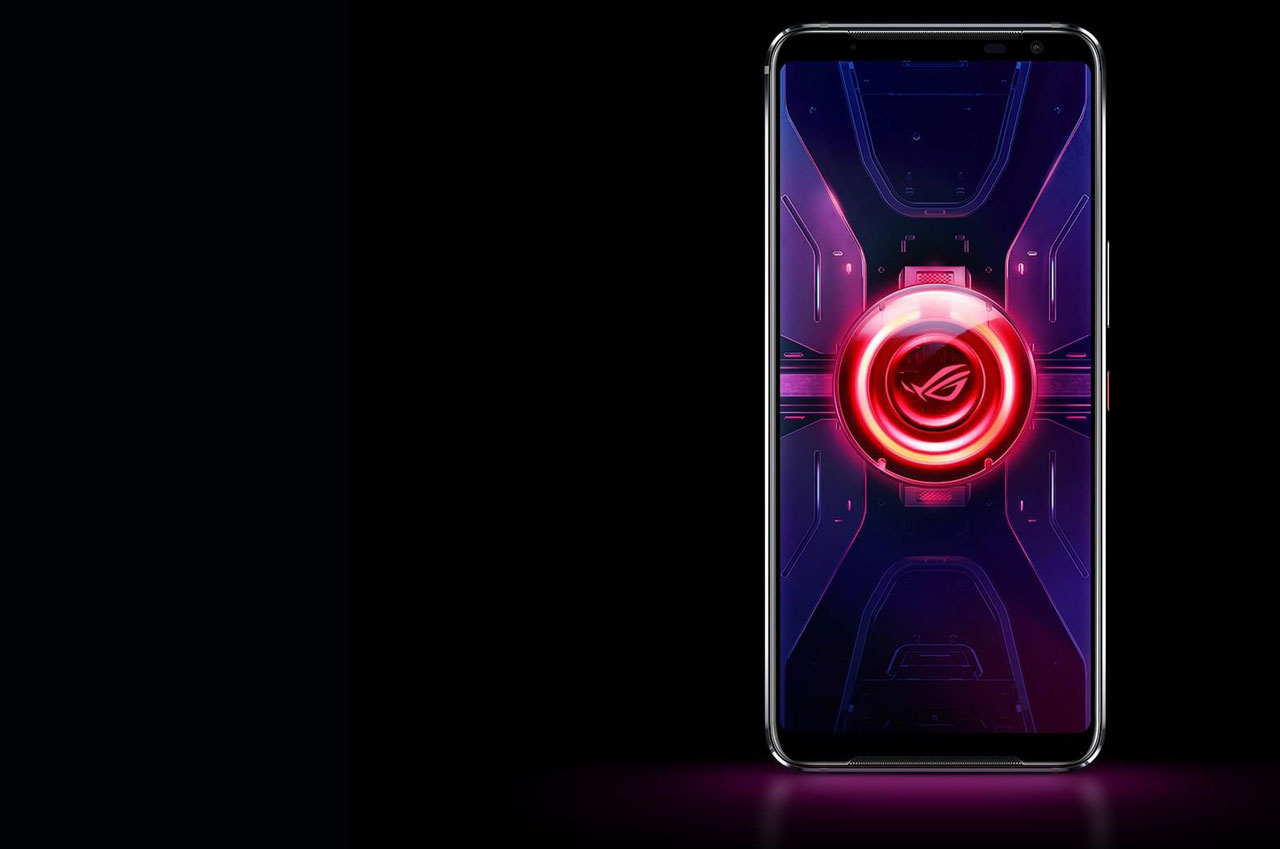 DISPLAY
Play Accurate
ROG Phone 3 is equipped with a stunning 144 Hz / 1 ms AMOLED display. Combined with an industry-leading 270 Hz7 touch-sampling rate, which dramatically decreases the touch latency to 25 ms8, this display takes the gaming experience to the next level. To ensure that visuals on ROG Phone 3 look just like the developer intended, each display is carefully color-calibrated color to ensure a Delta-E value of less than 1, and there's support for HDR10+ content. The display is also TÜV Rheinland-certified9, so it's easy on your eyes.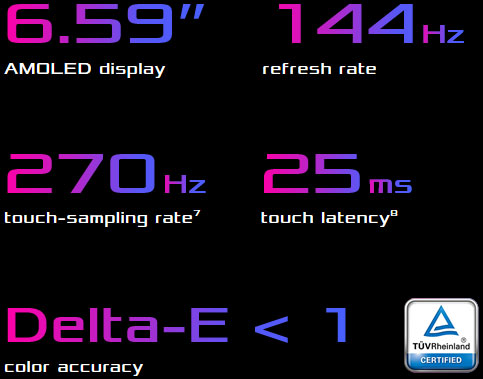 X Mode
Play Your Way
To fully unleash the absolute power of ROG Phone 3, the unique X Mode takes expert care of system-wide performance. X Mode lets you adjust and customize many system parameters to optimize the performance of your ROG Phone 3, and tailor it for every application and gaming scenario.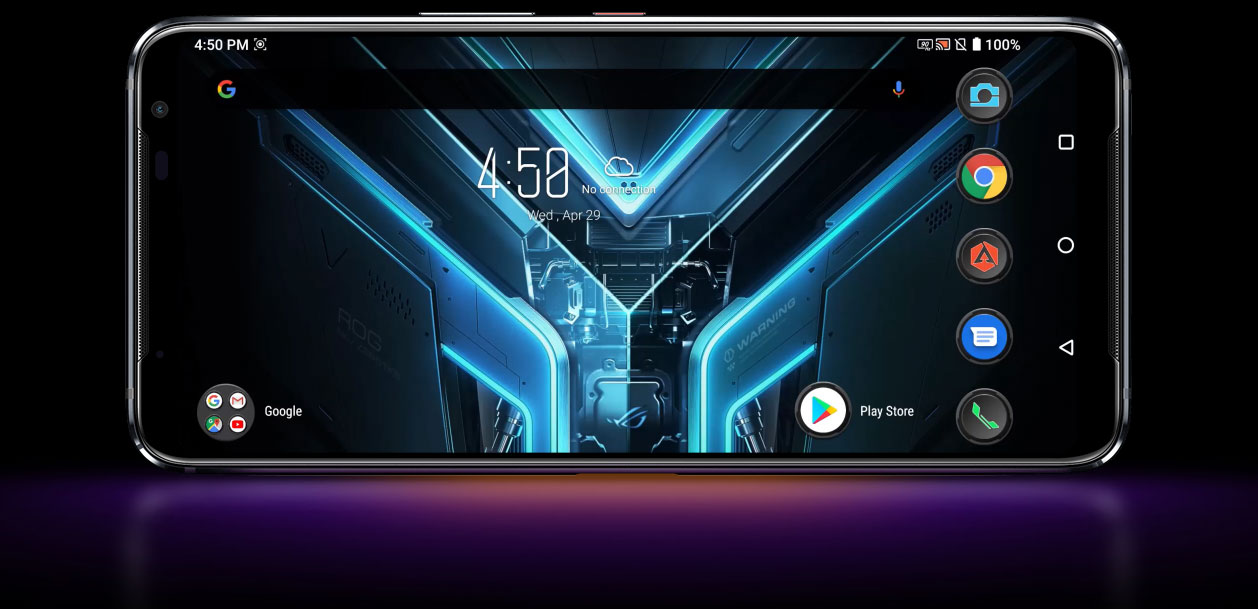 BATTERY
Play Nonstop
You can rely on the monster 6000 mAh battery2 in ROG Phone 3 to keep you going, even in the longest battles. There are multiple passive power-saving mechanisms — including multiple custom battery modes and an exclusive hibernate function — that significantly prolong the time between charges and also increase battery lifespan.

GameFX
Play It Loud
The new GameFX audio system on ROG Phone 3 is tuned in collaboration with audio optimization specialist Dirac, featuring dual front-facing stereo speakers that deliver powerful and immersive audio for your games. There's also an all-new Game Mode that lets you pinpoint the location of players using a unique audio algorithm. Bigger speakers, more magnets and improved driver excursion amplify the volume so you can hear every movement to give you the gaming edge.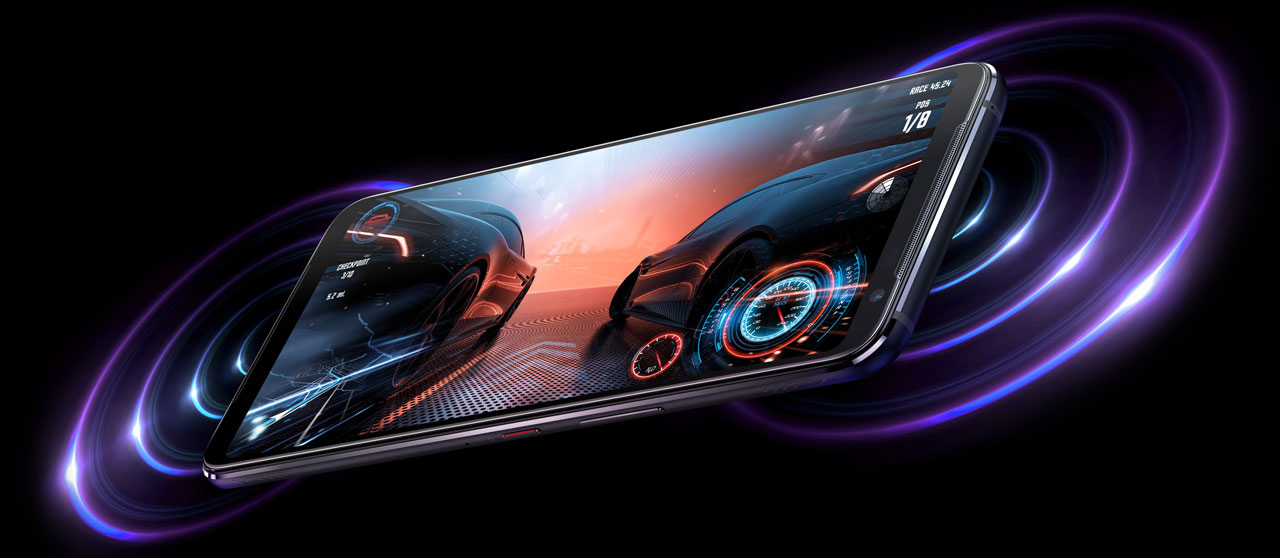 AirTrigger 3
Play It Real
The AirTrigger 3 system introduces a brand-new way to interact with your ROG Phone 3, using motion sensor that allows you to control the action by simply tilting the phone for totally intuitive gaming. The ultrasonic touch sensors — located on the long edges of ROG Phone 3 — can be assigned to any in-game action for a console-like experience. The touch sensors now support more gestures, including slide, swipe and inner / outer button detection.

BUILT FOR GAMERS
Play in Style
The ROG design and development team consists of real gamers who understand the key features that gamers need. They've used their in-depth expertise to create the ultimate gaming phone for serious mobile gamers.

ROG Connect
With the built-in community features in ROG Phone 3, it's never been easier for you to keep in touch with your squad, or wow the crowd with your uploaded genius gameplays.

Game Genie
ROG Phone 3 includes the most advanced version of our gaming enhancement app. This now includes a floating window to let you check your tactics without leaving the game, and comprehensive macro support to help automate some in-game processes such as grinding and looting. There's also a hugely improved screen recording to let you capture every memorable moment — even if it's already happened, thanks to the new automatic recording buffer!

Unparalleled Connectivity
The trend towards multiplayer games means that a constant, reliable connection is vital. With 5G and WiFi 6 support, ROG Phone 3 is more than fast enough, and for ultrastable connections it now features HyperFusion technology. This allows simultaneous connections to WiFi and the mobile network, with intelligent redirection to whichever has the best signal. There are also multiple antennas to ensure your connection is always the best possible. With ROG Phone 3, you won't miss anything!
Pair your ROG Phone 3 with an ASUS WiFi 6 router to experience the full networking potential of WiFi 6.

Side-Mounted Port
ROG Phone 3's unique side-ported design is designed specifically to keep cables out of the way of your gameplay, so it never compromises your technique: you can charge it even while you're gaming or live-streaming.
Quad-Microphone System
To ensure the best possible in-game voice communications, ROG Phone 3 is equipped with a noise-canceling quad-mic array, which optimizes speech quality and also filters out background noise to deliver crystal-clear vocals for easy team wins.
Aura RGB
ROG Phone 3 features Aura RGB lighting, with a glowing ROG logo on the back of the device that supports a variety of colors and lighting schemes, so it's easy to match your mood and style.
TRIPLE CAMERAS
Play in Focus
The triple-camera system on ROG Phone 3 is designed to produce superb-quality photos in any setting. It features a flagship Sony® IMX686 64 MP main wide-angle camera, an ultrawide 13 MP second camera, and a macro camera. Enhanced software features include a Pro Video Mode as well as Free Zoom, Wind Filter and Acoustic Focus functions to make your video quality stand out. There's also a 24 MP front camera for high-quality group selfies and live-streaming videos.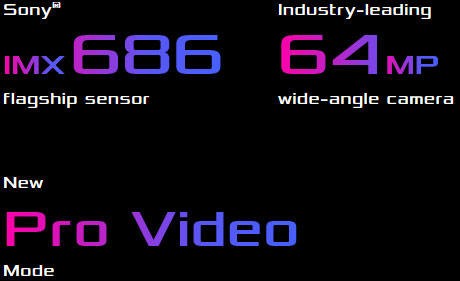 PARTNERS
Play Together
ROG Phone 3 is proudly partnering with Stadia and Unity to establish a truly integrated gaming ecosystem10. Together, we aim to build a more complete mobile gaming11 experience for today's gamers by providing your favorite gaming content on the go.

ACCESSORIES
Play without Limits
Serious gaming needs serious gear, and the unrivaled range of modular accessories12 for ROG Phone 3 will level-up your mobile gaming experience.

ROG Lighting Armor Case
Light Up!
The new Lighting Armor Case not only protects your phone from scratches and bumps, but it also supports Aura lighting for an out-of-this-world visual experience. A specially customized theme will be loaded when you install the Lighting Armor Case on ROG Phone 3.
AeroActive Cooler 3
Be Cool!
AeroActive Cooler 3 can now lower the surface temperature by up to 4°C5, but it's still incredibly compact and connects easily to the side-mounted port, and can also be attached even when the Aero Case is installed. There's now also a stand on the back that can prop up ROG Phone 3 for a better viewing experience.

TwoView Dock 3
Double Vision!
TwinView Dock 3 offers genuine dual-screen gaming experience, and to further extend our ingenious dual-screen design, we've upgraded the screen with a stunning 144 Hz refresh rate to match ROG Phone 3.
ROG Clip
Get a Grip!
ROG Clip13 locks and loads your ROG Phone 3 with the controller of your choice — such as the Xbox® wireless controller or Stadia controller — turning it into an on-the-go gaming beast.

ROG Kunai 3 Gamepad
Gear Up!
The Kunai 3 Gamepad offers superb grip and lots of ways to play —including a handheld mode, an all-in-one mode and a mobility mode — so you can continue your battles anywhere.

Aero Case
Stay Protected!
The Aero Case13 reflects the cool new look of ROG Phone 3, while still keeping your phone protected when using accessories such as the AeroActive Cooler 3 or TwinView Dock 3.

Mobile Desktop Dock
Desktop-Style Gaming
The Mobile Desktop Dock gives ROG Phone 3 unprecedented expansion capabilities. Connect to an external 4K UHD monitor, mouse and keyboard while using ROG Phone 3 as an auxiliary display, hook up to a wired gigabit LAN and use the S/PDIF output to drive your 5.1-channel surround-sound system. Who says you need a desktop PC for incredible gaming?
1. 5G services are only supported in 5G network-enabled locations in 5G-ready countries.
2. Typical capacity is 6000 mAh.
3. Compared to other smartphone processors at time of announcement in July, 2020.
4. Test result provided by ASUS labs, compared to the previous generation ROG Phone.
5. Test result provided by ASUS labs, compared to the skin temperature of ROG Phone 3 without AeroActive Cooler.
6. Test result provided by ASUS labs, compared to the previous generation AeroActive Cooler.
7. Actual performance may vary depending on conditions.
8. Test result provided by ASUS labs, actual performance may vary depending on conditions.
9. TÜV Rheinland Low Blue Light and Flicker Reduced certification.
10. Availability of Stadia service varies by country.
11. You can play Stadia on supported mobile devices when connected to WiFi or Ethernet.
12. Availability of accessories varies by country.
13. Images simulated for illustrative purposes, actual appearance of the product may vary by country.