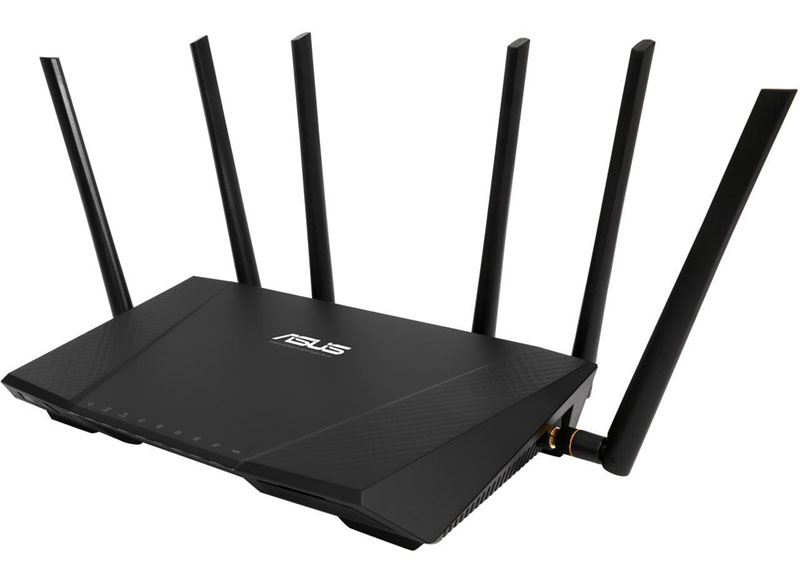 Intelligent Tri-Band Wi-Fi for All Your Devices
Fast, secure, and easy to use, the ASUS RT-AC3200 tri-band router is essential for any household requiring high-performance Wi-Fi. Enabled by a combined data rate of 3200 Mbps, every device can work at full speed for lag-free gaming, smooth 4K video steaming and effortless downloading. Complemented by intelligent technologies including Tri-Band Smart Connect, AiRadar Beamforming, and more, your whole network experience will reach an unprecedented level.
Features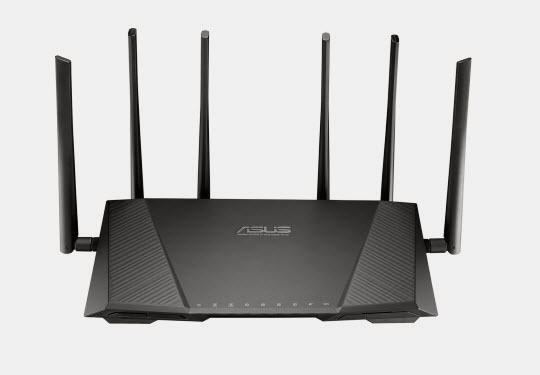 Revolutionary Hardware
Inspired by the gamer-centric G series notebook, RT-AC3200 borrows its design concept from a Stealth Fighter jet with understated curves that exude power and sophistication.
Dual-core processor – Robust multitasking performance that effortlessly handles your most demanding internet tasks from all your connected devices simultaneously.
Six External High-performance Antennas – Dual 802.11ac networks each configured with its own 3T3R configuration allows more devices to connect faster with better stability.
Dual USB ports – Connect a printer, 3G/4G dongle or USB storage device and, with USB 3.0, experience up to 50MB/s read and write transfer speeds. 1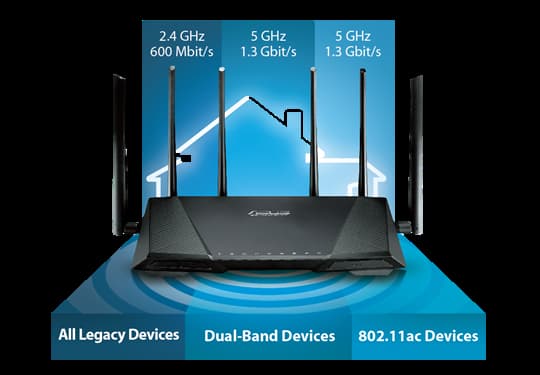 Smart Connectivity for Multi-Device Networks
RT-AC3200 uses Tri-Band Smart Connect technology combined with AiRadar Universal Beamforming to ensure every connected device from slower legacy devices to the latest 802.11ac clients are working at full speed.
Tri-Band Smart Connect – Automatically optimizes bandwidth based on traffic speed, load balancing and location/signal strength across 5 GHz as well as 2.4 GHz bands.
AiRadar Beamforming – Intelligently strengthens wireless connectivity using 802.11ac universal beamforming technology, high-power amplification and exclusive ASUS RF fine-tuning.
Adaptive Quality of Service (QoS) – Optimizes and prioritizes bandwidth, with presets for gaming, media streaming, VoIP, web browsing and file transfers.
Set "Lan Speed" Records
For fast wired networking performance, RT-AC3200 has a dedicated Gigabit Ethernet WAN port plus four Gigabit Ethernet LAN ports. Its powerful hardware-accelerated NAT removes the bottleneck between the wired LAN and the internet for a lag-free gaming experience.
Hardware NAT – Removes the bottleneck between the internet and the home network, enabling 2-5 times faster WAN-to-LAN performance vs. traditional software-based NAT.
Dual WAN support – Convert a LAN port into a WAN and use two ISP connections for load-balancing or redundancy.
Tested Compatibility
RT-AC3200, like all ASUS networking products, is subjected to exhaustive compatibility testing during its development. RT-AC3200 works flawlessly with a vast range of adapters, media players and other wireless devices including the latest-generation Xbox One and PlayStation 4 game consoles.
Time Machine support – USB storage devices attached to RT-AC3200 can be used in conjunction with Time Machine backups for your Apple devices.
WPS – Any device supporting the Wi-Fi Protected Setup (WPS) standard can be connected instantly simply by pressing the WPS button on RT-AC3200.
VPN support – Configure a VPN server or turn your network-connected devices into VPN-enabled clients with PPTP and OpenVPN protocol support.
ASUSWRT User Interface
The built-in web-based ASUSWRT user interface gives you access to the 30-second, web-based installation process2, AiCloud 2.0 and many more advanced wireless management options.
Network Map – Comprehensive network map shows you at a glance which devices are connected to your router and their connection status.
Guest Network – Lets you create up to 6 guest networks with customized access times and site restrictions.
USB Application – Control tasks related to USB connected storage devices, printers and other devices.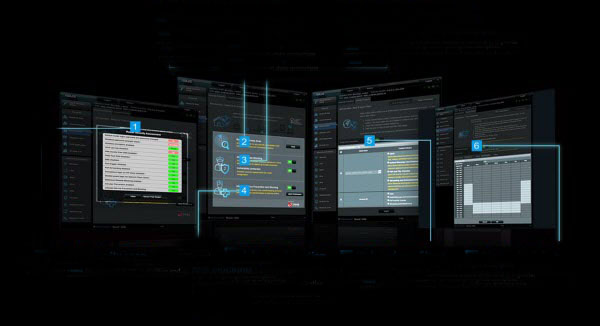 Advanced Security
With advanced built-in parental controls, RT-AC3200 features AiProtection with Trend Micro uses real-time network monitoring to detect malware and other intrusions before it reaches your PC or device.
Router Security Scan – Scans your router for any security vulnerabilities and recommends options to increase protection.
Malicious Site Blocking – Restricts access to known malicious websites in Trend Micro's database for always-up-to-date protection.
Infected Device Prevention and Blocking – Prevents infected devices from communicating personal information and/or infected status to external parties.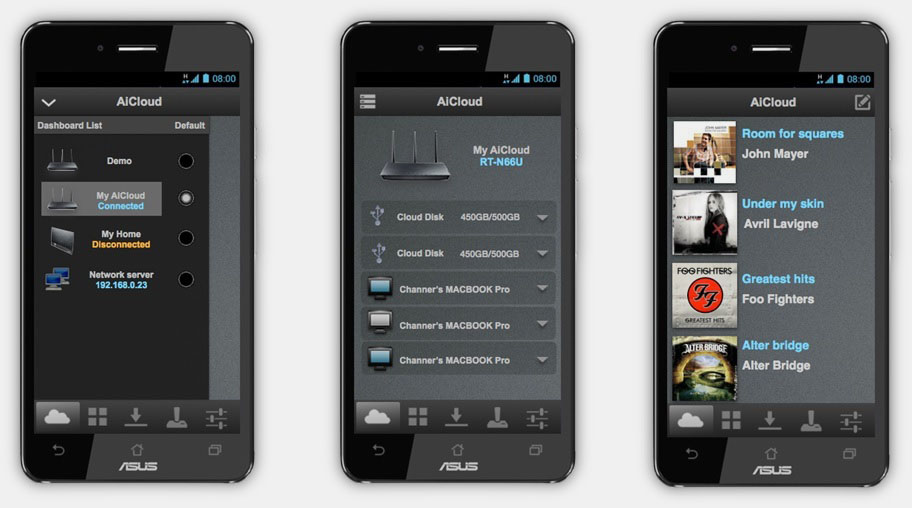 Your Network On-The-Go
ASUS AiCloud keeps you close to your data wherever and whenever you have an internet connection. It links your home network to selected online storage service(s), giving you access to your files using the AiCloud mobile app on your iOS, Android smartphones or via a personalized browser URL. Even better, AiCloud can be connected to another compatible router to expand your cloud even further and has been updated to include real-time information about your connected devices.
Notes:
1. USB 3.0 rates tested with USB 3.0 compatible devices for theoretical use only. Product and system settings may affect USB 3.0 performance.
2. ASUS-tested and verified setup time. Actual duration may vary by ISP, specific connection type, location, and other factors.