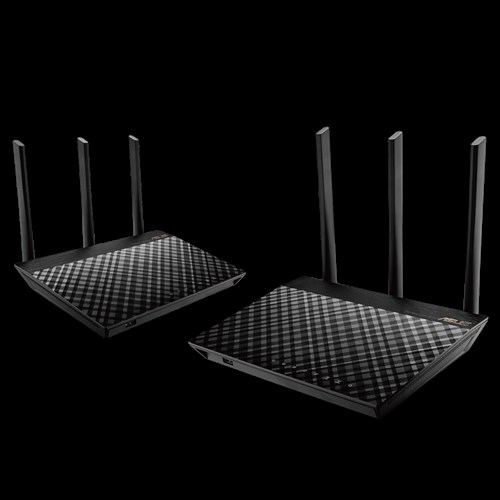 ASUS RT-AC66U B1 Two Pack
A Whole-Home WiFi System
Use the ASUS RT-AC66U B1 two-pack system to blanket an entire home with stable, high-speed WiFi. Thanks to ASUS AiMesh technology, it can connect to other compatible ASUS routers to create an even larger network for a bigger house under the same name. Support for wired inter-router links allows all wireless bandwidth to be given to wireless devices to eliminate any buffering. All the features of each router can also be fully taken advantage of. Router setup is easy via the ASUSWRT web-based interface. You can create separate SSIDs for the 5GHz and 2.4GHz band for the most efficient use of wireless bandwidth. The AiProtection Pro protection and complimentary antivirus protection work together to ensure safe surfing at home or on the go.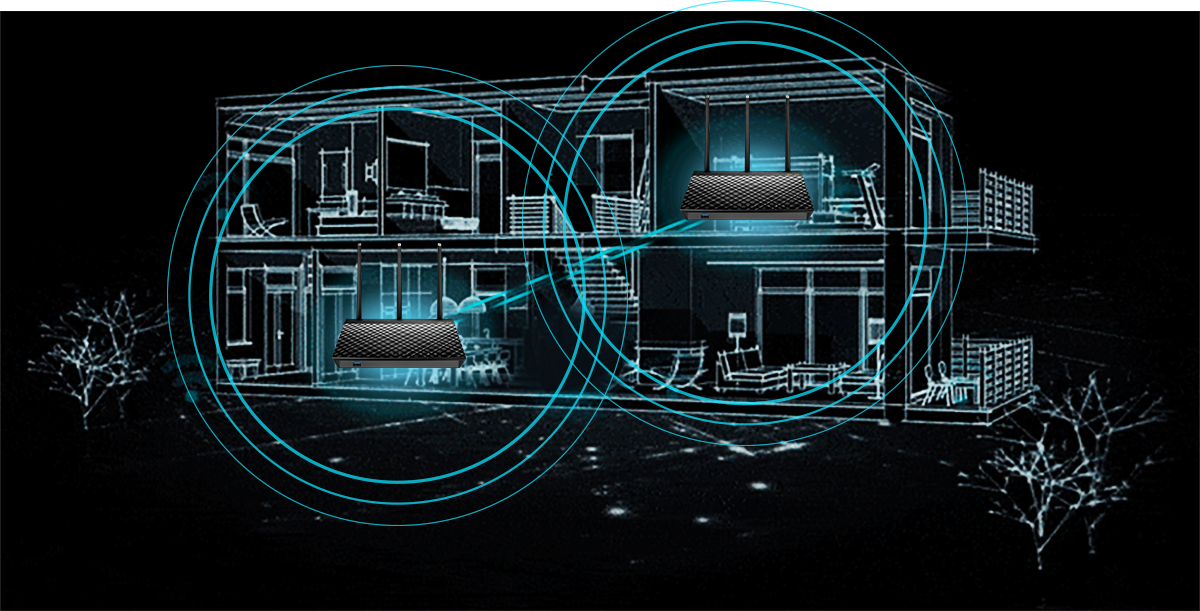 Move Beyond Inflexible WiFi Systems to AiMesh
AiMesh overcomes the limitations found in other whole-home, mesh-networking Wi-Fi systems. Although these systems can be convenient all-in-one solutions, they often come with a limited choice of Wi-Fi speeds, software features and upgrade paths. With AiMesh, you can create a completely flexible whole-home Wi-Fi system tailored to your needs, while continuing to enjoy all the functions of each individual ASUS router, such as extreme Wi-Fi performance and exclusive advanced networking features.
Seamless, Pain-Free WiFi
AiMesh can create a single, house-wide network name so there's no need to constantly switch between networks as you roam around your home. AiMesh keeps an eye on the signal strength to your device, and switches it seamlessly to another source if necessary. All you have to do is enjoy it!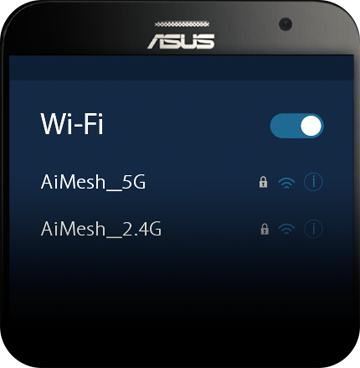 Your Network, Your Choice
AiMesh enables creation of separate SSIDs for each frequency band, while still providing seamless roaming within the network. This gives you increased flexibility, allowing you to, for example, dedicate the 5GHz band to gaming devices or a smart TV.
Wired Inter-Router Links for Faster, More Stable WiFi
AiMesh supports Ethernet backhaul, enabling users with on-wall Ethernet jacks in their home to create a wired connection between the routers in their network. This not only provides fast and reliable inter-router communication for even more stable Wi-Fi, but also dedicates the entire 2.4GHz and 5GHz bands to wireless devices for smoother connections.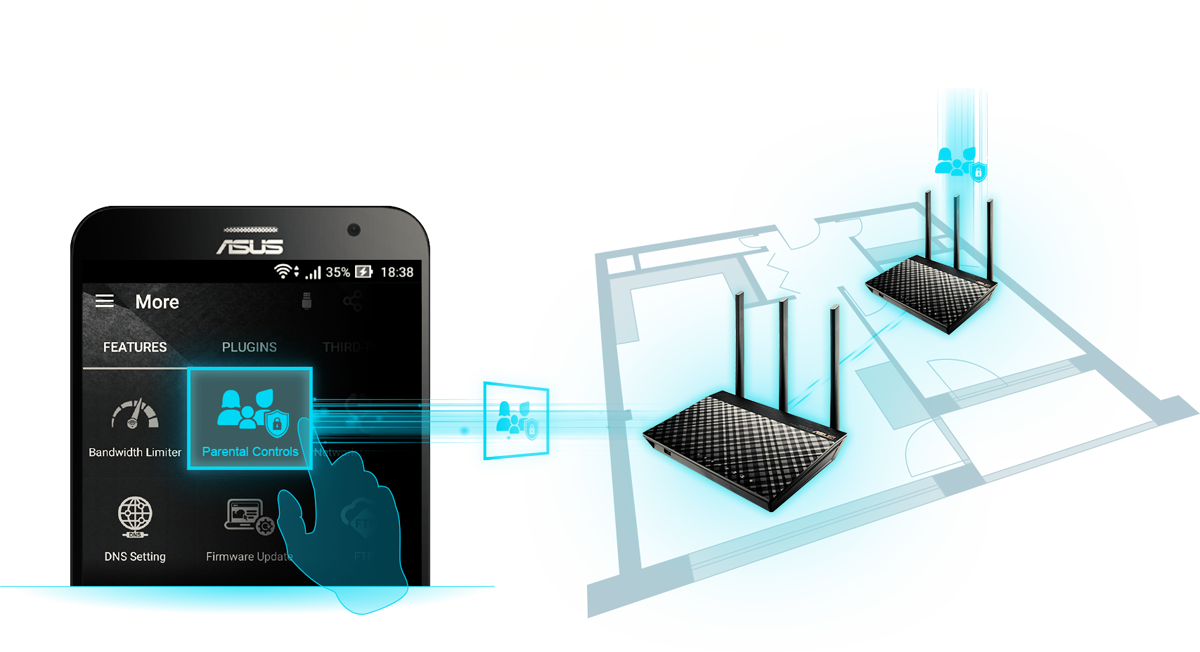 Incredibly Easy, but Incredibly Powerful
AiMesh is incredibly easy to use, but that doesn't mean it's not powerful. With AiMesh, all routers can still use all their own features, as well as all the features of the other routers—with easy central control of all settings from the ASUS Router mobile app or ASUSWRT. So many great features like AiProtection, QoS and Parental Controls work across the entire network, ensuring that no-one can bypass them by connecting to a different router. Just remember to always connect your highest-specification router to your Internet service.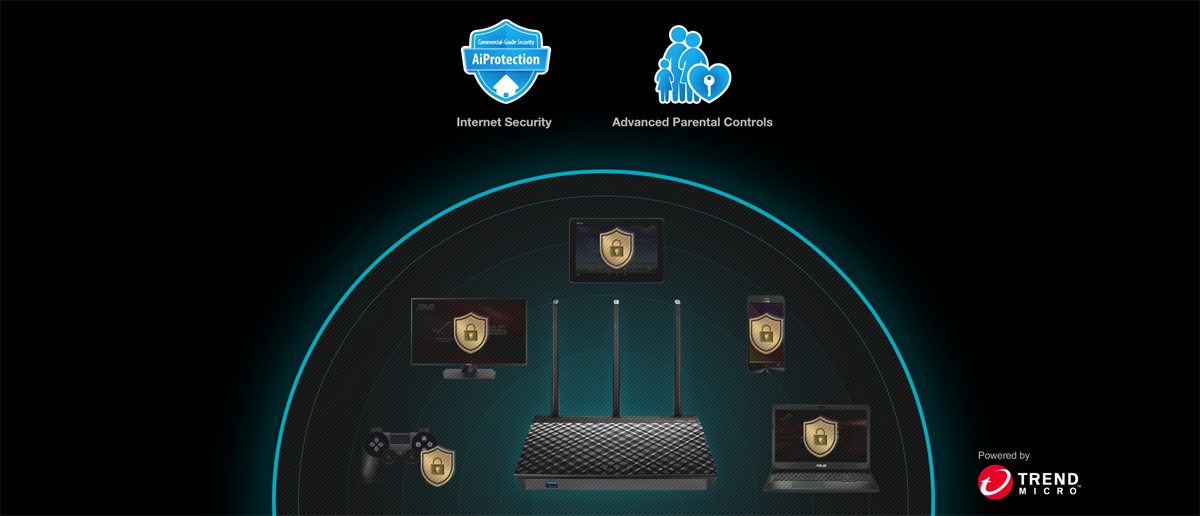 AiProtection Pro
Commercial-Grade Security for Family
All your family members, young or old, are exposed to the dangers of internet every single moment they're online. Disguised cyber threats can sneak in to steal your private data, or your kids may accidentally encounter inappropriate content during their ever-growing screen time. AiMesh AC1750 Wi-Fi system includes Advanced Parental Controls to give you total peace of mind, with AiProtection Pro commercial grade security for your home network and comprehensive, easy control of the online experience for each family member and each device, all via the mobile app.
Complete Device Security
Complimentary Antivirus Protection
AiMesh AC1750 WiFi System includes exclusive added protection for your devices—PCs, smartphones and tablets—even when they're not connected to your home network! With AiMesh AC1750 WiFi System, you can rest assured that your devices always have full antivirus protection, wherever you use them. Each AiMesh AC1750 WiFi System router includes a year's free Trend Micro Mobile Security for two mobile devices and Trend Micro Antivirus+ Security for two Windows PCs!
Adaptive QoS—Prioritize Your Game
Boost your gaming bandwidth with Adaptive QoS (Quality of Service), which allows you to easily prioritize gaming packets and activities. You can even assign full dedicated bandwidth while gaming under gamer solo mode, making AiMesh AC1750 WiFi System the perfect ally for low-latency gaming anywhere in your home. It supports major consoles including PlayStation 3, PlayStation 4, PS4 Pro, PlayStation Vita, Wii U, 3DS and Xbox One.