Modern Design. Exceptional Speed. Versatile Innovation.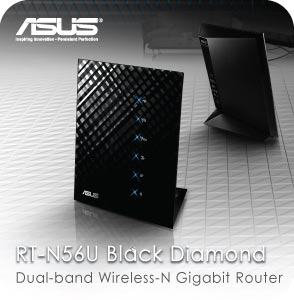 Impossibly thin with a glossy black patterned finish, the ASUS dual band gigabit wireless-N RT-N56U router truly cuts the edge of innovation with powerful features that deliver the latest in networking capabilities. Equipped with exceptional hardware Network Address Translation (NAT), this one-of-a-kind router delivers up to 1000Mbps throughput that's up to five times faster than conventional gigabit routers.* The RT-N56U is like having two routers in one. Dual band transmissions enable both 2.4GHz and 5GHz spectrums simultaneously to give you faster, more secure connections. And with up to 300,000 sessions, 20 times the amount of conventional routers, you have sufficient headroom for additional clients and devices without buying an additional router.
The RT-N56U also provides users with incredible versatility. Plugging in a USB All-in-One printer, enables easy sharing between printer and scanner functions for all networked PCs. Download Master BitTorrent client shifts download duties from the PC directly to the router-attached storage via the two onboard USB ports. For even more convenience, ASUS AiDisk transforms a connected USB device into an FTP server for remote transfers. The RT-N56U was designed with ease-of use in mind. With a CD-free, plug-and-play setup, the RT-N56U gets you up and running to let you effortlessly optimize bandwidth for gaming, video calls, downloading or whatever else you choose.
Whether you use it as a print server, BitTorrent hub, FTP storage, or ultra-fast Wireless N router, the RT-N56U adapts to your networking needs as a cross-functional network device.
Key Features
2.4GHz and 5GHz dual band transmissions enable faster, more secure high-speed connections
True gigabit throughput delivers up to five times faster speeds than conventional routers*
Up to 300,000 sessions to Internet clients for more stable, high-speed connections
EZ User Interface (EZ UI) with a simple 3-step setup gets you up and running within minutes
EZ Quality of Service (EZQoS) Bandwidth Management gives you a simple way to optimize Internet speeds for gaming, browsing, file sharing, and VoIP/ media streaming
Built-in printer server for sharing All-in-One USB printers within your home or office
AiDisk is your personal FTP server that you can access anywhere you have the Internet
Download Master lets you download from the Bit Torrent site to the connected USB storage device directly thru the router without having to leave your PC on
Ai Radar automatically detects the location of clients and pin-points the signal to the client for effective and efficient transmissions
---
Faster Transfers. Wider Coverage.
Experience true gigabit network speeds that's up to five times faster throughput than conventional routers.* Enjoy accelerated transfers, fluid streaming, and snappy surfing. The RT-N56U not only delivers up to 14 times faster Internet and up to 6 times wider range compared to previous generation routers but it also has dual band support on both 2.4GHz and 5GHz transmission spectrums for faster, more secure connections. And where other routers fail to connect when placed far away, the RT-N56U router gives you the wireless freedom to roam even further and enjoy high-speed networking nearly anywhere in your home or office. Get bandwidth on demand with EZ Quality of Service (EZQoS). EZQoS dynamically sets Internet bandwidth priority for browsing, online games, Internet applications (such as BitTorrent), and voice/video streaming. The EZQoS is simplified for ease of use, just click on the image you want to set and it adjusts instantly. Ai Radar automatically detects the location of clients and pin-points the signal to the client for solid transmissions and enhanced signal coverage.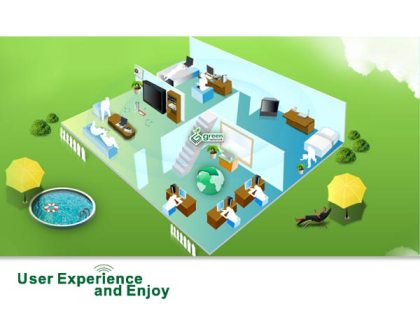 ---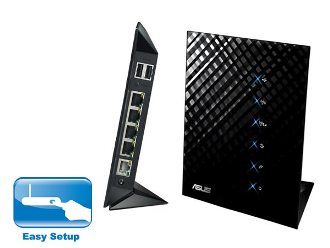 Easy, Quick Setup in a User-Friendly Interface
The RT-N56U features EZ UI, a simplified user interface for quick setup, access to Internet-enhancing utilities, and a helpful troubleshoot guide that users at all levels will appreciate.
Quick 3-Step Internet Setup
The moment you connect the RT-N56U you will automatically be guided through an easy 3-step, manual-free setup.
1. Plug the router in your network and wall socket
2. Complete the installation wizard
3. Open your favorite browser and start surfing
---
Your Entire Network in One Picture
Within the EZ UI, you can see your entire network all at once with real-time status updates for each connection. This simplified network map makes it easy to check for any issues with connections to other PCs or printers and manage your network settings.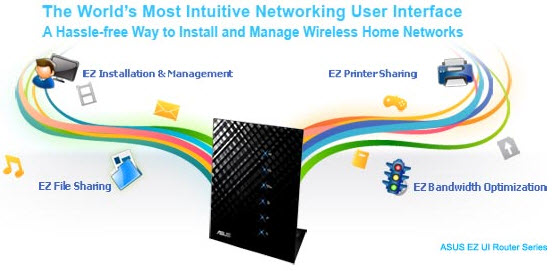 ---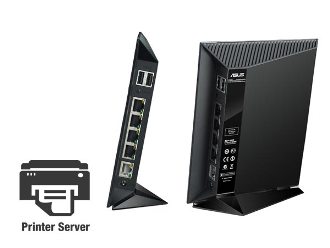 Your Personal All-in-One Print Server
Print, scan, and share directly from connected USB printer, scanners, and storage devices via the USB port. With the wireless printer server function built into the RT-N56U, you can centralize your printing and scanning for your entire home or office network into one location.
---
The Ultra Versatile Download Master
The RT-N56U router sets itself apart from ordinary routers by offering BitTorrent and FTP server functionality.
BitTorrent
Share your movies, music, games, and other files. The included Download Master application utilizes the BitTorrent P2P protocol to download and seed Torrents to and from the connected USB storage device. What's more, you can shut off your PC after setting up a torrent file to continue the download, PC-free. Download Master also lets you customize how you choose to share with custom bandwidth allocation when seeding.
FTP
Create your own personal FTP Server with ASUS AiDisk located within the EZ UI, and upload or download files from the connected USB storage device to any Internet-accessible PCs. Perfect when you forget documents at home or when sharing large files, FTP access grants you the ability to safely secure and access your treasured data through your router. This feature can also work without having to leave your PC on.
---
What's in the Box
RT-N56U router
Ethernet Cable
Application CD
Power Adapter (12V 1.25A)
Quick Starter Guide
Setup Guide
Warranty Information Card
---
* Maximum wireless signal rate derived from IEEE Standard 802.11g and draft 802.11n specifications. Actual data throughput will vary. Network conditions and environmental factors, including volume of network traffic, buildings materials and construction, and network overhead, lower actual data throughput rate. Environmental factors will adversely affect wireless signal range. Wireless range and speed rates are relative performance measurements based on the wireless range and speed rates of a standard Wireless G product. Maximum throughput based on draft 802.11n devices.