The Amarey A800 vacuum cleaner is a necessary cleaning assistant for your home. It can provides 4 cleaning modes: automatic, spot, edge, single room to clean your home effective and quietly under 58dB. Within the ultra-thin design, the height of A800 vacuum cleaner is only 2.7 height which allows to work flexible under large furniture and reach more place to clean. Adopting 1400Pa strong suction power, the A800 is a best vacuum cleaner for pet hair, human hair and any invisible dirt or particle. Integrating with high-capacity Li-ion battery, A800 is able to work 100 minutes continuously and return to the dock automatically when finishing its work. A800 robot vacuum is a good choice for the health and cleanness of your home.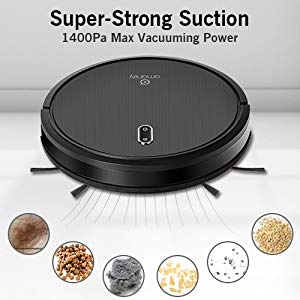 ULTRA-STRONG SUCTION POWER
With 1400Pa ultra-strong power suction, A800 is a best robot vacuum for removing pet hair and human hair. The suction power is strong enough to remove any hair on your floor or carpet and prevent the spread of any invisible dirt or particle. Reducing the bacteria in air effectively and making your home a pure, healthy place to live.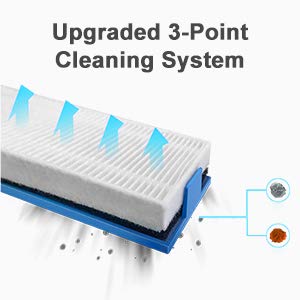 4 Efficient Cleaning Modes & Triple Cleaning System
This smart vacuum cleaner adopts 4 efficient cleaning modes which includes automatic, spot, edge and single room to easily clean your place. It can adjust the suction power from maximum to stable between different modes and it can work quietly under 58dB. Besides, the customizable cleaning schedule can let you remote control everything and save your energy & time. A800 remote cleaner also upgraded to 3-point cleaning system (Washable Pre-filter/Sponge/High-efficiency Filter) which is a best robot vacuums for carpet.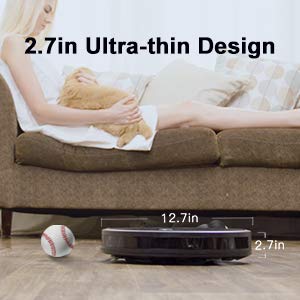 2.7in Ultra-thin Design
With the ultra-thin design, vacuums cleaner A800 can work smoothly under any large furniture such as TV cabinet, sofa, bed and dinning table. After optimizing the height and thickness of each part, the height of this robot vacuum is only 2.7 inch and can work flexible under most furnitures and the low-profile body enables A800 to avoid getting stuck and reach more place to clean.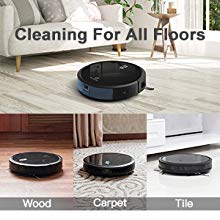 Cleaning For All Floor Types
The design of our A800 vacuum cleaner could easily clean tiny messes from floor to carpet. No matter it is hardwood floor, marble floor or carpet, It can target on pet hair, dust, bread crumbs, cigarette butts, etc., quickly and collect them directly in the dust box.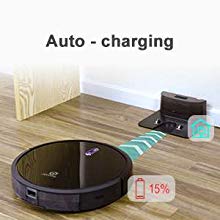 Long Working Hours & Self-charging
Powered by a 2600mAh high-capacity Li-ion batter, the A800 robot vacuum cleaner can work up to 100 minutes when fully charged. Powered by a 2600mAh high-capacity Li-ion battery and it could seeks the charging dock automatically after finishing its work or on low battery. A800 vacuums robot is always ready to work for you.
Fairly Quiet Under 58db
This automatic vacuum cleaner works quietly and efficiently, the noise level is normally less than 58db which will not disturb you or your child's sleep, providing you a fairly quiet, comfortable cleaning environment.
Best Vacuum Cleaner For Your Home
A800 vacuums cleaner is designed to work on thin carpets to hardwood flooring, automatically stopping near edges and avoid falling. The robot vacuum can climb over the floor, and crawl with a 15-degree slope for thoroughly cleaning.