Redefine your mobile gaming experience with the ASUS ROG G751 gaming laptop. Powered by the quad-core Intel Core i7 processor and the latest NVIDIA GeForce GTX 965M graphics card, this laptop delivers the performance and capability you need to game at top settings in the hottest title. The TurboMaster gives you a performance boost of over 5% via real-time overclocking, while intelligent dual fans and copper heat sinks keep your gaming gear cool and always at peak performance. The 17.3" IPS anti-glare display brings what you see to life with vibrant color, Full HD resolution and wide viewing angle. Launch Gaming Center dashboard, Steam, and recording function and more, with quick-access game keys and programmable macro keys. Get ready to be immersed in the dynamic sound powered by Bass Eye subwoofer and ROG AudioWizard utility. And with understated design with F-22 Raptor-inspired lines, adjustable backlit keyboard, brushed aluminum design with an illuminated ROG logo, and majestic red design touches, the ASUS ROG G751 is here to show the world you're serious about gaming with its instantly recognizable ROG style.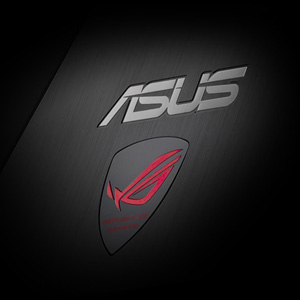 Republic of Gamers (ROG) DNA Black
RED. STEALTH – KNOW AN ROG WHEN YOU SEE ONE
ROG G751 retains the classic stealthy F-22 Raptor-inspired lines found on previous G Series iterations; only this time it sports an aluminum finish with an illuminated ROG logo. Whether you're the hero or the villain, get ready to be immersed in a Full HD gaming world through a 178-degree wide-view angle display with an anti-glare coating.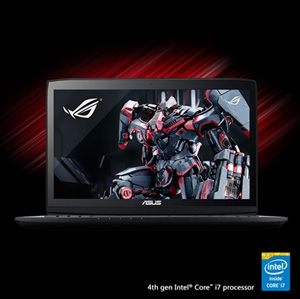 Intel Core i7 Processor
Armed with the latest 4th generation Intel Core i7 processor, the G751 sets all-new benchmarks for powerful performance so you never have to slow down. Intel Thunderbolt technology provides ultra-fast graphics and data transmission via a single connection; while GameFirst III optimizes networks to give you smooth, lag-free online gameplay by prioritizing game packets and allocating more bandwidth for games.
Enthusiast-grade Graphics with Asus TurboMaster
The latest enthusiast-grade NVIDIA GeForce GTX 965M graphics delivers an incredible 60% faster performance than the previous-generation GeForce GTX 860M, driving impressive 1080p gameplay at ultra settings in sleek new designs. NVIDIA GeForce Experience optimizes settings for higher resolutions and greater in-game detail for extra-sharp image quality. ASUS TurboMaster technology, gives you the ultimate gaming experience. ASUS TurboMaster supports real-time GPU overclocking to give you a performance boost of over 5%. An upgraded PCB design ensures a stable power supply; and features a dedicated 3-phase GPU power design along with upgraded Tantalum capacitors.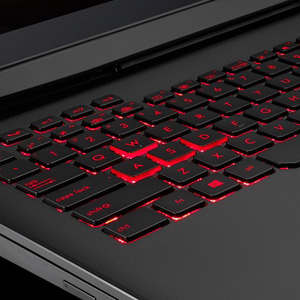 Ultra-Responsive One-Piece Backlit Keyboard
With long travel keys for instant response, the seamless one-piece backlit keyboard is a joy to use even after extended sessions. In addition to the highlighted WASD keys, you can also adjust the brightness of the red keyboard backlight at any time for maximum visibility, making it easy to game anywhere, any time.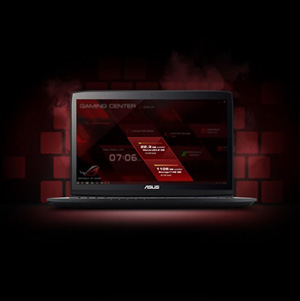 Launch Gaming Center at a Press of the ROG Key
The ROG key gives you quick access to the Gaming Center dashboard where you can access system settings and build your own gamer profile. Easily view your storage and drive space availability, as well as the amount of memory used. With the G751, you can also set up to four different gaming modes, each tailored to different situations and needs.
Macro Keys and Quick Access Keys
The G751 features quick-access game keys and additional programmable macro keys for easy access to Steam, game recording and your frequently used commands.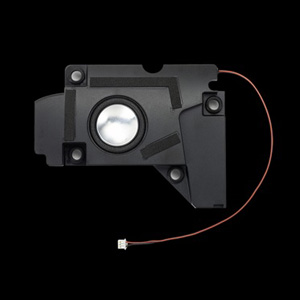 Realistic, Immersive Audio
The ROG AudioWizard utility is an intuitive tool that allows you to easily select the ideal audio settings to suit your needs. It provides you with several preset modes specially optimized for different kinds of games and entertainment. The G751 also includes an internal Bass Eye subwoofer that's perfectly balanced with the rest of the notebook for added low-frequency impact.
Play It Cool
Get to the finish line without having to power down. The G751 uses an upgraded intelligent cooling system that guarantees stability and low temperatures even when overclocking. Dual independent CPU and GPU fans adjust to each component's needs and work with copper heatsinks to provide maximum cooling efficiency. But the notebook's low temperatures are achieved also because of its design. The G751's architecture quietly expels heat through the back – away from the gamer – so you can focus on owning your opponents.
Choose Your Vantage Point
The G751 comes future-ready, supporting 4K2K HDMI output. Now you can connect to high-resolution screens that go far beyond today's 1080p systems. Just plug in to experience immersive, true-to-life gaming. And with Trinity Display Technology, you can output graphics to three displays simultaneously via HDMI 1.4 or Mini DisplayPort 1.2. Watch a movie, browse the web, or game – all at once.