The ASUS Laptop ASUS X555LB puts industry-leading components and lots of appealing features into a thin, beautiful package, providing you with desktop-class performance without the bulkiness and power usage.
Confidently play the hottest tittles with unrivaled speed, and take on graphics-intensive programs. Breathe life into your entertainment with a Full HD display and professional-grade sound. Optimize your input experience with the ergonomic keyboard and large, multi-gesture touchpad. Easily access your data and files anytime, anywhere, thanks to the ASUS WebStorage.
Expressive Colors. Stunning Finishes.
Designed for daily computing, the stylish ASUS X555LB laptops come in 10 expressive colors and a variety of textured finishes to make sure you stand out from the crowd. They feature an elegant Zen-inspired spun finish or a brushed finish for a premium metallic look and feel. The X555LB laptops have garnered numerous design accolades, including a 2014 Good Design Award.
Uncompromising Performance
Looks aren't everything. The sleek exterior hides a brutal reality. Under the hood, the ASUS Laptop X555LB is pure supercar.
Power to spare: Conquer your computing tasks with ease. Powered by a speedy Intel Core i5 5200U dual-core processor (2.2 GHz) and up to 8GB memory, the ASUS Laptop X555LB-NS51 offers plenty of power to handle demanding applications and multitasking with speed and ease.
Unrivalled graphics performance: The high-end NVIDIA GeForce 940M graphics card provides uncompromising graphic performance, making everything smoother and more fluid with great video quality. Ideal for gaming and graphically intensive programs, such as video editing, and animation etc.
Sizable Storage: You'll never be short on room. Up to 750GB HDD provides you plenty of space to store your files, data and media contents.
Enjoy a World of Color
ASUS X555LB laptops can be specced up to a Full HD (1920x 1080) resolution display. With a pixel density of 141 pixels per inch (PPI), you'll enjoy rich detailed images onscreen. To ensure only the very best images, exclusive ASUS Splendid Technology has color temperature correction to reproduce richer, deeper colors. It features four visuals modes which can be accessed with a single click. Vivid Mode optimizes contrast for browsing photos or watching videos and movies. Eye Care Mode reduces blue light levels and is ideal when you're reading for long hours. Normal Mode has been tuned for daily tasks while Manual Mode is for advanced color adjustments.
ASUS SonicMaster Technology

A mixture of hardware, software, and tuning, SonicMaster was developed with the clear goal of giving you the best notebook PC audio. A professional codec ensures precise sound performance while an optimized amplifier, larger speakers and resonance chambers deliver powerful audio output and deeper bass. Additional signal processing helps fine tune the hardware, filtering noise and improving clarity, so you can enjoy unrivalled audio on your ASUS X555LB laptops.

AudioWizard-Optimized Tuning

AudioWizard helps you fine tune your audio through five pre-set modes. Its simple and intuitive interface lets you switch instantly between these modes to get the best audio for any content, in any environment. Or if you prefer, take full control of settings manually.
Ergonomic Keyboard Design
Typing is now more comfortable than ever with the full-size one-piece chiclet keyboard. An improved back-assembly provides 1.8mm of key travel and minimal key float, so you get a more solid typing feel.
Intuitive ASUS Smart Gesture Input
ASUS Smart Gesture technology utilizes an intelligent combination of hardware and software optimization to give you precise input. Sophisticated smartphone touchscreen production methods result in a highly sensitive touch pad that allows you to pinch-zoom in and out, or scroll through images and webpages with ease. Additionally, the larger 106mm x 74mm touchpads found on the ASUS X555LB laptops have a palm rejection feature which differentiates between actual fingertip and palm contact to counter unintentional cursor movement.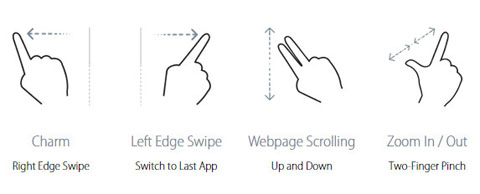 Designed for Your Convenience
ASUS X555LB laptops give you a wide array of connectivity options that include USB 3.0, HDMI and VGA ports, a 3-in-1 SD/SDHC/SDXC card reader, and more to ensure compatibility with various peripherals and USB 3.0 delivers ten times the speed of USB 2.0, so you can transfer photos, music, and even large video files in a fraction of the time — transferring a 25GB Blu-ray qualivie takes a mere 70 seconds.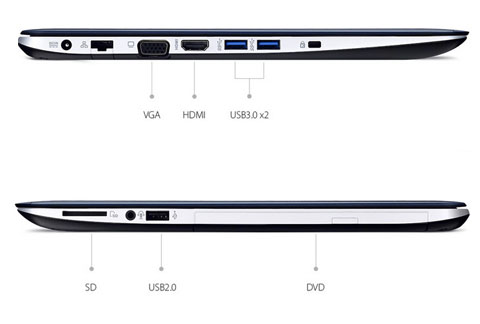 Stays Cool, Even After Hours of Use
ASUS IceCool Technology gives the laptop a unique internal design that addresses uncomfortable heating issues by preventing heat build-up under the palm rest. This keeps the palm rest surface between 28°C to 35°C – significantly lower than body temperature. This exclusive internal layout places heat producing components away from you, and when combined with exceptional cooling from the heat pipes and vents, ensures you stay comfortable even after long hours of use.

ASUS WebStorage
Each ASUS X555LB laptop comes with 16GB of ASUS WebStorage space free for one year. ASUS WebStorage gives you access to all your files as long as you are connected to the internet. Your files are synchronized between all your devices, so the most up-to-date versions are always on hand. Sharing files is simple, too, whether via email, instant messaging or your favorite social network. It's how the cloud was meant to be.
Long-Lasting Polymer Battery
ASUS X555LB laptops feature a Li-Polymer battery that gives you up to 800 charge cycles — 2.5 times the lifespan of standard Li-ion cylinder batteries. On top of that, a Li-Polymer battery retains up to 80% of its original charge capacity even after hundreds of charge cycles so you won't have to worry about deteriorating battery performance. Thanks to a clever combination of hardware and software optimization, the battery adheres to the highest battery safety standards and gives you optimal charging performance to prolong its lifespan.