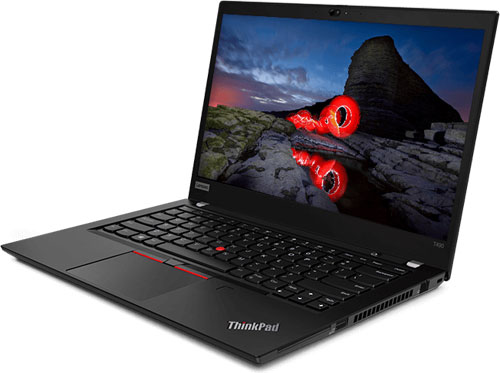 Lenovo ThinkPad T490
Does everything but make the coffee
A work laptop that brings robust business performance and security for professionals to get things done on the move, fast. With a starting weight of just 3.23 lbs / 1.46 kg, the ThinkPad T490 is perfect for portability. A 14" thin-bezel display keeps your focus on the screen. And long battery life with fast charging support helps you stay productive and connected through your workday.
We (seller) sell computers with custom/upgraded configurations to enhance system performance. If the computer has modifications as listed above, then the manufacturer box was opened by our highly skilled technicians for testing and inspection and to install the upgrades according to the specifications as advertised. Both the computers and components are brand new for the upgraded system.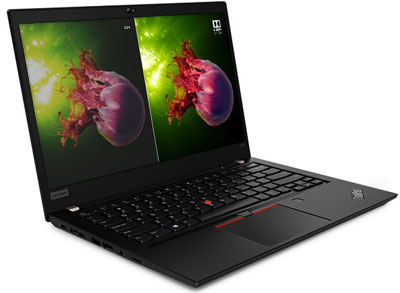 Dazzle yourself & others
Choose dramatic Dolby Vision HDR technology, available on the WQHD panel that boasts increased brightness, expanded contrast, amazingly accurate colors, and refined detail. Combine with optional discrete graphics, the ThinkPad T490 is perfect for working with multimedia. Go with the FHD low-power display option for enhanced battery life. No matter which display you choose, the ThinkPad T490 features a new narrower bezel design for a sleeker design and more productive workday.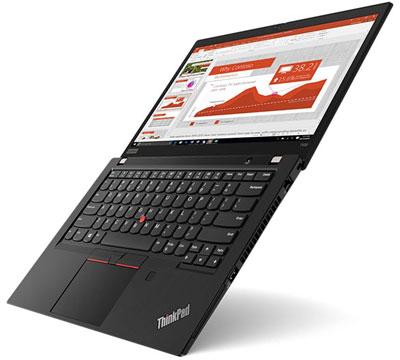 Tested for battle, built for life
Like all ThinkPad laptops, the T490 is tested against 12 military-grade requirements and more than 200 quality checks to ensure it runs in extreme conditions. From the Arctic wilderness to desert dust storms, from zero gravity to spills and drops, you can trust this laptop to handle whatever life throws your way.
Go from 0 to 80 in 60
The ThinkPad T490 delivers up to 16.1 hours* of battery life with the low-power FHD display. If you're running on empty, Rapid Charge provides an 80% charge in just an hour. So, a 60 minute lunch break or a layover is enough to boost your battery up to 12 hours. What more could you need for life on-the-go?
* Based on testing with MobileMark 2014 on the low-power FHD display panel. Battery life varies significantly with settings, usage, and other factors. Note that Rapid Charge requires the 65W power adapter.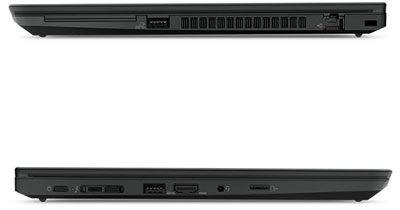 Stay connected
Whether you're out in the world or working at your desk, the ThinkPad T490 keeps you connected. The optional LTE-A card keeps you up and running worldwide*. Use the ThinkPad Pro Dock (sold separately), a USB-C side mechanical docking station that easily connects with two male Type-C ports that slide into and automatically level your device. Once docked, your ThinkPad stays securely in place and connects to all of your peripherals such as monitors, keyboards, and mice.
* WWAN must be configured at time of purchase, as it's not upgradeable.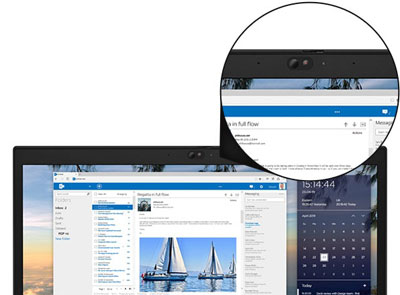 We've got your back—and your front
Keep your business data—and your privacy—safe with the comprehensive suite of ThinkShield security features. The discrete Trusted Platform Module (dTPM) encrypts data and works in conjunction with Windows 10 security for even more protection. ThinkShutter, a physical camera cover, blocks the webcam lens so you're only seen when you want to be. The optional fingerprint reader uses biometrics to log you in with a simple touch.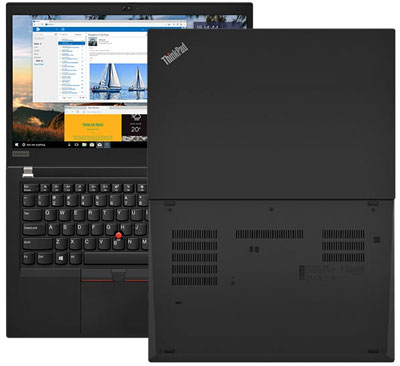 For your eyes only
As part of ThinkShield security, we offer a combination of hardware and software that work together to ensure what's on your display is for your eyes only. PrivacyGuard (optional) is a built-in privacy filter that makes it so what you're doing is only visible when viewed head-on—anyone looking from an angle will only see a darkened screen. PrivacyAlert* is integrated software that works with the IR camera to detect when others are looking over your shoulder and notify you of the potential threat with a popup alert.
* Requires the optional IR camera.