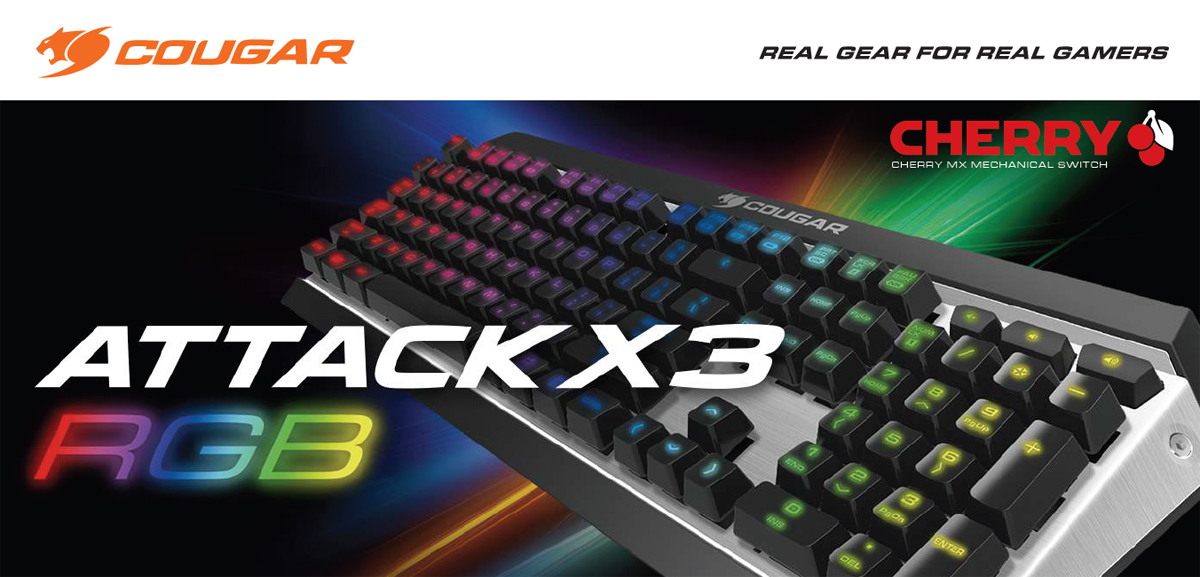 COUGAR ATTACK X3 RGB (2018 version)
Cherry MX RGB Backlit Mechanical Gaming Keyboard
Unleash your full gaming prowess with the ATTACK X3 RGB gaming keyboard, a weapon of choice for professional gamers offering a combination of good looks, awesome features and rock-solid reliability. With Cherry MX mechanical switches, a full macro system, N-Key rollover, brilliant lighting effects, and an ergonomic FPS palm rest (exclusive for the new 2018 version), the ATTACK X3 RGB provides you with the dominating power that leads you from one victory to another.
With 9 impressive preset lighting effects, you will enjoy Attack X3 RGB's spectacular backlights right upon plugging it in. Easily control and switch among the backlight effects on the fly with this keyboard's convenient shortcut keys.
In case this wasn't enough, you can create your own backlight effects through the COUGAR UIX System to set your own, unique, gaming atmosphere. Unleash your creativity!
Attack X3 RGB's aluminum front plate combines elegance and durability to create an impressive face for this powerful gaming weapon. It doesn't stop there: the RGB backlight reflects on the aluminum to create a glorious visual effect that will transform your gaming experience!

The First and Best Mechanical Switches
Attack X3 RGB brings you the most popular switches for gaming: Cherry MX switches. With a guaranteed lifetime of at least 50 million clicks and unparalleled reliability, the swift response of those switches will allow you to show just how good you are.


N-Key Rollover: Unlimited Accuracy
Games quite often require complex key combinations. Most keyboards on the market have limitations regarding the number of simultaneous keys you can press, with the vast majority being limited to 6 simultaneous keys or less. Attack X3 RGB frees you from any restriction, allowing you to press any number of keys and obtain always accurate results!

FPS Palm Rest
Gain comfort and improve your performance. Specially designed for FPS (but useful as well for other game genres), this detachable rubber palm support provides a strong grip and just the right height to effortlessly keep your hand in place during action, in the right position to access the WASD, jump, crouch and weapon/skill keys.
* Included only for with the new 2018 version of Attack X3 RGB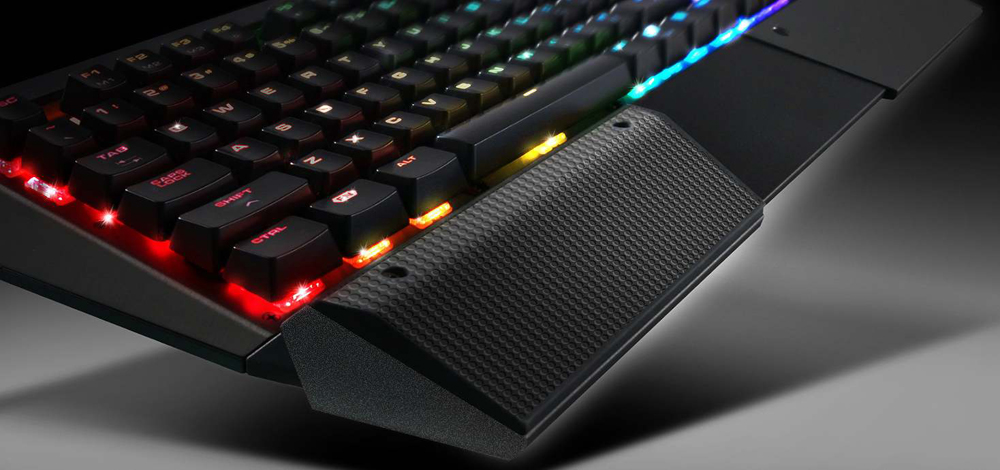 COUGAR UIX System
COUGAR UIX software has the most intuitive, friendly, and easiest interface, which allows you to edit unlimited backlight effects. In addition, it offers easier configuration and customization, macro recording and sharing between devices... everything you might ask for, and all with a very convenient and intuitive interface.
In order to minimize the time you spend recording macros and maximizing the time you spend using them, COUGAR's Macro Arsenal lets you record your macro once and use it again on another COUGAR UIX compatible device, or export individual macros to share with your friends. Enjoy your gaming sessions with this powerful software.
On-Board Memory
The on-board memory allows you to store up to 3 full configuration profiles on the keyboard itself. This allows you to preserve your configuration even if you bring your keyboard to another computer.
On-the-fly Mode Switch
Convenient key combinations allow you to switch easily between the three configuration modes on the keyboard.
Up to 30 Macros
Attack X3 RGB's on-board memory will allow you to record up to 30 macros and bring them anywhere you go!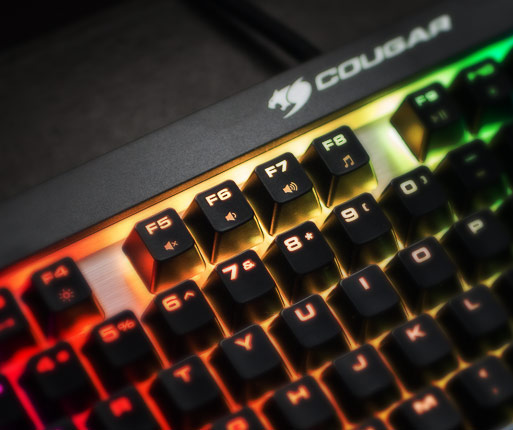 Media Shortcut Keys
Enjoy quick control over your music and videos!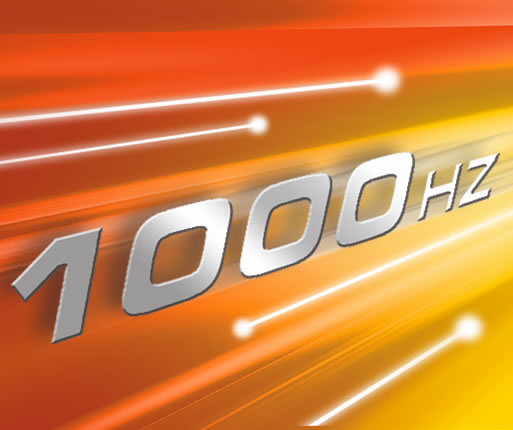 1000Hz Polling Rate
COUGAR ATTACK X3 RGB's 1000 Hz Polling Rate brings you a 1ms Response Rate.
Anti-Slip Rubber Feet
The keyboard base remains stable even during intense gaming sessions.