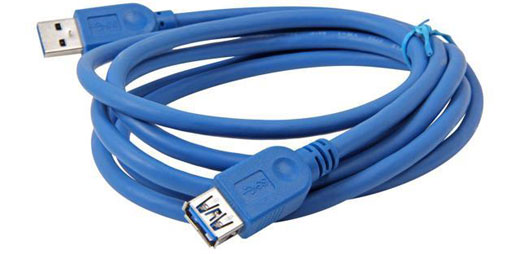 Coboc USB 3.0 Extension Cable
Featuring a Type-A male connector on one end and a Type-A female connector on the other end, this cable extends the reach of a USB port on your laptop or desktop. It fully supports USB 3.0 transfer speed of 5 Gbps, helping you get the most out of today's high-speed peripherals. And constructed with premium quality tinned copper, triple shielding, nickel plated connectors and strain relief at the plugs, this cable measures up to all your performance expectation while lasting long against frequent plugging/unplugging. The blue jacket also matches the typical color scheme of the plastic insert of USB 3.0 connectors. It is UL listed.
Compliant with USB 3.0 SuperSpeed specifications. Backward compatible with USB 2.0 / 1.1 / 1.0 devices.
Just plug-and-play for hard drive enclosures, printers, modems, cameras, hubs, and other SuperSpeed USB peripherals.
Blazing transfer speeds of 5.0 Gbps signaling rate—10x faster than the USB 2.0 with increased maximum bus power.
USB 3.0 utilizes a bi-directional data interface rather than USB 2.0's half-duplex arrangement where data can only flow in one direction at a time giving a ten-fold increase in theoretical bandwidth.
Extends the reach of your USB port, moving the USB port on almost any device in any direction you want.
Foil and braid shielding minimizes EM and RF interference.
Compatible with PCs and Macs.