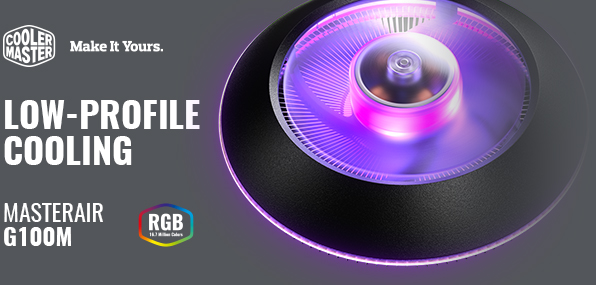 LOW-PROFILE COOLING
The MasterAir G100M is a 74.5 mm low-profile CPU cooler, designed for small form factor cases and compact PC builds.
Equipped with Heat Column technology for exceptional heat transfer, RGB LED ring illumination, a wired RGB LED Controller and a powerful top-down 92 mm fan, the G100M really is in a league all its own.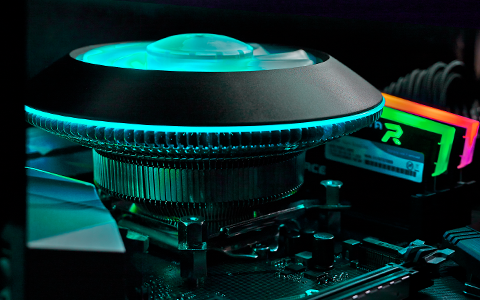 Low Profile
At 74.5 mm tall, the G100M supports large to slim builds, including most Mini-ITX cases.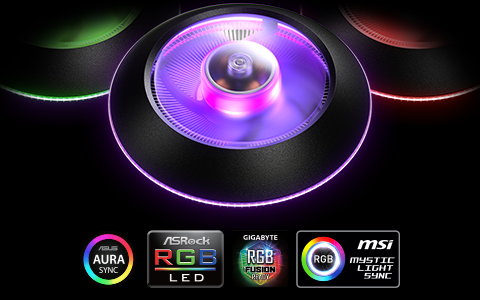 RGB, Certified Compatible.
Illuminate your cooler with the G100M's RGB ring and fan, both of which are certified compatible with most RGB-cable motherboards.
Top-Down Air Flow
Pulled air cools not only the CPU, but all surrounding parts.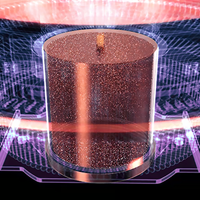 Heat Column Technology
Hyper-quick heat transfer – made possible by the unification of heat pipes and base.
Massive Contact
With a 41.2 mm diameter, the G100M's heat column is 7 times the size of traditional heat pipes.
Wired RGB Controller
With the included C10L controller, choose between 5 brightness levels, 6 lighting modes, and 7 colors — no software required.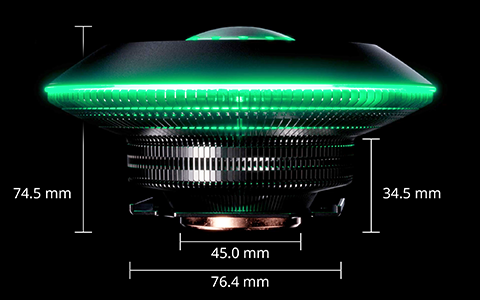 Dimensions
Compare

MasterAir G100M

GeminII M4
Product Number
MAM-G1CN-924PC-R1
RR-GMM4-16PK-R1
CPU Socket
Intel LGA 2066, 2011-v3, 2011, 1366, 1156, 1155, 1151, 1150, 775 — AMD AM4, AM3+, AM3, AM2+, AM2, FM2+, FM2, FM1
Intel LGA 1366, 1156, 1155, 775 — AMD AM3+, AM3, AM2+, AM2, FM1
Dimensions
145 x 145 x 74.5 mm
137 x 122 x 59 mm
Heat Sink
Dimensions
143 x 143 x 51.7 mm
120 x 118 x 44 mm
Material
Heat Column, Aluminum Fins
4 Direct-Contact Heat Pipes, Aluminum Fins
Weight
320 g
210 g
Heat Column
Dimensions
∅ 41.2 x 46.3 mm
n/a
Fan
Dimensions
100 x 100 x 25 mm
120 x 120 x 15 mm
Speed
600–2400 RPM (PWM) ±10%
500–1600 RPM (PWM) ±10%
Air Flow
22.63 CFM ±10%
17.4–58.4 CFM ±10%
Air Pressure
1.6 mm H2O ±10%
0.18–1.76 mm H2O ±10%
MTTF
280,000 hours
40,000 hours
LED Color
RGB-ready
n/a
Noise Level
= 30 dBA
8–30 dBA
Bearing Type
n/a
Long Life Sleeve Bearing
Connector
4-Pin
4-Pin
Rated Voltage
12 VDC
_
Rated Current
0.34 A
_
Safety Current
0.37 A
_
Power Consumption
4.08 W
_
Warranty
2 Years
2 Years
EAN Code
4719512065341
4719512032930
UPC Code
884102037863
884102013140
Net Weight
0.38 kg
_
Gross Weight
0.52 kg
_
Package Dimensions, L x W x H
16.8 x 16.8 x 10.8 cm
15.2 x 9.3 x 17.5 cm
Carton Dimensions, L x W x H
52.9 x 35.5 x 25 cm
40.3 x 32.2 x 38.3 cm