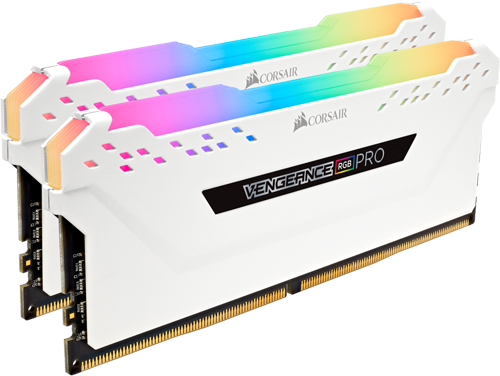 Corsair Vengeance RGB Pro Series Desktop Memory
The Corsair Vengeance RGB Pro Series desktop memory is designed for gamers and DIY enthusiasts seeking both powerful performance and gorgeous RGB effect. The amazing CORSAIR iCUE software enables you to take good control of RGB lighting, and even sync uniformed lighting across all your iCUE-compatible products. Equipped with a custom-performance PCB, highly-screened memory ICs and innovative aluminum heat spreader, Corsair Vengeance RGB Pro Series desktop memory runs extremely fast on various motherboards and keeps high temperature at bay for superior overclocking headroom. Overclocking is safe and totally hassle-free, thanks to support for XMP 2.0. You can install it easily with no wires required.
VISUALIZE, SYNCHRONIZE, MEMORIZE
VENGEANCE RGB PRO Series DDR4 overclocked memory lights up your PC with mesmerizing dynamic multi-zone RGB lighting, while delivering the best in DDR4 performance.

NEXT GENERATION SOFTWARE
Powerful CORSAIR iCUE software brings your system to life with dynamic RGB lighting control, synchronized across all your iCUE compatible products, including memory, fans, RGB LED light strips, keyboards, mice and more.
Customize dozens of preset lighting profiles, experiment with a huge variety of user adjustable colors and adjust LED brightness to perfectly match your system.

MAXIMUM BANDWIDTH AND TIGHT RESPONSE TIMES
Optimized for peak performance on the latest Intel and AMD DDR4 motherboards.
NO WIRES REQUIRED
Requires no extra wires or cables for a clean and seamless install.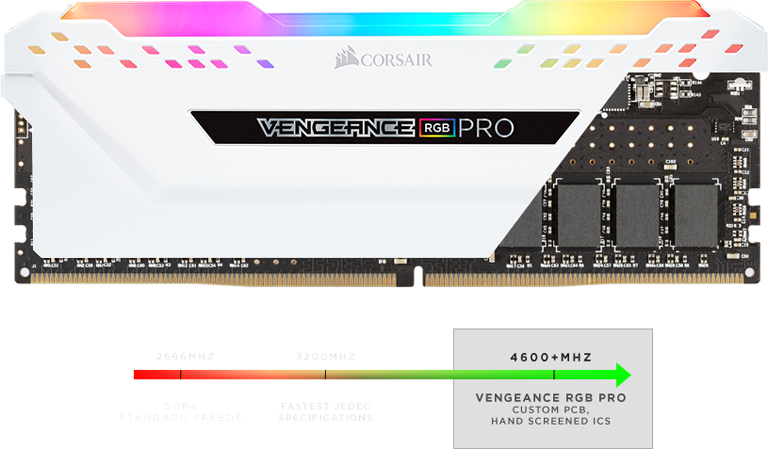 CUSTOM PERFORMANCE PCB
Provides the highest signal quality for the greatest level of performance and stability.

TIGHTLY SCREENED MEMORY
Carefully screened ICs for extended overclocking potential.
ALUMINUM HEAT SPREADER
Improves thermal conductivity for superb memory cooling even when overclocked.
XMP 2.0 SUPPORT
A single BIOS setting is all that's required to set your memory to its ideal performance settings, for optimum performance.