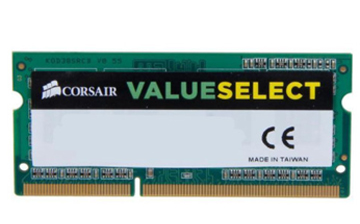 CORSAIR ValueSelect DDR3 Laptop Memory
Are you looking for high-performance memory for your mobile workhorse? Look no further than the CORSAIR ValueSelect DDR3 laptop memory which delivers world famous Corsair performance, compatibility and reliability.
The memory is compatible with virtually all major notebook and netbook PCs. It operates at optimum frequency and provides fast speed and low latency to address your daily needs in work and entertainment. It's tested to Corsair's tough standards for great reliability and stability.