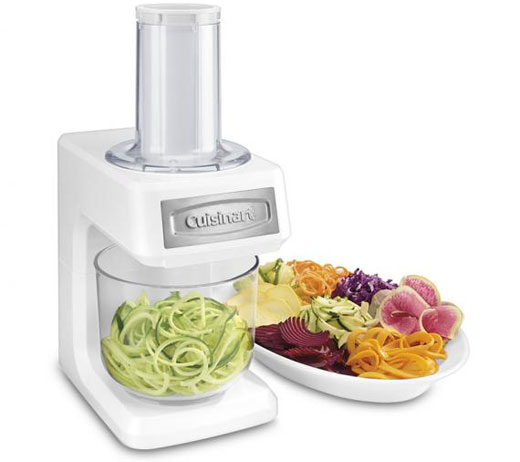 Cuisinart SSL-100 PrepExpress Slicer, Shredder and Spiralizer
Cuisinart continues to simplify food prep with the new PrepExpress Slicer/Shredder/Spiralizer. Now it's easier than ever to make fresh fruits and vegetables part of everyday meals that even kids will love. This 3-in-1 kitchen helper lets you effortlessly create wide ribbons or crinkle-cut spirals of fresh zucchini and apples, and thin or wide butternut squash or beet "spaghetti." Slice cucumbers for salads, waffle-cut potatoes for chips, and create thick or thin shreds of veggies for fajitas. Cuisinart makes it easy for everyone to eat healthy!
This Cuisinart SSL-100 is equipped with a 5-cup work bowl, four cutting cones and can produce eight different cuts of food.
Slicer/Shredder: Angled feed tube and pusher
Spiralizer: Straight feed tube and pusher
40oz/5 cup plastic work bowl
4 Cutting Cones:
1) 2.5mm Slice/Ribbon (Green)
2) 3.0mm Crinkle/Ribbon (Blue)
3) 3.0mm Thin Shred/Spaghetti (Maroon)
4) 9mm Wide Shred/Spaghetti (Black)
Produces 8 different cuts of food
Easy on/off switch
Cleaning brush
BPA-free
Recipe/instruction book