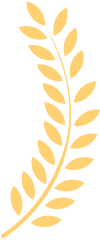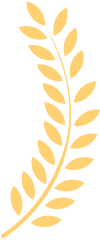 Best Sellers
In Extenders & Repeaters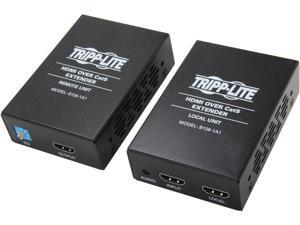 "Works great over a distance of 70 feet of CAT 5E. 1080 picture is every bit as good as the picture on the source end. My source signal is from a satellite box, and as far as the box is concerned, there is no problem with having this device connected. I did run into one minor problem; I receive local channels (HD) from an indoor, hang on the wa..."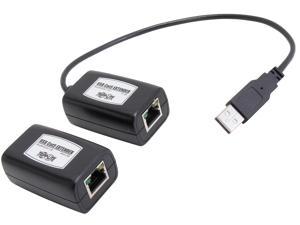 "Works great. I used this to plug in a smart-board in a classroom and had no problems what so ever."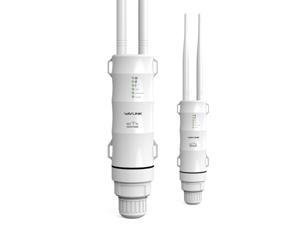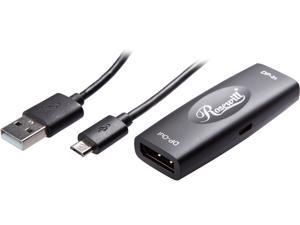 "Plug & play and high speed needed to achieve 90 Hz"
IOGEAR GUCE64 USB 2.0 4-Port BoostLinq Ethernet - 164ft, 4-Port USB Extender over Cat5/Cat5e/Cat6 Ethernet Cable
+ 5% off w/ promo code 63JNLTD52, limited offer
Type: USB 2.0 over Ethernet
Max Extend Distance: 164 feet
Color: Black
Specifications: Function Operating System Requirements Windows Windows Vista, Windows 7, Windows 8, Windows 8.1 Mac Mac OS X10.3+ USB Specification USB 2.0 Cable Connections Input Transmitter: USB Type B Female x 1; Receiver: RJ45 Ethernet Connector Output Transmitter: RJ45 Ethernet connector; Receiver: USB Type A Female x 4 Transfer Rate Up to 480 Mbps Cable Length Transmitter: USB cable 1ft (included); Receiver: Cat 5, Cat 5e or Cat 6 cable (not included) up to 164ft (50m) Cable Distance Maximum cable distance from Transmitter to Receiver: 164ft (50m) Cable Type Ethernet Cat 5, Cat 5e or Cat 6 required for connection between receiver and transmitter. Connectors AC Power Inlets Barrel type Max Output Power 500mA @ 5V Power Supply 2A @ 5VDC LEDs Power On Operating Te...
Model #: GUCE64
Item #: N82E16812225097
Return Policy: Standard Return Policy
$56.30

 
$55.86 

–

Free Shipping
"Very easy to hook up. I'm using UTP Cat6. My run is 60ft over solid UTP cat6, and then I have my own patch cable (cat6, about 12-18in in length) going to each interface. It doesn't even take a moment to initialize. If you unplug the cat6, it'll work again as SOON as you plug it back in. I'm currently using this with two USB devices, an IR receive..."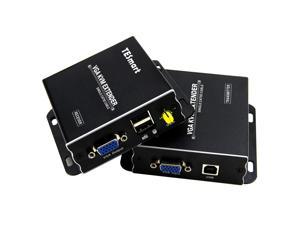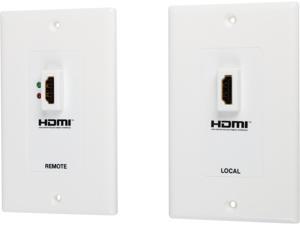 "This had to be the easiest installation of this wall plate from coverting HDMI to ether back to HDMI to the 2nd TV tied into master bedroom. ZERO delay from the 2 tvs, both are in sync with each other. I had to installed the day I got it, hopefully it will last. I used Tripp Lite brand HDMI splitter and both work great. Thanks newegg, once again, y..."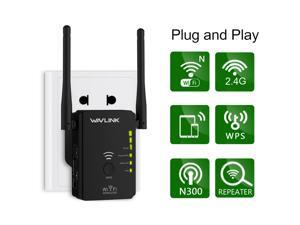 Wavlink 300mbps Universal WiFi Range Booster,Wireless Signal Repeater/Access Point/Router with WPS Function, 2.4GHz Ethernet 300Mbps Network Signal Booster Whole Home WiFi Coverage 2019 Updated
Limited time offer, ends 06/17
Color: Black
Specifications: Say goodbye to WiFi dead zone : Receiving and broadcast your existing wireless signal to extend the wireless range, eliminate wifi dead spots. Access Point Mode can convert any wired network access into wireless network, thereby allowing multiple users to share the wired Internet. Wireless N speed up to 300Mbps and Backward compatible with IEEE 802.11g, IEEE 802.11b standards,Build-in 2x 3dBi high gain integrate antennas offer a stable WiFi quality and coverage. 2 x 100Mbps/ 10Mbps Auto-negotiation Ethernet LAN/WLAN Ports, QoS function assures the quality of VoIP and multimedia streaming, Supports configuration file backup and restore. Easy and More Security WiFi repeater/router : Supports WEP ( 64/128/152-bit ), WPA/WPA2, WPA-PSK/WPA2-PSK encryption at a push of the WPS button, complies with 128 bit WPA (TKIP/AES).Also can hide your...
Model #: WL-WN523N2B*1
Item #: 9SIA6PF3ZJ7432
Return Policy: View Return Policy
 
$19.99 

–

Sale Ends in 2 Days (Thu) -
Free Shipping
"shipped quickly"
Tripp Lite 1-Port USB 2.0 Over Cat5/Cat6 Extender Kit, Transmitter & Receiver, Hi-Speed USB-A Up to 164 ft. (B203-101-PNP)
Type: USB 2.0 over Ethernet
Max Extend Distance: 164 feet
Color: Black
Specifications: Long-Distance Data Transfer to 1 Device—Up to 164 ft. (50 m) from the Source Send data to a USB 2.0 device located up to 164 ft. from the source USB signals travel over a single user-supplied Cat5/Cat6 cable Includes transmitter with built-in USB-A cable and a 1-port receiver Supports data transfer rates up to 480 Mbps Greater Distance over Cat5/Cat6 Cable Provides Greater Flexibility Cat5/Cat6 cabling exceeds the 16 ft. distance limitation of USB cables Allows connection to devices that lack network connectivity in areas beyond the reach of standard USB cables Makes connections in areas without network availability Allows source to be in a secure location, separate from peripherals Cat5/Cat6 cabling is cost-effective and readily available For best resul...
Model #: B203-101-PNP
Item #: N82E16812329042
Return Policy: Standard Return Policy
$176.00

 
$102.89 

–

Save:

42%

Free Shipping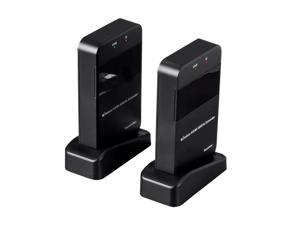 "- works exactly as expected - the picture quality is seamless, as if it was direct wired connection"