Scanner Buying Guide
Table of contents
What Is a Scanner and what does it do for me?
A scanner is similar in concept to a digital camera in that they both convert light (analog signals) into digital data that computers can handle for further image manipulation.

A scanner is most commonly used to digitize traditional (non-digital) photo prints or other printed graphics for long-term archiving or viewing on the computer monitor (or on a TV). A scanner will also transform printed/handwritten documents into editable/searchable text on the computer and scanning film and/or slides, which can be particularly useful for graphic artists and photographers, for example. With a scanner, a world of digital art possibilities is right at your fingertips!

Before you start searching for a scanner, it is very important to think of some questions carefully so that you know what you want from your scanner, and how to filter through the extensive selection of scanners (and their specs) available on Newegg.com. Here are the questions:
Which operating system do I use? (E.g. Windows XP, Linux, Mac OS X, etc.)
What types of interface does my PC offer? (e.g. USB2.0, FireWire/IEEE1394, SCSI, etc.)
What will I use the scanner for? (E.g. scanning documents for editing/processing, scanning photos/pictures for web, scanning transparencies for publication, etc.)
How many times do I expect to scan per day/week/month?
What type of user am I? (E.g. basic home user, office user or professional photographer/graphics artist)
What types of Scanners can I choose from?
There are many different types of scanners available, and they differ in terms of feature function. This means that they can be utilized for different applications. The scanner you choose should depend on your own requirements/applications. Here are the major scanner types for home/office users:
Flatbed Scanners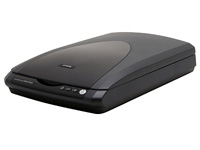 Flatbed scanners are the most common desktop scanners. They also look and work a lot like small photocopiers. The target piece of paper or object to be scanned is placed on top of a panel of glass and the light emitted from under the glass reflects off the objects and is captured by the image sensor in the moving scan head. Flatbed scanners gained popularity for their easy-to-use designs and extreme versatility—they can scan photos, books, documents and even three-dimensional objects (depending on the scanner).

Most flatbed scanners require a transparency adapter (TPA or TPU) to scan slides, film, x-rays and other transparent originals. The transparency adapter is basically a backlight attached in place of the scanner cover.

In addition, if you are not willing to place each page on the scanner individually, an automatic document feeder (ADF) can be used for high-volume scanning (depending on the scanner).
Sheetfed Scanners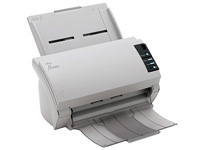 Unlike flatbed scanners, sheetfed scanners operate more like fax machines/printers than photocopiers. Sheetfed scanners work by moving documents/sheets instead of a scan head. Featuring a built-in ADF (automatic document feeder), the sheetfed scanner is capable of unsupervised scanning. Their compact designs also make them perfect in cramped/limited working spaces.

As it is difficult to move a sheet of paper without introducing distortions, sheetfed scanners tend to be less exact than flatbed units. Therefore, sheetfed scanners are excellent for high-volume scanning (to produce editable/searchable text), but not for high-quality photo scanning. Another important concern about sheetfed scanners is they can only scan loose and individual sheets but cannot handle bound documents/photographs or books directly.
Film, Slide and Transparency Scanners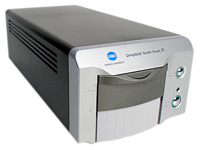 Transparent items demand special handling when scanning. Film and slides, for instance, require scanners to transmit light through the image rather than to reflect it off the surface. Because of their small physical sizes, slides and film need to be scanned by very high resolution scanners. To meet these requirements, dedicated film/slide scanners have been developed, although they are much less versatile and are merely capable of handling 35mm (or other) film/slides, and usually cost more than flatbed and sheetfed scanners. The average user is much better served by a flatbed scanner with a transparency/film adapter (generally adequate for average image quality requirements).
Handheld, Card and Other Scanners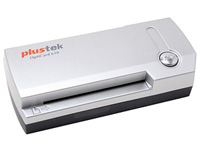 Handheld and portable scanners are extremely compact and portable designs that can fit perfectly into a briefcase or traveling bag. They are excellent additions to your laptop and are conveniently shared. Some portable scanners are specifically designed for business card scanning and may be of great help for businessmen and women.

Duplex Scanners
Whereas common scanners scan only one side of the scanning target during a single pass, duplex scanners can scan both sides as they often carry two image sensor/scan heads, each for one side of the paper. Therefore, duplex scanners usually cost more as well.
Beyond Scanners
Thanks to the never-ending development of technology, many multifunction products or "all-in-ones" (incorporating the printer, scanner, copier and sometimes a fax machine into one compact unit), are readily available in today's market. These products are very useful for most home users for their versatility, but an independent or dedicated scanner is still necessary for high-quality/high-volume scanning purposes.
What Do I Look For In the Scanner Specs?
Once you have decided to purchase a desktop scanner, it becomes important to understand the specifications that set individual models apart. Although each product may look significantly different, each product is defined by the performance of its components, which are common to all scanners:
Image Sensor
Contemporary scanners typically use either a CCD (Charge Coupled Device) or a CIS (Contact Image Sensor) image sensor. CIS is a more recent innovation developed for cost- effective entry-level consumer scanners. CIS-based scanners are smaller, less costly and consume less power than the CCD-based units, but the trade-off is they produce slightly lower-quality images.
Resolution
The scanner resolution specification helps to set a scanner apart from the rest. The resolution figure refers to the number of pixels a scanner can sample/capture and is often measured in dots per inch (dpi). Higher resolution scanners are capable of capturing more information from a given image than lower resolution scanners and therefore provide greater detail and image quality. High resolution scanners may also be capable of producing excellent images at resolution settings below their maximum resolution. For example, a 600 dpi scan from a 1200 dpi scanner may be better than a scan at the same resolution from a 600 dpi scanner (all else being equal).

There are two types of scanner resolution: optical and interpolated. What really counts is the optical resolution as interpolation can be performed in most image editing programs (and can therefore be ignored). Some manufacturers provide two resolution figures, and it is typically the smaller number that represents the optical resolution. Take 600 x 1200 dpi for example - 600 dpi is the optical resolution.

In terms of optical resolution, 300 dpi is adequate for the average document scan, while 600 dpi should be good enough for high-quality scans and common photo scanning. 1200 dpi or higher is required only for highly-demanding graphics work/photo scanning and 3200 or higher for film/slides.
Color/Bit Depth
The bit depth refers to the amount of information a scanner is capable of recording per pixel. The higher the bit depth, the more color/gray gradations the scanner can record, and this therefore results in higher image quality. A higher bit depth also means a larger file size, since more information can be stored per pixel.

Many of the latest scanners provide bit depths of up to 36 or even 48-bits, which means theoretically that billions of colors can be captured. Generally speaking, scanners with higher bit/color depths tend to provide better image quality. For most home/office users, 24-bit is sufficient under most circumstances and 36-bit is usually more than enough.

Dynamic Range
Dynamic range, also known as optical density (OD) or density range, is a measure of the scanner's ability to record different tones in an image. Dynamic range is measured on a logarithmic scale from 0 to 4 (0.0 represents perfect white, while 4.0 represents perfect black). The dynamic range is actually the difference between the darkest and brightest optical density that the scanner can capture. The bigger the difference, the larger the dynamic range can be, and the better the image quality the scanner can offer.

Most scanners are specifically-designed for mainstream users and do not include a dynamic range specification. If you need a scanner that will produce very high scan quality, the dynamic range has to be taken into account. Most mid-range flatbed scanners have a dynamic range of 2.8 to 3.2, which is more than enough for most home/office users, but if you want excellent results for film, slides or other transparencies, a higher dynamic range of at least 3.3 (3.4 for negatives) is recommended.

Connection Interface
There are three major types of connection for scanners: USB, SCSI, and parallel port (already phased out). USB and SCSI are the mainstream interfaces currently and some scanners feature both USB and SCSI interfaces.

The Universal Serial Bus (USB) is popular in both Macintosh and Windows PCs as it outperforms the SCSI interface with its plug-and-play and hot-swappable (you can plug it in or pull it out while your computer is still running) features. Featuring fast data transfer speeds, the USB2.0 connection supports speeds of up to 480Mbps (60MB/s), while the older USB1.1 connection supports speeds of up to and 12Mbps (1.5MB/s). Some high-end scanners also support the FireWire (IEEE 1394) connection, which is similar in concept to USB and features 400Mbps (50MB/s) transfer speed (IEEE 1394a).

The Small Computer System Interface (SCSI, pronounced "scuzzy") is applied to some high-end scanners. This type of connection is fast but may require more work to configure and install. Most PCs do not support the SCSI port, and a SCSI controller card needs to be purchased and installed in your computer for a SCSI scanner to be used. Many SCSI scanners come with controller card and cables already inside the package. If you want to use your own SCSI card instead, please check to ensure compatibility with the scanner and its cables first.
Speed
The importance of the speed of a scanner depends on how often you plan on using it. The speed may not be an issue if a scanner is only used once or twice a day, which is typically the case with most home/personal usage. Of course, things can be totally different for those who are constantly acquiring images or documents.

Generally the scanning resolution as well as other scanning settings such as color depth has a crucial influence on the scanning speed. Scanning at a higher resolution/color depth tends to take more time. There are some different ways to measure the speed of a scanner: the time it takes to scan a single page (e.g. 30 seconds); pages scanned per minute (pages per minute, ppm); and ipm (images per minute) - equals to ppm for common scanners, but doubles for duplex scanners since they can scan both sides of a page simultaneously.

Software
The bundled software, which is a very important part of the scanner, is often overlooked by many users. The bundle will probably contain a driver program, color calibration software, image-editing software and optical recognition software (OCR). But not all manufacturers offer a complete bundle of the above software for all models.

For Windows, the driver program is usually TWAIN compatible. A TWAIN driver allows imaging devices like scanners to be compatible with TWAIN-supported software. Since TWAIN is the industry standard, most bundled software can operate off TWAIN.

Color calibration software is used to maintain the original colors of the image throughout the processing, which means that what is seen on the monitor and printed out should be reasonably close to the original colors.

Image-editing software, more often than not, offers you "lite" versions of image-editing programs. Basically they can adjust brightness, contrast, color balance and other image attributes. More costly scanners sometimes include full versions of image-editing software.

Most manufacturers also provide a bundle with full/cut-down versions of optical character recognition (OCR) software, which specializes in transforming printed text into computer text. Excellent OCR software is able to deal with a variety of languages and text formats.


With so many different scanner products available on the market, it can be hard to pinpoint the scanner product that best suits you. Here are our recommendations categorized by user type - typical usage attributes for reference.
General Home/Office Users
Most home/office users scan a variety of objects with their scanners, such as family photos/ film slides, pictures/pages from books and magazines, and transferring printed text into computer-editable text and etc. A flatbed scanner can perform all these tasks.

If your main purpose is to produce images used on websites, an entry-level scanner should be enough, and a 300 dpi resolution is sufficient for good OCR results (when transferring printed text into computer-editable text). A CCD scanner is needed if you demand higher quality scan results or if you want to scan physical objects (such as a motherboard, video card etc.). For users who want to print the scanned images, or demand higher image quality, we recommend opting for at least a mainstream scanner.

As described in the Scanner Types section, most flatbed scanners require a transparency adapter (TPA or TPU) to scan slides, film, x-rays and other transparent originals, while an automatic document feeder (ADF) is needed for high-volume scanning (if the scanner doesn't have one).

Business/Office Users (or for high-volume scanning)
For tasks involving the scanning of hundreds or even thousands of pieces of paper weekly, or for the conversion of a large number of catalogs into PDF form or any other frequent high-volume scanning requirements, we recommend scanners with the following specifications.



Resolution is not the key concern here and 600 dpi is just fine for typical document scanning. What really counts here is the scanning speed – a scanning speed of 30 pages per minute is much more efficient than 10ppm when there is a lot of information to scan and limited time to do it in.

As mentioned above, an ADF (automatic document feeder) can be of great help for high-volume scanning, and duplex scanners are excellent for book scanning as they can scan both sides of a page in a single pass.

Photographic Professionals (or for high-quality film/slide/negative scanning)
A dedicated film scanner is optimized for film/slide/negatives scanning and will also produce excellent results for transparency scanning



If you demand high-quality scan results, the dynamic range of a scanner should be taken into account. A dynamic range of 3.3 or above is needed for professional grade work.

Important Note: Film scanners can only scan film/slides/transparencies of a certain size and cannot handle normal paper documents and photos.

Buy Flatbed Scanners at Newegg.com