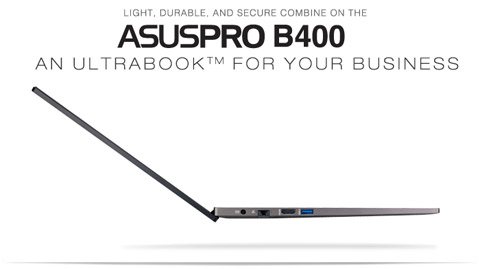 The ASUSPRO B400 Ultrabook makes business more mobile, durable, secure, and productive. Work flexibly anywhere with a weight factor from 1.64kg and a 20mm profile. The B400 offers complete reliability, meeting much higher industry standards then other notebooks in drop tests, hinge cycle tests, and panel pressure testing. It uses a reinforced carbon fiber structure, anti-shock hard drive, and spill-resistant keyboard. Security gets reinforced with Trusted Platform Module (TPM) hardware and fingerprint reading, while powerful 3rd gen Intel Core processors, and Intel Small Business Advantage (Intel SBA) add to efficient manageability.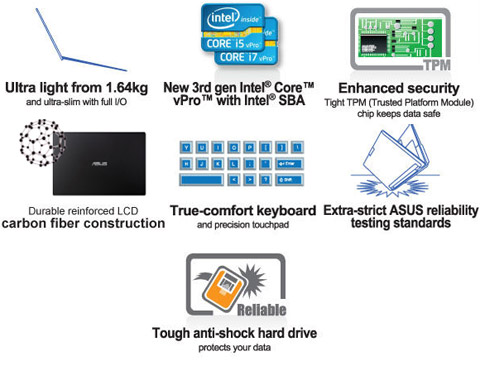 Designed Professionally
World-Class Award-Winning Design: Slim, Stylish, and All Pro
Starting with people and understanding what users think, feel, and do, is how we design ASUSPRO B400 Series notebooks. The ASUSPRO B400 is an Ultrabook for mobile businesses, offering an ultra-light form factor starting from just 3.4lb (1.64kg). It measures a slim 0.8in. (21mm), with a stylish dark brushed-hairline finish and one-piece construction creating a subtle and completely consistent professional look. Through the use of carbon fiber materials, metal-reinforced corners, and a true-comfort spill-resistant keyboard, the ASUSPRO BU400 easily withstands the rigors of business travel, guaranteeing long-lasting reliability. Since launch, it has secured prestigious global accolades such as an iF Product Design Award, a Japan Good Design Award, and a Taiwan Excellence Award.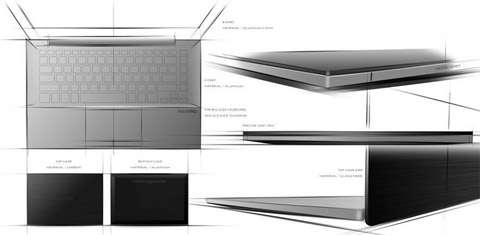 Slim and Light with Uncompromising Full Connectivity
The 14in. ASUSPRO B400 starts at only 3.4lbs (1.64kg), making your business more mobile and flexible. It is just 0.8in. (21mm) thick, yet this slim design doesn't mean reduced connectivity. The B400 features full I/O: USB 3.0, VGA, HDMI, audio port, two-in-one card reader, and Kingston lock. All help you work easier and more conveniently everywhere you go.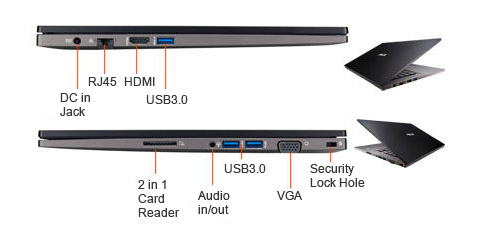 True-Comfort Keyboard and Precision Touchpad
Businesses place great importance on keyboards, as they are vital for professional communications. ASUS engineers have fine-tuned the BU400's keyboard, providing better click ratios and travel distance. The touchpad has also been optimized, maintaining high precision while offering a bigger touch surface. All give business users superior productivity-enhancing experiences.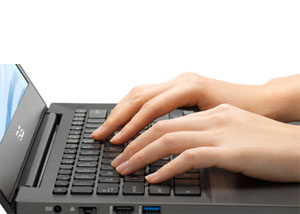 Your Business, Reinforced
Business and organizational users demand greater reliability, so ASUSPRO B400 notebooks are strictly quality-tested to much higher industry standards that even exceed the demanding MIL-STD 810G military standard. They prove very durable in drop tests, hinge cycle tests, and panel pressure testing. They also ship with an anti-shock hard drive that includes a triple protection mechanism to ensure data is always safe.
Enhanced Drop Testing
More than double the drop height of standard notebooks

Stronger Hinge Test
Two times higher standards than mainstream notebooks
Enhanced Pressure Testing
Up to 20% higher endurance compared to normal notebooks

Spill-Resistant Keyboard
Occasional beverage accidents are no longer a problem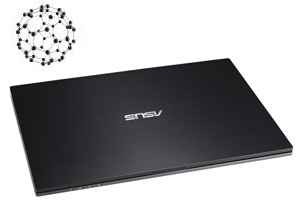 Durable-Reinforced LCD Carbon Construction
The ASUS B400's LCD cover employs durable reinforced carbon construction that is several times sturdier than conventional plastics. This gives the notebook 20% higher panel pressure resistance compared to standard notebooks, offering better damage protection while remaining light.
Your Business: More Secure and Manageable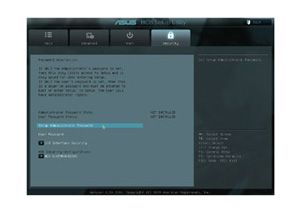 Embedded TPM Security Chip: Valuable Data Protected on a Deep Hardware Level
Professionals can rest assured that their valuable data is protected with Trusted Platform Module security hardware integrated on the board to hold computer-generated encryption keys. Its hardware-based design helps repel attacks by hackers looking to capture passwords and keys to sensitive data. TPM allows notebooks to run applications more securely, and makes transactions and communications more trustworthy.
Improved Security with Fingerprint Scanning
Notebooks incorporating fingerprint scanning take data access authorization and protection to a higher level with a personal touch. RF electronic scanner imaging reads fingerprint patterns, using sensors that are less affected by skin surface conditions, including dry, worn, calloused, dirty or oily skin, which may impair the ability of other sensor technologies to accurately detect fingerprints.
Gallery