Are you an E-Blast Insider?

Shop without retyping payment details. Secure shopping made faster.
Check out with PayPal.
BattleField 4 - Xbox One
In stock.
Limit 3 per customer.
Ships from United States.
In Battlefield will you find the awe-inspiring power of the next generation Frostbite 3 engine, whose unrivaled audio and visual fidelity make your game more dramatic, more believable, and more human.
In Battlefield can you experience an unmatched level of all-out war that grants you the freedom to play to your strengths and carve your own path to victory.
In Battlefield do you have the power to dominate land, air and sea with all-new, intense water-based vehicle combat.
Battlefield 4 is the genre-defining action blockbuster made from moments that blur the line between game and glory. Fueled by the next-generation power and fidelity of Frostbite 3, Battlefield 4 provides a visceral, dramatic experience unlike any other.
In Battlefield can you demolish the buildings shielding your enemy. Only in Battlefield will you lead an assault from the back of a gun boat. Battlefield grants you the freedom to do more and be more while playing to your strengths and carving your own path to victory.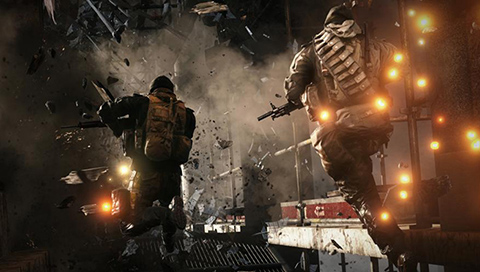 Battlefield Goes Next-Gen!
Battlefield 4 is powered by the advanced technology of DICE's exclusive Frostbite 3 engine for a visceral, dramatic experience unlike any other. Blur the line between game and glory in Battlefield 4.
Only in Battlefield will you experience the intensity of Revolution, dynamically changing the environment by cutting the power to a building and shrouding your enemies in darkness or reducing a skyscraper to rubble. Only in Battlefield will you lead a naval assault from the back of a gun boat. Battlefield grants you the freedom to do more and be more while playing to your strengths and carving your own path to victory.
In addition to its hallmark multiplayer, Battlefield 4 features an intense, dramatic character-driven campaign that starts with the evacuation of American VIPs from Shanghai and follows your squad's struggle to find its way home.
There is no comparison. Immerse yourself in the glorious chaos of all-out war, found only in Battlefield.
All-Out War

The Freedom to Do More and Be More
Immerse yourself in the glorious chaos of all-out war. New maps, more vehicles, weapons and destruction allow you to create your own path and play to your strengths. Absolutely nothing compares to the sheer scale and scope of Battlefield 4.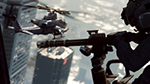 Massive Battles
Take part in massive 64-player battles on next-gen platforms and PC, while two Commanders can join the fight to help turn the tide.
Create Your Path
Order squad members to assist in the fight and play to your own strengths.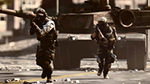 Enhanced Gameplay
Battlefield 4 further enhances the series' signature mix of infantry and vehicle gameplay.
Commander Mode

Take Point and Turn the Tide
You've pulled the trigger, now drop the bomb. Commander Mode puts you at the heart of the situation room, letting you deliver critical intelligence, manage support activity and deploy powerful war assets during true squad-based team play.
Command the Battlefield
Get a strategic overview of the combat area and monitor the battle through the eyes of your squad leaders on the ground.
Deploy Gunship Strikes
Call in powerful gunships to circle strategic locations and help repel enemy forces.
Launch Missile Strikes
Deliver devastating cruise missile attacks to high value targets to turn the tide of battle.
Frostbite 3

Next Generation of Battle
The awe-inspiring power of the Frostbite 3 engine delivers the highest standard of immersion in entertainment. An unmatched level of visual and audio fidelity, superior character animations, and dynamic environments.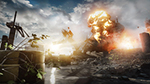 Scale and Destruction
Simulating vast and aggressive battlefields with game-changing destructable elements, both natural and player-enabled.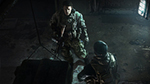 Realism and Animation
Utilizing Emotion Capture, with unprecedented lighting and ambient physics, to depict living characters and environments that react dynamically.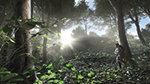 Immersive Audio
Continuing to set the industry standard in ultra-immersive soundscapes, whether it's the explosive chaos of all-out warfare or a gentle breeze passing through the trees.
Levolution

Change the Face of Battle
Experience a dynamic battlefield where no two games will ever be the same. Your actions physically change the battlefield in real-time, providing interactive game environments that react to your every move.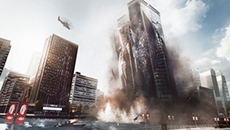 Bring Down the Base
Take down an entire skyscraper in multiplayer and keep fighting in the dust and debris that follows.
Dynamic Battlefield
Adapt to a dynamic Battlefield where a skyscraper can collapse and a carrier can break in two.
Amphibious Assault

Own the Land, the Air, and the Sea
Get in the thrilling water-based combat in Battlefield 4.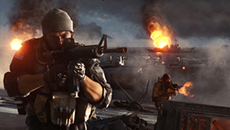 Man the Guns
Drive the new and agile attack boats to combat enemies on the water and on the coastline.
Stormy Seas
Powerful winds and rolling waves make water-based combat a thrilling ride and a rewarding challenge for players of all ranks.
Battlelog for Battlefield 4

Always On and Always with You
With Battlelog, the Battlefield is always at your fingertips. Discover the new features of the free social platform Battlelog and learn how the experience extends beyond PC and console to tablet and mobile.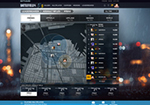 Be the Best
The geo based leaderboards will let you see who's the best tank driver or jet pilot in the world, in your country, or on your street.
Beat the Mission
Challenge your Battlefield 4 friends to a weekend dog tag chase or tank kill streak and fight to grab first place.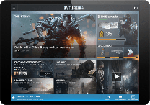 Join Us!
Visit Battlelog to discuss all things Battlefield.
Warranty & Returns
Warranty, Returns, And Additional Information
Warranty
Limited Warranty period (parts): 1 year
Limited Warranty period (labor): 1 year
Manufacturer Contact Info
LOADING...