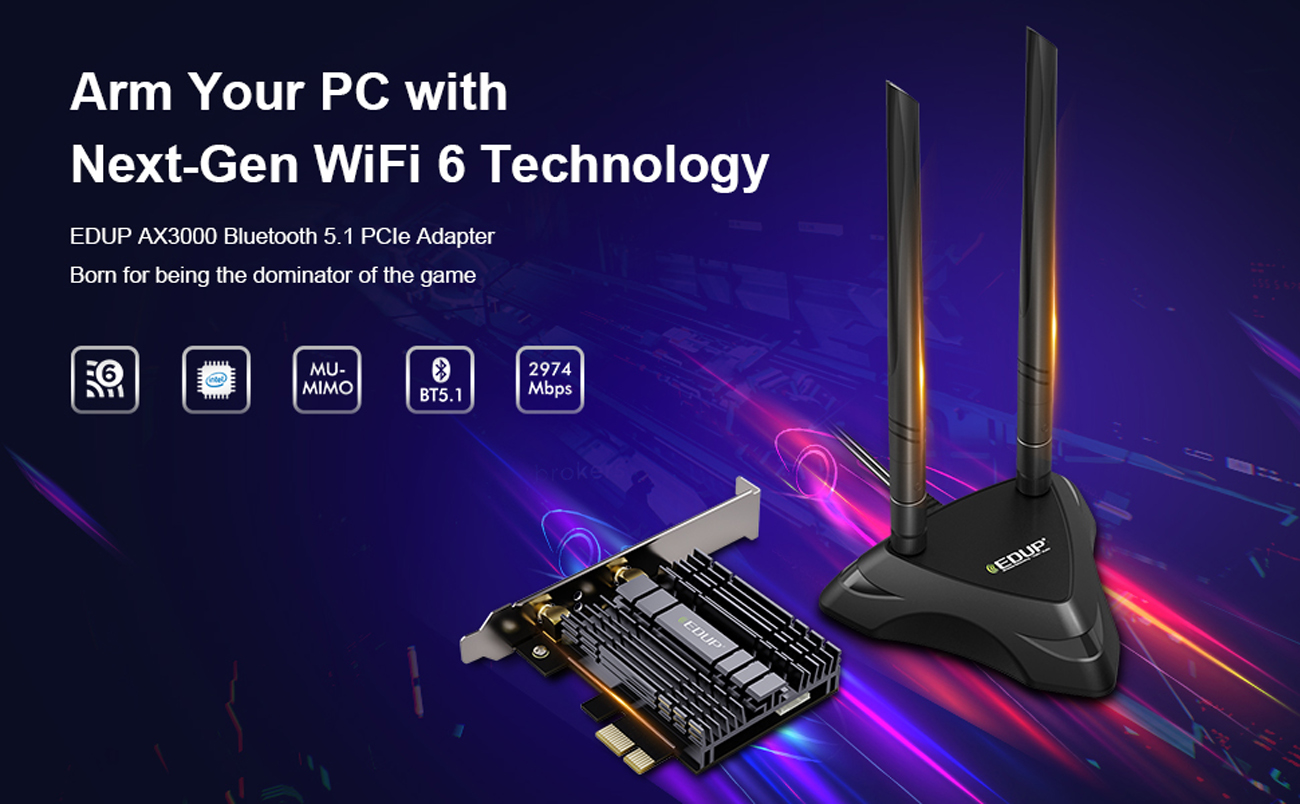 EDUP AX3000 PCI Express WiFi 6 Card with Moveable Magnetic Base, Dual High-gain 6dBi Antenna
Model
Chipset: Intel AX200NGW
802.11ax Dual band 2x2 160MHz
Advanced 64-bit and 128-bit WEP, TKIP, 128-bit AES-CCMP, 256-bit AES-GCMP encryption
Wireless standard: IEEE 802.11 ac/ax/a/b/g/n/
Authentication Protocols: 802.1X EAP-TLS, EAP-TTLS/MSCHAPv2, PEAPv0 -MSCHAPv2 (EAP-SIM, EAP-AKA, EAP-AKA')
With more WiFi devices and higher bandwidth requirements, the need for a high capacity WiFi network is greater than ever.
802.11ax WiFi with OFDMA, 160MHz Channel Support, AX MU-MIMO and 1024 QAM is built for greater capacity, more efficiency and to handle more devices.
Packaging list: AX3000 PCIe wifi card *1, Magnetic antenna base with 3.94 ft cable *1, 6dBi Antenna *2, USB Bluetooth Cable *1, Low-profile bracket *1, Screwdriver *1, Screws *2, USB flash drive *1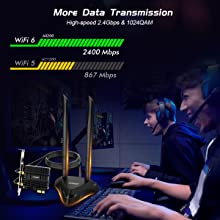 WiFi Up to 3Gbps With Intel AX200
Built-in Intel module, fully compatible with Intel processors and drivers, compatible with 99% of the other processor brands on the market.
5GHz : UP to 2400Mbps
2.4GHz : UP to 574Mbps
4X Reception Capacity With MU-MIMO
With revolutionary AX MU-MIMO technology, the AX3000 provides up to 4x more capacity than AC WiFi, easily connect more devices at once.
Reliable Coverage With Beamorming
Beamforming and 2 * 6dBi high-gain antennas work together towards your devices for stronger, more reliable coverage.
Place the magnetized antenna base anywhere on your desktop to find the optimal location for signal reception.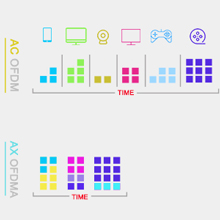 Increased Efficiency with OFDMA
OFDMA and BSS color technology optimize packet delivery to reduce wait time and interference, increase channel usage and provide greater efficiency.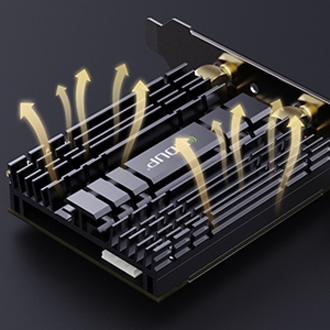 Heat Sink Reduces Overheating
With high quality heat sink, EDUP AX3000 wifi card effectively dissipates the heat generated inside the network card when operating, maintaining the temperature and operation. A perfect network adapter protection role for running large games or ultra clear movies.
Bluetooth 5.1 Technology
4x range over BT4.2 with the same power, enabling coverage throughout the home, simpler pairing for BT devices.
2X the transmit speed for faster transmissions thereby reducing the overall power, adds new enhanced data broadcasting, seamless services.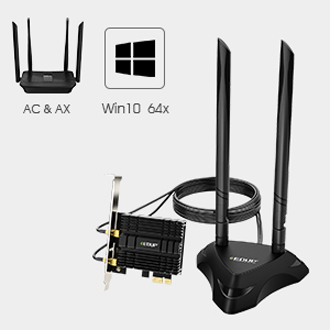 Support Windows 10, 64-bit ONLY
Only support desktop PC running Windows 10, 64bit.
Even if you don't use an AX router, the advanced computing technology of the EDUP Wifi 6 card is also capable significantly improve the wireless speed on your computer.
How to install PCIE Card?
1. Open the chassis side cover and remove the screws.
2. Insert the PCI-E into the PCI-E X1, X4, X8, X16 slot. (Not for PCI slot)
3. Plug the Bluetooth cable into the 9-pin USB connector on the motherboard.
(Please install the wifi driver and bluetooth driver to enable this wifi adapter)
| | | | | |
| --- | --- | --- | --- | --- |
| | AX3000 WIFI 6 Card with Magnetic Base and Heat Sink | AX3000 WiFi 6 Card | AX3000 WiFi 6 Card with Heat Sink | Intel AX200NGW Wireless Module |
| Wi-Fi Speed | 5GHz: 2400Mbps 2.4GHz: 574GHz | 5GHz: 2400Mbps 2.4GHz: 574GHz | 5GHz: 2400Mbps 2.4GHz: 574GHz | 5GHz: 2400Mbps 2.4GHz: 574GHz |
| Bluetooth | Bluetooth 5.1 | Bluetooth 5.1 | Bluetooth 5.1 | Bluetooth 5.1 |
| External Antenna | 2 | 2 | 2 | 0 |
| Heat Sink | ✓ | X | ✓ | X |
| Operating System | Only Microsoft Windows 10, 64 bit | Only Microsoft Windows 10, 64 bit | Only Microsoft Windows 10, 64 bit | Only Microsoft Windows 10, 64 bit |
| Recommended Platform | Desktop PC | Desktop PC | Desktop PC | Laptop |