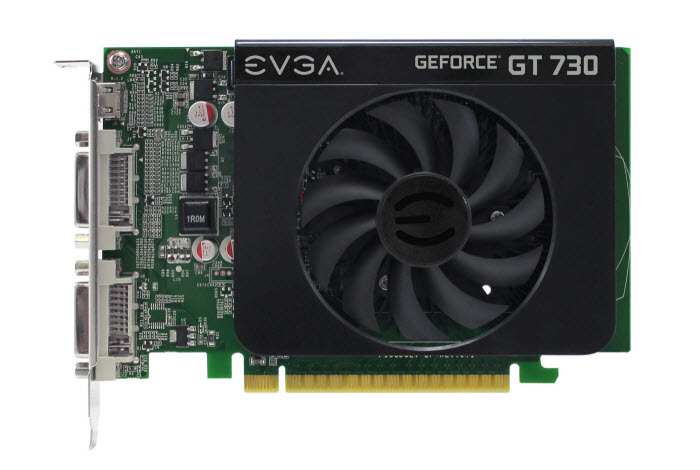 GEFORCE GT 730 04G-P3-2739-KR GRAPHICS CARD
Take your game experience to the next level with the EVGA GeForce GT 730 04G-P3-2739-KR video card. It's based on 96 CUDA processors with a massive 4GB of 128-bit DDR3 memory, delivering incredible performance and power efficiency. An array of NVIDIA innovative technologies, such as 3D Vision Ready, PureVideo HD, Adaptive vertical sync and PhysX revolutionize your gaming experience with true-to-life visuals you have never experienced before. In addition, you can even tap into GeForce Experience to automatically get the latest drivers and optimize game settings with a single click.
NVIDIA CUDA TECHNOLOGY
NVIDIA CUDA technology helps unlock the power of the GPU's processor cores to accelerate the most demanding tasks, such as video transcoding, physics simulation, ray tracing and more. It delivers incredible performance improvements over traditional CPUs.
NVIDIA 3D VISION READY
NVIDIA 3D Vision brings a fully immersive, stereoscopic 3D experience to the PC. With a combination of high-tech wireless glasses and advanced software, 3D Vision transforms hundreds of PC games into full stereoscopic 3D. Get up to two times the monitor and keyboard brightness with NVIDIA 3D LightBoost technology. In addition, you can enjoy 3D movies and 3D digital photographs from 3DVisionLive.com in eye-popping, crystal-clear quality.
NVIDIA PUREVIDEO HD TECHNOLOGY
The combination of high-definition video decode acceleration and post-processing delivers unprecedented picture clarity, smooth video, accurate color and precise image scaling for movies and video.
NVIDIA ADAPTIVE VERTICAL SYNC
Nothing is more distracting than framerate stuttering and screen tearing. The first tends to occur when framerates are low, the second when framerates are high. Adaptive V-Sync is a smarter way to render frames. At high framerates, V-sync is enabled to eliminate tearing—at low framerates, it's disabled to minimize stuttering. It gets rid of distractions so you can get on with gaming.