EVGA GeForce GTX 1660 Ti Graphics Card—The Next Wave of Affordable Graphics
In collaboration with NVIDIA, EVGA has released the GeForce GTX 1660 Ti XC BLACK GAMING graphics card to provide mid- to entry-level DIY enthusiasts an affordable powerhouse graphics solution that's comparable to a 2070 graphics card. With 6GB of the latest GDDR6 video memory, the EVGA GeForce GTX 1660 Ti provides far more performance efficiency than anyone could guess just by looking at its 190mm-length small form factor. Each of these cards is ready to handle the latest games and graphics-intensive programs. They are also at the forefront of innovative and impressive video technology by supporting a max-resolution of 7680x4320, otherwise known as 8K.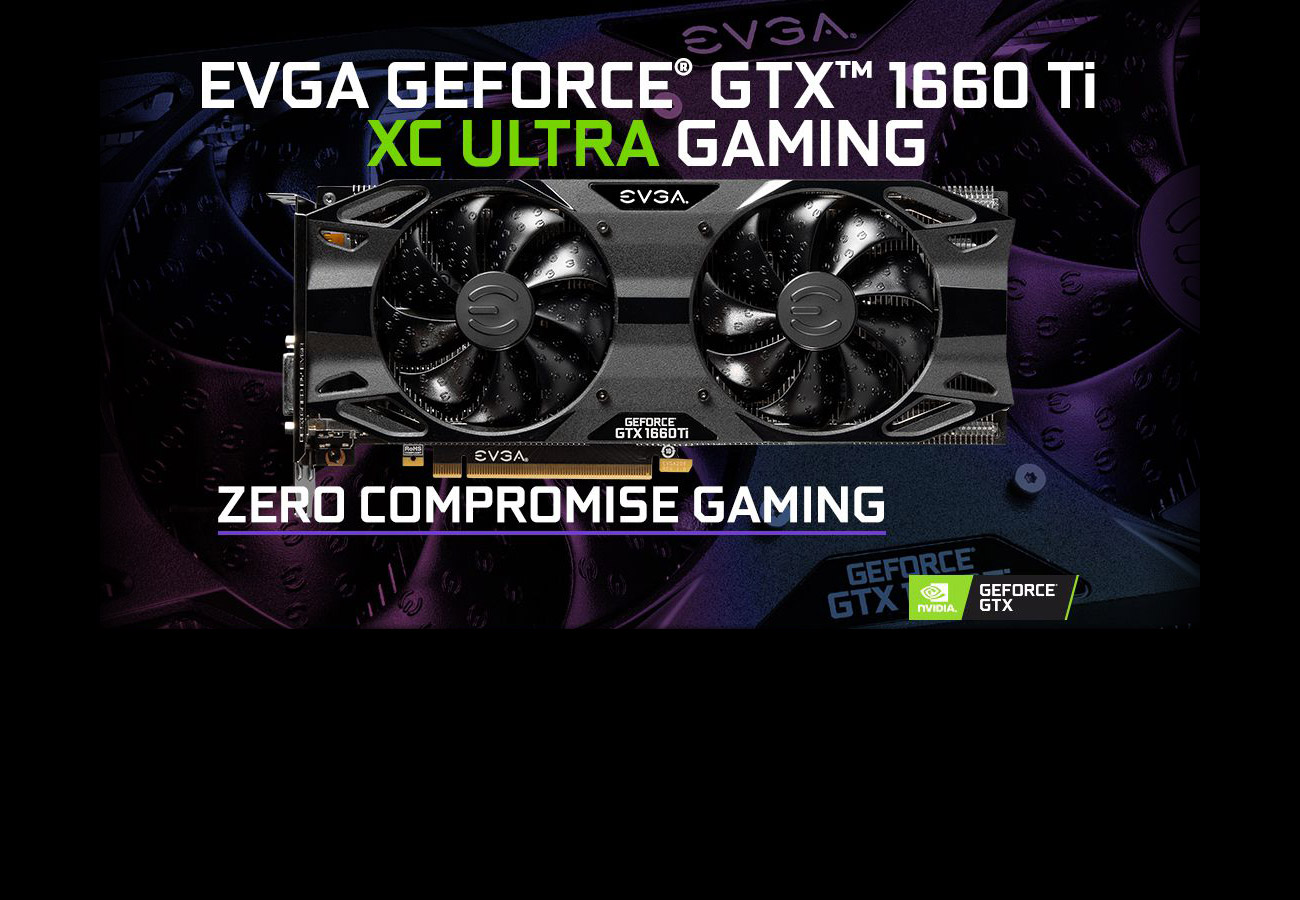 Completely Redesigned from the Ground Up:
New Hydro Dynamic Bearing (HDB) Graphics-Card Fans Offer Lower Noise and a Longer Lifespan
New Fan Blades, Rotation Direction and Hub Designed for Quiet and Efficient Operation
EVGA Precision X1 Software Gives You a New Way to Overclock
The EVGA GeForce® GTX™ 1660 Ti graphics cards are powered by the all-new NVIDIA Turing™ architecture to give you incredible new levels of gaming realism, speed, power efficiency and immersion.


With the EVGA GeForce® GTX™ 1660 Ti graphics cards you get the best gaming experience with next-generation graphics performance, ice-cold cooling and advanced overclocking features with the all-new EVGA Precision X1 software.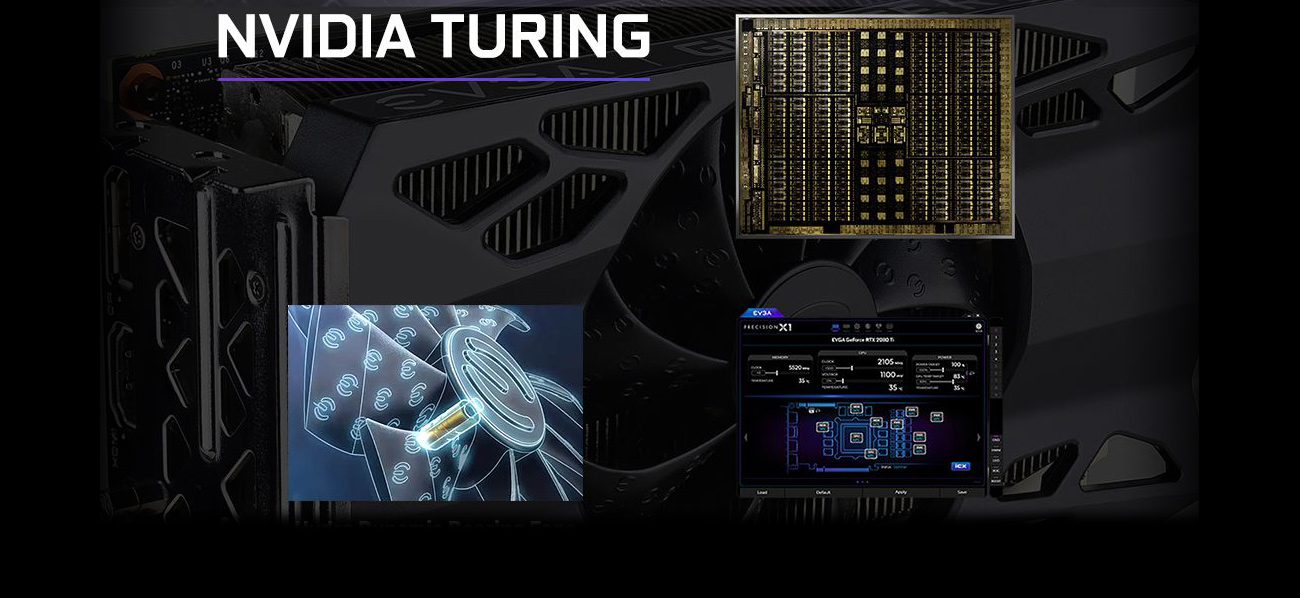 GeForce® GTX™ 1660 Ti graphics cards are powered by the Turing GPU architecture. This gives you higher performance compared to previous-generation graphics cards.
Hydro Dynamic Bearing Fans
The first HDB fan on an EVGA graphics card optimizes airflow, increases cooling performance, and reduces fan noise by 15% compared to the more commonly-used, sleeve-bearing fans on graphics cards. The special upraised "E" pattern on the enlarged fan allows a further reduction in noise level by 4%.
Next-Gen Overclocking
With a brand-new layout, completely new codebase, new integrated features and more, the new EVGA Precision X1 software is faster, easier and better than ever. www.evga.com/px1
EVGA GeForce® GTX™ 1660 Ti graphics cards offer you more ways to keep your system cool than ever before. Offering a variety of fan choices, heat sink sizes and cooling technologies, you can select the card that perfectly fits your system.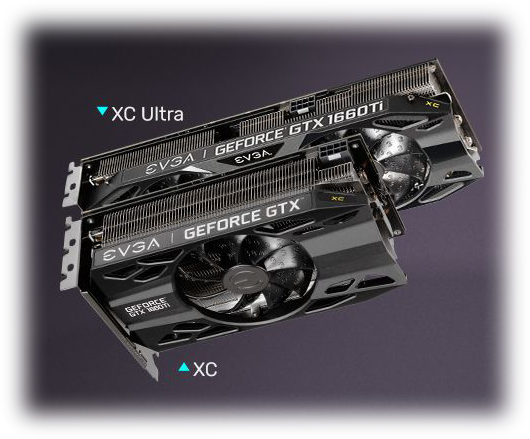 EVGA GeForce® GTX™ 1660 Ti 2-slot cards are longer but allow for better airflow at slower speeds with two fans. Utilizing a smaller fan hub, these fans feature a longer blade to increase airflow while remaining quiet.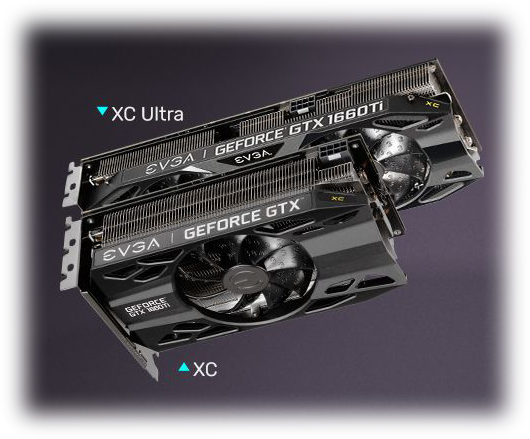 Need more horizontal space? EVGA GeForce® GTX™ 1660 Ti 2.75-slot cards give you more front-to-back space without sacrificing cooling performance or acoustic noise. To enhance the cooling using a single fan, these cards come with a taller fan hub that was specifically designed for the thicker heat sink to apply more force while keeping a lower noise profile.
Features
NVIDIA®GeForce Experience
NVIDIA®Ansel
NVIDIA®Highlights
NVIDIA®G-SYNC™ Compatible
Game Ready Drivers
Microsoft®DirectX®12 API, Vulkan API, OpenGL 4/5
Built for EVGA Precision X1
HDMI 2.0b, DisplayPort 1.4 and Dual-Link DVI
HDCP 2.2
NVIDIA®GPU Boost™
Core
Boost Clock: 1,860MHz
CUDA Cores: 1,536
Bus Type: PCIe 3.0
Memory
Memory Detail: 6,144MB GDDR6
Memory Bit Width: 192-Bit
Memory Bandwidth: 288GBps
Memory Clock: 12,000MHz Effective