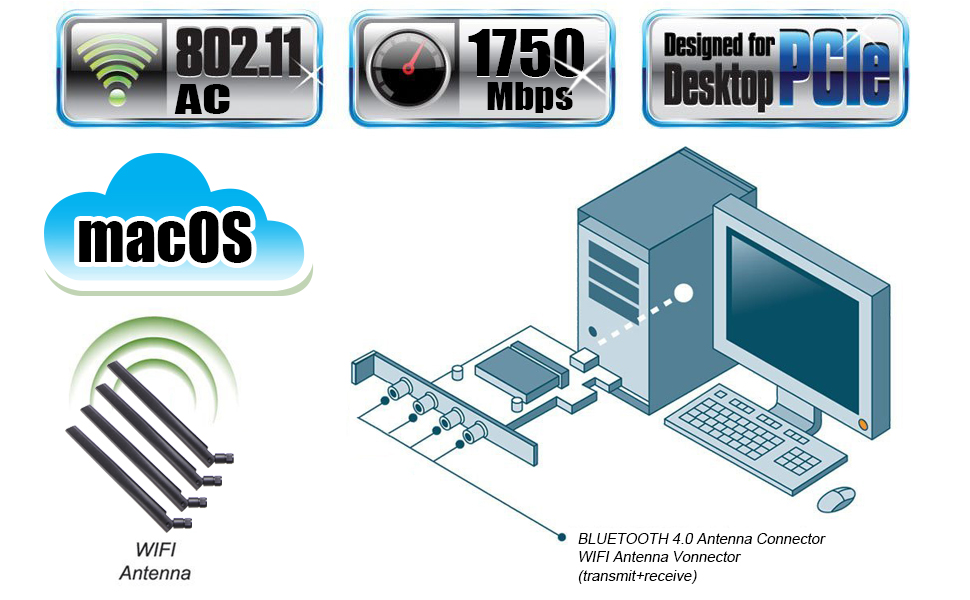 Fenvi FV-T919
PCIe Adapter Card for Wi-Fi/Bluetooth
A PCIe add-on card that instantly adds Wi-Fi and Bluetooth capability to your desktop. Compliant with 802.11ac standards, this card operates on dual bands, and offers wireless speed of up to 1,300Mbps on 5GHz band and 450Mbps on 2.4GHz. Four external detachable antennas, three for Wi-Fi and one for Bluetooth, deliver robust signal and wide wireless coverage.
What highlights this Wi-Fi adapter card is its native support for macOS. Using Broadcom BCM94360CD chipset, this card is plug-n-play compatible with Hackintosh macOS, no kexts or patches required. It also supports AirDrop and Handoff function, and natively works with Apple Bluetooth keyboard, Magic Mouse and Magic Trackpad, even in BIOS or bootloader. Also supports Windows OS with required driver.
Specifications
Chipset: Broadcom BCM94360CD;
Support: Wi-Fi 802.11ac and Bluetooth 4.0;
Speed up to 1,300Mbps on 5GHz, 450Mbps on 2.4GHz;
Dual band 2.4GHz/5GHz;
Support Airdrop and Handoff;
With 4pcs 6dB Antennas;
Support for Windows 7/8/10, Hackintosh/MacOS
Note: Windows 10 with CD driver, Hackintosh/Mac OS (free driver).
Features
New step in Hackintosh networking
Native Support NO other kext or any patching needed
Supports Apple Bluetooth keyboard in BIOS/UEFI or Bootloader
NO spare keyboard needed to be able to get to BIOS/UEFI or Bootloader
Native Airdrop Support & Native Handoff Support for OS X Yosemite 10.10
Support Apple Bluetooth Keyboard, Magic Mouse, Magic Trackpad
Supports both 2.4 & 5GHz dual-band, up to 1,300Mps with AC router
Easy to install
Compatible with:
Almost any computer with a PCI Express (PCI-E 1X/4X/16X slot) interface. If it does not work on the PCI-E x1 slot, please test it on a PCI-E x4 or x16 slot
Driver download: You can download the driver from Fenvi website