SUPER LUCE RGB SYNC Series - DDR4 RGB Gaming Memory
Inheriting the stylish design from previous generations, the GeIL SUPER LUCE RGB SYNC series gaming memory upgrades lighting effect from single color LED to RGB color LED, providing the fanciest light effect to match your other RGB components. This series memory perfectly supports Asus AURA lighting control app, thus you can create a seamless lighting chorus in sync with your motherboard, graphics card, light strip and even cooling. The cable-less design is a great plus to simplify the cable management.
Available at a clock speed of 2133MHz up to 3200MHz, the SUPER LUCE SYNC RGB is ideal for power users and gaming enthusiasts. Its heat spreader is available in Stealth Black and Frost White. And built with premium components, manufactured with meticulous craftsmanship and tested to rigorous standard, the GeIL SUPER LUCE RGB SYNC is sure to perform brilliantly, just as it looks.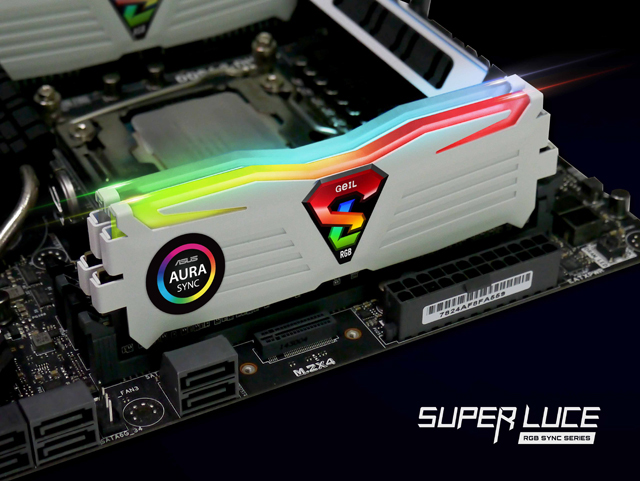 DYNA4 SLT - Next Generation Tester, Today
In order to produce the highest performance and quality memory modules, GeIL spares no expense in developing the most advanced IC testing technology to the production line - from EVO II, EVO III and now the DYNA SLT Fully Automatic IC Tester.
The DYNA SLT tester is able to test individual IC chip for frequency, CAS Latency, voltage and leakage, which are crucial information in determining the quality and potential of IC chips. The DYNA tester provides an anti-dust and anti-static environment and separates IC chips to designated bins. The DYNA tester offers one of the most dynamic, effective and efficient IC testing today.