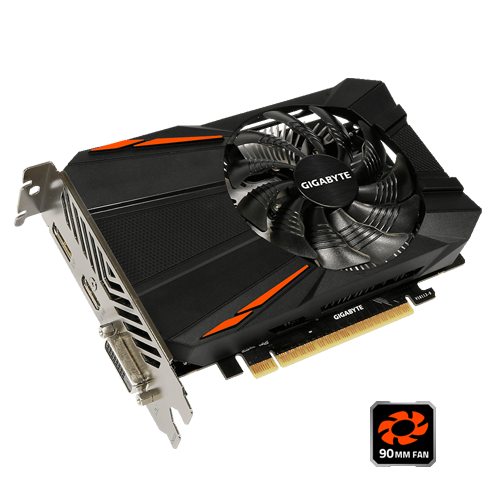 GIGABYTE GeForce GTX 1050 GV-N1050D5-2GD Video Card
Play Hard. Play Cool.
Turn your rig into a true gaming machine with the GIGABYTE GeForce GTX 1050 GV-N1050D5-2GD video card. Based on NVIDIA's Pascal architecture, it delivers robust computing power to drive today's hottest games—and tomorrow's. The Intuitive XTREME Engine Utility enables one-click super overclocking without the hassle of lengthy manual adjustment. The custom-designed cooling system strikes a perfect balance between heat dissipation and fan noise, letting the GPU provide higher performance at lower temperatures.
Powered by the GeForce GTX 1050 GPU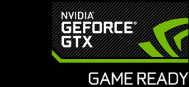 Game Ready
An extraordinary, game-changing experience that's perfectly tuned. Game ready with the GIGABYTE GeForce GTX 1050 video card.
Latest Architecture
Experience incredible performance in high-definition games, powered by NVIDIA Pascal—the most advanced GPU architecture ever created.
Great Gaming
Fast, easy access to NVIDIA Game Ready drivers lets every gamer turn their PC into a true gaming rig and take on the latest titles in their full glory.
GIGABYTE Custom-Designed 90mm Fan Cooler
The GIGABYTE custom-designed 90mm fan cooler comes with an airflow optimized cover and aluminum base. The cooler can dissipate heat effectively from the GPU while keeping the fan at low speed and noise.
90mm Unique Blade Fan Design
Airflow is spilt by the triangle fan edge and guided smoothly through the 3D-striped curve on the fan surface, effectively enhancing airflow.
3D Active Fan
The semi-passive fans will remain off when the GPU is under a set loading or temperature for low power gaming, allowing gamers to enjoy gameplay in complete silence when the system is running light or idle.
One-Click Super Overclocking
With a simple click on the XTREME engine utility, gamers can easily tune the card to meet their various gaming requirements without any overclocking knowledge, while saving the hassle of manual adjustments.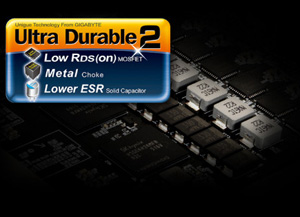 Ultra Cooling
Lower Drain-Source on Resistance (RDS(on)) Metal Oxide Field Effect Transistors (MOSFETs) are specially designed to produce lower switching resistance for faster electric current charging and discharging at extremely low temperatures.
Low Power Loss
Metal chokes hold energy much longer than common iron-core chokes at high frequency, thus effectively reduce core energy loss and EMI interference.
Longer Life
Lower ESR Solid Capacitors ensure better electronic conductivity for excellent system performance and a longer lifespan.
Intuitive XTREME Engine Utility
Clock speeds, voltage, fan performance and power targets can be monitored and tuned in real-time according to your own preference through this intuitive interface.
(Note: The interface and functionality of the software is subject to each model.)