X399 AORUS XTREME Design Concept
X399 AORUS XTREME stays faithful to AORUS design principles with the contour of its armor resembling the falcon's dominant ascension into the skies, capturing the prowess and attitude of the falcon in flight. The LED zone on the I/O armor can be likened to the windshield of futuristic spacecrafts, symbolizing advancement and an eye into the future of technology.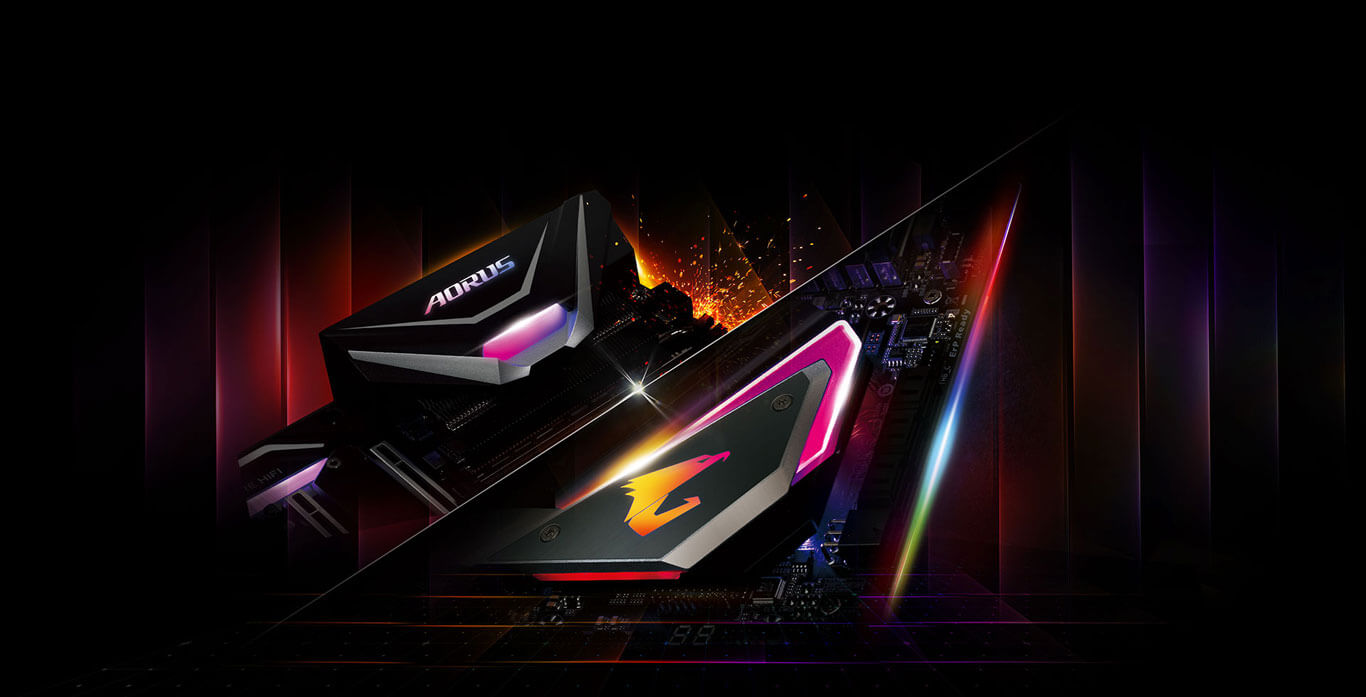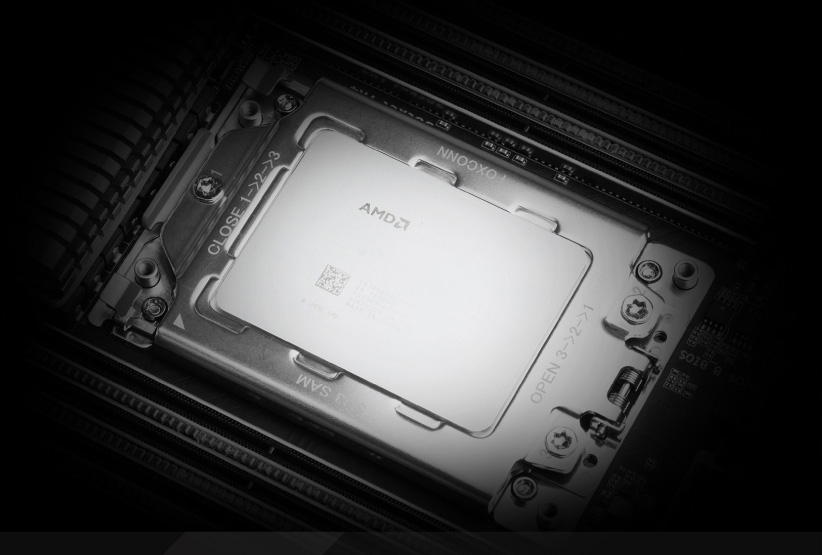 Overwhelming Power.
Indisputable Supremacy.
Unrestrained Potential.
he AORUS X399 enthusiast motherboard with AMD Ryzen™ Threadripper™ Processor. Do everything, do it all at the same time, and do it without sacrificing responsiveness. Render. Stream. Compile. Encode. Work or Play. Real-World Productivity or Virtual Reality Entertainment. The AORUS X399 enthusiast motherboard has the power to overwhelm your most daunting workloads.
Supports 2nd Gen Ryzen™ Threadripper™ CPUs
With up to 32 cores, the 2nd Generation of AMD Ryzen™ Threadripper™ processor can command 64 threads, the most multi-processing power that has ever been unleashed on a consumer desktop. Overwhelm your workloads with 64MB of L3 cache, without sacrificing.

Quad-Channel DDR4 for devastating memory bandwidth, 64 lanes of incredible PCIe Gen3 connectivity, and native USB 3.1 Gen2 10Gb/s support on a chipset. With every processor multiplier-unlocked to be configured as you see fit, GIGABYTE X399 AORUS XTREME is perfectly designed to support the 2nd Generation Ryzen™ Threadripper™ 250W processor to offer you the latest advancements in motherboard technology.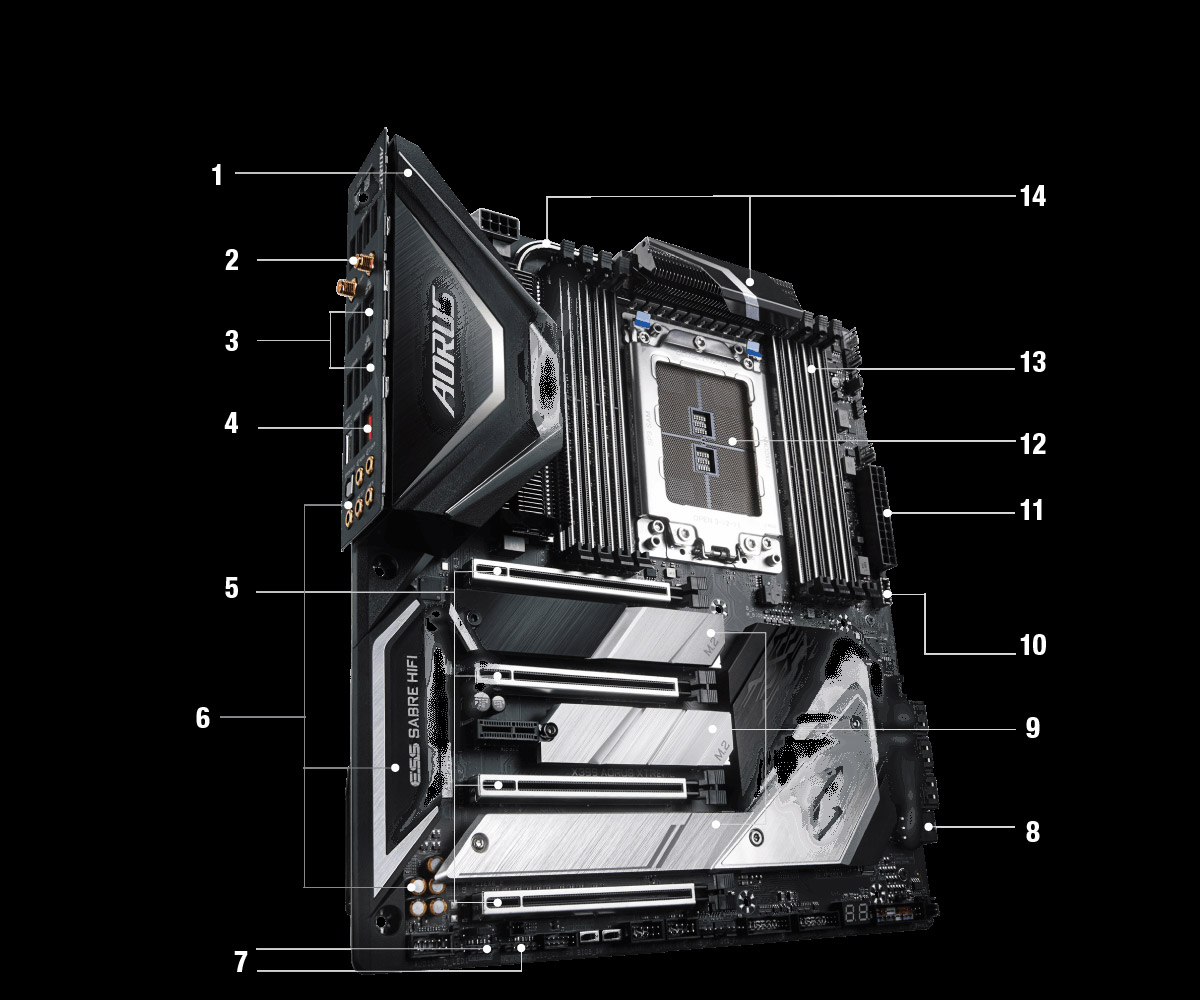 Thermal Armor with Built-in Digital LED
- Power/Reset & Clear CMOS Buttons
- Integrated I/O Shield
Intel® Dual Band 802.11ac WIFI + BT 4.2
Dual Intel® i210AT GbE LAN
AQUANTIA® 10GbE BASE-T LAN
4-Way CrossFire™/ SLI with Ultra Durable™ PCIe Armor
AORUS AMP UP Audio Design
- ALC1220-VB Audio
- ESS 9118 SABRE HiFi DAC
- Nichicon High-End Audio Capacitors
- Gold Plated Audio Jacks
RGB FUSION
- Addressable LED Header*2
- RGBW LED Header*2
PCIe VGA 6pin Solid Pin Power Connector
Triple M.2 Connectors with Triple Thermal Guards
Front USB 3.1 Gen2 Type-C™
Solid Pin Power Connectors
- 24pin ATX Power Connector
- 8pin*2 ATX 12V Power Connectors
Supports AMD Ryzen™ Threadripper™ Processors
Quad Channel DDR4, 8 DIMMs, Up to 3600MHz+/ 3466MHz+(OC)
10+3 phase Digital PWM with Cutting-edge Thermal Design - Fins-Array Heatsink
- Direct Touch Heatpipe
- 5W/mk High Thermal Conductivity Pad
- Dual Fan Design
- NanoCarbon Base Plate

10+3 Digital Power Design
IR Digital PWM Provider for High Performance Power IC Solutions
X399 AORUS XTREME motherboard uses an all IR digital CPU power design which includes both digital PWM Controllers and PowIRstage MOSFET, capable of providing at least 50A of power from each phase, for a total of 650A.

These 100% digital controllers and additional 8+8 Solid-pin CPU Power Connectors offer incredible precision in delivering power to the motherboard's most power-hungry and energy-sensitive components, allowing enthusiasts to get the absolute maximum performance from the new 2nd Gen. AMD Ryzen™ Threadripper™ processors.
10+3 Digital Power Design
50A IR3578 for each vCore Phase & each SOC phase
Enhanced MOSFET top side cooling by exposed pad
High current capacity MOSFET
Lower temperature
Server level reliability
Server Level Chokes
AORUS X399 series motherboards feature Server Level Chokes.
Server level reliability
High current capacity
New design reduces heat created by power loss and provides efficient power delivery to CPU VRM area.
Cutting-edge VRM Thermal Design
All Advanced Thermal Technology
X399 AORUS XTREME uses all advanced thermal technology, including Dual-Fan, Fins-Array Heatsink, Direct Touch Heatpipe, NanoCarbon Base Plate, while providing ultimate MOSFET cooling performance for content creators, enthusiasts, overclockers and professional gamers.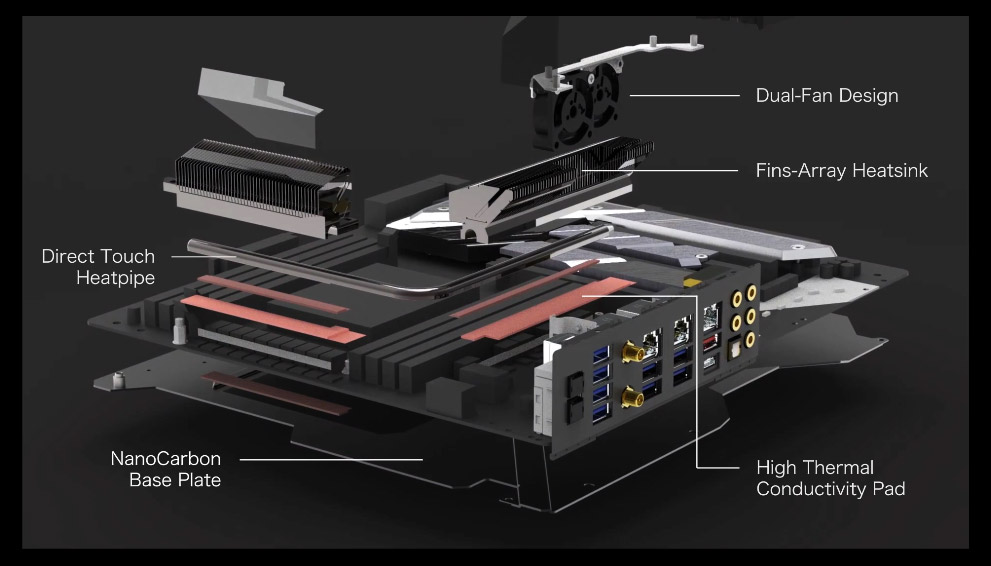 Direct Touch Heatpipe & Fins-Array Heatsink with High Thermal Conductivity Pad
X399 AORUS XTREME uses Fins-Array Heatsink which increases the heat dissipation area by 300% compared to traditional heatsinks of the same size. Direct Touch Heatpipe helps transfer heat from MOS to heatsink and fins.
By using a high 5 W/mK thermal conductivity pad, it can transfer 2.7x more heat than traditional thermal pads in the same time period.
4-Way Graphics with Premium 48 PCIe Lanes Bandwidth
AORUS X399 motherboards feature a unique PCI Express design that utilizes 100% of all 48 lanes from the CPU when in a 4-Way or 3-Way graphics configuration providing the full bandwidth available and provide the best graphics bandwidth possible to the user.
Free NVMe RAID Support
NVMe RAID for AMD Ryzen™ Threadripper™ platform is now supported for free. By combining multiple NVMe SSDs together into a RAID 0, 1, or 10 array, it is possible to greatly enhance disk performance or data integrity. With a single GPU in the system, up to 8 NVMe SSDs array can be supported by AORUS X399 motherboards.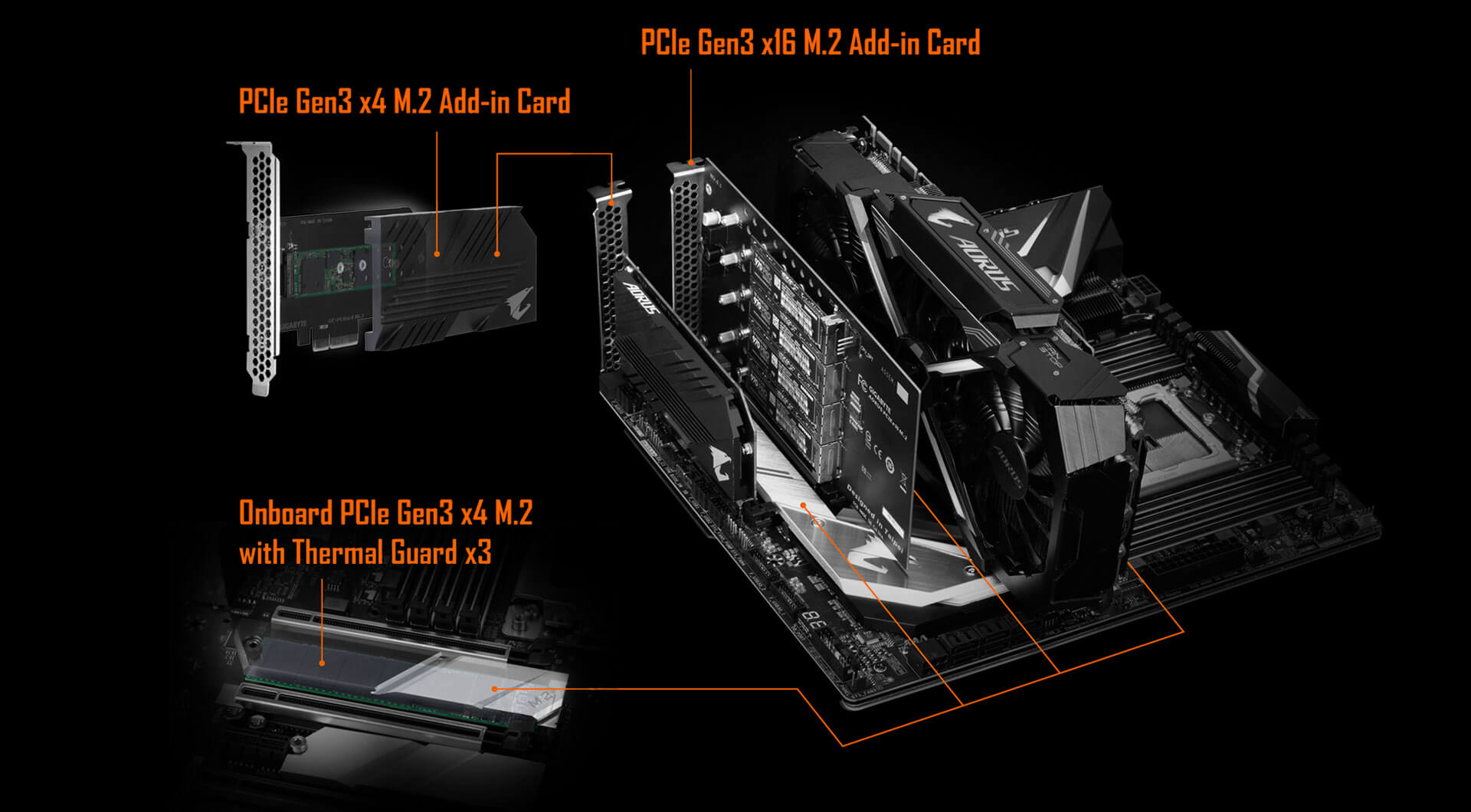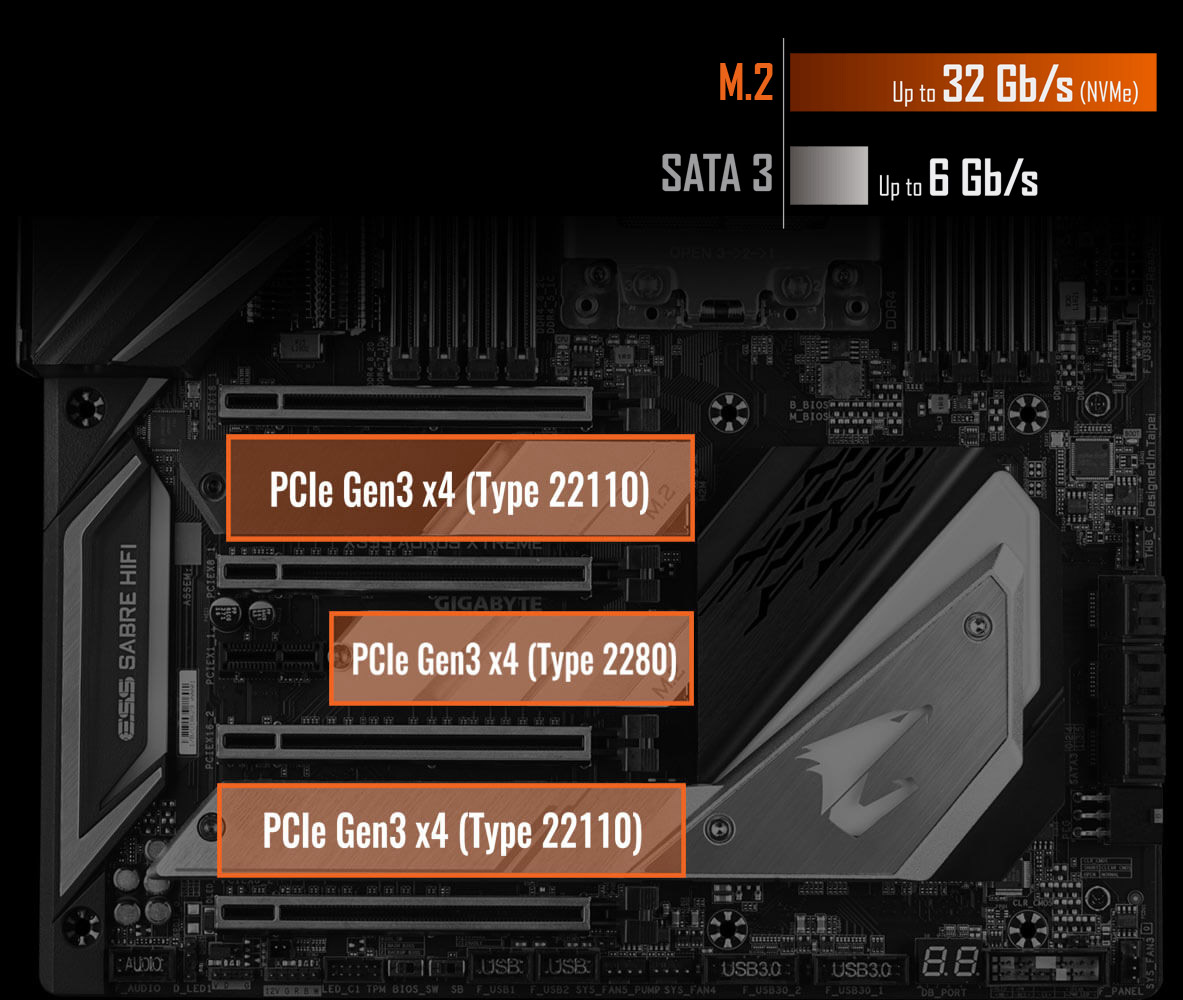 Triple PCIe Gen3 x4 M.2 Direct from CPU
AORUS X399 Motherboards are focused on delivering M.2 technology to enthusiasts who want to maximize their system's potential.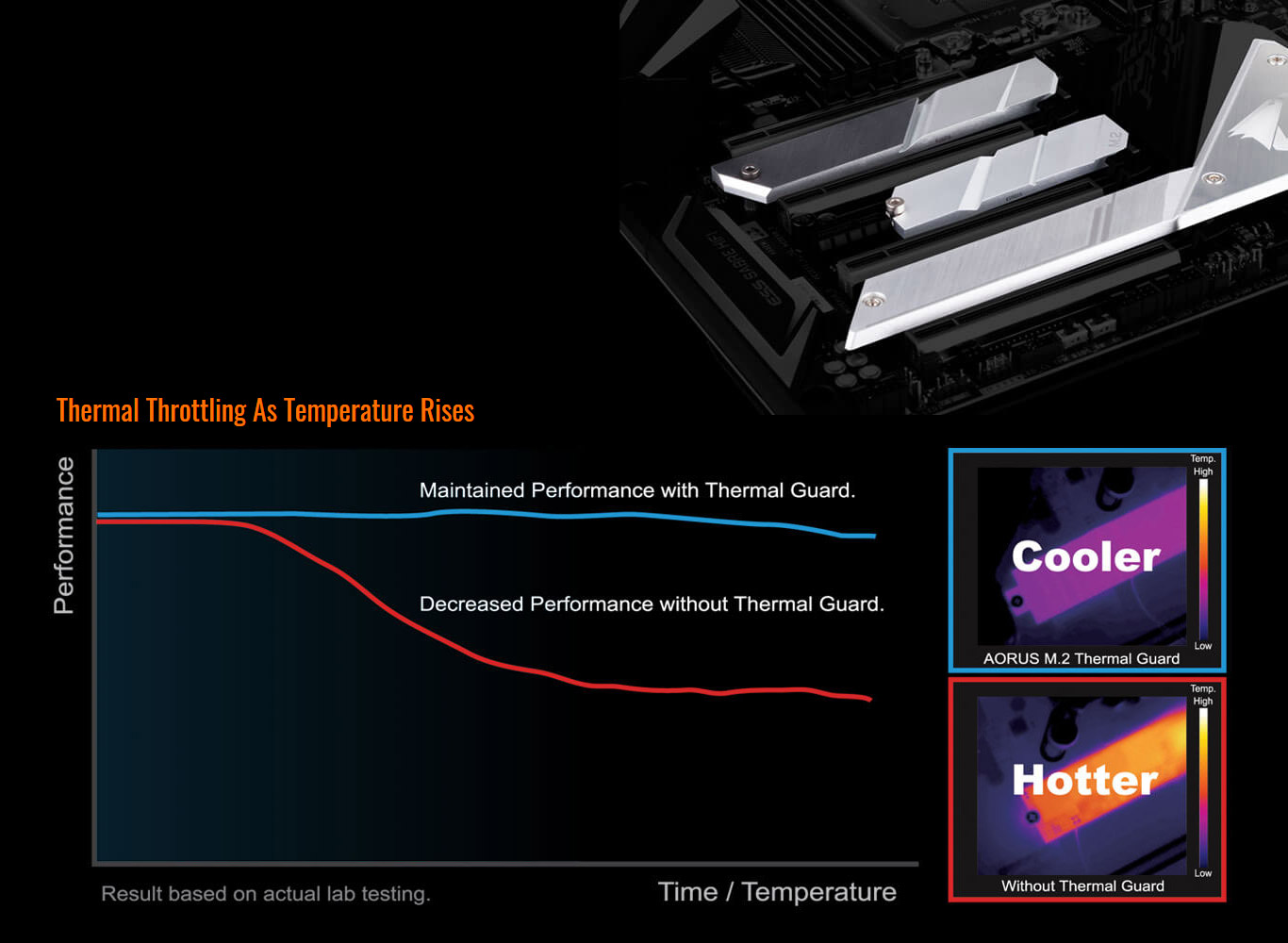 AORUS M.2 Thermal Guard
M.2 Thermal Guards prevent throttling and bottlenecks on M.2 SSDs especially on high-end NVMe PCIe M.2 SSDs. Reduces and dissipates heat from M.2 SSDs to maintain high SSD performance.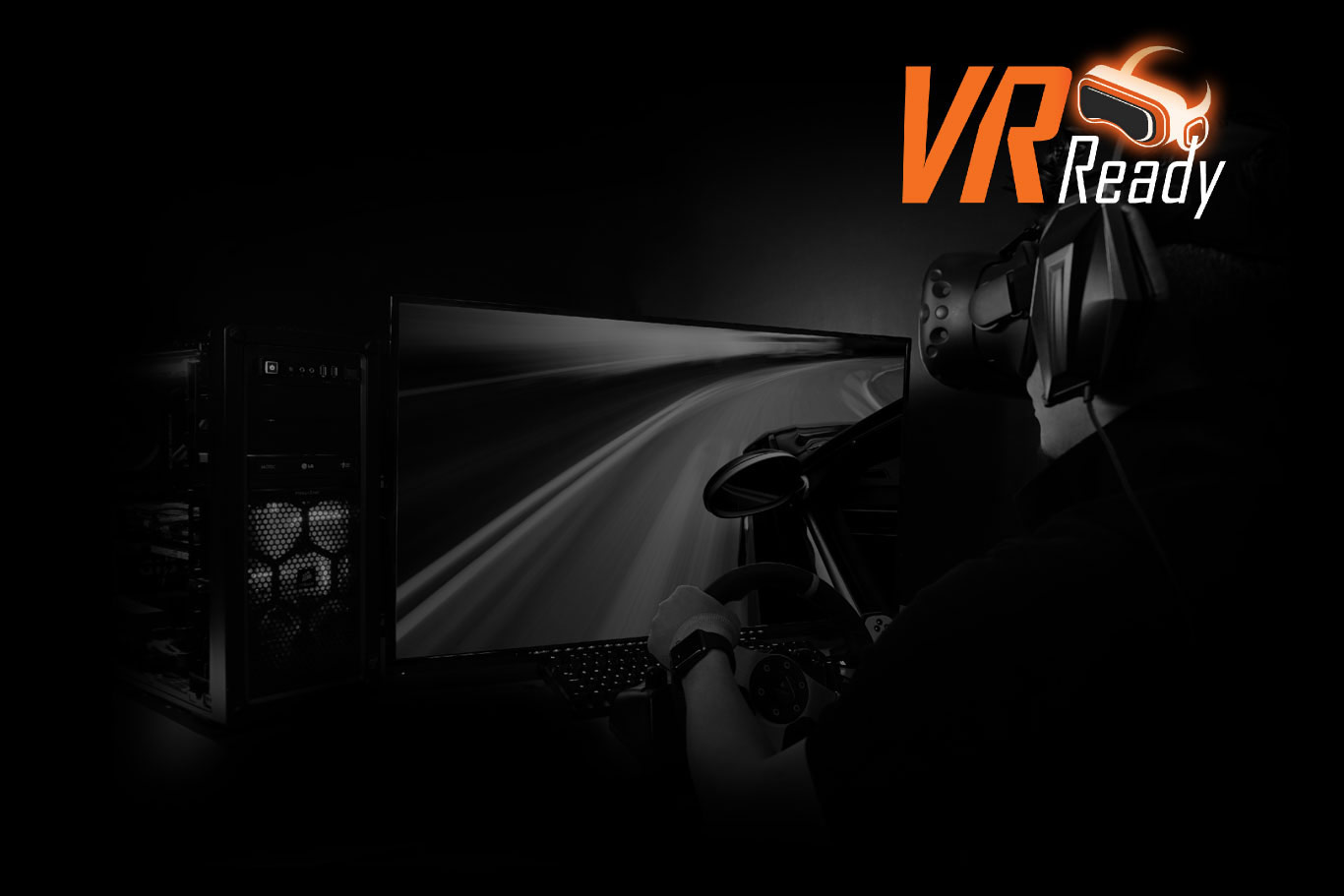 Immersive VR Gaming Experience
VR requires more performance than Full HD graphics for a steady 90FPS or greater.
Only Gaming PCs can provide the best VR experience.
Recommended configuration for VR Gaming PC
Graphics Card: NVIDIA GTX 1060 / AMD RX 480 or greater, Compatible HDMI 1.4 video output
CPU: AMD Ryzen™ Threadripper™
Motherboard: GIGABYTE X399 motherboards
Memory: 8GB RAM or greater
USB Ports: 3x USB 3.0 ports plus 1x USB 2.0 port or greater
OS: Windows 10 64-bit or newer
To create a seamless VR experience AORUS Motherboards offer the best features to make your virtual reality feel like your actual reality. With technologies such as NVMe support via M.2 or U.2 and a one piece metal shielding to brace for heavier discrete graphics cards it's obvious that AORUS has the tools you need to start your journey in VR. To set the mood AORUS Motherboards include RGB Fusion to put you in the center of action.

Dual Intel® GbE + AQUANTIA® 10GbE BASE-T + Intel® WIFI Networking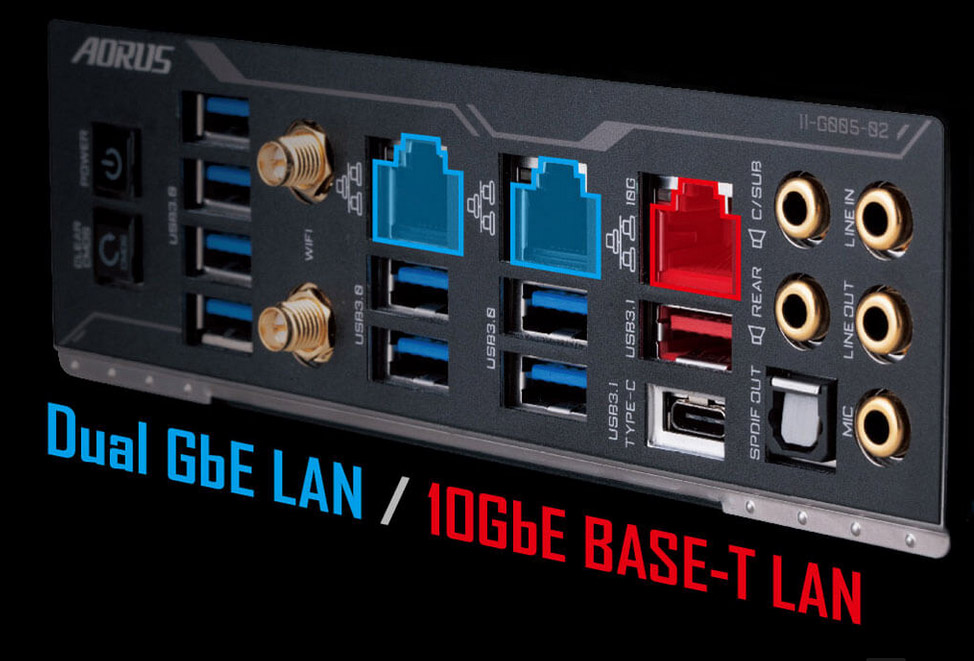 AQUANTIA® 10GbE BASE-T Networking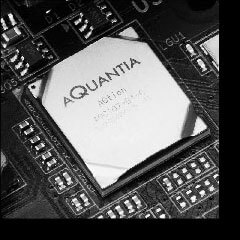 Next Generation Multi-Gig Gaming
The AQUANTIA ® AQC107 is a high-performance, backward compatible with 10GBASE-T/ 5GBASE-T/ 2.5GBASE-T/ 1000BASE-T/ 100BASE-TX Ethernet Controller which is able to provide up to 10 GbE network connectivity, with 10 times faster transfer speeds compared to general 1GbE networking and is perfectly designed for media centers, workstations and gamers.

Multi-Gigabit Support
Ultimate online gaming experience with faster connection speed
Backward compatible with 5/2.5/1Gbps network
No re-wiring needed

USB 3.1 Gen2 Type-C Header
Equipped with next generation connectivity onboard AORUS X399 Gaming Motherboards already support the chassis of the future. The onboard USB Type-C header for USB 3.1 Gen2 makes access convenient when connecting a USB 3.1 drive or charging your new mobile device.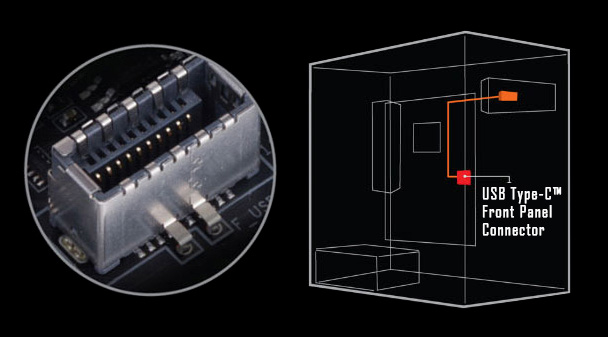 Fast USB 3.1 Gen 2 Solution
The latest USB 3.1 Gen 2 offers staggering 10Gb/s transfer speeds. 2x faster than USB 3.1 Gen 1 along with backwards compatibility with existing USB devices.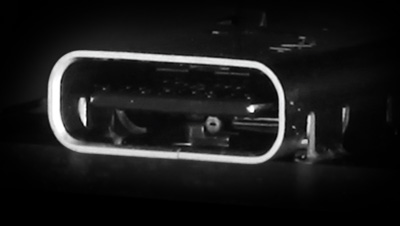 Connecting the Future - USB Type-C
The World's Next Universal Connector
Reversible USB Type-C™ with USB 3.1 Gen 2
USB with Precision Digital Fuse
Utilizing a digital fuse, motherboards are able to avert against over-current damage by reacting faster, with greater precision, and avoid unexpected voltage from external devices.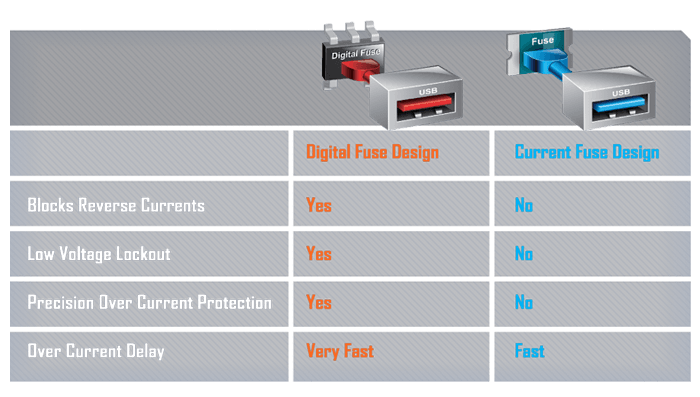 Digital Fuse Design
Activates when the current reaches its trigger point, this design is much more precise than traditional fuses.

ALC1220-VB Immersive Gaming ViBes
All New Realtek High-End HD Audio Codec
ALC1220 120dB(A) SNR HD Audio with Smart Headphone Amp automatically detects impedance of your head-worn audio device, preventing issues such as low volume and distortion. New VB series audio controller stream your voice to the world vibrantly with both front/rear microphone SNR up to 110/114dB(A).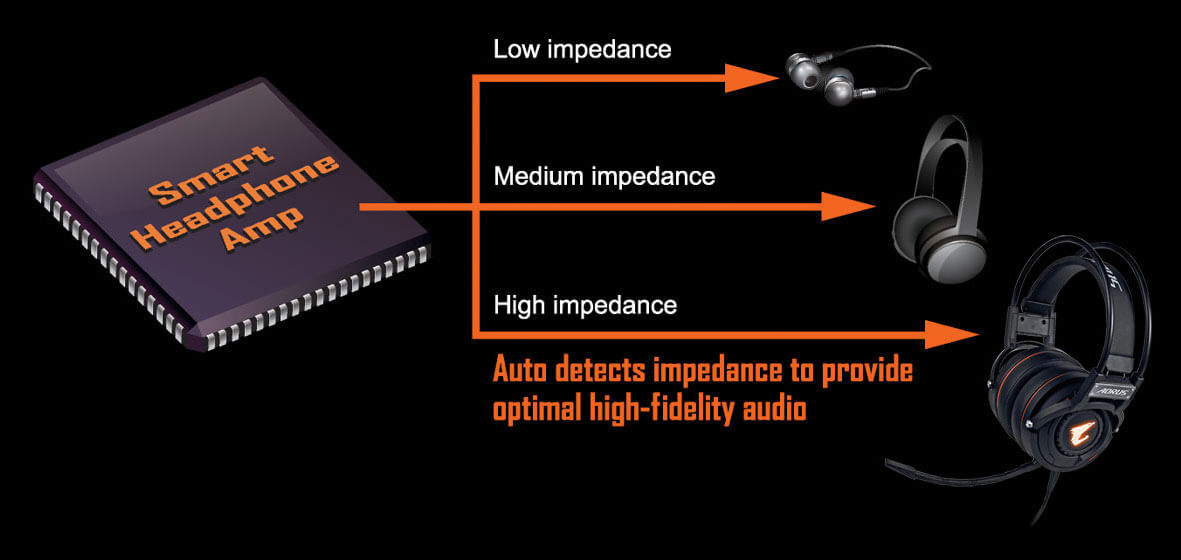 No More Confusion
During In-Game Voice Chat
Microphone input with higher front dynamic range allows gamers to hear more clearly. No more misunderstandings, no more confusing GO! GO! GO! as NO! NO! NO!
ES9118 HiFi DAC
AORUS AMP-UP Audio now offers ESS SABRE with a DAC that adopts the concept of a high-end audiophile sound system design into a micro system within the motherboard.The 32-bit HyperStream architecture to deliver up to 125 dB SNR and -112 dB Total Harmonic Distortion plus Noise (THD+N) ensuring audiophile quality sound all the way to the headphones. It also supports the most popular high resolution and lossless audio formats including FLAC, ALAC, AIFF and WAV.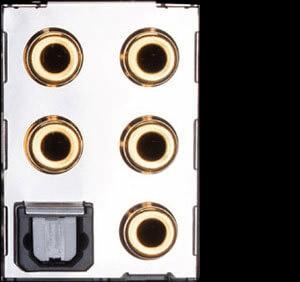 Gold Plated Audio Jacks
AORUS Gaming motherboards pack top quality gold plated audio connectors for improved connectivity and long lasting durability. Gold has superb signal conductivity and will not tarnish over extended periods of use.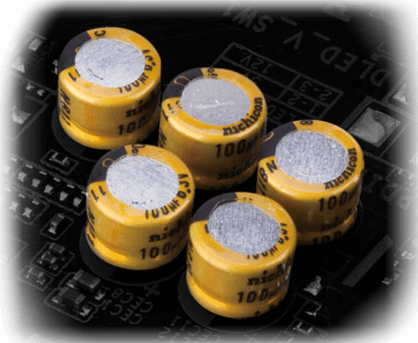 High-End Audio Capacitors
The AORUS X399 motherboards use high end, Japanese branded Nichicon audio capacitors. These professional audio capacitors deliver the highest quality sound resolution and sound expansion to create the most realistic sound effects for professional gamers.

RGB Fusion with Digital LEDs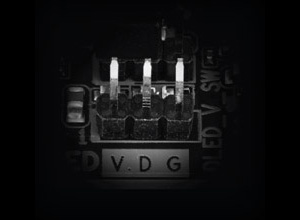 RGB Fusion with Digital LEDs Support
With AORUS Motherboards, RGB Fusion is even better with Digital LEDs.* RGB Fusion offers users the option to control onboard RGB and external RGBW / Digital LED light strips for their PC. Already feature filled with colors and patterns, RGB Fusion on AORUS Motherboards are now upgraded with Digital LED support. With external digital LED strips*, where each LED is digitally addressable, users can experience even more patterns, styles, and illuminations.

AORUS Gaming Motherboards will support either 5v or 12v digital LED lighting strips and up to 300 LED lights. RGB Fusion with Digital LEDs comes with 9 new patterns and various speed settings with more to come.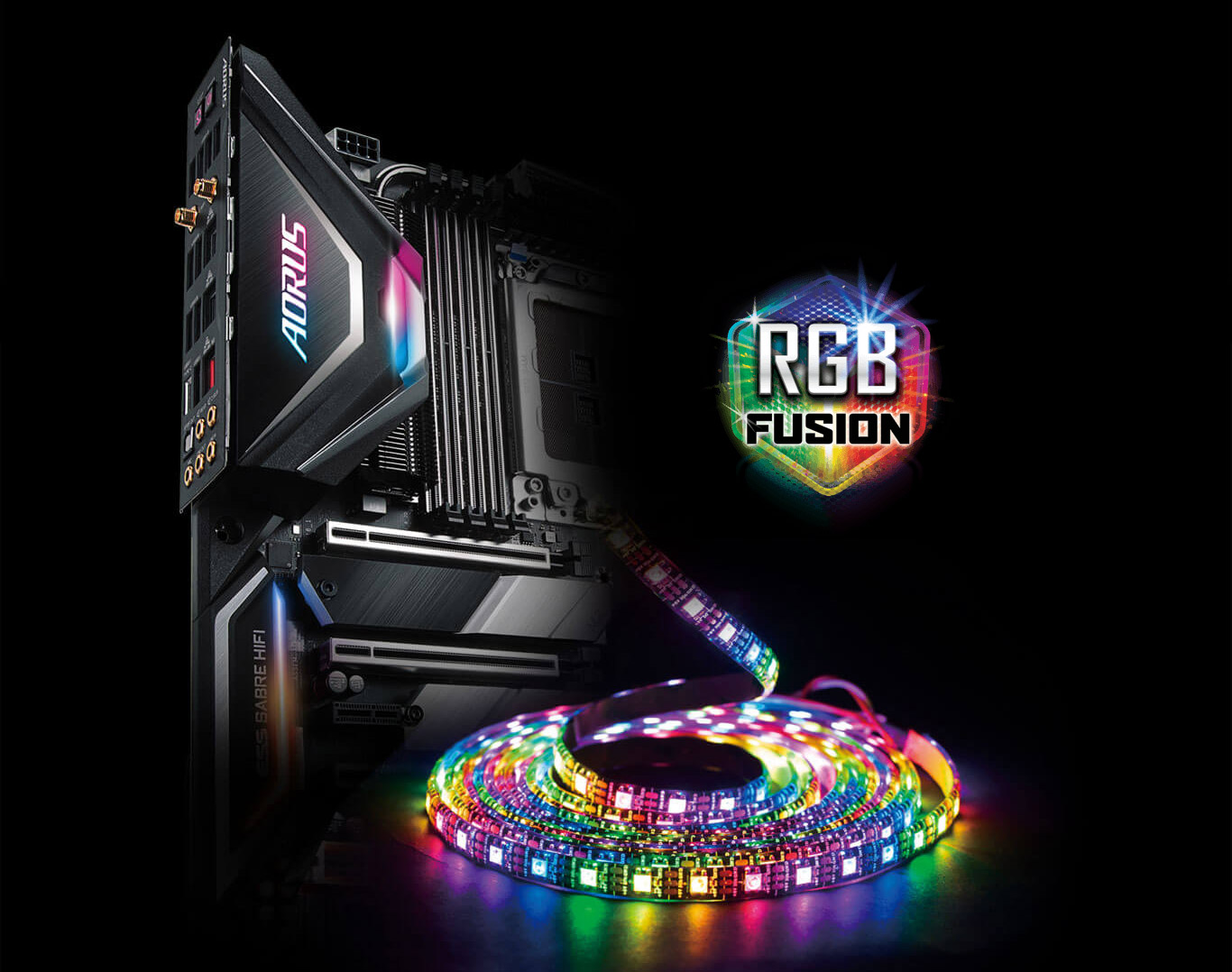 Multi-Zone Light Show Design
Now offering more LED customizations than ever, users can truly adapt their PC to represent their lifestyle. With full RGB support and a redesigned RGB Fusion application, the user has complete control over the LEDs which surround the motherboard.
Basic
Advanced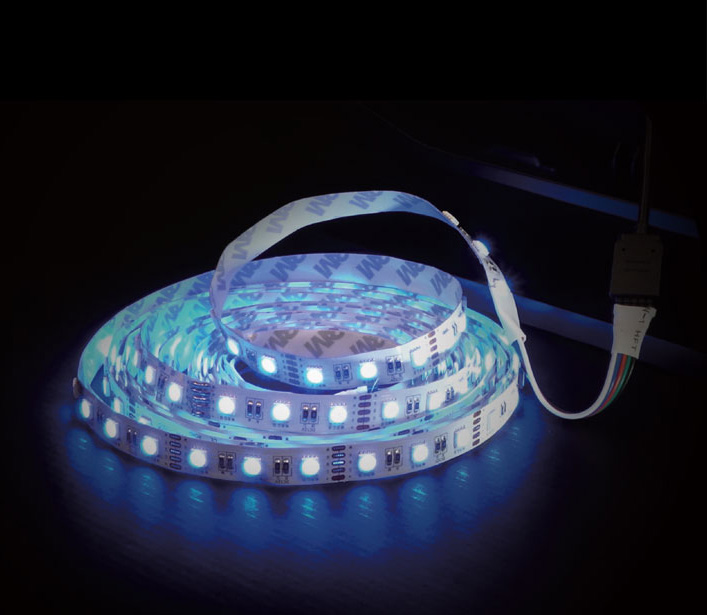 Supports RGBW & UV Light Strips
Independently Programmable Onboard Pin Header for RGBW/UV LED Strips
Not bright enough? You can install standard 12V external RGB, RGBW or RGB/UV light strips on the RGBW pin header and control its color from the RGB Fusion software. Using a RGBW light strip with a dedicated white LED, users will experience brighter and more vibrant shades of colors.

When using RGB/UV LED strips, users can give their systems a fluorescent glow with the use of UV reactive liquid, neon braided cables, and acrylic paint for a wicked-looking gaming PC.

No need to worry when choosing light strips as GIGABYTE motherboards support a wide variety of RGBW/UV light strips on the market thanks to the RGB Fusion software that allows users to redefine the pin location for the R/G/B Signal.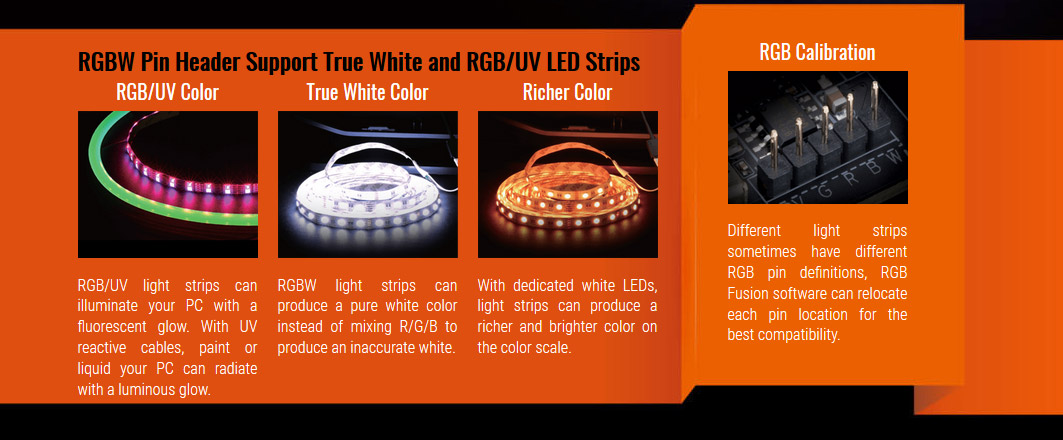 RGB Fusion (Advanced mode)
With the all new RGB Fusion software, users have access to different preset LED lighting configurations with choice of colors. You can even set the LEDs to synchronize with your favorite music or have them change colors to indicate the CPU temperature. For true lighting experts there is an Advanced Mode, which can be fully customized by individual area with its own effects and color transitions, along with specific duration and transition times. along with specific duration and transition times.along with specific duration and transition times.


Synchronize with RGB FUSION READY Peripherals
With a dazzling array of products supported, RGB Fusion is the software that brings it all together, letting your accessories synchronize to the same beat.
Independent Control
Customized different color for different section of board
Synchronize with RBG FUSION READY Peripheral
With a dazzling array of products supported, RBG Fusion is the software that brings it all together, letting your accessories synchronize to the same beat. Customize all your LEDs how you like-have them match, dazzie and impress.
Fully Customizable
Adjust lighting animation with color stops, color duration, trnsition period, and color effects.
Lighting Profile
Save, export and import profiles to quickly change effects based on your preference and to share with others.
GIGABYTE RGB Fusion APP
Don't just make your PC shine, make it a work of art that friends will envy. With the GIGABYTE RGB Fusion mobile app users can watch as they control the lighting within their gaming PC. This gives users ease of access as they try and adjust colors and speeds for different modes, all this can be achieved away from the keyboard and monitor of their PC.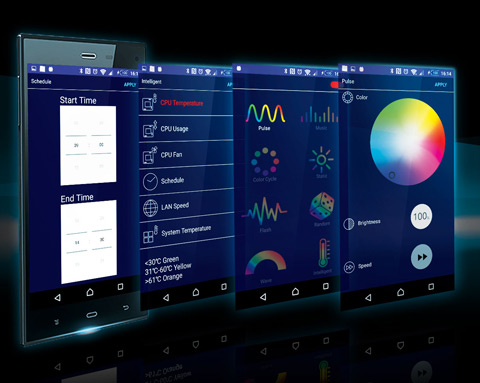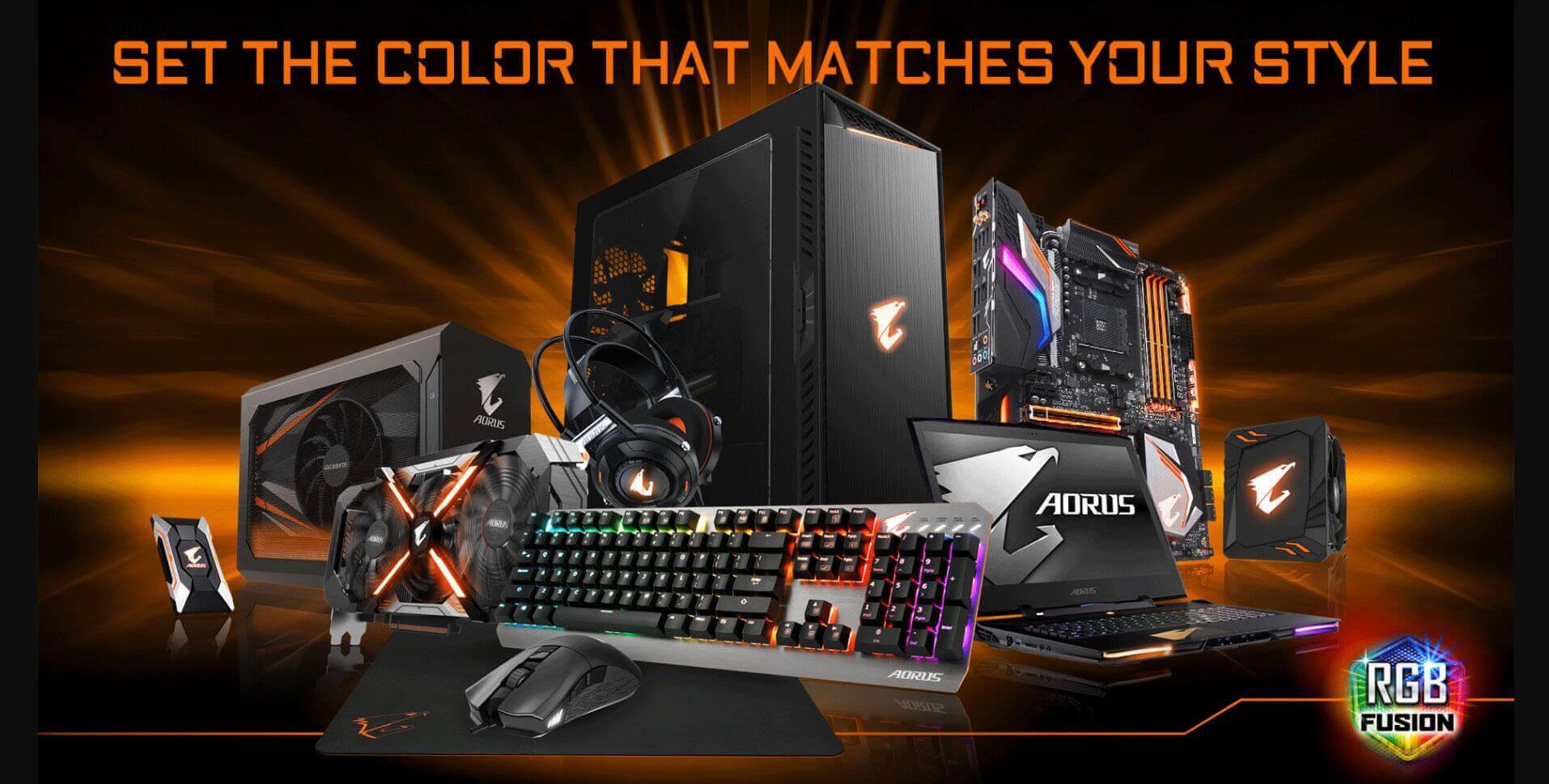 With a dazzling array of products supported, RGB Fusion is the software that brings it all together, letting your accessories synchronize to the same beat. Customize all your LEDs how you like — have them match, dazzle and impress.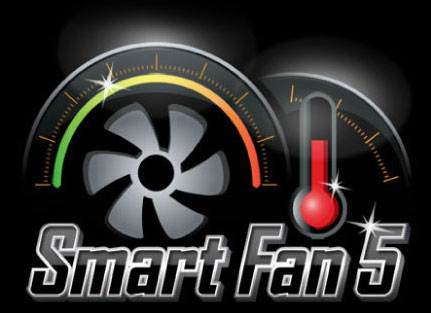 Smart Fan 5
With Smart Fan 5 users can ensure that their gaming PC can maintain its performance while staying cool. Smart Fan 5 allows users to interchange their fan headers to reflect different thermal sensors at different locations on the motherboard. Not only that, with Smart Fan 5 more hybrid fan headers that support both PWM and Voltage mode fans have been introduced to make the motherboard more liquid cooling friendly.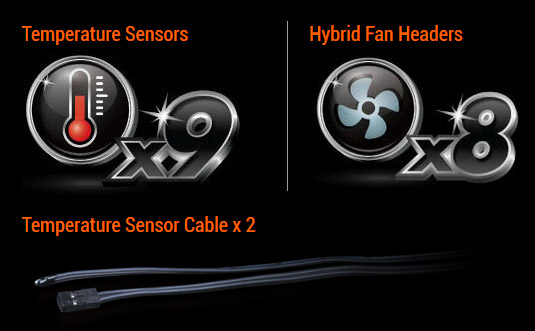 8 Fan Pin Connectors
7 Temperature Sensors
2 External Temperature Sensors
All Fan Pin Headers Upgraded to Hybrid Fan Headers
Interoperable Fans and Sensors
Intuitive UI for Fan Control
Achieve fan silence. With Fan Stop map any fan to stop completely when temperatures drop below a specified threshold. Which fan stops, based on readings from which sensor, and at what temperature—all of it can be customized to your liking.
Hybrid Fan Pin Headers & Temperature Sensors
Assume complete control over your liquid cooling setup! Smart Fan 5 receives up-to-the-second information on flow-rate and water-temperature through the Hybrid Fan Pin Headers or external thermistor sensors—giving you absolute mastery over your PC.
All Hybrid Fan Headers can automatically detect the type of cooling device whether it be fan or pump with different PWM or Voltage mode.
Includes support for one High-Current Pump up to 3 Amps with built-in overcurrent protection—a must for high-end high current fans.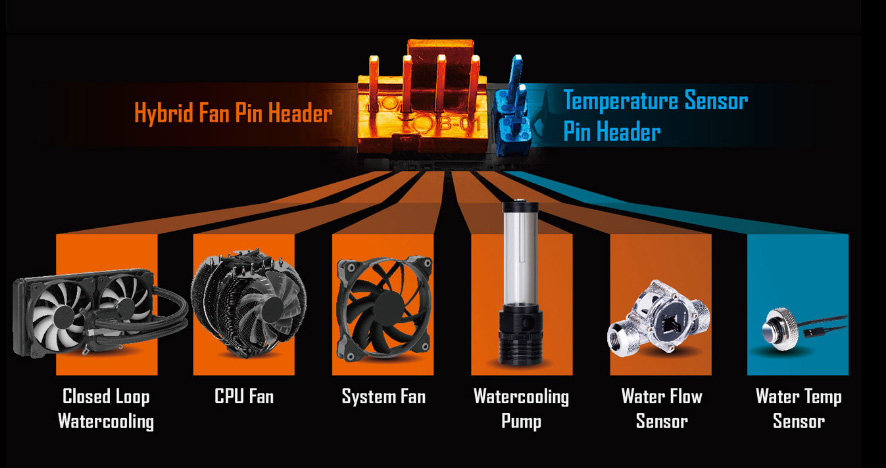 New Smart Fan 5 Software
Choose from different modes, Quiet to Full Speed, to match your system usage scenario. For each fan or pump, you can use the intuitive fan curve to define trigger thresholds and corresponding fan speeds.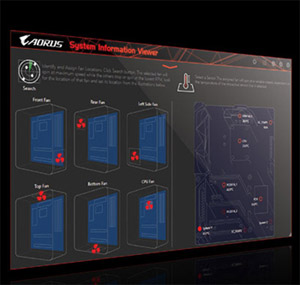 Interoperable Sensors and Fans
Each fan can be customized to operate at different speeds according to any defined temperature source input (except the CPU fan).
Fan Curve
Customize fan curves based on specific temperatures with the intuitive graphical UI.

Solid Pin Power Connectors
Make Good Connection and Significantly Lower the Wires Capacity
AORUS 400-series motherboards feature solid plated ATX 24pin & ATX 12V 8pin power connectors for offering stable power supply while CPU overloading.
Solid Pin Power connector advantages
Larger contact area for electricity
More metal quantity to sustain higher power and generated heat
Ultra durable and longer lifespan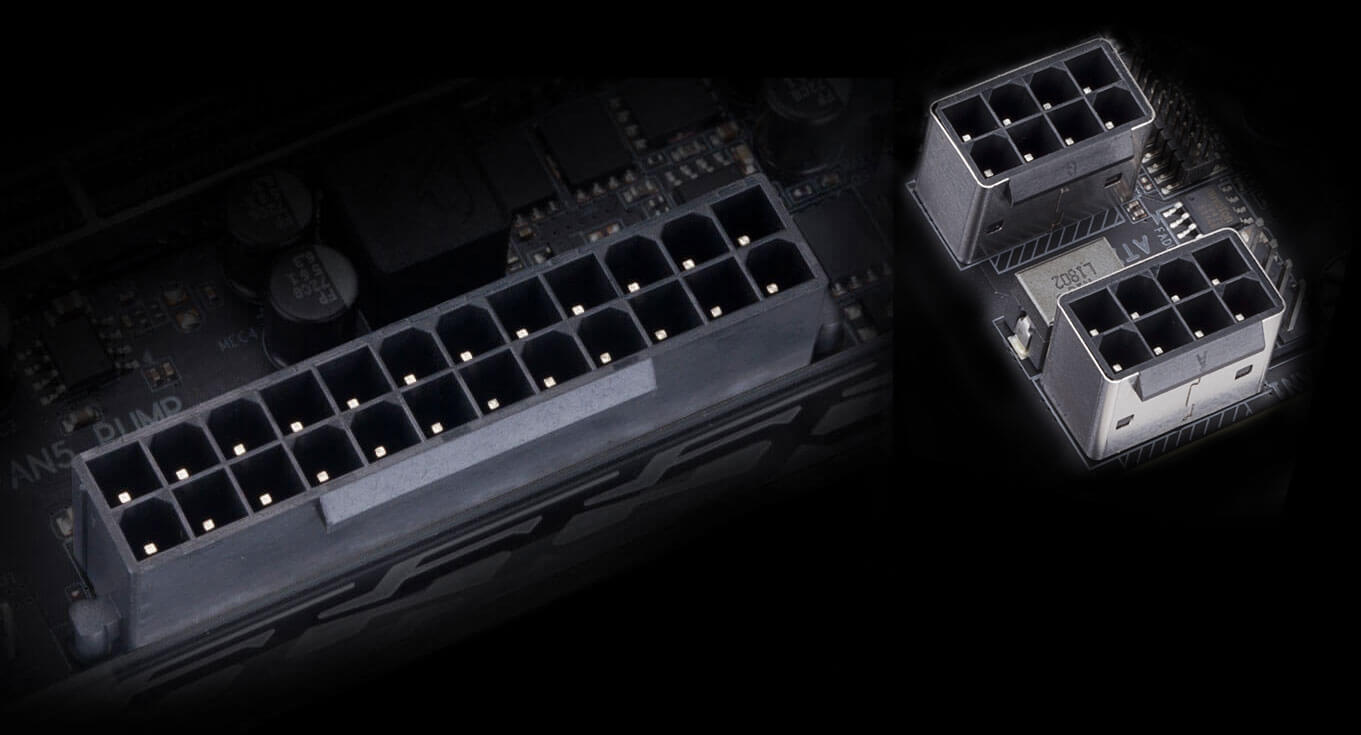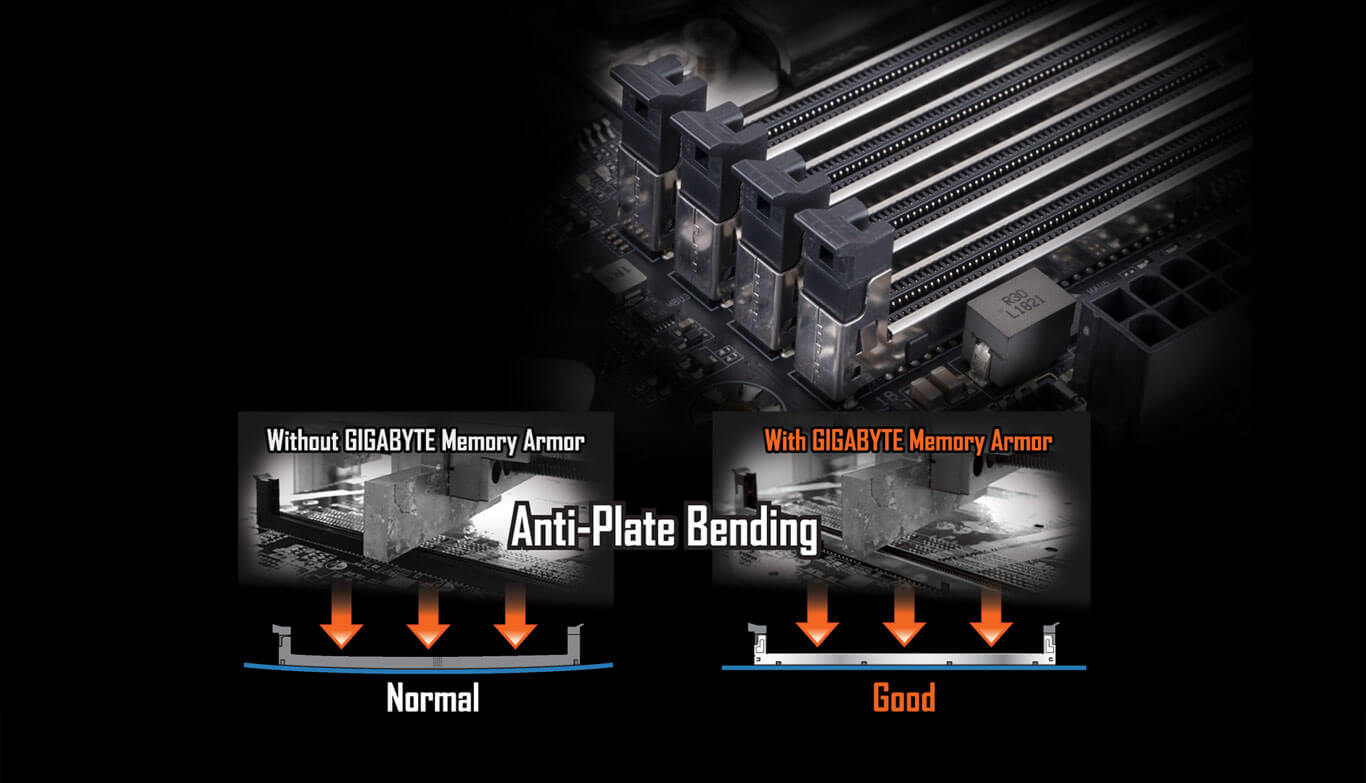 Ultra Durable™ Memory Armor
AORUS' exclusive one piece stainless steel shielding design prevents against PCB distortion and twist, plate bending, in addition to preventing any possible ESD interference
GIGABYTE Patented Double Locking Bracket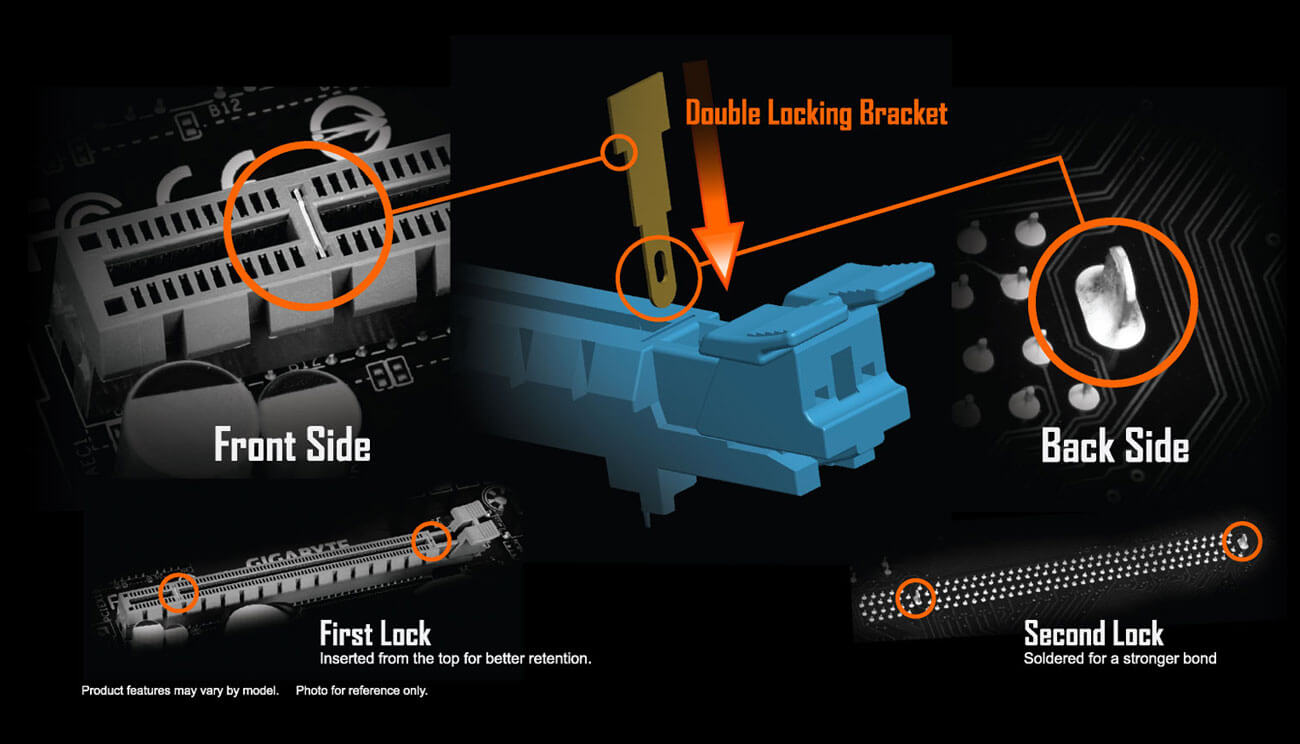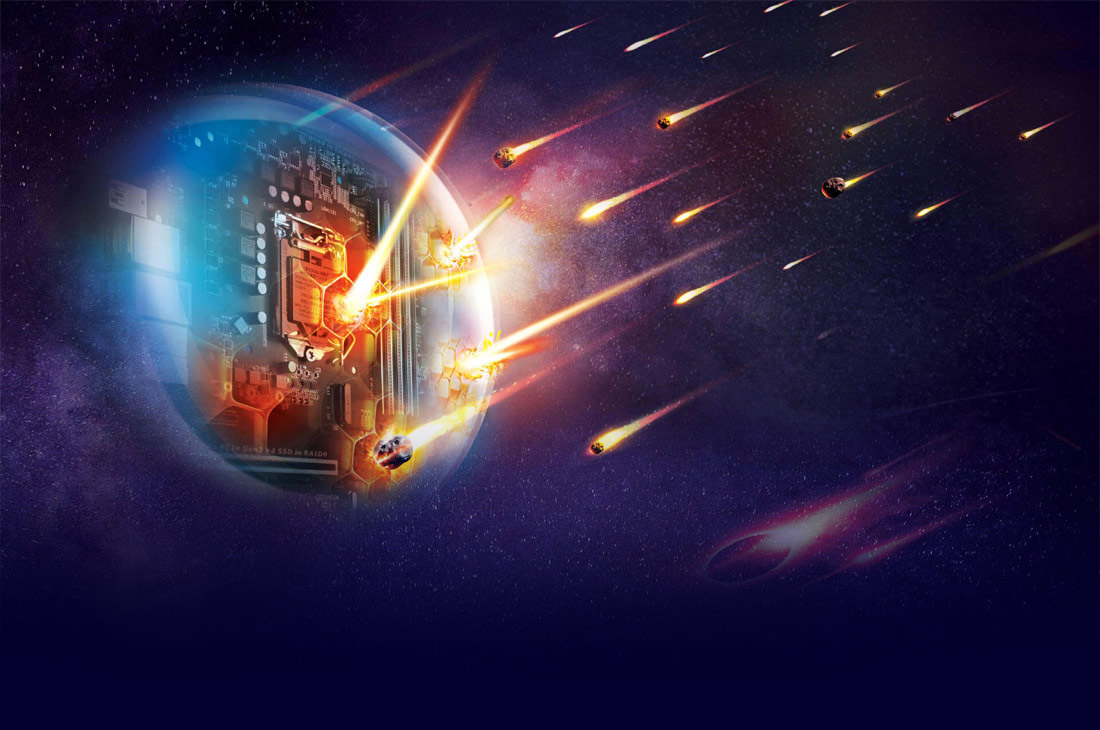 START SULFURIZATION PROTECTION
Sulfur compounds in the air can penetrate tiny onboard resistors creating chemical change and causing these resistors to open or short. If either of these occurs the motherboard will fail to function. By equipping resistors with an Anti-Sulfur Design GIGABYTE gives Ultra Durable Motherboards a whole new meaning.
Long Lifespan Durable Black™ Solid Caps
GIGABYTE motherboards integrate the absolute best quality solid state capacitors that are rated to perform at maximum efficiency for extended periods, even in extreme performance configurations. With ultra-low ESR no matter how high the CPU load, this provides peace of mind for end users who want to push their system hard, yet demand absolute reliability and stability. These exclusive capacitors also come in customized jet black, exclusively on GIGABYTE motherboards.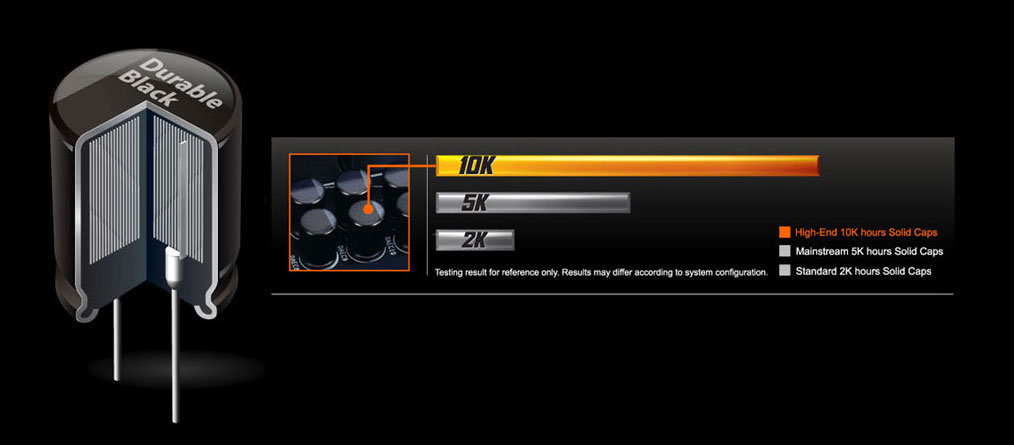 GIGABYTE BIOS & Applications
EasyTune™
GIGABYTE's EasyTune™ is a simple and easy-to-use interface that allows users to fine-tune their system settings or adjust system and memory clocks and voltages in a Windows environment. With Smart Quick Boost, one click is all it takes to automatically overclock your system, giving an added performance boost when you need it the most.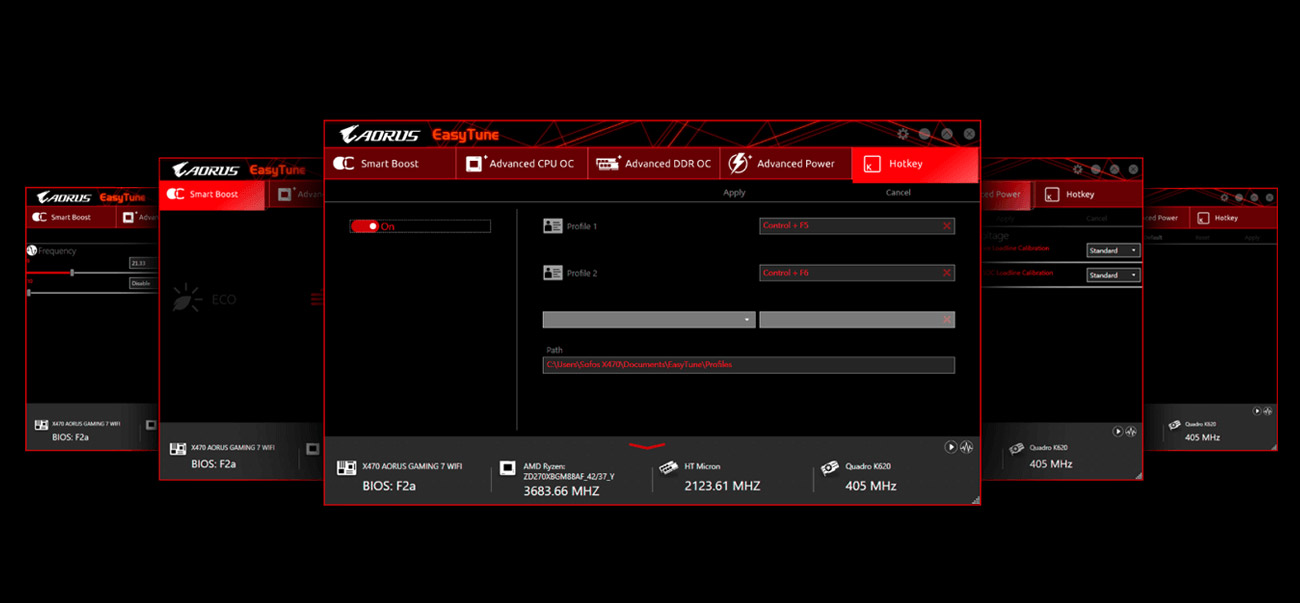 @BIOS
The GIGABYTE @BIOS app allows you to update your system's BIOS from within Windows using a simple and slick graphical user interface. @BIOS can automatically download the latest version from the GIGABYTE servers or you can update your BIOS from a file on your computer. @BIOS also allows you to save your current BIOS to a file, recover your previous BIOS from an image and backup your BIOS to an image.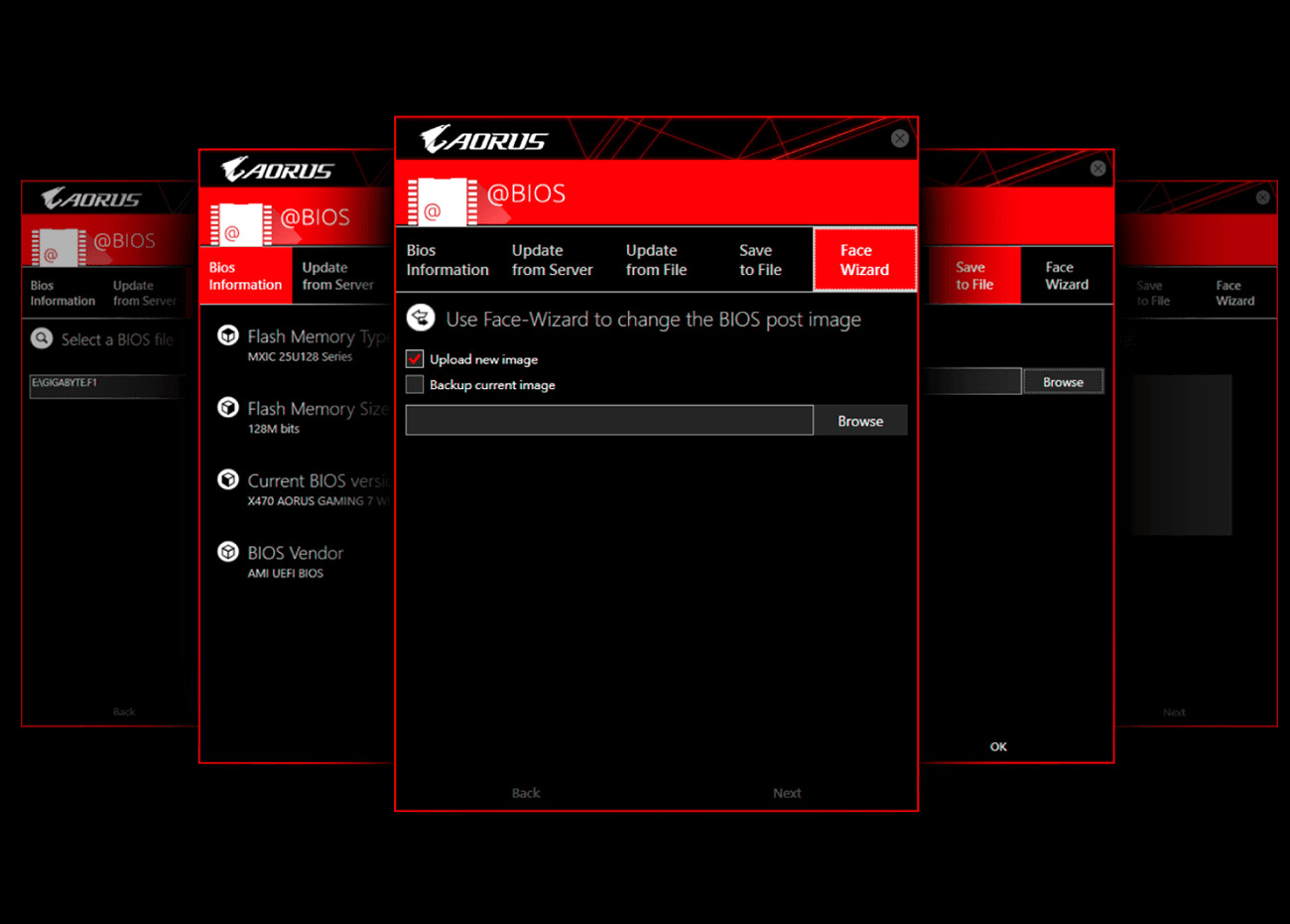 System Information Viewer
GIGABYTE System Information Viewer is a central location that gives you access to your current system status. Monitor components such as the clocks and processor, set your preferred fan speed profile, create alerts when temperatures get too high or record your system's behavior; these are the possibilities of the System Information Viewer.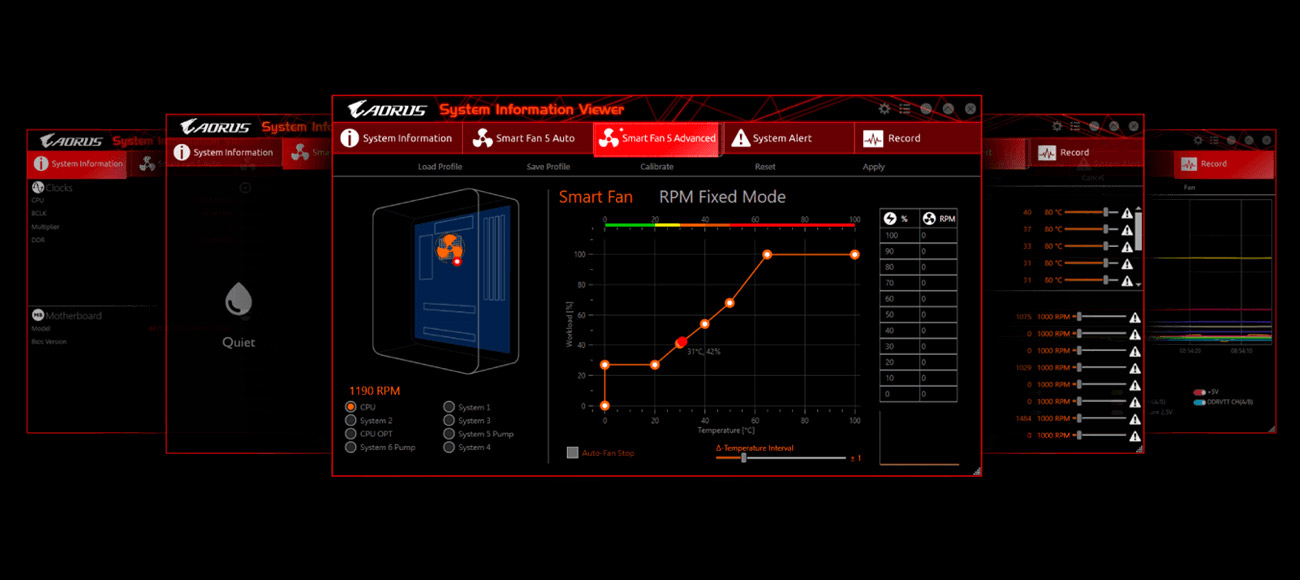 3D OSD
3D OSD automatically detects and displays your system information during games, allowing you to easily get a hold of your system information without switching between screens.
XSplit Gamecaster + Broadcaster: Cast Your Game Anytime, Anywhere
Now set up your stage and share the greatest gaming moments with XSplit Gamecaster + Broadcaster! Fully optimized social media integration is ready for real-time chats—keeping you notified yet focused in the game. It takes just one click to stream your gameplay to Twitch. Host your game like a pro!
*Free 14 days XSplit Gamecaster + Broadcaster Premium License.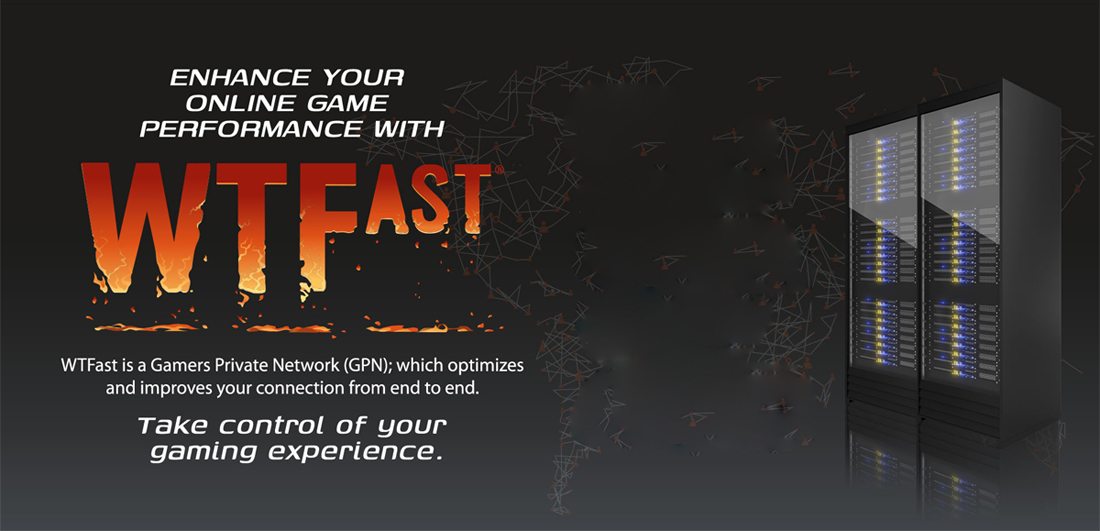 Enjoy 14-days FREE seamless connection to any game server in the world
Experience up to 60% overall connection improvement
Receive FREE unlimited access to PC Gaming Launchpad, supporting over 800 MMO games
Monitor your Game Ping and Connection Statistics continuously
TriDef SmartCam | Custom Stream Modding
To facilitate being the full streaming solution each AORUS motherboard includes TriDef SmartCam software, you are now able to remove backgrounds without the hassle of using a green screen. Through the SmartCam application you can now apply live filters, and fully control your background, not only while streaming, but also through other video applications such as Skype.
*Free 1 month TriDef SmartCam License.