NVIDIA Desktop GPU Tour
Table of contents
See and Experience the NVIDIA Difference
Why NVIDIA GeForce?
Whether you're a full-fledged PC gamer, a video enthusiast, or a digital photography aficionado, there's an NVIDIA GeForce graphics processor (GPU) that fits your lifestyle and budget.
NVIDIA GeForce GTX
The ultimate GPUs from NVIDIA. Delivers game-changing performance and the broadest set of features for gamers who demand the best.
NVIDIA GeForce GT
Every PC deserves great graphics.  GeForce GT graphics cards deliver premium multimedia performance and reliable entry-level gaming – every time.
NVIDIA GeForce
More than just great graphics. Speed up your favorite applications and play popular games the way they're meant to be played.  Rock solid driver support and unique features like GPU-accelerated physics, multi-GPU scaling, and active shutter 3D glasses make GeForce the choice of PC gamers worldwide.
NVIDIA® 3D Vision™ - Play hundreds of games in full 3D
Upgrade your PC to a fully immersive 3D experience with NVIDIA 3D Vision. Play over 550 PC games, watch Blu-ray™ 3D movies, enjoy the largest online community of 3D photos and videos at 3DVisionLive.com, and watch thousands of 3D videos on YouTube in full HD stereoscopic 3D.


Highest quality full HD 1080p 3D

Paired with best-in-class ultra-smooth 120 Hz/120 FPS LCD displays and 3D projectors, for a crystal-clear, ghost-free stereoscopic 3D experience 
Get the best and brightest 3D monitors available with NVIDIA 3D LightBoost technology
High tech active shutter glasses, designed with top-of-the-line optics deliver full HD resolution per eye and ultra-wide viewing angles
Comfortable to wear and modeled after modern sunglasses
Designed to fit over prescription glasses including adjustable nose pieces
Available models include wireless glasses with 60+ hours of gameplay on a single recharge or wired glasses for an affordable option with the same great features and quality

Enjoy the world's largest 3D ecosystem with more than 1,000 supported products

Select from over fifteen high-quality 3D monitors from ASUS, Acer, Alienware, BenQ, Hannstar, I-O Data, LG, Lenovo, NEC, Planar, ViewSonic, and others.
Includes 3DTV Play software, allowing you to connect to an HDMI 1.4 3D TVs and projectors, letting you enjoy all 3D Vision features. NOTE: When using 3DTV Play you will use the TV manufacturers' 3D glasses, not 3D Vision wireless glasses.
Visit http://www.nvidia.com/object/3d-vision-requirements.html for a full list of supported 3D Vision products.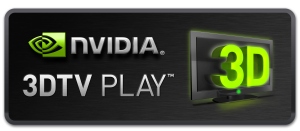 Unmatched game support

Experience the latest and most popular games in stunning, stereoscopic 3D, including Diablo III, Batman: Arkham City, Battlefield 3, and more
Advanced NVIDIA software automatically converts over 700 existing games to stereoscopic 3D with no special game patches needed
NVIDIA's The-Way-It's-Meant-To-Be-Played™ program ensures tomorrow's games run best on GeForce when games launch – not weeks later with patches
Please visit http://www.nvidia.com/object/3d-vision-3d-games.html for a full list of 3D Vision games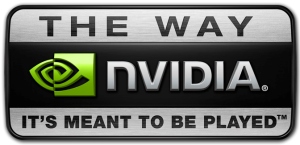 Engross yourself in 3D movies and pictures

Experience the latest Blu-ray 3D movies in the comfort of your home
Stream 3D music videos, short films, sport clips, and more from 3DVisionLive.com
Share your 3D photo collection online or browse through thousands of 3D pictures from other users on 3DVisionLive.com.
Film, upload, and watch high-quality 3D videos on YouTube; enjoy thousands of existing YouTube videos with 3D Vision.
Watch your private video collection offline with the included 3D Vision Video Player.
Easily take in-game screenshots to view in stereoscopic 3D with NVIDIA's free 3D photo viewer, or share with your friends from 3DVisionLive.com.
NVIDIA® 3D Vision™ Surround – Span up to 3 screens in full 3D
Take your immersive 3D experience to the next level by playing your favorite games across three, full HD (1080p) displays in rich stereoscopic 3D.
Game across three 3D 1080p displays, for a breathtaking 5760x1080 gaming experience.

Get a complete view of the battlefield in real-time strategy games.
Manage your inventory windows, quest logs, and track your party in your favorite MMORPGs.
See your enemy's movement quicker and react first in first-person-shooters.
Immerse yourself in the driver seat of your favorite racing game and be a part of the action.

Compatible with all 3D Vision-Ready desktop monitors and projectors.
Best-in-class 2D Surround gaming too!

Game across three non-3D displays with resolutions up to 7680x1600.
Supports landscape or portrait mode for ultimate display flexibility.
PhysX – GPU-accelerated physics
NVIDIA's PhysX technology taps into the parallel processing power of the GPU for physics computation. incorporated into both the Unreal Engine and Unreal Engine 3, the most popular game engines in the world, PhysX has been at the forefront in bringing physically simulated effects to games. Bringing to life things like rippling and tearing cloth, smoke that reacts to objects and characters in real time, and debris that is unique to how you destroy things, NVIDIA PhysX technology can be found in popular games like Batman: Arkham City, Alice: madness Returns, and The Secret World.  For a complete list of PhysX-enabled titles, visit http://www.geforce.com/hardware/technology/physx/pc-games.
Behind PhysX is the power of the GPU. Unlike most CPUs, GeForce GPUs have dozens and in most cases, hundreds of parallel cores available for processing at the same time.  When some cores are focused on rendering the images in a game, other cores can we used to render the physics in real time, producing a truly unique gameplay experience each time  -objects in the game react as they would in real life, not in a scripted manner as has been the case in the past.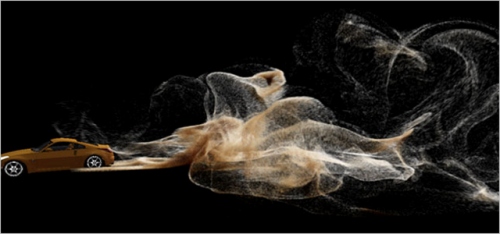 PhysX simulates smoke using detailed fluid dynamics models. Complex effects such as turbulence are depicted with incredible finesse and accuracy.
NVIDIA SLI – multi-GPU scaling technology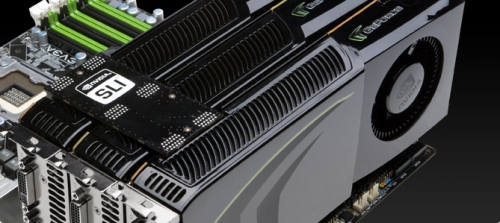 NVIDIA SLI technology links multiple GeForce GPUs together for dramatically improved graphics performance. With over 1,000 supported applications, SLI is the multi-GPU technology of choice for PC gamers (more than 9 out of 10 multi-GPU gamers use it, according to Valve's Steam Survey).
SLI features an intelligent communication protocol embedded in the GPU, a high-speed digital interface to facilitate data flow between the two graphics cards, and a complete software suite providing dynamic load balancing, advanced rendering, and compositing to ensure maximum compatibility and performance in today's latest games.  It's seamless and just works!

Beyond just better performance, SLI offers a host of advanced features. For NVIDIA PhysX-enabled games, SLI can assign the second (or third) GPU for physics computation, while the other(s) are dedicated to graphics.   For CUDA applications, a second (or third) GPU can be used for compute purposes such as Folding@home or video transcoding. Finally, for the ultimate in image quality, SLI antialiasing offers up to 64xAA with two GPUs, 96xAA with three GPUs, or 128xAA with four GPUs.
Built for DirectX11 Tessellation


Microsoft DirectX is the graphics technology powering all of today's hottest games. The latest version— DirectX 11—features tessellation for film-like geometric detail, compute shaders for custom graphics effects, and improved multithreading for better hardware utilization. The central feature of DirectX 11 and used in critically acclaimed games like Batman: Arkham City, The Secret World, and Max Payne 3, tessellation allows the game designer to pack an enormous amount of geometry in the scene without sacrificing performance. Tessellation enables a wide range of visual effects that have previously been out of reach, such as:
Organic characters with perfectly smooth curves
Super fine surface detail such as thorns, nails, and skin aberrations
Vast terrain rendering with complex geometric detail
Dynamic level of detail with seamless transitions
GeForce GTX GPUs, with their massively parallel computing cores, are perfectly equipped to handle the massive workload needed to activate tessellation in today's top games.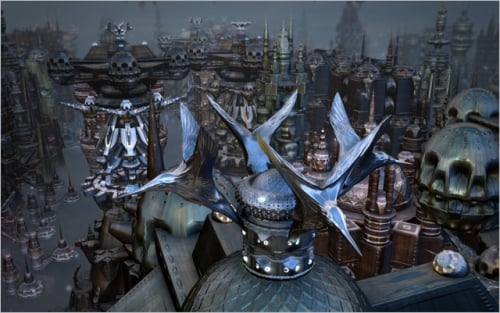 Tessellation makes it possible to create vast cities with almost unlimited detail as shown in the Endless City Demo.
CUDA – making more than just games run faster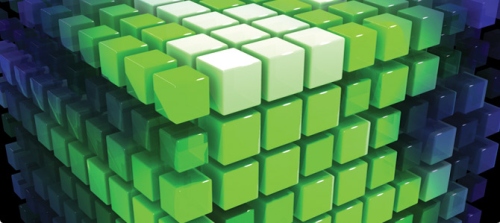 CUDA™ is a parallel computing platform and programming model invented by NVIDIA. It enables dramatic increases in computing performance by harnessing the power of the graphics processing unit (GPU).  CUDA can be used for scientific modeling, geological research, and for calculating real-time physics effects in games.  To learn more about CUDA and what it can do, visit http://www.nvidia.com/object/cuda_home_new.html.

Buy GPUs / Video Graphics Cards at Newegg.com