NVIDIA® Quadro and NVS® professional graphics solutions are built for businesses and professional users. Designed, built and backed by NVIDIA to ensure the highest standards of quality, NVIDIA Quadro and NVS deliver industry leading performance, capabilities and reliability.
NVIDIA Quadro
NVIDIA Quadro 3D professional graphics are fully certified on all industry-leading professional applications. They're the visual computing solutions of choice for the majority of designers, engineers, and scientists. If you use applications such as Adobe Creative Suite, Autodesk 3ds Max, Autodesk AutoCAD, Dassault Systemes Solidworks, Dassault Systemes CATIA, or other professional software suites, NVIDIA Quadro is the best graphics solution for your needs.
Learn more about the benefits NVIDIA Quadro brings to specific professional applications and suites:
Adobe Creative Suite 5.5 
Autodesk 3ds Max
Autodesk AutoCAD 2011
Dassault Systemes CATIA
Dassault Systemes SolidWorks
Siemens NX

NVIDIA NVS
Powerful enough to run both single and multi-display setups, NVIDIA® NVS 2D graphics solutions delivers a reliable platform to ensure a stable business environment. With robust IT management tools for seamless deployment in business environments, NVS graphics boards are the unrivaled solution across mixed work environments in many markets, including financial institutions, emergency call centers, digital signage systems and other mission-critical environments.  With NVIDIA Mosaic™ and NVIDIA nView® technologies built in to each NVS board, you can span and efficiently manage your entire Windows desktop across multiple displays.
NVIDIA professional graphics solutions feature numerous technologies geared for the professional user which set Quadro and NVS solutions apart from consumer graphics.

3D Vision Pro
Advanced active shutter glasses deliver crystal-clear stereoscopic 3D visualization for the most immersive experience. RF technology enables a range of immersive environments ranging from your desktop workstation to collaborative work spaces.  3D Vision Pro is sold separately.

CUDA Parallel Computing Architecture
NVIDIA Quadro solutions leverage general purpose GPU computing using standard programming languages like C/C++ and Fortran, and emerging APIs such as OpenCL and Direct Compute.  This broad adoption of CUDA is accelerating techniques like ray tracing, video and image processing, and computation fluid dynamics.

NVIDIA® Application Acceleration Engines Support
Supercharge application performance and capabilities with highly optimized software modules, including SceniX and OptiX for advanced creative and investigative possibilities.

NVIDIA Mosaic Technology
NVIDIA® Mosaic Technology enables transparent scaling of any application across up to eight displays, using multiple graphics solutions.
nView® Advanced Desktop Software
The nView® Advanced Desktop Software delivers maximum flexibility for single large display or multi-display options, providing unprecedented end-user control of the desktop experience for increased productivity.

OpenGL Quad Buffered Stereo Support
OpenGL Quad Buffered Stereo offers professional applications the capability of smooth and immersive 3D Stereo experience.

NVIDIA® Scalable Geometry Engine™
Dramatically improves geometry performance across a broad range of CAD, DCC and medical applications, enabling you to work interactively with models and scenes that are an order of magnitude more complex than ever before.
Unified Driver Architecture (UDA)
The NVIDIA UDA guarantees forward and backward compatibility with software drivers. This simplifies upgrading to a new solution because all Quadro and NVS products work with the same driver software.
30-Bit Color Fidelity
30-bit color fidelity (10-bits per color) enables billions of color variations for rich, vivid image quality with the broadest dynamic range.
NVIDIA Quadro professional graphics solutions are available from PNY: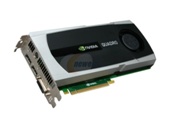 NVIDIA Quadro Models
Entry Level: Quadro 400, Quadro 600
Mid-Range:  Quadro 2000, Quadro 2000D
High-End: Quadro 4000, Quadro 5000
Ultra-High End: Quadro 6000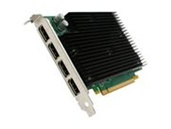 NVIDIA NVS Models
Dual Display: NVS 295, NVS 300
Quad Display: NVS 420, NVS 450