Are you an E-Blast Insider?
ICY DOCK Tool-less Dual 2.5 to 3.5 HDD Drive Bay SSD Mount / Kit / Bracket / Adapter - EZ-Fit Lite MB290SP-B
In stock.
Ships from United States.
Most customers receive within 9-17 days.
Fits 2 x 2.5" SATA/IDE SSD/HDD into one 3.5" drive bay
Compatible with 2.5" SSD & HDD with 7mm to 9.5mm drive height
Universally designed screw placement for maximum compatibility
EZ-Fit Lite MB290SP-B Dual 2.5" SSD/HDD Mounting Kit/Bracket
Video
Overview
The EZ-Fit Lite MB290SP-B is a great choice if you're looking to install 1 or 2 SSDs/2.5" HDDs into a single 3.5" bay. If you're looking for storage density, compatibility, flexibility, and durability without the hassle of a complicated installation, go with the EZ-Fit Lite MB290SP-B. It's never been easier to effortlessly install 2.5" drives in a system. We, IcyDock, put a lot of thought into the design to fulfill the needs of our customers, whether they're building Home Theater Systems (HTPC), Gaming PCs, or Mini-IPX systems. Our EZ-Fit Lite MB290SP-B certainly doesn't disappoint.
Effortless Installation
IcyDock continues to raise the level of exceptional craftsmanship and design that our products are renowned for. The EZ-Fit Lite is our newest 2.5" HDD/SSD bracket and we've pulled out all the stops to engineer this unit to be both user-friendly and highly advanced. The EZ-Fit Lite accepts up to 2 x 2.5" SATA, or IDE SSD/HDD drive from 7mm to 9.5mm in drive height, which uses a completely new flex design system to simplify our drive installation process – all you need to do is insert the drive, and push inwards until it "clicks." Our EZ-Fit Lite MB290SP-B has self adjusting tabs on the side that automatically conform to different drive heights (7mm and 9.5mm) to securely lock it in place. Lastly, the eject button allows for quick hard drive swapping in a matter of seconds without removing the entire bracket from the chassis. The best part about this device is it's completely tool-less drive installation – just insert the drive and you're set. It doesn't get any easier.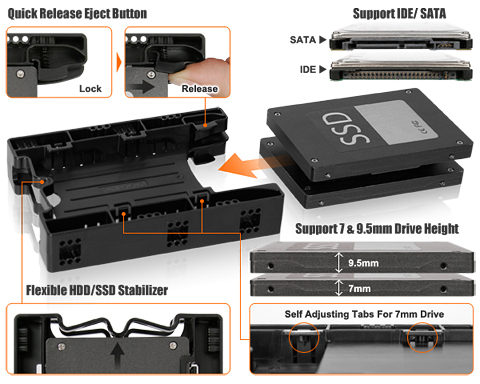 Brilliant Design
We have blended a combination of flexibility & compatibility to create the EZ-Fit Lite MB290SP-B - a product that cannot be replicated by any of our competitors. The EZ-Fit Lite MB290SP-B provides a whopping 60 screw holes to accommodate 3.5" bay installation in practically every computer chassis. Compare this with a standard 3.5" hard drive that only offers a measly 10 screw holes, and you're offered a lot more options. In addition to 60 screw holes, there are 12 different ways you can mount the EZ-Fit Lite MB290SP-B in your system in comparison to the 2 positions you get with a standard 3.5" drive; this gives you option to finely tune and adjust your drive installation. There are screw holes located both on top of the unit and on bottom to give you extra compatibility. Furthermore, the plethora of screw holes provides a backup measure in case of installation failure.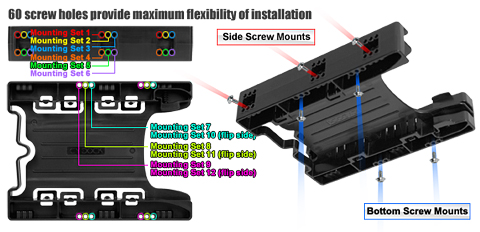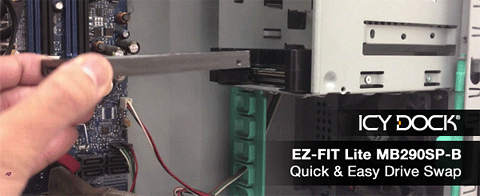 Unbelievably Lightweight with Remarkable Cooling
Our EZ-Fit Lite MB290SP-B is constructed with highly robust ABS plastic and fuses desirable traits such as durability and lightweight. One piece construction means there are less moving parts to be concerned with, which in turn means it's less likely break. Additionally, creating a one-piece design makes manufacturing this unit very cost efficient and allows us to pass the savings onto our customers. The frame has a weightless flexible stabilizer that secures the drive in place and provides shock absorption and anti-vibration properties – great for protecting your drives against impact. Open air designs allow the drive to be cooled by the fans in your chassis. With our skeletal design, the EZ-Fit Lite MB290SP-B allows airflow in all the crucial areas of the drive which helps drive performance. Elevated ridges on the platform raise the drive just enough to allow heat dispersion keeping your SSD/HDD cooler. We've also included side vents on the bracket to let heat escape from the drive
Suggested Applications
Desktop PC, Gaming PC, Home Theater PC, Mini-ITX Systems, Home Server Systems
Key Features
Durable one-piece design
Anti-Vibration design for improved reliability
Fits 2 x 2.5" SATA/IDE SSD/HDD into one 3.5" drive bay
Compatible with 2.5" SSD & HDD with 7mm to 9.5mm drive height
Quick release eject mechanism for hassle free tool-less drive installation
Universally designed screw placement for maximum compatibility
60 screw holes provide maximum flexibility of installation
Specifications
| | |
| --- | --- |
| Model Number: | MB290SP-B |
| Color: | Black |
| Drive Fit: | 2 x 2.5" IDE/SATA SSD/HDD |
| Support Drive Height: | 7mm – 9.5mm |
| Device Fit: | 1 x 3.5" Hard Drive Bay |
| Structure: | Plastic |
| Dimensions (L x W x H): | 5.30 x 4.17 x 1" |
| Weight: | 0.13 lbs |
| Package Contents: | Device x 1, User Manual x 1, Screw x 4 |
Comparison
MB290SP-B
MB082SP
MB990SP-B
MB343SP
EZ-FIT LITE
EZ-FIT PRO
EZ-FIT
FLEX-FIT
Supports 2x 2.5" HDD/SSD
1 x 3.5" Device/HDD Slot
Fits in 3.5" HDD Bay
Fits in 5.25" Device Bay
7 - 9.5mm Drive Height
Tool-less Drive Installation
Tool-less Device Installation
Universally Screw Placement
Light Weight Design
One Piece Construction
Full Metal Construction
Warranty & Returns
Warranty, Returns, And Additional Information
Manufacturer Contact Info
LOADING...