Best Sellers
Newegg
AUD

$60.50

+ AUD$57.63 Shipping
Are you an E-Blast Insider?
ICY DOCK FLEX-FIT Quinto MB344SPO Tool-less 4x 2.5" SSD / HDD & Slim / Ultra-Slim ODD Mounting Bracket for 5.25" Bay
In stock.
Ships from United States.
Most customers receive within 9-17 days.
2.5"
Black
Multi 2.5" Drives to 5.25" Bay
SATA I/II/III/SAS
Multiple Drives

FLEX-FIT Quinto MB344SPO
Tool-Less 4x 2.5" SSD/HDD & Slim/Ultra-Slim ODD Mounting Bracket for a 5.25" Bay
For computer cases that have limited 5.25" drive bay space, ICY DOCK FLEX-FIT Quinto MB344SPO creates flexibility for users who wish to install ODD and multiple 2.5" drives within an optical disk drive bay of their computer case. The FLEX-FIT MB344SPO mounting bracket supports up to 4x 2.5" HDDs or SSDs and a slim or ultra slim optical drive in a single external 5.25" ODD drive bay (DVD bay). For drive installation, the FLEX-FIT MB344SPO 2.5" drive caddies are equipped with unique built-in screws, which offer tool-less drive installation, and provide the ability to swap drives without removing the entire MB344SPO bracket. Also, the open frame full-metal chassis with sturdy ABS plastic caddies keeps your drives safe and cool. With an additional bonus, it comes with a well-finished metal front faceplate that blends into the right system for a clean look. For ODD accommodation, the slim optical disk drive (ODD) bay can fit either a slim (12.7mm) or ultra-slim (9.5mm) optical drive, or any device in slim/ultra-slim ODD form-factor. It's a simple device but can create huge convenience for those in need!
Maximize Space Efficiency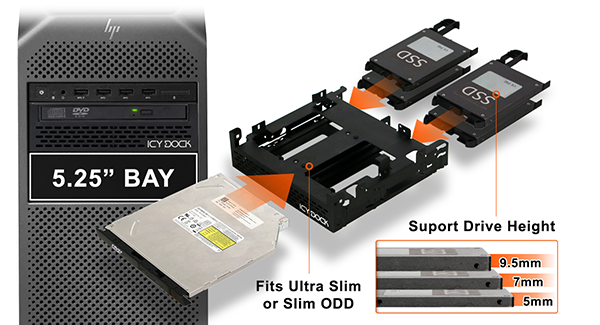 The FLEX-FIT Quinto MB344SPO is designed to unleash the full potential of the external 5.25" ODD drive bay. By combining a slim/ultra-slim optical drive bay and 4x 2.5" data drives into a single 5.25" bay, that allows more advanced usage for small-form-factor and HTPC style systems, without compromising on storage or expandability.
Multifunctional Detachable ODD Faceplate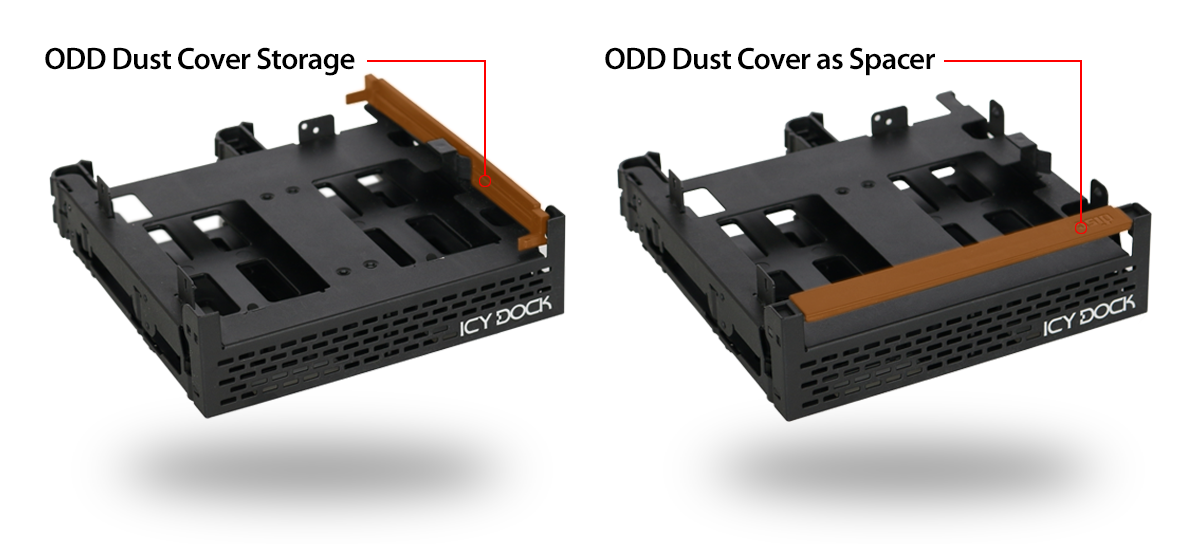 The MB344SPO comes with a multifunctional detachable ODD bay faceplate for the ODD slot. The multifunctional ODD bay faceplate can be used to prevent dust from getting into your system when a slim or ultra slim ODD is not installed. The faceplate can be easily hidden and stored inside of bracket with a specially-designed parking spot for the faceplate.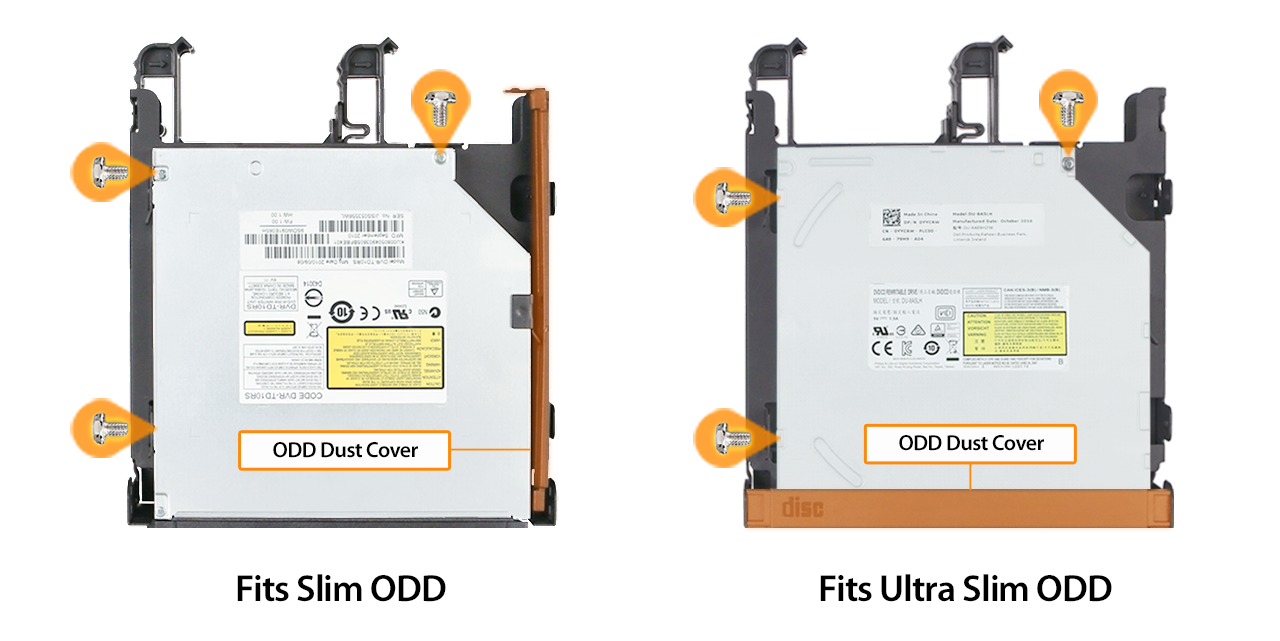 To install a slim ODD (12.7mm height), simply insert your slim ODD into the FLEX-FIT Quinto and secure the device with included screws. The Multifunctional ODD bay faceplate can also be used as an spacer when a thinner ultra-slim ODD (9.5mm height) is installed.
Easy Installation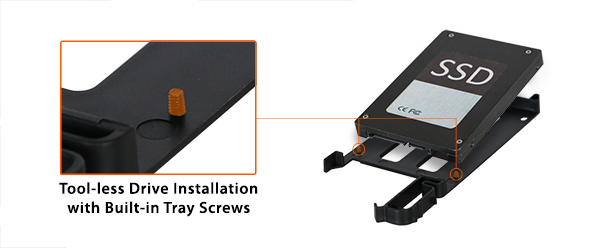 The MB344SPO 2.5" drive caddies use built-in screws that grip the drive without the need for any tools. This allows for drives to be swapped quickly and easily, without having to remove any screws.
When additional security is required, the optional screw holes can be used to further secure drives.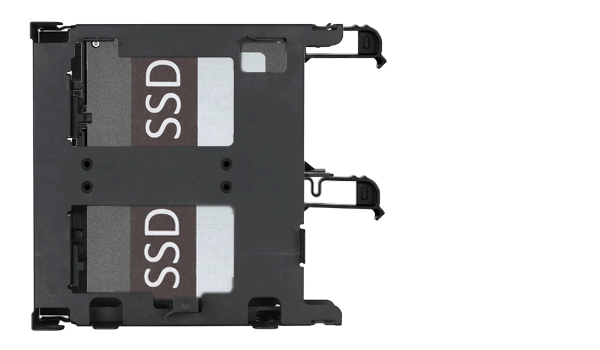 Drive caddies can be removed and re-inserted into the MB344SPO without tools, thanks to the single-latch mechanism. To remove the drive caddy, simply depress the latch to pull out the drive caddy. This process can be done with just two fingers. Installation is even faster, simply insert the tray into the bracket and it snaps in place.
Built for Security and Protection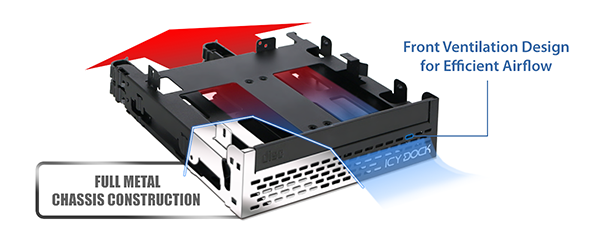 The MB344SPO uses a rugged full-metal outer casing, to protect against bumps and ensure the enclosure lasts through many insertion/removal cycles. The open frame metal housing aids in heat dissipation and maximizes airflow, keeping drives running cool. To further improve cooling, ventilation holes are located on the front and sides of the bracket to create proper air dynamics.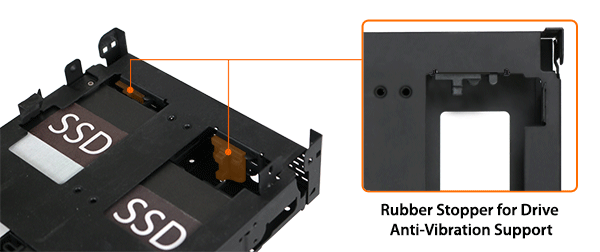 Anti-vibration rubber stoppers are placed inside the bracket. These grip the drives and protect the drives from vibration damage. Mechanical hard drives cause a lot of vibration, which can cause excessive noise and potentially lead to data corruption. The vibration dampeners found in the MB344SPO absorbs the vibration and prevents this detrimental energy from reaching back to the hard drive.
Go Further with ToughArmor ODD Products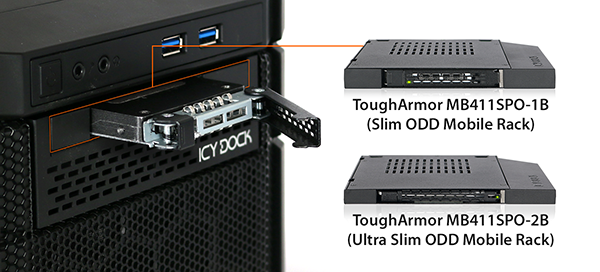 The slim ODD bay on the MB344SPO can be used for much more than just optical readers. Users who do not require an optical drive can use that slot for any device that installs into a 9.5mm or 12.7mm optical drive bay. For example, users who need more storage capacity can use the ICY DOCK ToughArmor MB411SPO-B for installing an extra 2.5" HDD/SSD, which fits into the slim ODD bay of the MB344SPO. This is a perfect combination for people who need extra drive storage space and/or requires hot swap of their drives. People who might value this function are video/image editors or computer repair shop technicians.
Key Features
Only requires a single 5.25" ODD drive-bay space
Supports up to 4x 2.5" HDD/SSD with 5mm, 7mm and 9.5mm height
Supports 1x slim ODD (12.7mm height) or 1x ultra-slim ODD (9.5mm height)
Unique built-in screw design with 2.5" drive caddies offers tool-less drive installation
Patent-pending proprietary single-latch mechanism for easy drive installation and removal
Unique multifunctional detachable ODD bay faceplate for ODD slot
2.5" drive caddy has the optional bottom-mounted screw holes for increased stability
Rugged open frame full-metal housing with sturdy ABS drive caddies
Anti-vibration rubber stopper protects the drives from vibration damage
Drive guiding rails to assist with easy and smooth drive insertion and removal
2.5" drives are rear-mounted for easy cable installation and management
Warranty & Returns
Warranty, Returns, And Additional Information
Manufacturer Contact Info
LOADING...