Are you an E-Blast Insider?
ToughArmor MB607SP-B Rugged Full Metal 4 Bay 2.5" SATA HDD & SSD Backplane Cage for External 5.25" Bay
In stock.
Ships from United States.
Most customers receive within 9-17 days.
2.5"
Black
4 x 2.5" Drives to 5.25" Bay
SATA I/II/III

ToughArmor MB607SP-B
Rugged Full Metal 4 Bay 2.5" SATA HDD & SSD Backplane Cage for External 5.25" Bay
Introducing the Icy Dock ToughArmor MB607SP-B full metal quad bay 2.5" SATA 6Gbps hard drive or SSD hot swap rugged mobile rack cage for use in a single external 5.25" bay. The MB607SP-B is predicated off the incredibly popular ruggedized mobile rack MB994SP-4SB-1, while taking its general concept, but built with cost effective structure without sacrificing anything in the way of strength. For better compatibility, the original 4 pin power connector has been replaced with a more, popularly used, 15 pin SATA power connector, and reducing cable clutter. The MB607SP-B takes 4 x 2.5" SAS/SATA HDD/SSD from 5mm to 15mm height, and supports hot swap for quick and easy drive replacements. The single 40mm cooling fans has an additional 3-Mode Fan Speed control, allowing the best flexibility – Turn off / low when using SSD's and high when using mechanical SATA hard drives. The MB607SP-B is constructed of rugged robust metal to survive the most demanding conditions making it a perfect storage upgrade kit for Medical & Military systems, embedded system, and industrial PC.
Industrial Construction Ready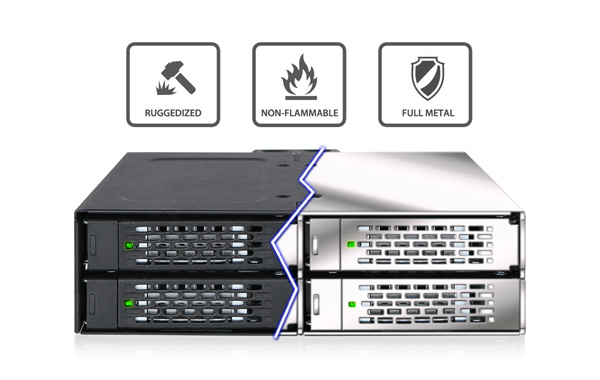 Ensuring drive protection and longevity are the foundation of a high-quality data storage system design/build. The MB607SP-B is capable of withstanding the harshest environments due to its rugged heavy duty full metal construction from the outer shell to the inner trays. The ToughArmor's full metal design is perfect for industrial and medical systems that may require a flammability rating as the full metal design is considered to already comply with most requirements.
Versatile & Durable Drive Trays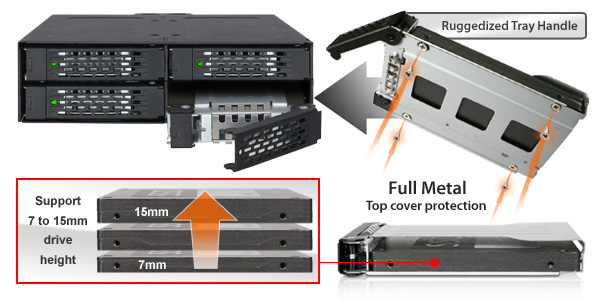 The MB607SP-B utilizes our EZ Slide Mini Trays, making drive interchangeability and maintenance completely hassle free. The trays are built using rugged full metal so that they are durable for many lifetimes, but will not weigh you down when transporting your data from system to system. The EZ Slide Mini tray is featuring a full range drive protection design; the top drive cover provides added protection while moving the drive. The trays are designed to accommodate 5mm, 7mm, 9.5mm, 12.5mm & 15mm drives giving you the ultimate universal 2.5" SAS/SATA drive support with hot-swap function.
Multifunctional Applications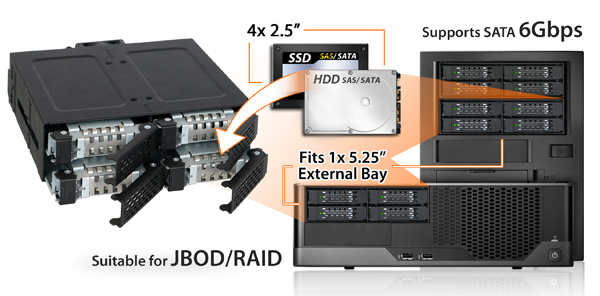 Utilizing its small form factor, the MB607SP-B is perfect for use in small form factor system or system that requires multiple drives with limited physical space. With its high density drive design and limited number of 5.25" drive bays available, it is a perfect combo to create a RAID 5 or RAID 10 systems with ease. Also, it is built to function in the most demanding environments including military and law enforcement deployment, as well as manufacturing conditions such as embedded control systems and factory automation systems. The full metal design makes it ideal for placement in tough environments.
Absolute Control of your 2.5" hard drive or SSD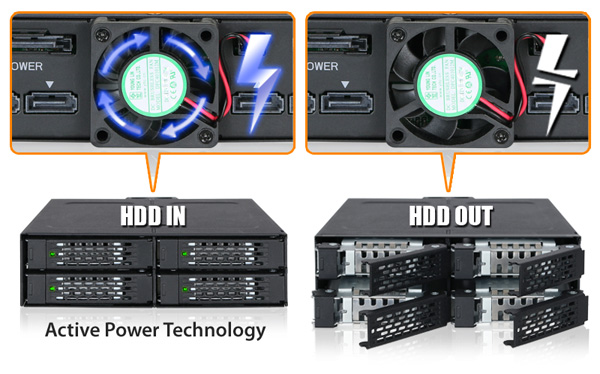 Bringing more utility to your hard drives or SSDs, LED's are installed into the front of the mobile rack to provide individual drive status information at all times. Active Power Technology (APT) allows each LED and the cooling fan to be active only when a hard drive is inserted into the enclosure.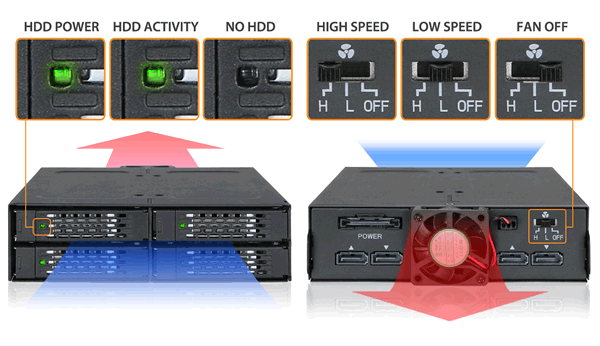 A single 40mm cooling fan is placed on the rear panel, providing equivalent airflow throughout the entire cage. In addition, a 3-Mode Fan Speed Control has been added to be flexible in various situations, depending on your usage - you may need the fan to be at a higher speed, or completely off for silent operation.
Never forget which drives belong in what bays. With our individual drive ID labels you'll always know which drive tray belongs in your RAID array or which drive contains certain files. Freely unplug and rearrange them to better suit your configuration or simply remove them for a more simplified look.

The ToughArmor MB607SP-B supports both 7-pin SATA data and 15-pin SATA power cables with locking latches so you'll never need to worry about cables unintentionally disconnecting from your enclosure. Once these cables are connected, they'll lock into place and stay that way.
Make ToughArmor On-The-GO! With MB991U3-1SB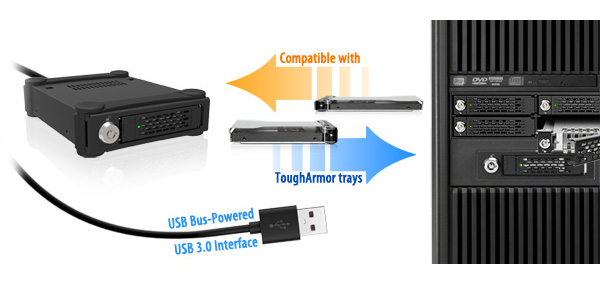 To access your data outside of your system or in a remote location, the ToughArmor MB991U3-1SB is the way to go about. The drive tray slot of MB991U3-1SB is compatible with a variety of ToughArmor drive trays including the ToughArmor MB607, MB991, MB992, MB994, MB996 and MB998 series. This allows existing ToughArmor users to access their internal drive externally without opening up the case. It is a great tool for an individual drive diagnostic test. If you need to do a safe data erase or just simply expending system storage capacity, just remove the tray from the internal ToughArmor unit and insert it in the MB991U3-1SB to perform individual tasks externally with USB 3.0 interface. Best of all, the MB991U3-1SB uses USB bus-powered and it does not require a power adapter to operate. Simply connect the USB cable to any system and you are ready to go.
Drive Tray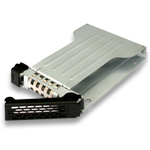 EZ Slide Mini Tray MB991TRAY-B Drive Tray for ToughArmor MB607, MB991, MB994 Series
Tray Compatible with Internal ToughArmor:
Tray Compatible with External ToughArmor:

Key Features
Full steel construction commercially designed for Medical & Military systems, Media servers, and IPCs, approved & used by Tier 1 companies.
Perfect for rugged applications and complies to flammability requirements.
Fits 4 x 5mm to 15mm 2.5" SAS/SATA HDD or SSD in a single external 5.25" bay for high performance RAID applications.
Support SATA 6Gbps or SAS single channel.
Requires only a single 15pin power connectors to power all 4 bays.
Anti-Vibration Technology (AVT) - creates a safe environment for hard drives or SSDs.
Active Power Technology (APT) - individual LED & cooling fan only powers up if there is a drive installed in the bay.
Eagle-hook lock system keeps drives secured within the enclosure.
Removable tray system for easy maintenance.
Top Cover for the Tray Adds Extra Drive Protection.
Heavy Duty Full Steel Construction.
Status LED on Front for Each Drive.
40mm cooling fans with external fan controller for high, low and off setting.
Small Form Factor Perfect for IPC, Servers, and Small Form Factor Cases.
Warranty & Returns
Warranty, Returns, And Additional Information
Manufacturer Contact Info
LOADING...