Are you an E-Blast Insider?
ICY DOCK Triple 2.5 SSD / HDD Bracket / Mount / Adapter / Kit for Internal 3.5 Drive Bay - EZ-FIT Trio MB610SP
In stock.
Ships from United States.
3 x 2.5" Drive (5-7mm height)
1 x 2.5" Drive (9.5mm height) + 1 x 2.5" Drive (5-9.5mm height)
1 x 2.5" drive (12.5-15mm height) + 1 x 2.5" Drive (5-7mm height)
Black
Multi 2.5" Drives to 3.5" Bay
Multiple Drives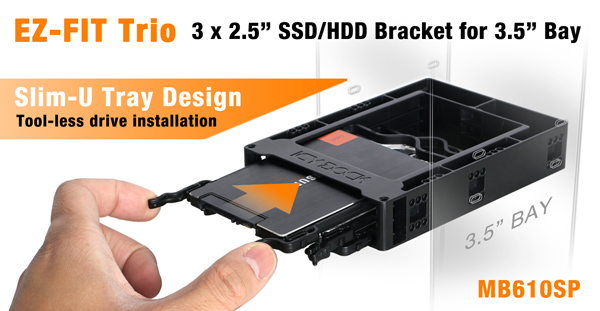 The EZ-FIT Trio MB610SP is the first 2.5" SSD bracket that converts a single internal 3.5" hard drive bay into 3 x 2.5" SSD or HDD slots. It fits into any standard internal 3.5" drive bay, and accepts 2.5" drives of 5mm, 7mm, 9.5mm, 12.5mm and 15mm in height. The tool-less Slim-U drive tray allows you to easily add or remove drives without using tools or screws. The premium quality ABS plastic construction is strong and durable enough for years of trouble-free use. Make this bracket yours today, mix and match your HDDs/SSDs and expand storage with minimal hassle and effort.
Durable one-piece design Anti-Vibration design for improved reliability
Compatible with 2.5" SSD & HDD with 5mm to 15mm drive height
Fits 3 x 2.5" SATA SSD / HDD into a single internal 3.5" drive bay (for 5-7mm height drive)
Fits 2 x 2.5" SATA SSD / HDD into a single internal 3.5" drive bay (for 9.5-15mm height drive)
Quick release eject mechanism for hassle free tool-less drive installation
Universally designed 3.5" HDD screw placement for maximum compatibility
60 screw holes provide maximum flexibility of installation
Effortless Installation with Slim-U Tray
The EZ-FIT Trio uses ICY DOCK's latest drive tray system called Slim-U, a lightweight yet sturdy drive tray that supports tool-less drive installation. With Slim-U tray system, drive installation can't be easier, simply align the four screw holes of your 2.5" drive with the built-in screws on the Slim-U tray, and then insert the Slim-U tray into the bracket, connect the power and data cables to the drive and you are all set! To remove the drive, just open the side panel of the case, unplug the cables from your drive and then pull the Slim-U tray out from the bracket.
The Slim-U tray acts as a drive stabilizer that secures the drive in place and provides shock absorption and anti-vibration properties – great for protecting your drives against impact. The Slim-U tray is compatible with 2.5" hard drive or SSD ranging from 5 to 15mm in height. The EZ-FIT Trio fits up to three 2.5" SSDs / HDDs when the drive height is 7mm or smaller, and it supports up to two drives when the drive height is 9.5mm or greater.
Brilliant Design
Simple design does not mean simple to design. At ICY DOCK, countless hours have been spent perfecting the SSD bracket, allowing users to maximize their storage space while providing great user experience to its users.
The EZ-FIT Trio MB610SP is constructed with highly robust ABS plastic and fuses desirable traits such as durability and lightweight. One piece construction means there are less moving parts to be concerned with, which in turn means it's less likely to break. Additionally, creating a one-piece design makes manufacturing this unit very cost efficient and allows the manufacturer to pass the savings onto our customers.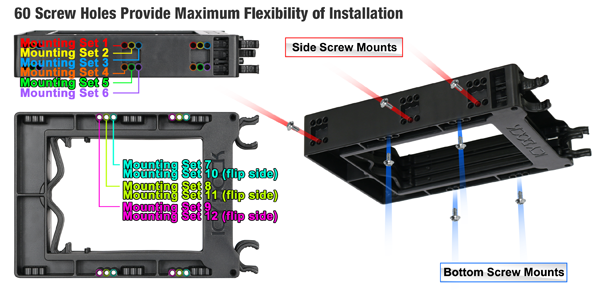 To offer the most flexible device installation, the EZ-FIT Trio MB610SP provides a whopping 60 screw holes to accommodate 3.5" bay installation in practically every computer chassis. Compare this with a standard 3.5" hard drive that only offers a measly 10 screw holes, and you're offered a lot more options. In addition to 60 screw holes, there are 12 different ways you can mount the EZ-FIT Trio MB610SP in your system in comparison to the 2 positions you get with a standard 3.5" drive; this gives you option to finely tune and adjust your drive installation. There are screw holes located both on top of the unit and on bottom to give you extra compatibility. Furthermore, the plethora of screw holes provides a backup measure in case of installation failure.
With both top and bottom area opened, the EZ-FIT Trio allows the drives to be cooled by the fans in your chassis, which improves heat absorption.
Suggested Applications
Workstation PC, Desktop PC, Gaming PC, Home Theater PC, Mini-ITX Systems, and Home Server Systems.
Warranty & Returns
Warranty, Returns, And Additional Information
Return Policies*
Return for refund within: 30 days
Returns are subject to restocking fees and return shipping fees. Please click here to learn more about restocking fees and return shipping fees.

This item is covered by Newegg.com's International Order Return Policy
*Subject to applicable law
Manufacturer Contact Info