Best Sellers
Newegg
AUD

$71.50

+ AUD$56.63 Shipping
Are you an E-Blast Insider?
ICY DOCK ExpressCage MB732SPO-B Ultra Slim/Slim ODD Bracket & Dual 2.5" SAS/SATA HDD/SSD Hot Swap Cage for External 5.25" ODD Bay
In stock.
Ships from United States.
Most customers receive within 9-17 days.
2.5"
Black
2 x 2.5" Drives to 5.25" Bay
SATA I/II/III/SAS
Multiple Drives


ExpressCage MB732SPO-B
Ultra Slim/Slim ODD Bracket & Dual 2.5" SAS/SATA HDD/SSD Hot Swap Cage for External 5.25" ODD Bay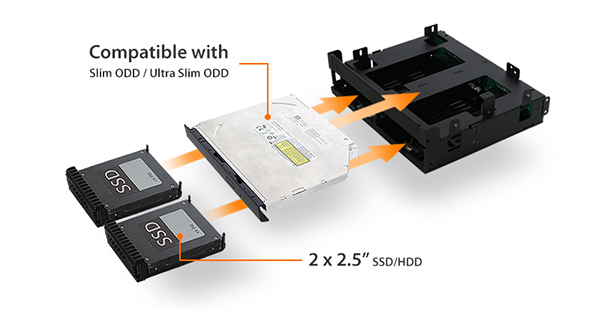 The ICY DOCK ExpressCage MB732SPO-B lets you use your 5.25" bay to its fullest extent by installing two hot-swappable 2.5" HDD/SSD bays, and a CD-ROM/DVD/Blu-Ray disc reader bay. To maximize compatibility, the disc reader bay can be used with either a slim (12.7mm) or ultra-slim (9.5mm) disc reader using an included multi-purpose spacer. Additionally, the innovative tray design expands compatibility to all 2.5" HDDs and SSDs, up to 15mm in height, and uses built-in pegs in place of screws for easy 100% tool-less installation. The full-metal chassis with plenty of ventilation holes keeps your drives safe from environmental damage and overheating issues.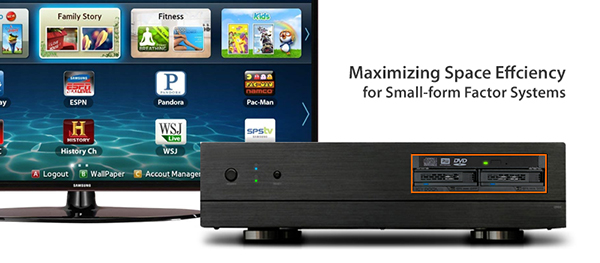 The ExpressCage MB732SPO-B is perfect in systems needing to maximize their space efficiency; Small-form factor systems, Home-Theater PCs with media collections on drives and discs, and photo/video editors working with traditionally stored files and files stored on DVDs and Blu-rays.
Maximize Space Efficiency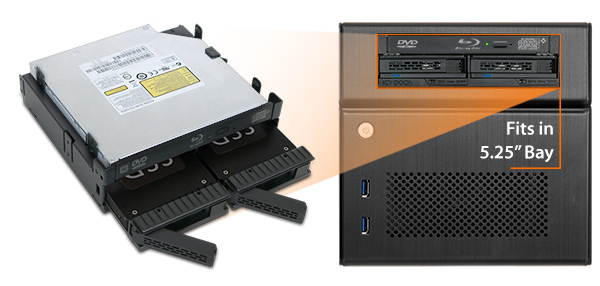 The ExpressCage MB732SPO-B is designed to unlock the full potential of the external 5.25" bay. By combining a slim/ultra-slim CD-ROM/DVD/Blu-ray disc reader bay and 2x hot-swappable 2.5" HDD/SSD bays, the MB732SPO-B provides a dense unified solution for managing optical disks, hard drives, and SSDs for small-form-factor and home-theater PC (HTPC) systems, without compromising storage or expandability.
Multifunctional Detachable ODD Faceplate
The MB732SPO-B comes with a multifunctional detachable faceplate for the CD-ROM/DVD/Blu-ray ODD slot. When no disc reader is installed, or when using an ultra-slim (9.5mm) disc reader, the faceplate becomes a protective front dust cover, protecting your internal components from overheating due to accumulated dust blocking ventilation holes. The faceplate can be easily hidden and stored inside of the enclosure with a specially-designed housing spot for the faceplate.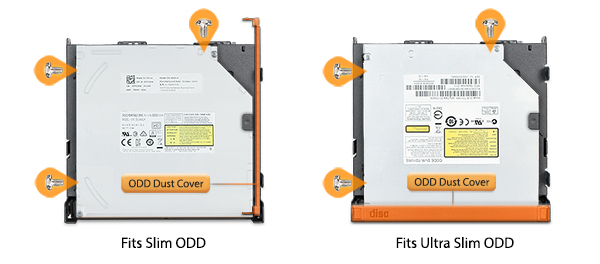 To install a slim ODD (12.7mm height), simply insert your slim ODD into the MB732SPO-B and secure the device with included screws. The Multifunctional ODD bay faceplate can also be used as a spacer when a thinner ultra slim ODD (9.5mm height) is installed.
Packed with Features

Each of the MB732SPO-B's drive bays has its own indicator light to notify you of any drive activity, preventing drive damage by alerting you when your drive is in use. A blue LED is easily visible, without casting too much light and straining your eyes.

Each drive bay has its own power switch, saving power when not in use. Because you don't have to physically remove the drive, using the power switch protects the internal connectors from wear and erosion of their protective coatings.

The ExpressCage MB732SPO-B supports both 7-pin SATA and 15-pin SATA power cables with locking latches, so you'll never need to worry about cables unintentionally disconnecting from your enclosure. Once these cables are connected, they'll lock into place and stay that way.
Innovative ExpressTray Design
The ExpressCage MB732SPO-B uses an intelligently engineered tray design that requires no tools or screws. Built-in pegs insert into the screw holes of your drive to provide a secure hold in seconds, saving you time over traditional trays needing a screwdriver.

When additional security is required, such as when transporting drives outside of the enclosure, the included screws can be used to further secure drives and prevent them from falling out in transit.
Designed for Security and Protection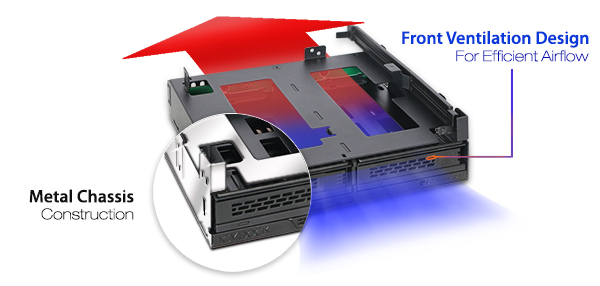 The ExpressCage MB732SPO-B was designed with drive security and protection in mind. A full-metal frame protects against external hazards and ensures the enclosure lasts through thousands of insertion/removal cycles. Ventilation holes are amply placed throughout the enclosure, to maximize air cooling and ensure that your drives stay cool even under heavy load.
Anti-vibration rubber stoppers are placed inside the enclosure, which holds the drive firmly in place and protects the drive from vibration damage. Anti-vibration is particularly important for mechanical hard drives that put out excessive vibration and noise, which is greatly reduced the MB732SPO-B.
Drive Tray

ExpressTray MB732TP-B for ExpressCage MB732SPO-B Drive Tray
Key Features
Rugged metal housing with durable ABS caddies for maximum security and protection
Fits 2x 5mm, 7mm, & 9.5mm 2.5" SATA HDDs/SSDs & 1x ultra-slim/slim optical disk drive (ODD)
Fits any external 5.25" drive bay
Multi-Flow Technology provides excellent passive cooling
Accommodates 2.5" drives with 5mm, 7mm & 9.5mm heights
Active Power Technology (APT) makes it so the lights and fan only power up if there is a drive installed in the drive bay
Advanced ExpressCage drive caddy MB742TP-B with a new drive-gripping mechanism, strengthened single-piece latch and tool-less drive installation
Removable drive caddy system for easy maintenance
Supports SAS (single channel)/SATA 6Gbps and hot-swap
Supports SATA data and power cables with locking latches
A single SATA power cable powers both drives, reducing cable clutter
Backed by a 3-year manufacturer warranty
Warranty & Returns
Warranty, Returns, And Additional Information
Manufacturer Contact Info
LOADING...