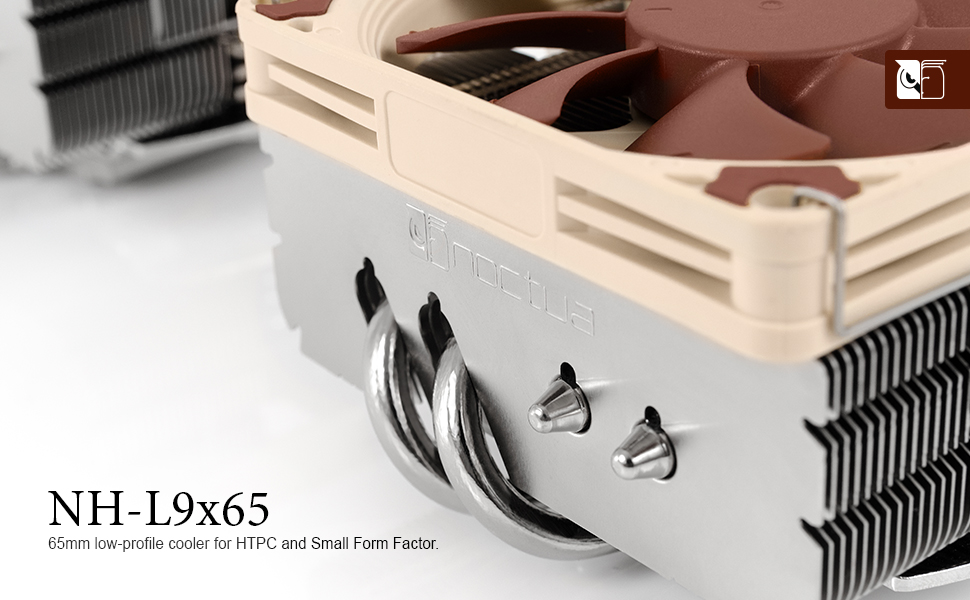 The NH-L9x65 is a taller, performance-enhanced version of Noctua's award-winning NH-L9 low-profile coolers. With 65 instead of 37mm height and four instead of two heatpipes, the NH-L9x65 is more powerful than its smaller siblings yet retains their 95x95mm footprint, which guarantees 100% RAM and PCIe compatibility on Intel based ITX mainboards and makes the cooler more convenient to work with as it doesn't overhang near-socket connectors. Thanks to the highly optimised NF-A9x14 premium fan that supports fully automatic speed control via PWM, the NH-L9x65 runs remarkably quiet. Topped off with the professional SecuFirm2 multi-socket mounting system for Intel and AMD, and Noctua's renowned NT-H1 thermal compound, the NH-L9x65 fuses everything users have come to expect from Noctua's larger coolers into a compact premium package for space restricted systems.
65mm low profile
| | |
| --- | --- |
| Due to its compact heatsink and the 14mm thin NF-A9x14 low profile fan, the NH-L9x65 stands only 65mm tall (the same height as low-profile expansion cards), which makes it ideal for use in compact HTPCs or Small Form Factor cases that offer limited clearance for CPU coolers. | |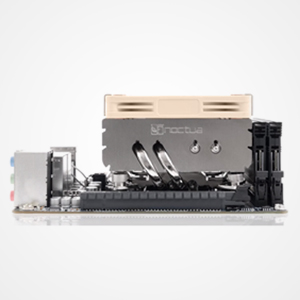 100% RAM compatibility
| | |
| --- | --- |
| The NH-L9x65 has a 95x95mm footprint that complies exactly to the Intel LGA115x socket keep-out zone. This means that it won't cause issues with chipset coolers and doesn't overhang the RAM slots, making it fully compatible with tall memory modules. | |
100% compatibility with PCIe cards on mini-ITX
| | |
| --- | --- |
| Many mini-ITX mainboards have the PCIe slot sitting close to the socket zone. While larger coolers with 120mm or 140mm fans that exceed this zone may block the PCIe slot, the compact NH-L9x65 provides full compatibility with PCIe cards. | |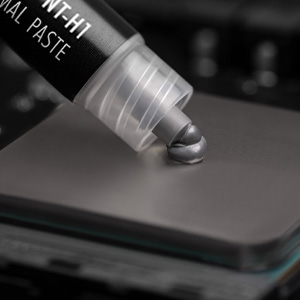 NT-H1 thermal compound
Noctua's much-acclaimed NT-H1 is a pro-grade TIM solution that provides minimum thermal resistance, excellent ease of use and outstanding reliability. Chosen again and again by overclockers and enthusiast users worldwide, it has established itself as a benchmark for premium-quality thermal compounds.

| | | |
| --- | --- | --- |
| Products | NH-L9x65 | NH-L9x65 SE-AM4 |
| LGA2066, LGA2011-0 & LGA2011-3 | Yes | with NM-i20xx |
| LGA1700 | Yes | with NM-i17xx-MP83 |
| LGA1200, LGA115x (LGA1150, LGA1151, LGA1155, LGA1156) | Yes | with NM-i115x-1200 |
| LGA775 & LGA1366 | with NM-I3 | with NM-I3 |
| Xeon LGA2011 Narrow ILM / Xeon LGA1366 & LGA1356 | No | No |
| Xeon LGA3647 | No | No |
| Xeon LGA4189 | No | No |
| AM5 | Yes | Yes |
| AM4 | Yes | Yes |
| sTRx4, sWRX8, TR4, SP3 | No | No |