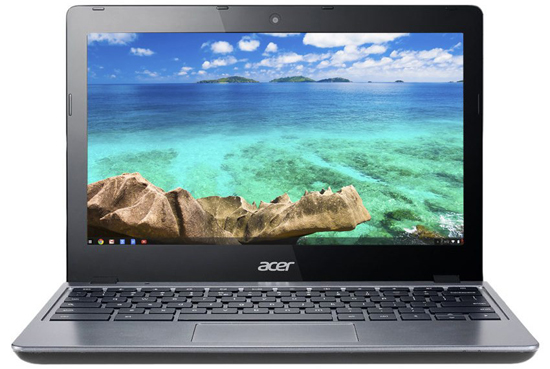 Acer C720-2844 Chromebook
A new way to help your stay productive or entertained
This 11.6" Chromebook is based on Chrome OS which is optimized for web experience, and offers your favorite Google apps plus thousands more. It starts in seconds, being powered by the powerful yet power-sipping Intel Haswell processor. Despite its compact form factor, full assortment of connectivity options is built onboard, like USB, HDMI, Wi-Fi and Bluetooth. A front webcam gears you up for video-chat with friends and family, with clear, vivid image quality.
Note: Grade B refers to units that may have dents, chips or scuffs on the body, keyboard may be shiny or worn down and hair line scratches or scuffs on the screen.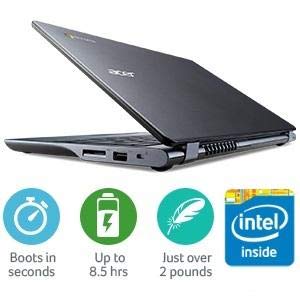 Fast. Light. Portable.
The Acer C720 Chromebook, boots merely in several seconds, and automatically stays up-to-date (and virus free) without interrupting you. Powered by an Intel Celeron processor, it delivers a great experience on the web. It can load content-rich webpages quickly and easily, provide crisp video playback, and enable you to multitask effortlessly by allowing multiple pages to run at the same time.
This third-generation Chromebook has a design that is 30 percent thinner than its predecessor. Your Chromebook slips easily into a bag or purse, and weighs just over 2 pounds. It's equally comfortable at home or keeping up with everything you do everyday, even when you're offline.
The 11.6-inch HD anti-glare display enables students and families to enjoy the Chromebook outside in sunlight for classwork, reading, playing games and more. Crisp resolution brings family closer during video chats, and the HD webcam presents you at your best, too. Want bigger? Extend your view to your big screen via the HDMI port.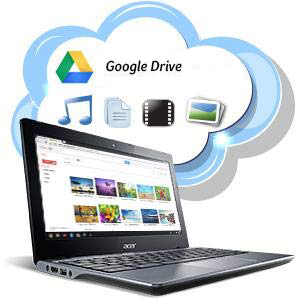 Everyday Security
Chromebooks have multiple layers of security to keep you safe and worry free. Plus with automatic updates, the Chromebook downloads security and software upgrades so you don't have to. No more updates to track.
Store and access your photos, music, videos, documents and more from anywhere with Google Drive. It's simple, and all your files are backed up automatically online, safely and securely.
Feel safe sharing your C720 Chromebook with friends, family and even the occasional guest. Each user has their own login, files, apps and settings, so you never have to worry about anything getting messed up by someone else.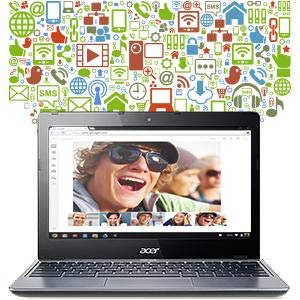 The Best of Google
Chromebooks come with popular Google products built in: Search, Gmail, YouTube, and Hangouts. So you can work, play, and do whatever you want, right out of the box. Create documents, spreadsheets, presentations and drawings with apps like Google Docs, Zoho and SlideRocket. Enjoy full screen video chat with up to nine friends using Google+ Hangouts.
The Chrome Web Store offers thousands of free apps, themes, and extensions to help you make the most of your Chromebook. Watch movies, play games or get work done (if you really have to). The Chromebook will keep it all fresh with automatic updates.