MSI RX 570 GAMING X 4G
Turn your PC into a true gaming machine with the Radeon RX 570 graphics card. Based on AMD Polaris architecture and manufactured with 14nm process, the Radeon RX 570 is packed with 2048 Stream processors, 4GB/8GB GDDR5 memory and 256-bit memory bus. A performance-class graphics card, the Radeon RX 570 delivers smooth performance for the hottest AAA titles at Full HD, and also delivers the power to drive you into the next level of immersion into the world of VR gaming and entertainment.
This MSI RX 570 GAMING X 4G is supercharged to 1293MHz boost clock in OC mode (1244HMz for the reference card), built with Military Class 4 Components, fitted with semi-passive fans that stop spinning at low load or idle status, and equipped with RGB LEDs for captivating lighting effects. Its aggressive-looking black & red color scheme will blend in with virtually any build.
TORX 2.0 Fan
Teamwork for greater strength
Just like in games, the exclusive MSI TORX 2.0 Fan technology uses the power of teamwork to allow the TRI-FROZR Thermal Design to achieve new levels of cool.
TORX 2.0 Fan design generates 22% more air pressure for supremely silent performance in the heat of battle.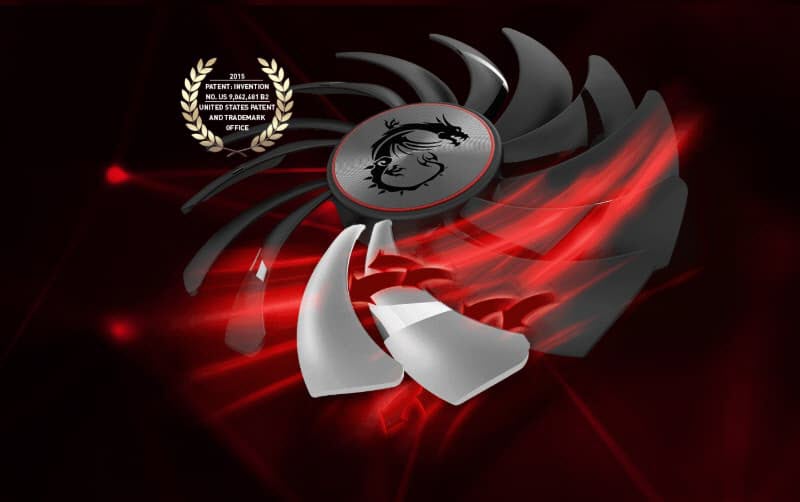 Dispersion Fan Blade has a steeper curved blade which accelerates the airflow, increasing its effectiveness.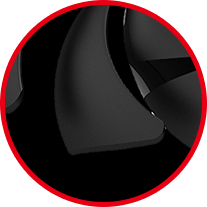 Traditional Fan Blade pushes down a steady airflow to the massive heatsink below.
Zero Frozr - Stay Undetected
First introduced in 2008 by MSI, ZeroFrozr technology has made its mark and is now the industry standard among graphics cards. It eliminates fan noise by stopping the fans in low-load situations. This means you can focus on gaming without the noise of spinning fans.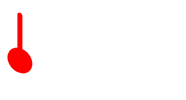 Fans Spinning
During intense gaming or benchmarking
Fans Stop
Completely silent during idle, multimedia or light gaming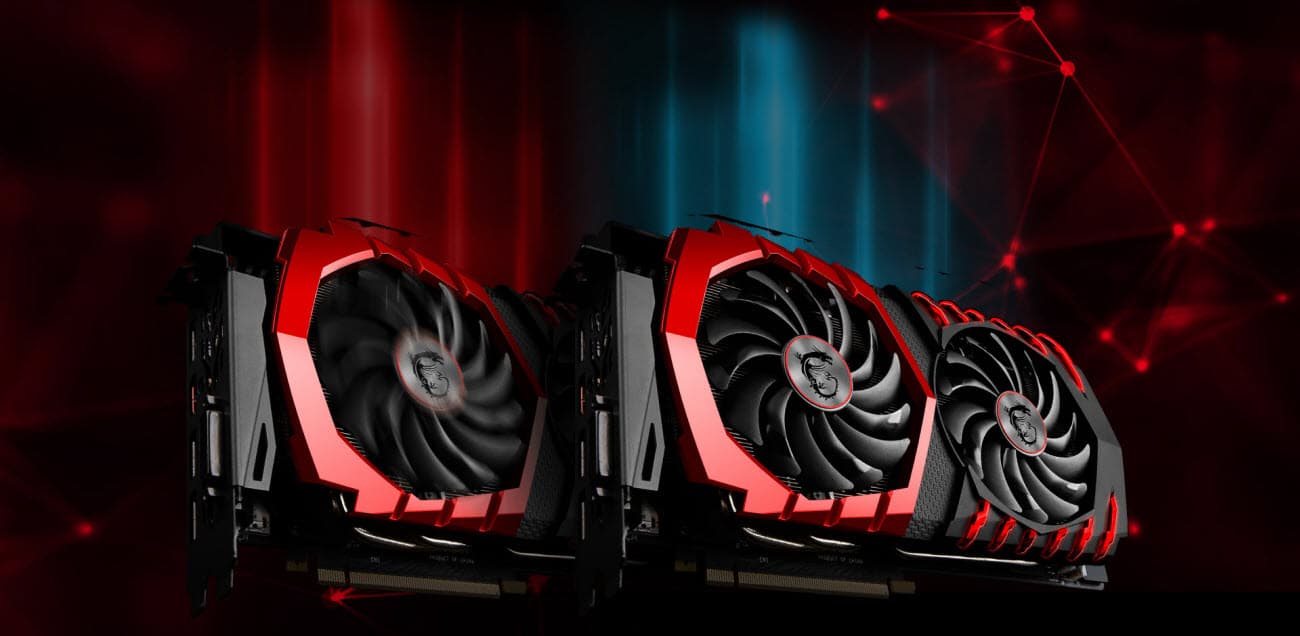 Catch the Vibe with Cool LED Effects
Each LED can be controlled individually by choosing any of the animation effects available in the MSI Gaming App, ranging from responding to your game sounds or music to steady light, breathing and flashing. Of course, you can also turn them off.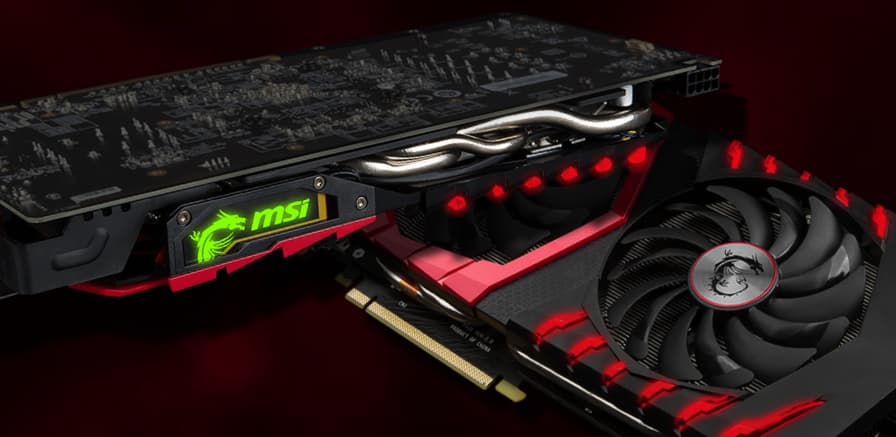 Heatsink & Airflow Control
Under the classy shroud and powerful dual fans is a huge heatsink with countless aluminum fins that help dissipate the heat from the GPU. The copper heatpipes are infused in the baseplate to ensure efficient cooling. The aluminum fins are rigged with Airflow Control technology to maximize airflow towards the heatpipes.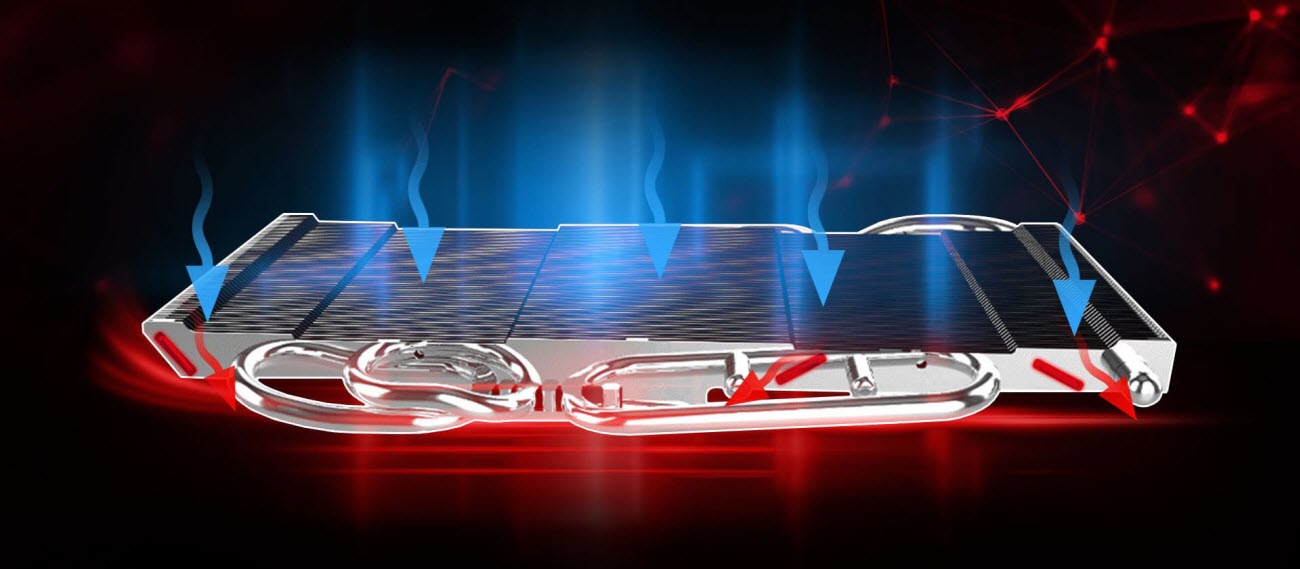 The Future of Gaming
The AMD FreeSync technology enables the smoothest, fastest and most exciting gaming experience ever by eliminating screen tearing, display shutter and input lag.
Ultra-high resolution (UHD) delivers 4x the resolution of 1080p content, enabling much sharper and crisper images with delicate details during gaming.
Prepare for VR with MSI
To experience and enjoy the impressive world of Virtual Reality, high-performance hardware is required. MSI, world leading brand in high-end gaming and eSports, provides the right advice to make sure your system is VR Ready. Integrating the very best of cutting edge technologies in recommended MSI VR gaming hardware for smooth performance. Together with MSI's VR partners, MSI brings gamers an extremely realistic VR experience where games come alive.
Afterburner
MSI Afterburner is the world's most recognized and widely used graphics card overclocking utility which gives you full control of your graphics cards. It also provides an incredibly detailed overview of your hardware and comes with some additional features such as customizing fan profiles, benchmarking and recording videos.