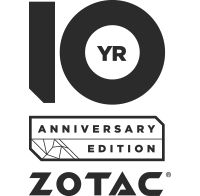 10 YEARS OF PUSHING BOUNDARIES
Celebrating 10 years of ZOTAC design, engineering, performance, and quality with a Special Limited 10 Year Anniversary Edition. Pushing the limits in thermal design, noise, and performance and bringing new innovative technologies into one amazing card. A culmination of quietly pushing the limits in a quest to bring the best.

The most advanced gaming GPU ever created. Powered by the new NVIDIA Pascal™ architecture, this breakthrough GPU delivers industry-leading performance, innovative new gaming technologies, immersive next-gen VR, and fearless cooling.