The power supply (a.k.a. power supply unit or PSU) is essentially the heart of a computer - it provides the driving (electric) power for all essential computer components, such as the processor, motherboard, memory modules, video card and add-in cards, as well as hard drives and optical drives. The computer power supply converts an alternative current (AC, which is obtained from the wall socket) into a specified voltage direct current (DC, which can be used by computer components).

Many users do not treat the computer power supply very seriously as it usually does not provide exciting new features or direct performance improvements to a computer system. The truth is that the power supply is a vitally important part of a computer system as every component inside the computer case is fed by the PSU. A high quality power supply with enough power capacity ensures the functionality of your equipments as well as their reliability and durability. On the other hand, many problems and malfunctions are caused by low quality or under-powered PSUs. For instance, a defective power supply can result in random system resets/freezes.

Knowing the importance of the power supply is the first step in the quest to find the right PSU for your computer system (this applies to desktop computers throughout this article). This means much more than 'the more watts the better', as we will discover in this buying guide.


Like motherboards and computer cases, there are several different power supply form factors, sizes, connector types, output specifications and other important specs. The detailed differences between these power supplies are extremely important and can make the difference between the ability to run a computer at its full potential and having a potentially unstable computer.
ATX
Although there are still AT form factor power supplies available for purchase, AT form factor power supplies are undoubtedly phased out products. Even the later ATX form factor power supply (ATX 2.03 and earlier versions) are falling out of favor. The major differences between the ATX and AT power supply form factors are:
1. ATX power supplies provide an extra +3.3V voltage rail.
2. ATX power supplies use a single 20-pin connector as the main power connector.
3. ATX power supplies support the soft-off feature, allowing software to turn off the power supply.
ATX12V
The ATX12V form factor is the mainstream choice now. There are several different versions of the ATX12V form factor, and they can be very different from one another. The ATX12V v1.0 specification added over the original ATX form factor a 4-pin +12V connector to deliver power exclusively to the processor; and a 6-pin auxiliary power connector providing the +3.3V and +5V voltages. The ensuing ATX12V v1.3 specification added on top of that the 15-pin SATA power connector.

A substantial change occurred in the ATX12V v2.0 specification, which changed the main power connector from a 20-pin to a 24-pin format, removing the 6-pin auxiliary power connector. In addition, the ATX12V v2.0 specification also isolated the current limit on the 4-pin processor power connector for the 12V2 rail (+12V current is split into the 12V1 and 12V2 rails). Later, the ATX12V v2.1 and v2.2 specifications also increased efficiency requirements and mandated various other improvements.

All ATX12V form factor power supply units maintain the same physical shape and size as the ATX form factor.
EPS12V, SFX12V and Others
The EPS12V power supply form factor utilizes an 8-pin processor power connector in addition to the 4-pin connector of the ATX12V form factor. (Note: this isn't the only difference between these two form factors, but for most desktop computer users, knowing this should be sufficient). The EPS12V form factor was originally designed for entry-level servers, but more and more high-end desktop motherboards are featuring the 8-pin EPS12V processor power connector now, which enables users to opt for an EPS12V power supply.

The Small Form Factor (SFF) designation is used to describe a number of smaller power supplies, such as the SFX12V (SFX stands for Small Form Factor), CFX12V (CFX stands for Compact Form Factor), LFX12V (LFX stands for Low Profile Form Factor) and TFX12V (TFX stands for Thin Form Factor). They are all smaller than the standard ATX12V form factor power supply in terms of physical size. SFF power supplies need to be installed in corresponding SFF computer cases.
Many of us typically begin and end our search by looking at one index of a power supply's performance: its maximum output. We then judge different power supplies using only this figure. This is definitely not the recommended approach as choosing a power supply that suits your system's power requirements is more complex than just comparing output figures. In this section we'll take a look and gain a basic understanding of the most important power supply specs/features and what they do.

Maximum Power
Power supplies are basically differentiated by output wattage, which is quoted according to the "Maximum Power" output. Maximum power is not just a number, it also gives a basic idea of how many devices (and what type of devices, in terms of power consumption) the power supply will be able to feed.

However, the maximum power figure alone is not enough to determine whether a PSU is able to drive your computer. Each voltage rail requires attention, but the most attention needs to go to the +12V rail(s), since the processor and PCIe video cards receive their power from them. The power supply must output at least 18A (amps) on the +12V rail(s) for a mainstream up-to-date computer; more than 24A for a system with a single enthusiast-class graphics card; and no less than 34A when it comes to a high end SLI/CrossFire system. The output amperage figure we're talking about here is the combined figure for PSUs offering more than one +12V rail. Of course, it is the combined total output number you should look for, and you can't always add up the+12V rails to calculate the combined output. For instance, a PSU labeled with rails labeled +12V1@18A and +12V2@16A may only have a 30A combined power output instead of 34A. Look for this information in the detailed item specifications or on the PSU information label.

If you are going to run an SLI/Crossfire configuration, please make sure the +12V rail(s) provide no less than 34A combined. Different power supplies are labeled differently – some show the maximum amperage provided by each rail, and some will provide the maximum combined maximum wattage, e.g. 396W, which is equals to 396W/12V = 33A.

Continuous and Peak Power
Please note that continuous power and peak power are different. Generally, the "Maximum Power" figure of a power supply refers to the continuous (stable) power the PSU will deliver consistently, while the peak power refers to the elevated maximum (surge) power the PSU can deliver, albeit for very short amount of time (e.g. 15 seconds).

Connectors
The connectors provided by your power supply determine the types of devices that can be connected to it. Therefore it is extremely important that you choose a PSU with all the connectors (type and number) your components require.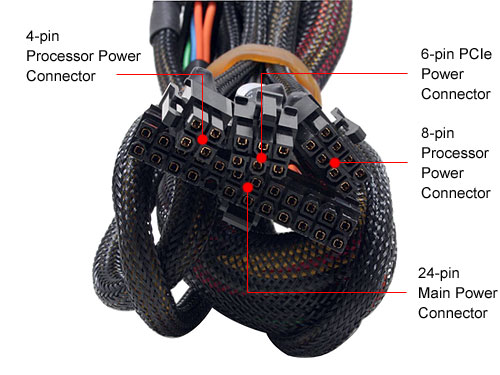 Main Power Connector & Processor Power Connector
The main power connector is used to directly connect the motherboard and the PSU. Two types of main power connectors are often utilized in today's PSU: the 20-pin and 24-pin formats. As described in the above sections, the 24-pin main power connector was introduced with the ATX12V v2.0 specification, and there are more and more motherboards providing 24-pin power connector sockets (many motherboards with 24-pin sockets can still work with 20-pin power supplies).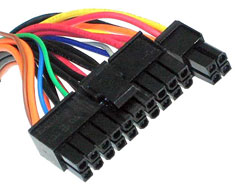 To provide compatibility with older motherboards featuring 20-pin power socket designs, some PSUs provide 20+4-pin main power connectors. As in the image above, this type of power connector is very versatile and can easily be used with both 20-pin and 24-pin motherboard.

The processor power connector (+12V power connector) is to be plugged into the motherboard as well and provides power direct to the processor. There are also different 4-pin and 8-pin (EPS12V) connectors - the 4-pin type is more commonly used, while the 8-pin connector can be found on some high-end motherboards (you can still use the power 4-pin connectors on many 8-pin motherboards).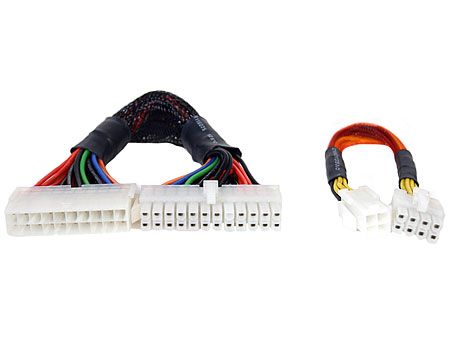 The image above shows a 20-pin to 24-pin converter cable (left) and a 4-pin to 8-pin power converter cable (right). The former converts your power supply's 20-pin main power connector into a 24-pin connector, and can thus be used on any 24-pin motherboard (it's the physical match that matters). There are also 24-pin to 20-pin and 8-pin to 4-pin converter cables available as well.

Other Power Connectors
There are other power connectors provided by the PSU, including floppy drive connectors (a.k.a. mini connector), PCIe connectors (for high-end video cards, 6-pin) and the two types shown below.
| | |
| --- | --- |
| | |
| 4-pin Molex Peripheral Connectors | SATA Connector for SATA drives |


The 4-pin peripheral connector, also called the Molex connector, is the most frequently used type of power connector in PC building and is used to connect hard drives, optical drives, certain fans and other devices. Some new SATA devices have begun to use SATA power connectors, and many power supplies are providing SATA connectors too. If a power supply does not provide enough SATA connectors, you can use Molex to SATA power converter cables to do the job.

Please make sure there are enough connectors on the power supply you select as it must be able to connect and power all your devices. And of course, you can use a splitter cable to connect more devices to one power connector (Molex or SATA connectors only).
PFC
PFC (Power Factor Correction) is a technique that counteracts the unwanted effects of electric loads (reactive power) that make the power factor less than 1. The Power factor (PF) refers to the ratio of active power (measured in watts) to the apparent power (voltage multiplies current - volts x amps or VA), which includes both active and reactive power, and only active power is capable of doing work. For a power supply unit, the higher the PF value, the better it is able to convert current into useful power.

For residential and commercial users, only the active power is measured and charged (apparent power is measured and charged for industrial users), so the PF of the PSU does not directly affect your power bills in fact. However, PF does matter in the bigger picture, since the more reactive power there is, the less active power can be transferred - that is definitely a waste of power.

Power supply units without built-in PFC circuits often have low PF values, sometimes below 0.60. For PSUs with built-in PFC circuits, there are two types of PFC being used active and passive. Passive PFC consists of components that do not need power to work, for instance, ferrite core coils; and active PFC uses components such as integrated circuits and transistors, which do need power to work. Passive PFC can result in PF values between 0.60 ~ 0.80, while active PFC is able to deliver 0.95 ~ 0.99.
Efficiency
The efficiency of a power supply unit is the percentage of total output DC power in relation to total input AC power. The portion lost during conversion is mostly in the form of heat.

This index directly relates to your power bills. For example, if your computer system consumes 300W of power, using a PSU with 85% efficiency will require about 353W input power, and a 70% PSU will pull 428W power from the wall. It is not hard to know how much more money you are going to pay using a low efficiency power supply, and this number will typically grow as time goes by.

A power supply with a higher efficiency rating will not only help save costs - the heat dissipated will be much lower as well, resulting in better reliability and durability, and can also help reduce noise as its cooling fan can operate at lower speeds and still provide adequate cooling.
Other Concerns
Fans
No power supply is currently able to reach 100% efficiency, which means there will always be heat produced during operation. Generally, a higher output PSU will result in more heat being produced. Most power supplies use one or more fans for cooling.
 


Noise is always a problem wherever fans involved. Some power supplies use big fans (e.g. 12cm) at lower RPM (revolutions per minute) to reduce the noise produced. Manufacturers also utilize other techniques to reduce noise, such as automatic fan speed adjustment according to temperature - when the PSU gets hotter, the fan speed increases, and can even stop completely if the temperature is low enough.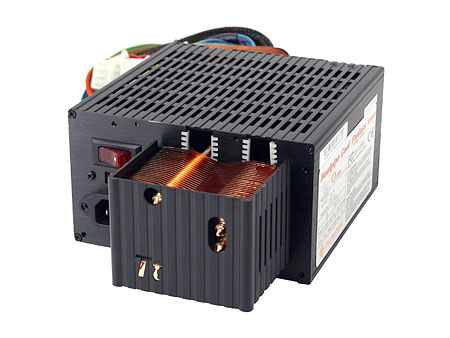 There are also some "fanless" power supply products that utilize passive cooling and are without any fans and other moving parts. These PSUs are often armed with heatsinks that provide large surface areas (internally and/or externally), and the maximum power of these models are typically limited. "Fanless" power supplies produce almost no noise, making them extremely attractive to own.

"Fanless" PSUs are not recommended in systems with high power consumption characteristics, unless ambient temperature is extremely low and the ventilation of your computer case is excellent.

Modular Cabling
Modular cabling allows a user to choose the type and number of power connectors (mainly peripheral and SATA power connectors, and PCIe) to be used. The picture below shows a power supply with modular cabling features - it provide a main power and processor power connector by default as almost every system will require these two connections. The other power cables (usually provided with the PSU) need to be hooked up to the available power sockets as needed.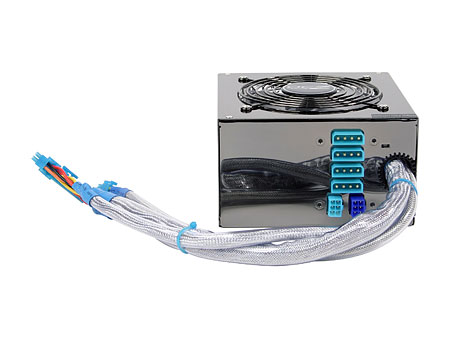 A power supply with modular cabling ability can reduce the number of unused power connectors/cables in your system case, and generally promotes tidier and cleaner looking case internals as well as better air flow.

SLI/CrossFire Support
 

SLI and CrossFire systems require more powerful power supplies, as two or even more video cards - especially high end video cards - consume much more power than single card configurations. Therefore, many SLI/CrossFire certified power supplies have become available, and are able to meet the power requirements of multi-video-card systems. If you are an SLI/CrossFire user, a SLI/CrossFire certified power supply may be necessary (some high quality power supplies without SLI/CrossFire certification may still provide enough power to support SLI/CrossFire configurations).

Overvoltage Protection
Overvoltage protection refers to a circuit or mechanism that shuts down the power supply unit if the output voltage exceeds the specified voltage limit, which is often higher than rated output voltage. This protection is important since high output voltages may cause damage to computer components that are connected to the power supply.

Overload Protection/Overcurrent Protection
Similar to overvoltage protection, overcurrent and overload protection are circuits that protect the power supply unit and the computer by shutting down the power supply unit when there is excessive current or power load detected, including short circuit currents.
Important Note: Please begin by selecting a PSU that supports your motherboard connector type (20 or 24-pin) and provides enough power connectors to connect all your devices.

Our recommendations focus mainly on maximum power, since we've already introduced many other important features/considerations in the above sections. Please read these sections before choosing your PSU if you are not quite familiar with them. The table below provides a general (not accurate) impression of the modern power requirements of each component type. You can add all your components together, and multiply the power requirement figure by 1.4 ~ 1.5 (for surge compensation and for expandability) for a basic idea of the maximum power your power supply should offer.
Component Typical Power Requirements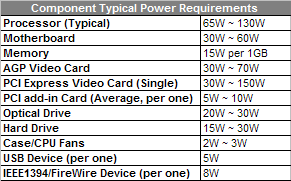 Home/Office User
For most home and office users, a 400W power should be more than enough - but that's not always true if you have power hungry processors/video cards or many connected devices. If this is the case, please be sure to look at the above table and calculate your rough power requirements.



Multimedia/Large Storage User
If you have lots of storage devices, such as hard drives, optical drives or other devices, a power supply with at least 450W is a necessity.



Note: Please refer to the "Component Typical Power Requirements" table and calculate your specific maximum power requirements.
Enthusiast Gamer
For gamers with SLI or CrossFire configurations, a power supply rated more than 500W is a minimum requirement, with 550W ~ 600W recommended. Please make sure the +12V rail(s) provide no less than 34A (combined) when you are going to run a high-end SLI/CrossFire system.


Note: Please refer to the "Component Typical Power Requirements" table and calculate your specific maximum power requirements.