Computer Case Buying Guide
Table of contents
Whether embarking on the challenge of building a desktop computer for the first time or you've done it a hundred times already, choosing a case for a new system in today's market can be a challenge. This guide is here to help desktop builders sort through the many options among cases and the varying architecture that different types offer. Hopefully, builders can use this guide to find a great case that suits them at the time of building and perhaps even accommodates upgrades long into the future. Below you will find helpful information on key componentry such as power supply units (PSUs), external versus internal drive bays and their different sizes, expansion slots, cooling systems, peripheral connections, and more.
Please also check out the many useful NeweggTV videos on computer cases and their components as well as handy "how-to" videos for building a customized, DIY system.  Enjoy!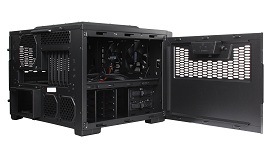 ATX Desktop:
The standard; ATX desktop cases are designed to hold motherboards with the ATX form factor. These allow the easiest interchangeability of parts. These cases also usually accommodate motherboards that keep the basic rear layout but reduce the size of the board and the number of expansion slots. If you want a desktop case, the ATX desktop case will likely be your computer case of choice.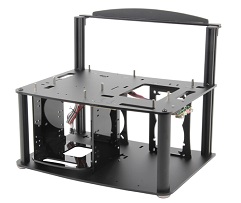 ATX Bench Case:
ATX bench cases are open-air computer cases, meaning the internal components are visibly exposed.  A strength of this design is the ease of accessibility when switching out devices; optimum heat ventilation is another. One obvious concern for this design, however, is protection—this type of case must be located in a secure area.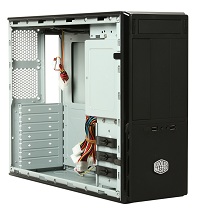 ATX Mini Tower:
As the name suggests, this is the type of computer case needed when using an ATX micro motherboard. A micro motherboard will fit perfectly into these cases, and, since the cases are small, they won't take up much desk space. Remember, however, that a smaller computer these days does not necessarily suggest smaller storage options.  Many companies are creating huge storage options in smaller devices.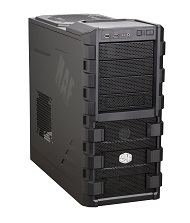 ATX Mid Tower:
ATX mid tower cases are designed with the ATX motherboard form factor in mind. However, unlike a full size tower, a mid-size tower will work in a smaller space. If large or extra componentry is not needed, or if the location for this computer is limited, this case will likely be preferable.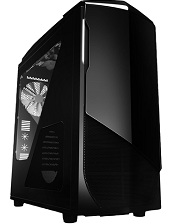 ATX Full Tower:
These cases, like the kind mentioned just above, have been designed for motherboards with the ATX form factor. With a full tower, there is a generous amount of space inside for large components and/or multiple graphics cards, for example.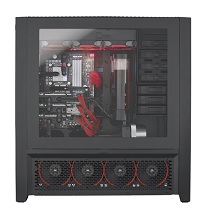 ATX Super Tower:
An ATX super tower is the largest computer case available on the market at this time. While they are available to any consumer, they are generally meant for computer enthusiasts. These cases are usually quite large and most are able to support two CPUs. These computer cases also can have as many as nine expansion card slots, with room for an ATX-XL motherboard.
Home Theater Computer Case:
An "HTPC" can be a great addition to your custom home theater. Consider this type of case if the objective is to build a computer specifically for great audio and video reproduction. Optical drive support as well as general external appearance of the case will likely be important factors in choosing a case in this category.
Server Chassis:
When building a server, be sure to start with a case designed for this type of device as they differ from personal computers. Server cases also come in a variety of shapes, sizes, and optional componentry—two of the more common are rack-mount and pedestal chassis.
The Features and Specifications to Consider
Included below is some discussion on the various features of common computer cases. As with any kind of DIY project, be sure to take into account the accessibility and expandability for both present and future system needs.
Form Factor:
This term simply means size and shape. Be sure that the case can accommodate the internal components; conversely, when considering adding components, case-size is a key consideration. A full tower may accommodate just about any motherboard or PSU on the market, but the standard and mini towers will not. Keep this in mind throughout the compilation and build process.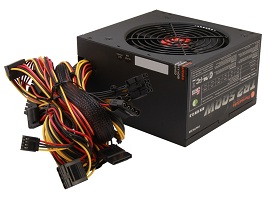 Power Supply Unit:
Often referred to as "PSUs," this is where, of course, the electricity comes from. Different cases offer options for the power supply.
PSU Provided – Some cases are sold with a PSU provided and mounted inside. A case with the PSU provided makes the build process a little simpler, but may ultimately reduce options. Consider how many and which kind of internal components will be used, as well as their relative power needs, and choose a PSU accordingly. Also consider the quality of the PSU; convenience in the short-term may mean replacement in the (too-)near future.
Mount Location – Usually cases offer either bottom- or rear-mounted PSU positions (actually, both mounts are in the "rear"; "rear-mount" means, more specifically, the PSU is mounted in the top-rear of the case). On a bottom-mount, the weight of the PSU can offer improved stability for the computer as a whole, keeping its center of gravity lower. Rear-mounts, on the other hand, may offer other necessary options for a particular build and create more and/or better cooling options. If your high-end graphics cards need intense heat dissipation, consider a rear-mount PSU. With normal desktop computers, though, these two options are more or less equivalent.
Modular vs. Non-Modular (vs. Semi-Modular) – "Modular" means the cables unplug from the PSU itself.  This is handy when a computer needs to power only the minimum number of components; specific cables can be selected for included devices and any other cables are left out of the build, until, perhaps, another component is added that needs one. "Non-Modular" PSUs come with all cables integrated (as pictured above), and may leave the build with a few extra, unused cables needing to be tucked away somewhere inside the case. "Semi-Modular" means just a few cables are integrated into the PSU for components such as, for example, the motherboard, but let the builder decide which and how many more cables are needed. See the Cable Management section for more on this.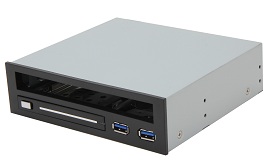 External 5.25" Drive Bays:
The number of external 5.25" bays that the case holds will have an impact on what can be installed in the computer. These are the bays used for DVD and Blu-ray optical drives. For a computer that will be used as a Home Theater PC, consider a case with at least two of these bays, minimum.
Internal and External 3.5" Drive Bays: 
Nowadays one might find memory card readers, for example, in the external expansion spaces. The internal bays, on the other hand, are where you'll be putting your permanent hard disk and solid state drives. Specify a case that has enough 3.5" bays of both the internal and external variety for the computer to perform the functions you need. Also consider a case that has more than what is needed now to accommodate the addition of components in the future.
Room for the Graphics Cards
If you have a very large graphics card, make sure that the computer case has enough room for it. The graphics-intensive needs of some of today's computer users has resulted in some very large graphics cards. Make sure the case has plenty of room for space between and around the graphics cards, space for the number of cards to be used, and enough space to ensure adequate dissipation of the heat generated by more powerful components. 
Cooling Options
Some cases have fans built-in, others do not but have places to mount one or multiple fans. Depending on how hard the computer will be pushed, cooling options need to be taken into account. Intake fans are placed near hard drives—more drives naturally generate more heat. Rear fans push the hot air out, away from the components. Adding fans can be helpful, but also keep in mind that you may hear them.  Larger fans are quieter and more efficient at a slower rate, and, therefore, more desirable. Some setups will give the user control over various fans and their speeds. More power usually means more heat, and more fans usually means more noise; take these into consideration when building a high-performance machine.
In addition to air-cooled options, you may also find water- or liquid-cooling add-on options available as well. These high-end cooling systems should probably only be considered by more experienced builders looking to create a high-performance machine. See the section on Liquid CPU Coolers under Techie Stuff below for more info on this. Standard desktops with moderate components, however, require only the most basic ventilation options.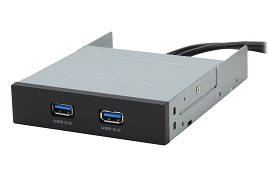 Number of Front Panel Ports    
The number of front panel ports on the case is as important as the number of computer ports on the motherboard (the rear panel). Almost all cases come standard with at least two USB ports in the front. From there you will find variations, including external SATA or eSATA ports, various slots for directly inserting memory cards, a FireWire port, and, especially on newer cases, USB 3.0 ports. It is common nowadays to have multiple mobile devices as well as external hard drives and USB 3.0 devices all plugged in at once. In addition to these data-transfer ports, cases also usually offer headphone and microphone jacks.
Take into consideration what external devices will be connected to your computer and how many of each. Front panel connectivity is one of the key usability options of a computer, and choosing one with the right configuration will increase satisfaction with your case in the long run.
Cable Management
As mentioned briefly in the PSU section above, internal cable management is important when building a computer. Some cases have features that improve cable management. Not only does proper cable management make a computer look better (especially if it has a side window), but it also allows for better airflow and cooling. Make sure your new case is large enough for space behind the motherboard to route cables. Some cases come with hidden areas for the extra cables or cable length. If a case does not specify this feature, you'll need to do the cable management by hand.
Tool-Free Cases:
For most DIYers, using new and varying tools is a fun part of the experience. However, many cases on the market today can be constructed without the use of even a screwdriver (save for securing the motherboard). The internal components can be accessed as well as "snapped" into place with a plethora of connectors and clips included with the chassis. Specialized slots, caddies, and the like, are designed to accommodate the most common hard drives and other devices. For a first-time builder this may mean an exciting opportunity. Also, for those who may need to swap components often for testing or comparison, perhaps, may find this type of case expedient for their needs. The old-fashioned, some-tools-required cases may offer more security with their stable and durable track record.
Which Computer Case is Best for Me?
While it may be difficult to decipher which features require the most attention and which specs will serve particular needs, there are number of computer cases on the market from which to make a great choice. Below, you'll see recommendations which we hope will assist you with identifying the type of case to best serve your needs. If you happen to identify with more than one of these groups, don't worry—it's possible to find a computer case that covers a multiplicity of features and specifications.
Students
Form Factor
Number of USB Ports
Power Supply Unit
College students often find limitations on space and budget. Consider a micro ATX case and Motherboard to match if space is critical.
Also, find a computer case that has ample USB ports. You'll want a minimum of four rear USB ports considering a mouse, printer, and keyboard cable will each take one port. Front ports for mobile device charging will also be important. In addition, pay attention to the power supply unit. Shop among the manufacturers which build both computer cases and PSUs; these will usually yield the best combinations for the best price.
Home Entertainment Users
Appearance
Form Factor
5.25" Drive Bays
HTPC cases often come in black and silver, harmonizing aesthetically into a whole home entertainment setup. As a home theater user, also consider the number of 5.25" bays that the case can accommodate, considering that most of your media devices will use these bays.
Gamers
Cooling Options
Ventilation / Side Air Duct
Power Supply Unit
Room for Graphics Card(s)
Gamers are notoriously hard on their computers. The gaming experience takes its toll on a system and causes it to heat up quite significantly. Because of this, make sure there are enough integrated fans or places to add fans as well as a side air duct for proper heat dissipation.
In addition to cooling, the power supply unit will also be of concern to gamers. Standard PSUs often do not provide adequate power for higher-performing components. Consider a case that does not provide a power supply. This will give you the option of installing the power supply that is powerful enough to keep up with your gaming needs.
Some of today's graphics cards are very large. Make sure that a case can accommodate the size of the graphics card(s) on hand or that will likely be integrated in the future. Remember, too, that adequate space is required to prevent the cards from resting against each other, other components, or against part of the chassis.
Home Users
Cost
Power Supply
USB Slots
Home users don't have to be as picky when it comes to which computer case chosen. Match the right size case and motherboard, and the rest is pretty much up to you. Also, if the system does not contain high-intensity or high-performance componentry, you likely won't need a custom power supply unit. Consider buying a case with an integrated power supply from a reputable manufacturer. If you can find one on sale, even better!
As a home user, the number of USB ports on the case will be important—you'll likely want to power everything from your printer to your cell phone. Remember, the more USB slots you have, the more peripherals you can hook up to your computer at the same time. Most cases come with at least two front panel USB  ports (along with headphone and mic-jacks), but you may want to take into account additional ports for video cameras, mobile phones, tablets, and the like. It's better to have too many than not enough.
Business Users
Form Factor
Power Supply
Expansion Slots
As a business user, take the form factor (size and shape) into consideration. If space in the offices or cubicles is limited, micro ATX cases (and motherboards) may be in order. Just make sure the cases and motherboards match.
Power supply units are another concern for business users. Custom PSUs may be the best option here. In case a PSU does go out, the whole case (or whole computer!) will not require replacement.
In addition, pay close attention to the number of expansion slots. As technology changes, so will the number of slots needed. Rather than having to start from scratch, look for cases and motherboards that allow a computer to expand with the technology.
When consumers go to purchase a computer case, there are a number of questions that they frequently run in to. Some of these questions are more commonly asked than others. Here are some of the most commonly-asked questions that we receive regarding computer cases and computer case purchases.
Why Should I Build A Computer Rather Than Buying One Already Built?
It may seem much easier to just go to your local store and buy a computer that already has all of the components in it rather than buying a case that requires you to build the computer from the ground up. In some cases, a pre-built computer is fine. For most consumers, however, to really get what you want from your computer you need to buy a case and a motherboard that will allow you to expand and upgrade as needed.
Why Does the Number of Expansion Slots Matter?
Without expansion slots you won't be able to upgrade your computer like you'll probably want to. While you may not want to upgrade next week or even next month, there will come a point in time when an upgrade is desirable. You need to make sure you have the expansion slots needed to accommodate that upgrade.
How Many USB Ports Do I Really Need?
That depends on what you will be hooking up to your computer. At the very minimum you'll need two. A good rule of thumb is to have at least three, if not more, USB ports on your computer. Three ports will allow you to have your mouse, printer, and another peripheral connected all at once. If you need more than that, calculate how many you need and buy a case that can accommodate that need.
Is Plastic or Aluminum Better?
Cases usually come in plastic, steel, and aluminum. Which one is right for you will depend on your specific needs and how you use your computer. Plastic tends to cool off faster and be more lightweight. Aluminum and steel tend to be sturdier. Assess your needs and the environment you use your computer in. That should help you decide. In most cases, it's merely a matter of preference.
How Much Should a Good Computer Case Cost?
Computer cases really run the gamut when it comes to price. How much yours costs will depend on if it has built-in fans and a built in PSU. You can get a bare bones quality computer case for well under $100. Some cases cost much more, well in excess of $100 depending on what you want from the case.
Computer cases usually come with at least some instructions to help you understand how to set up and use them. There are some how-to's, however, that are not covered in these manuals. The following information will help you understand the basics of how to use and take care of your computer case after you have made your investment. See also related NeweggTV videos for helpful hints and instructions.
How to Install a Power Supply Unit
Be sure the PSU is not plugged in when installing it. Open the case and identify whether the PSU slot is bottom- or rear-mounted. Once you find the slot, align the four screws of the PSU with the holes provided. Then simply screw the PSU securely into the case panel. Plug it in and check for power. Once you are sure that the PSU has been installed properly, re-connect power cables and close the case.
How to Install Fans
Installing fans in a computer case is similar to installing a PSU. Check the Owner/User Manual for details. First, unplug the computer, then remove the cover of the case. Find the spaces where the fans are to be installed. Align the mounting holes on the fans with the holes in the computer case. Screw the fans securely into the appropriate spots and check to make sure they are working properly. Also check the direction of the fans—fans at the front panel, near the various disk and optical drives, most often pull air into the case; fans at the rear push air out. Coordinate the direction of airflow when installing or replacing fans. Once your fans have been installed, you can replace the cover of the case, plug in, and test the operation.
How to Upgrade Internal Components
When upgrading an internal component, be certain the new component is compatible. First, power-down and unplug the computer. After opening the case, find the corresponding expansion slot(s) for the new part. If a component is being replaced, check the area for any wear or debris. Place the new component in the appropriate slot. Do not use extreme force. Delicately check for secure installation/connection. Once the component is installed snugly, replace the cover and check for proper performance.
How to Clean Your Computer Case
Keeping a desktop computer clean is essential to long-lasting and optimal performance. Fans and heatsink will function normally, keeping the system from overheating and ruining vital and expensive components. Data and power connectors will continue to operate well, and replacement and upgrade efforts will require minimal effort.
How often should a thorough cleaning be done? This depends on the computer's normal environment. A good rule of thumb may be about every six months, but that can change when considering several factors. The frequency with which a desktop computer requires cleaning can increase accordingly:
If the computer is housed in an environment that is arid, dusty, or sandy
Nearness to a construction zone, freeway, or desert environment
A home or workplace where smoking is allowed
A home with pets
Where food and drink are often near the computer
If the computer case is open or partially open (as one constructed with metal mesh panels)
Generally, if the home or workplace environment requires frequent dusting, then it is safe to assume the computer(s) in that place will also require frequent cleaning. When cleaning a computer, remember to follow guidelines such as these:
Shutdown and unplug the computer before opening the case
Use an air compressor on a lower setting, or use a can of compressed air designated for cleaning computers and electrical components
Do not use a vacuum cleaner on the internal components of the computer.
Do not blow off stickers that may be required for warranty verification
Keep compressed air cans upright so as to avoid accumulation of moisture and blowing into a computer
Step-by-Step Instructions
Necessary supplies: can of compressed air specifically designed for cleaning computers and/or electrical components; 70 – 99% isopropyl alcohol and cotton balls or swabs; lint-free cloth
Unplug and move the computer to a spacious, elevated, clutter-free work area; place computer on a material suitable for soaking up any moisture from the compressed air or alcohol swabs.  
Cleaning the fans: Be sure to hold the fan blades to prevent spinning and use compressed air to blow off visible dust. If visible dust remains on or around the blades, use cotton swabs with a small amount of isopropyl alcohol, or perhaps even a soft toothbrush.  If removal of a fan is necessary, make sure to determine which direction the fan turns and reinstall it the same way, as some fans blow air into the computer and some blow it out.
Cleaning the processor and/or heatsink: Use compressed air to blow off/out any visible dust. Use alcohol and cotton swabs to remove remaining dust and for general cleaning. Note: if alcohol is used to wipe down the thermal paste between components, reapply the paste as directed. Apply the paste as thinly and evenly as possible, and make sure there are no gaps in the paste.
Cleaning the case itself: Use a can of compressed air or an air compressor on a low or gentle setting. Blow outward at points of ventilation: mesh screens, air vents, metal mesh, etc. Make sure no ventilation passages are obstructed. Wipe down any clingy dust with cloth and cotton swabs dipped in alcohol.
Side Note: It is recommended that while a computer case is open, the cables are reorganized to maximize air flow and cooling. Use zip ties and/or cable management to re-route and optimize the set up.
After a complete cleaning, make sure all the parts are dry. Use the cloth to carefully wipe dry any damp areas or components. When all is ready, reassemble and return computer to its home.
Here, too, is a video from the NeweggTV crew to demonstrate.
Form Factor Compatibility
While a micro ATX motherboard can usually fit into a full size tower, a full size motherboard won't fit a micro ATX case! Remember to match size and shape between internals and a computer case.
Multi-Channel Fan Controllers   
Cooling is essential to the longevity of your computer. If a computer gets too hot, it runs the risk of damaging the motherboard. Higher-end computer cases offer multi-channel fan controllers. These allow you to control the speed of each fan to regulate both the noise and temperature levels of a PC.
Water Cooling   
One of the benefits of building your own computer is that you can specify the type of fan you want for the computer case. This also means that you can explore the power of liquid CPU coolers. The typical air-cooled computer is packed with a number of fans—pre-installed, graphics card-specific, and CPU fans—to move cool air in and hot air out.  A liquid cooling system, on the other hand, uses a series of coolant-filled tubes, a radiator, and water blocks to keep your PC even cooler. Liquid-cooled computers tend to stay cooler operate more quietly than fan-cooled units. As mentioned above, these are usually only necessary for extremely high-performing systems.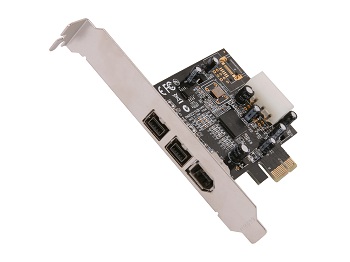 FireWire Connectors   
In addition to USB ports, some computer cases also have FireWire connectors. FireWire is Apple's name for the IEEE 1394 High Speed Serial Bus. It allows users to transfer information between digital devices at up to 800Mbps. This is helpful for users who need to transfer quite a bit of video and audio files between computers and other devices.  
Ready for the Future
Computer cases that are ready for the future will have support for both USB 3.0 and 2.5" solid state drives (SSDs) built into them. The integrated SSD support will allow you to install 2.5" solid state drives in any of your hard drive bays without having to purchase and install adapters.

Buy Computer Cases at Newegg.com