The ROCCAT Nyth is a hyper-modular gaming mouse, specifically tailored to serve the imagination, creativity and high standards of MMO gamers today. With deep button modularity that fluidly transitions into a MOBA or FPS master tool, boundless customizability, improved EASY-SHIFT[+] functionality, and exclusive ROCCAT Swarm app, it doubles the power in the palm of your hand, giving you the gaming edge to obliterate the oppositions. The included carry case provides protection for your unused sidegrips and buttons.
KEY Features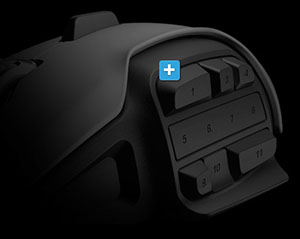 Modular Thumb Zone
The Nyth features an evolutionary modular thumb zone where you can individually place up to 12 high quality, tactile mechanical buttons. This custom button area sets a new standard in modularity; completely flexible, it allows you to configure single and double buttons easily in a vast array of combinations to suit your gaming needs. Out of the box, the Nyth's buttons can be arranged in 18,369 different layouts.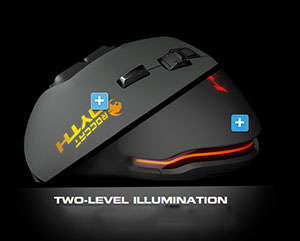 Hot-swappable Sidegrips
All gamers are united by a common love for gaming, but a gamer's style is truly unique. To further reflect the individuality of the modern gamer, Nyth features super ergonomic hot-swappable sidegrips. No matter whether your gaming style is chilled out palm grip or action packed claw grip – or both depending on the game – you can mix it up on the fly. Adding these hot-swappable grips to the modular buttons, the Nyth's hardware can be laid out in 36,738 ways.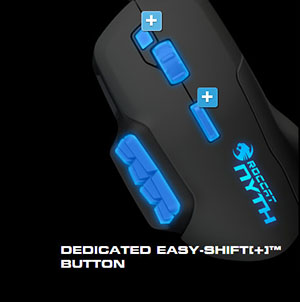 Improved EASY-SHIFT[+] Functionality
EASY-SHIFT[+] lets you assign a secondary function to each of the mouse's 18 plugged-in buttons. This can be activated once the Easy-Shift[+] button is held down, arming you with a total of 39 functions. On the Nyth, this is a dedicated button conveniently located beneath the traditional side buttons. The power of Easy-Shift[+], coupled with the Nyth's deep modularity, brings the total number of hardware/software layout and function combos up to a staggering 1024 – one sextillion.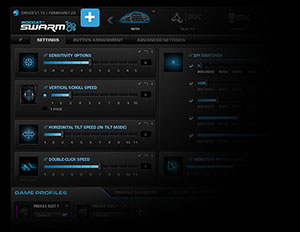 ROCCAT Swarm
Swarm is the software incarnation of ROCCAT's future ready philosophy. It'll cover you for all relevant gaming platforms and devices. It's the next-gen system that keeps on top all games, apps and ROCCAT products in one place. Computer side it's a veritable gaming command HQ, smartphone side it's a convenient app for an extension of the computer software. Full control at your fingertips.
Button & Sidegrips Carry Case
1024 is a higher number than there are atoms in a gram of mass, meaning there are more possible Nyth combos than there are atoms in the mouse. Nyth's customization possibilities simply know no bounds. 1024 isn't enough? No problem – this is just the start. The Nyth features 3D print support, meaning you can design and download your own parts for a never before seen level of customization – making your Nyth truly unique to you. The included solid-build carry case will keep your unused sidegrips and buttons safe and ready for use.