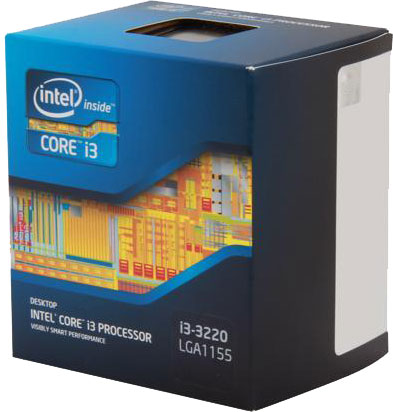 3rd Generation Intel Core Processor
Powered by Intel Ivy Bridge architecture, the 3rd generation Intel Core processor is a breakthrough in performance and power efficiency. The Ivy Bridge, which improves on the highly acclaimed previous generation Sandy Bridge architecture, not only continues the excellence in all aspects with Intel Hyper-Threading technology, Turbo Boost Technology 2.0 and Smart Cache, but pushes the pace a step farther with groundbreaking 22nm 3D transistor technology, which delivers an unprecedented combination of performance and power efficiency, and a couple of key refinements. The built-in visual is another leap offering you enhanced media and graphics. The Ivy Bridge IGP also supports DirectX 11 and OpenCL 1.1 to deliver incredibly detailed gaming and better heterogeneous computing performance.
The Intel Core i3-3220 packs dual cores (quad threads) for everyday tasks from browsing, house budgeting, homework and more. An Intel HD Graphics 2500 is also built in, delivering decent graphics performance for average use.