Studio 220 2-way 4" Bookshelf Loudspeakers
Sonic dynasty fused with high-tech destiny
As part of the groundbreaking 10-piece JBL Studio 2 series, the Studio 220 bookshelf loudspeakers deliver cinema-class sound that brings your movies and music to vivid life. A 1" CMMD" Lite high-frequency driver ensures low-distortion, and a High Definition Imaging (HDI) waveguide design offers pinpoint sound imaging and studio-grade balance. The Studio 220 also incorporates a front-firing 4" PolyPlas midrange speaker and a rear-firing Slipstream bass port that envelop listeners in tight, accurate bass. Combine its superior sound with the sleek, urbane design of the loudspeaker itself – both inside and out – and you're dealing with a rare breed of sonic horsepower and brainpower ready to define its era.
Please Note: the JBL Studio 220 loudspeakers are sold in pair.
1" CMMD" Lite High-Frequency Driver and High Definition Imaging (HDI) Waveguide
The consummation of 67 years of pioneering sound research at the JBL labs, the Studio 220 incorporates bold technologies like a High Definition Imaging (HDI) waveguide and a 1" CMMD Lite high-frequency driver into its design. Together, these advances let you experience your sound cinematically – in all its precision imaging, high-frequency detail, natural balance, and full spectrum mastery.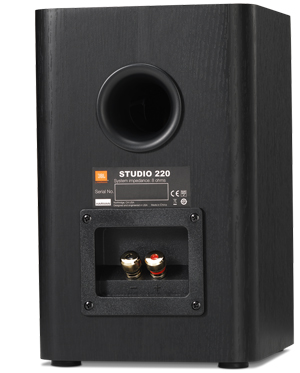 4" PolyPlas Driver Delivers Unrivaled Purity and Power
JBL has years of acoustic testing under its belt to back the sound up. With the 4" PolyPlas driver delivering unrivaled midrange accuracy and power, the Studio 220 is masterpiece that speaks for itself.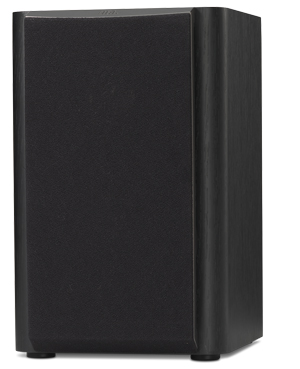 Visually Striking 21st Century Design Features That Can't Fail to Seduce
The JBL way is to make it look as good as it sounds. And with the Studio 220, there is no exception. With 21st century elegance that incorporates soft-rounded edges, black gloss paneling, and soft-touch paint, the Studio 220 is a beautiful piece that seduces the eye as much as it commands the ear