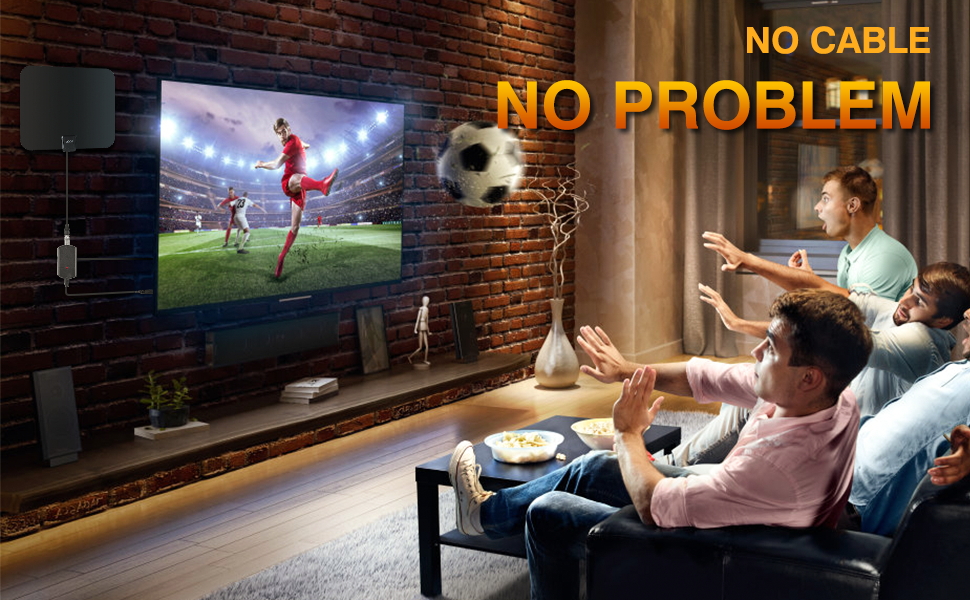 100Miles 1080P 4K HD Digital Signal Indoor TV Antenna HDTV with Amplifier VHF UHF
This 100 Miles HD Digital Indoor TV Antenna is a best choice for you. It is made of high quality material and advanced technology. It is of great connection, great tool, easy to operate. This indoor antenna also has small size so that it's easy to be fitted with your device. The build is sturdy durable and environmental friendly. It is ideal tool for sending and receiving signal. This TV antenna is a best useful tool for you, you will like it. So what are you still waiting for?
1. Support Resolution: Up to 4K
2. Reception Range: Up to 100 Miles
3. Frequency Range: VHF 47-230MHz, UHF 470-862MHz
4. Function: Multi-directional Capability
5. Call Out: All "Free" Channels
6. Impedance: 75Ohm
7. Coaxial Cable: 4M Length
8. Connector Type: F Male
9. USB Cable: 1M
10. With Adapter: Supply Voltage 5V 0.5A
11. V.S.W.R.: Less than 1.8, Max:1
12. Working Frequency: 45~240MHz, 470~862MHz
13. Gain: 25 dBi
14. Function: Detachable Amplifier
15. Mechanical Specifications: Antenna Length (mm) 330 ; Antenna Width (mm) 300
16. Operating Temperature: -40°C ~ 85°C
17. Material: PC & PU & CU
18. Color: Black
19. Weight: 8.82oz / 250g
20. Type: TV Antenna
Package Includes:
1 x Main Unit
1 x Coaxial Cable 13.2 ft
1 x USB Cable 1m
1 x Adapter(US Plug)
3 x Stickers
1 x Instruction Manual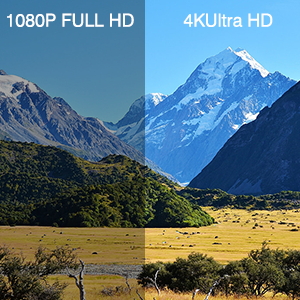 FULL & 4K HD Quality
For flatscreen HDTVs, please check the TV's manual to make sure the TV has a built-in tuner for receiving over-the-air broadcast, and make sure this tuner can receive HD signals or else it will not be able to receive and watch HD channels.
Antenna signal strength can vary depending on distance from the tower, terrain, and weather.
Let the Antenna Stay away from interference sources
Dependents on your distance and location. Areas with large obstructions such as valleys, mountains, etc, will reduce effective range. Always re-scan channels after moving the hdtv antenna, the result may be better.
Your household electrical appliances, such as air conditioner, refrigerator, microwave oven, etc. and outside Pylons may weak the signal reception.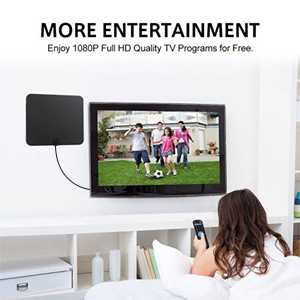 Receive TV HD Channels
The HDTV reception ensures that you always have the highest quality content. Depending on your location, the hdtv antenna can receive include NBC, Fox, CBS, ABC, PBS, The CW, Qubo, Telemundo, Univision, RTV, This TV, Ion, Me TV and the weather channel.
Easy to Set Up
1) Connect to 'ANT IN' on the back of any digital TV.
2) Place hdtv antenna in an optimal position, usually window or on a wall.
3) Scan channels by selecting 'Menu' then 'Channel Search' and you are ready to enjoy your best TV programs.