Great for home and business alike
Experience peace of mind you never thought possible with the LaView 8 Channel Extreme HD DVR Security Camera System. It includes one feature-rich DVR* and four weatherproof, 5MP color night vision bullet cameras.
The surveillance system offers an outstanding 24-hour surveillance solution for indoor and outdoor applications. The quick remote access feature keeps you connected with the security system anywhere in the world. Just download the free LaVIew Net app on your smartphone/tablet, and you can remotely monitor your property, get motion alerts and more – anytime and anywhere. Plus, the system is compatible with your existing wiring, and will be a great upgrade replacement of your HD systems.
*No HDD included. Please purchase separately.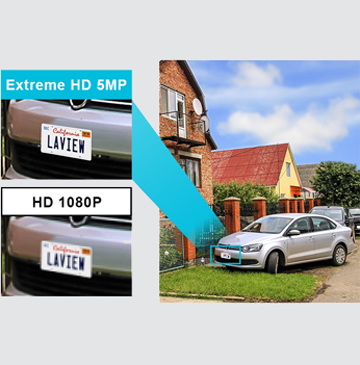 Capture the Bigger Picture
The Extreme HD 5MP (2592 x 1960) camera provides 150% more pixels than the standard 1080p cameras. Enjoy clear, precise images with less pixilation if you need to zoom in to find details that are far away.
Upgrade to Color Night Vision
Maintain color recording with all new advanced color night vision technology even when the light fades. The Matrix IR sensor is capable of capturing up to 65ft in both color and in black and white display.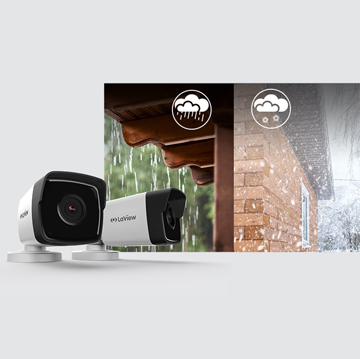 Weatherproof Durability
Rated IP67, the operating temperature can go as low as -40°F and up to 140°F. These weatherproof cameras are capable of withstanding any winter snowstorms or heavy rain fall as well as the summer heat without hindering the capture quality. Place them indoors to keep an eye on your belongings inside, or place them outdoors to keep a watchful eye on the surrounding of your property.
Gain Complete Awareness of Your Camera's Surroundings
Receive push notifications when motion is detected anywhere on the camera, or have the ability to customize exact areas you always want to be alerted whenever there's any movement. This is ideal if your camera must face a busy street - customize to only get alerted to what's only important to you.
A Hassle-Free Upgrade
Update your older system to Extreme HD 5MP without having to replace your wiring. This system is compatible with your existing cables. Just simply swap out the cameras and DVR and you have an effortless upgrade.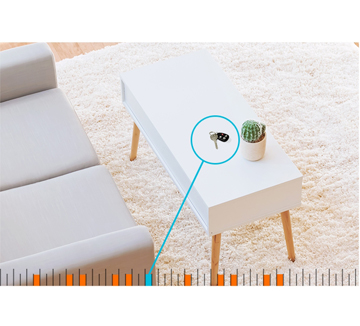 Improved Efficiency
Quickly find specific footages you actually want to see with Smart Search. This feature included in your DVR can assist you to locate any specific recordings out of countless others. The feature can locate specific behaviors such as general movements and up to missing objects in the camera's field of view.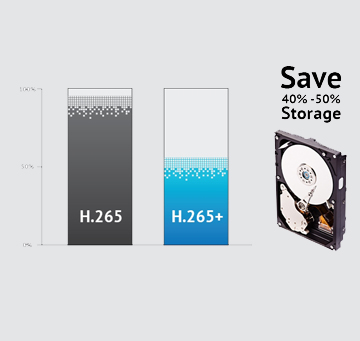 Save More, Do More with H.265+
Record more footage with new encoding technology to enjoy longer storage capabilities. With advanced compression technology, you can save up to 85% more recordings on your DVR. The improvements will also ensure bandwidth efficiency to let you view your recordings faster than ever before.
All of the Above, in One Single App
Enjoy your new window to your home even while on the go, 24/7 with the free LaVIew Net mobile app. No hidden fees or monthly fees, you are in control of your own property. Download it free from Apple Store or Google Play today.