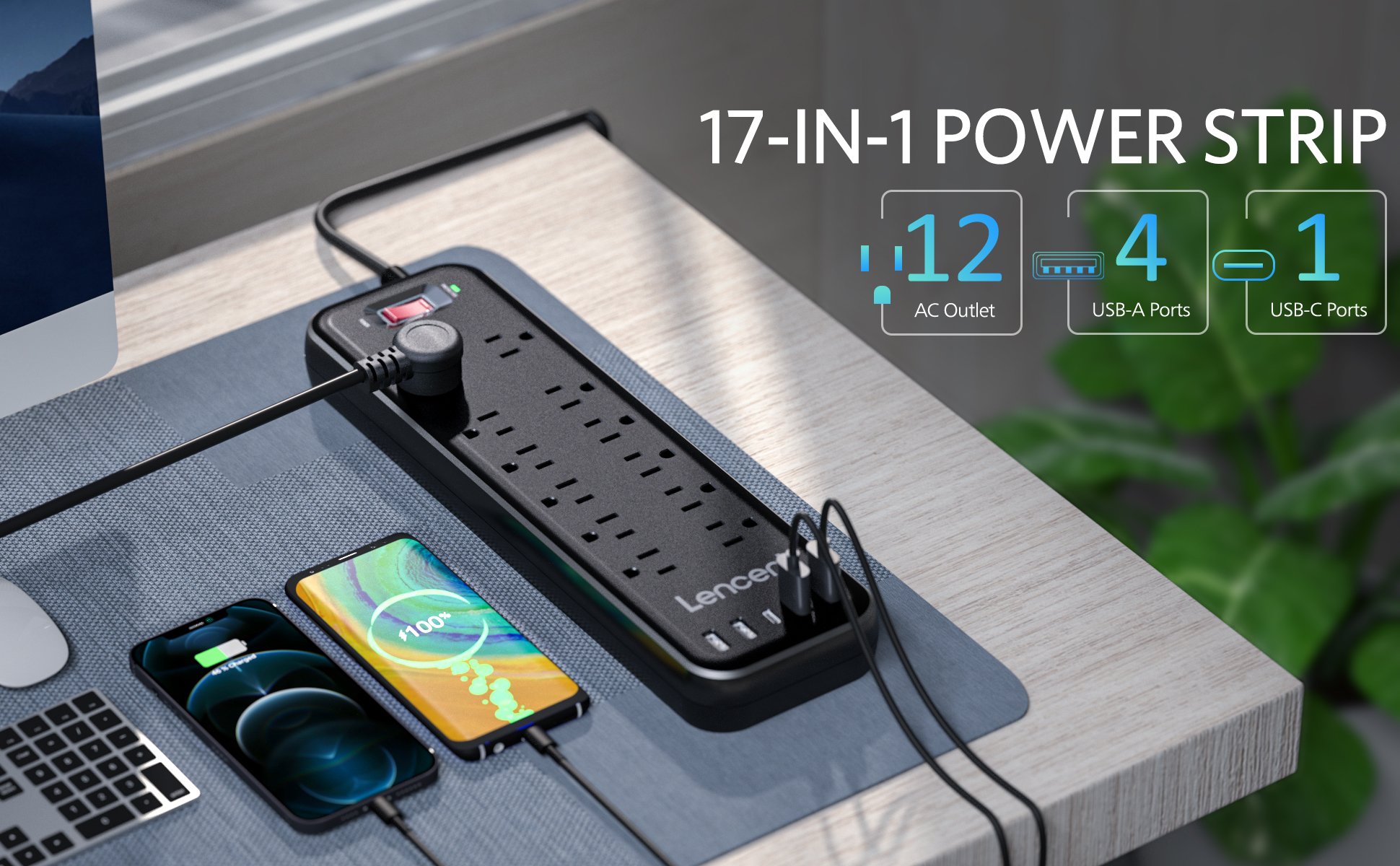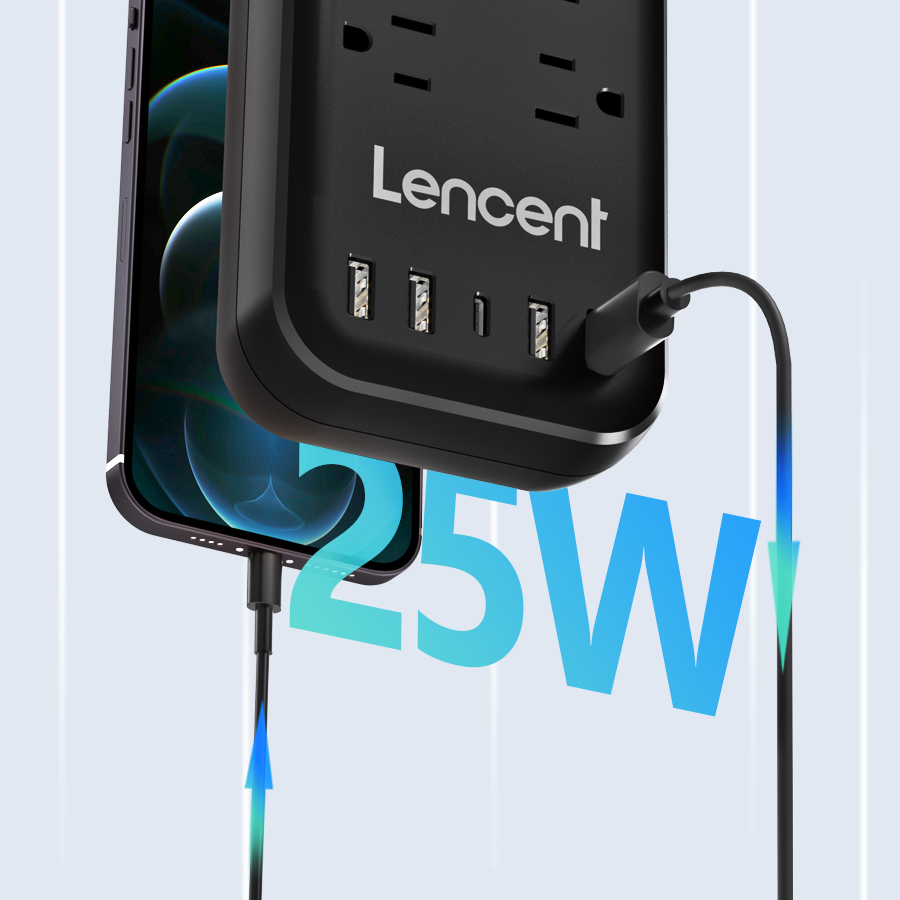 FAST CHARGING - 4 USB A & 1 USB C
The 5 USB ports will automatically detect devices and deliver the optimal charging current, ensuring the fast and safest charging.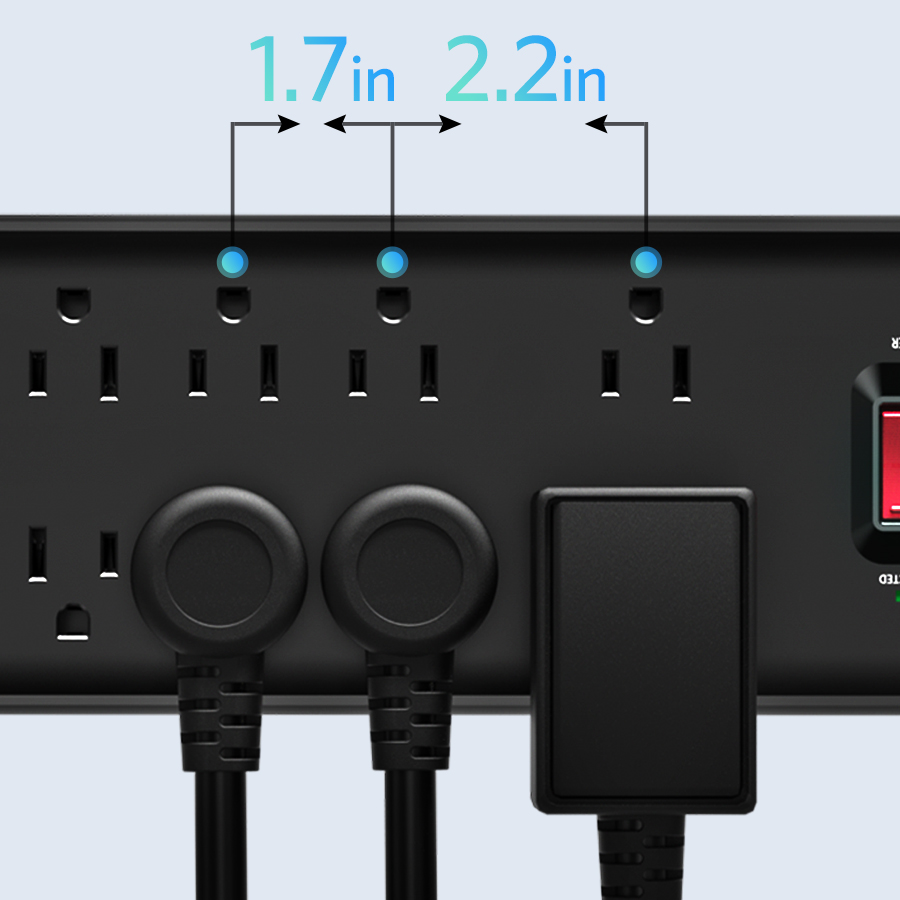 SPACIOUS OUTLET DESIGN
Widely spaced outlets are spaced out enough to plug in bulky adpaters, you don't have to worry about sacrificing an outlet in order to fit a larger plug.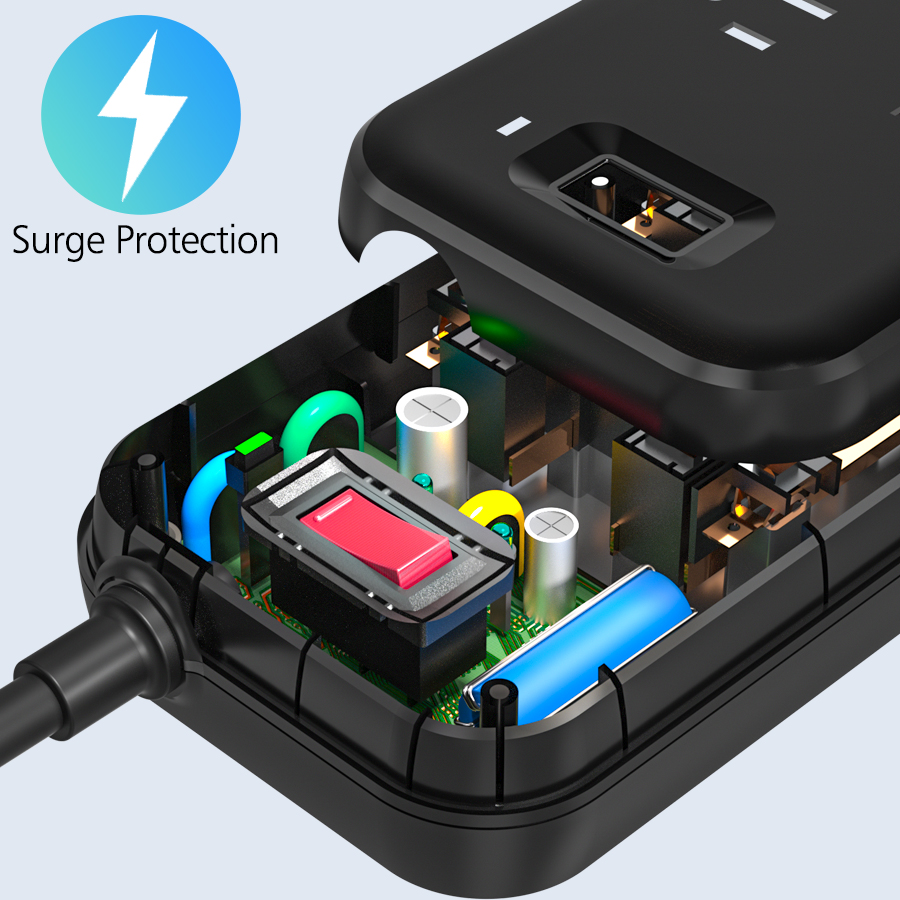 Surge Protection : 3600 Joules
Advanced surge protection technology protects the strip and all connected electronics from unexpected increases in voltage.
Effectively protect electronic product from surge, spike and overload.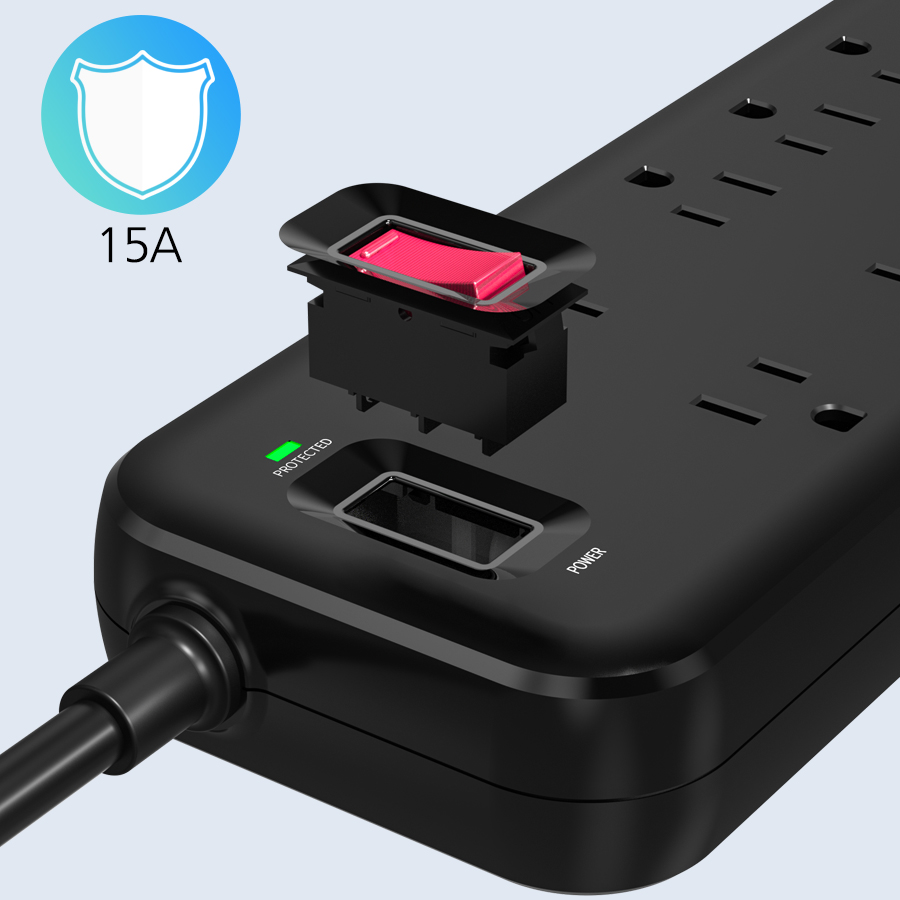 15A Overload Switch
In the event of power overload (Rated Power:1875W), the reliable Double-Break safety switch will trip off automatically to protect your devices and your home. The switch on top is designed to be perfectly loose, to ensure it won't get stuck after long time of use.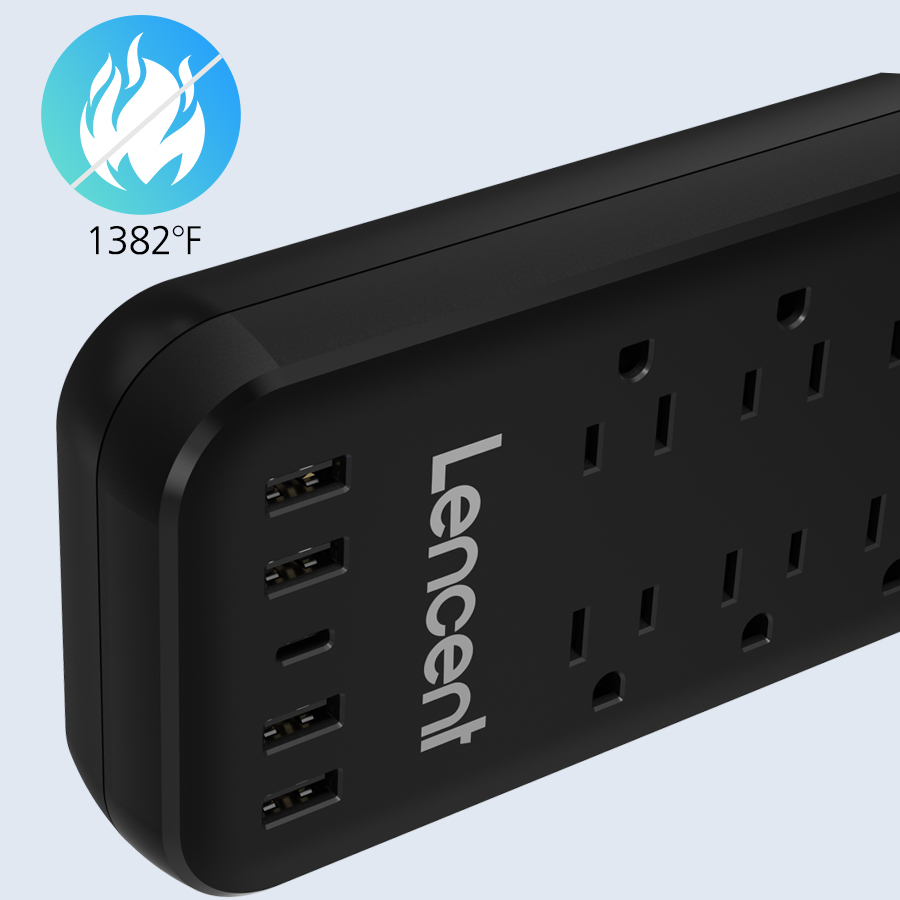 1382°F Heat Resistant
Material: Fire-resistance PC shell and 100% copper wire;
UL-V0 rated flame-retardant PC casing, flash point up to 1382°F.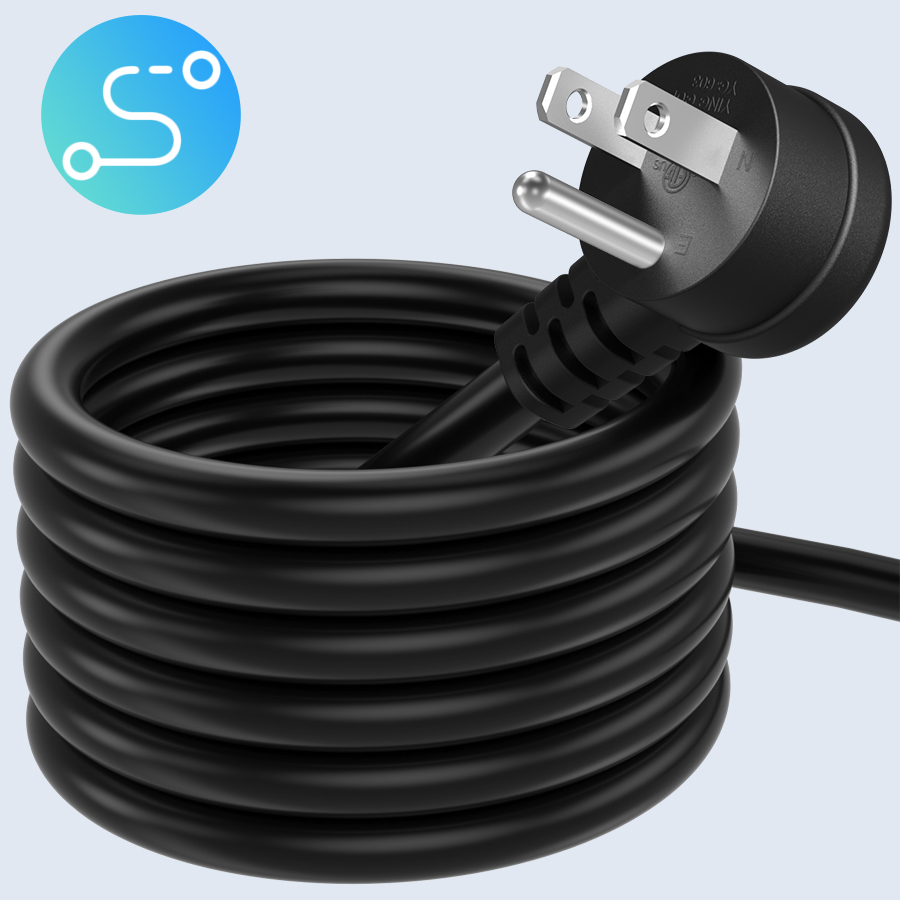 Extra-Long Cord
Cord length: 1.8 meters/6 feet
6-feet UL Approv-ed heavy duty cord
(14AWG 15A) provides optimal reach.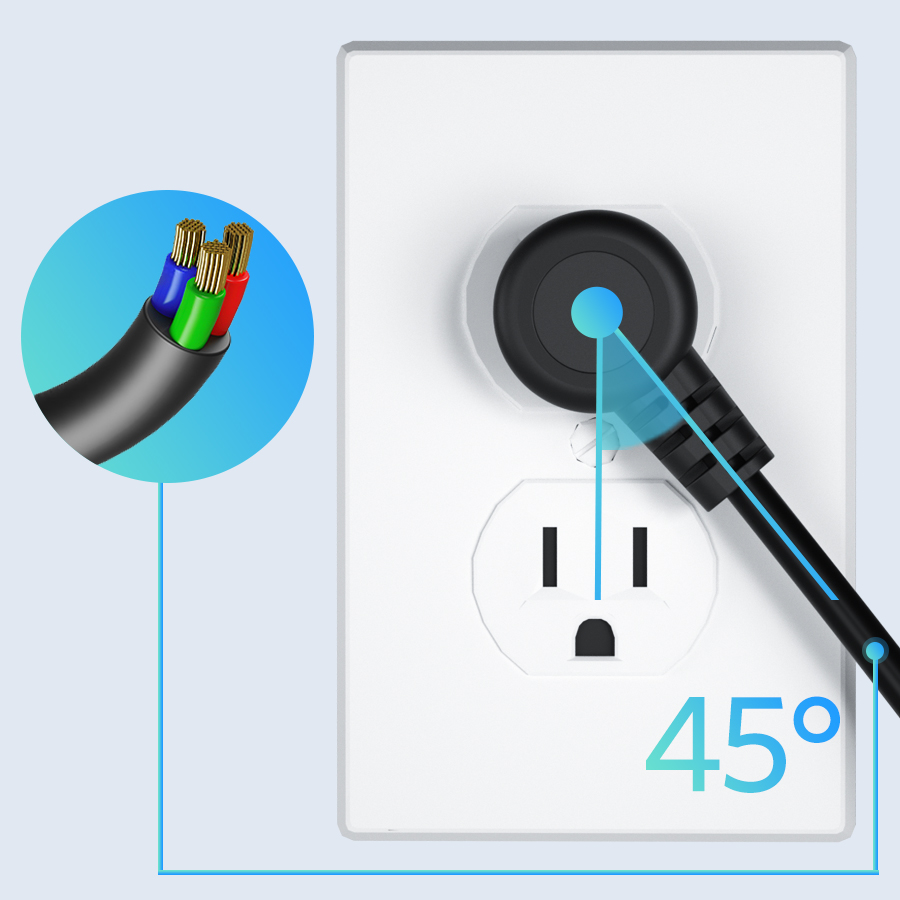 Heavy Duty Copper Cord & Low Profile Flat
45° Low profile flat plug design leaves you more room behind desks, sofas, and other furniture.
The Thicker Copper Wires for Stronger,High Conductivity,More Efficiency Power Output,Low Heat&More Safety
Wall Mountable
Mounting Method :
Measure the distance between the 2 keyhole slots with the same direction on the back of the power strip.
Punch 2 holes on the baseboard with the distance you just measured and insert two self-tapping screws.
Put the power strip into the screws and then pull it down a little bit. Please ensure that the screws slide into the smaller holes.

| | |
| --- | --- |
| Rated Power | 15A, 125V~ 1875W |
| USB A Output | 5V-2.4A ( 12W ) |
| USB C Output | 5V-3A ( 15W ) |
| USB Input | 110V~240V, 60Hz |
| USB Ports Total Output | 5V-5A ( 25W ) |
| Surge Protector Rating | 3600Joule ( 3600J ) |
| Item Dimensions | 11.8 x 3.3 x 1.2 inches |
| Package dimensions | 14.68 x 5.67 x 1.65 inches |
| | |
| --- | --- |
| AC Outlet | 12 outlets |
| USB-A Ports | 4 USB-A Ports |
| USB-C Ports | 1 USB-C Ports |
| Flat cord Length | 6 FT (about 1.8m) |
| 3-Prong Flat Plug | Slanted Angle |
| Material | Flame Retardant |
| Product certifi-cation | ETL Listed, FCC certifi-cated |
| Package Including | 1*Power Strip, 1*Screw, 1*User Manual |