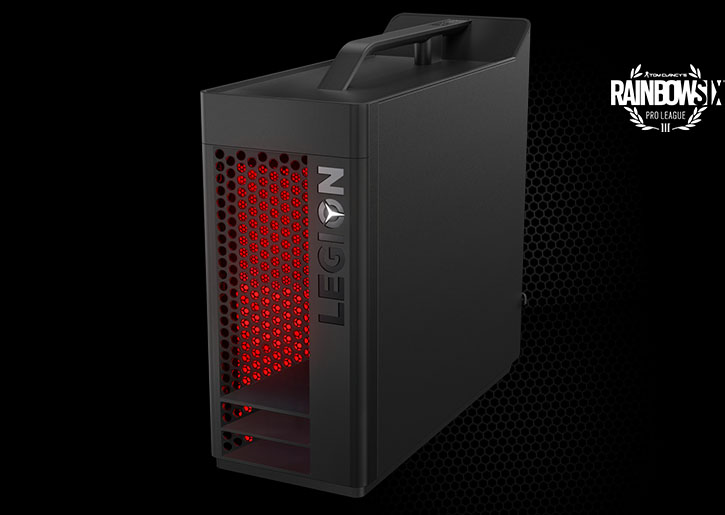 The gaming desktop, unleashed
Introducing the Lenovo Legion T530, a compact gaming desktop with menacing yet stylish appearance. Armed with Intel 8th Gen Core six-core processor, DDR4 memory, and NVIDIA GTX 10-series graphics card, it lets you enjoy superior gaming experience. The dual-channel thermal system ensures components run at their best without throttling while the tool-less entry design allows for easy upgrade. Enjoy immersive gameplay and entertainment enabled by Dolby Atmos technology.
FEATURES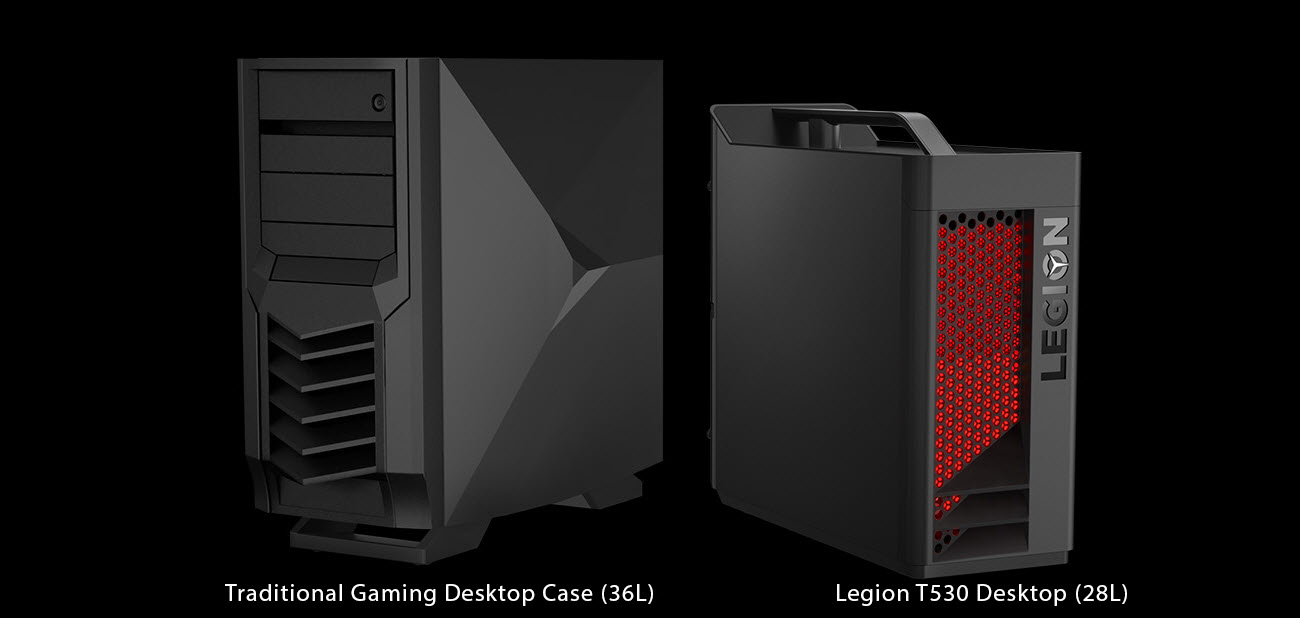 An evolution of style
Perfecting the gaming desktop, the Legion T530 Gaming PC brings you an evolved design, packed with serious power for commanding the battlefield. The Legion T530 was designed with a stylish exterior to complement its powerful technical components. Full red system lighting accents the Raven Black chassis, making this rig look just as savage as your gaming skills. The T530 also saves 22% more space than a traditional gaming PC, so you can enjoy the same high-performance as with its larger predecessors while keeping your gaming area clean and usable.

Designed for next level
The Legion T530 features 8th Gen Intel Core processors with up to six cores for ultra responsive multitasking and streaming. Optional Intel Optane memory1 lets you install your games with SSD-like speed at a fraction of the price, all while automatically accelerating your most frequently played games for fast launching and level-loading. This enhanced platform gives you the processing power to play your favorite games at the highest setting with the smoothest gameplay. SSD plus HDD configurations are also available.

Gaming, perfected
The Legion T530 offers up to the NVIDIA GeForce GTX 1060 graphics card1, which is loaded with innovative new gaming technologies - making it the perfect choice for the latest high-definition games. The GeForce GTX 10601 delivers brilliant performance for your favorite titles, opening the door to virtual reality and beyond.

Re-engineered, inside...
Rocking a dual-channel thermal system, the Legion T530 was engineered from the ground up to combat heat, delivering cooler system temperatures, reduced fan noise, and improved performance. Dedicated thermal channels for both your GPU and CPU deliver top-tier system performance the likes of which you've never seen.

...and out
In addition to its epic gaming performance, the LegionT530 comes with all the tools you need for easy upgrades. And by that, we mean no tools, because you won't need them. Adding or upgrading components is a cinch thanks to the tool-less entry design. Integrated cable management adds to the ease factor, giving you that clean esthetic look all the while enjoying the best gaming experience. Game the way you want—now and in the future.

Moving audio with Dolby Atmos
Dolby Atmos creates an amazing headphone experience with breathtaking, moving audio that flows above and around you. You'll feel like you're inside the action as sound comes alive with richness and depth, and seems to move in three-dimensional space. Immersive and emotive, Dolby Atmos is sound you can feel—sound that creates a powerfully moving entertainment experience.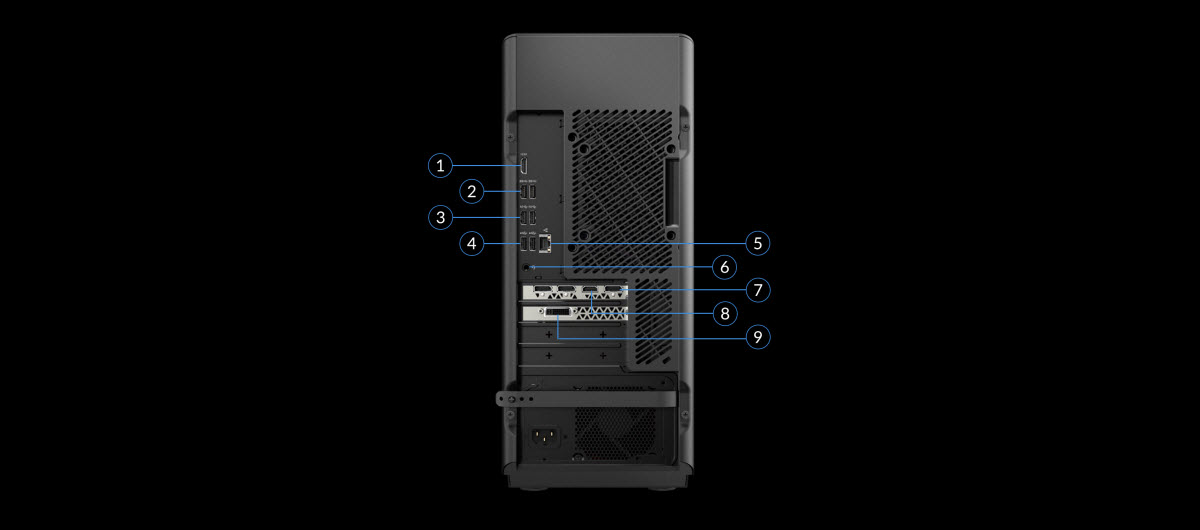 Rear-port connectivity
The T530 features these ports and connectors at the rear of the PC (see corresponding image above):
1. HDMI port | 2. 2 x USB 3.0 ports | 3. 2 x USB 3.1 Gen 2 ports | 4. 2 x USB 2.0 ports | 5. RJ-45 port | 6. Audio-out | 7. Display output2 | 8. Display output2 | 9. Display output2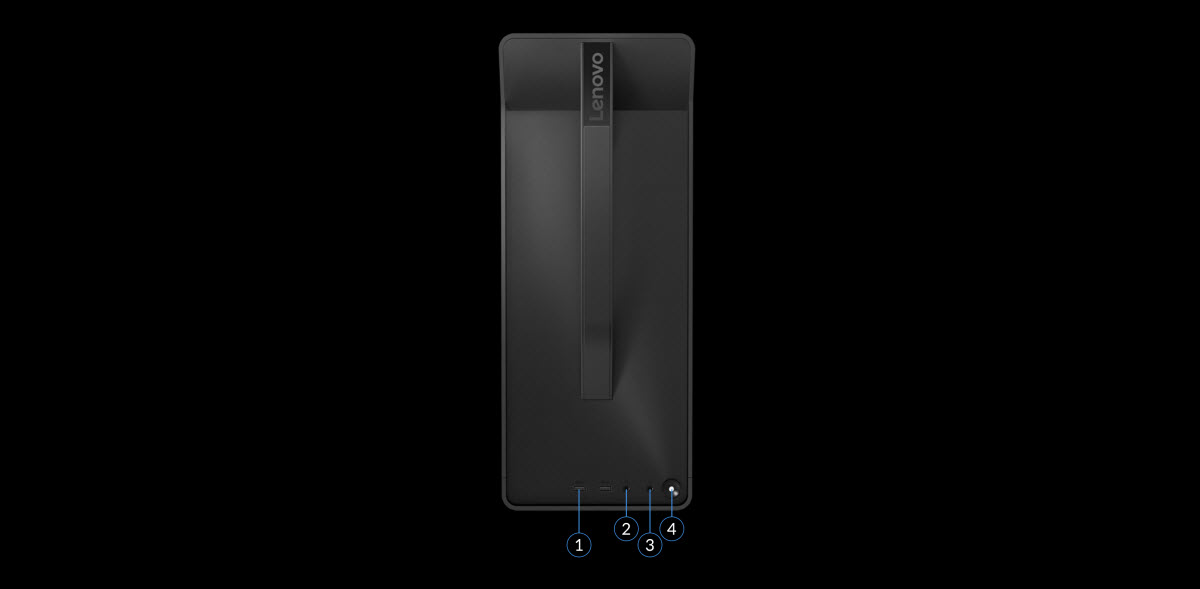 Front-port connectivity
The T530 features these ports and connectors at the front end of the top of the PC (see corresponding image above):
1. 2 x USB 3.0 ports | 2. Headset port | 3. Microphone-in | 4. Power on/off
Notes:
1. Specifications may vary according to different models.
2. Display output defined by graphics card selection. Rear port selection may vary.
3. Product pictures and display contents are provided for reference only.