The Nvidia GeForce GTX 950 is a performance-class graphics card that delivers competitive gaming performance and advanced graphics features at an attractive price. Powered by the latest powerful yet power-efficient Nvidia Maxwell architecture, the GTX 950 packs 768 CUDA Cores and 2GB GDDR5 memory in 128-bit width, empowering you to enjoy fast and responsive MOBA gaming and the latest games in 1080p.
Performance is just part of the story. The Maxwell architecture is engineered with the new VXGI (Voxel Global Illumination) technology to solve some of the most complex lighting and graphics challenges in visual computing. Scenes are significantly more lifelike as light interacts more realistically in the game environment. Super Resolution technology lets you enjoy the detail and brilliance of 4K gaming even on 1080p displays. The G-Sync technology ensures smooth, tear-free images by synchronizing display frame rate to GPU (require displays that support G-Sync). An array of NVIDIA GTX technologies are also built in, like GPU Boost, NVIDIA 3D Vision, NVIDIA Surround, NVIDIA PhysX, and GeForce Experience. These technologies together provide the most immersive and competitive gaming experience possible.
Twin Frozr V – Cooler, Quieter, Better Gaming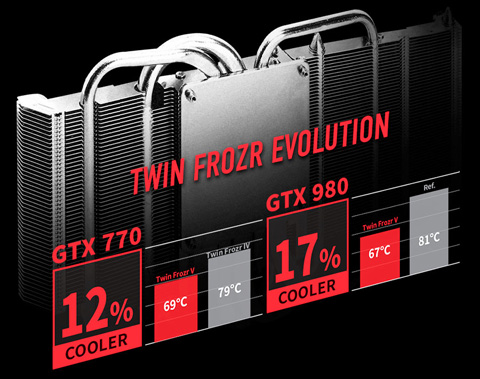 With every new generation of GPUs comes more performance. With every new generation of MSI Twin Frozr, we give you less noise and heat! We've listened to all your requests and the new Twin Frozr V is smaller, features stronger fans, generates less noise, keeps your graphics card and its components cooler and matches perfectly with your MSI GAMING motherboard including some funky LED lighting. 18 months on the development of the Twin Frozr V, including field testing in gaming cafés ensure the cards have the quality and stability to give you the FPS you need!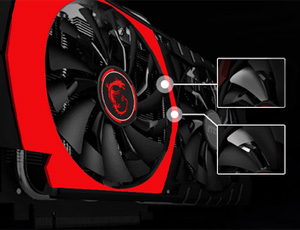 TORX Fan
Traditional Fan Blade - Maximizes downwards airflow and air dispersion to the massive heat sink below them.
Dispersion Fan Blade - Intake more airflow to maximizes air dissipation to heat sink.
Airflow Diagram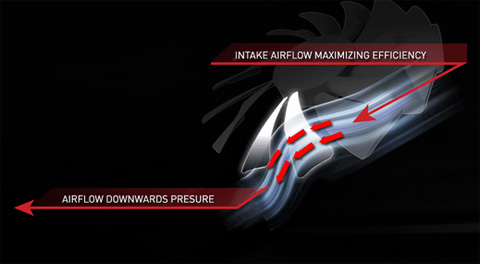 Advanced Dispersion Blade design generates 19% more airflow without increasing drag for supreme silent performance.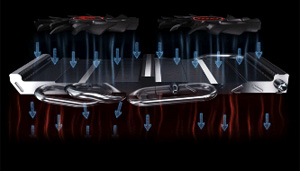 Airflow Control
MSI has fitted Twin Frozr coolers with the all new Airflow Control technology which guides more airflow directly onto the heat pipes by using special deflectors on the heat sink. In addition, this exclusive heat sink design increases heat sink surface area, greatly enhancing the dissipation efficiency.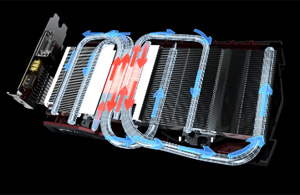 SU Pipe
SU Architecture is the best cooling solution for graphics cards. The GPU is cooled by a massive nickel-plated copper base plate connected to heat pipes on the MSI GAMING series graphics card. Additionally, the new heat pipe layout increases efficiency by reducing the length of unused heat pipe and a special SU-form design.
Zero Frozr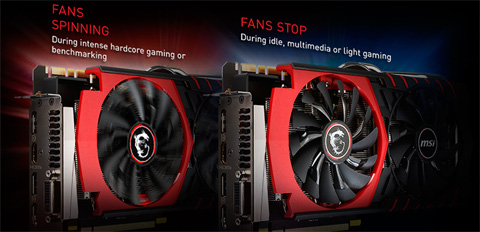 MSI's Twin Frozr V Thermal Designs are equipped with ZeroFrozr technology which was first introduced by MSI back in 2008. ZeroFrozr technology eliminates fan noise in low-load situations by stopping the fans when they are not needed. Compared to other graphics cards, there is no continuous hum of airflow to tell you there's a powerful graphics card in your gaming rig. This means you can focus on gaming without the distraction of other sounds coming from your PC.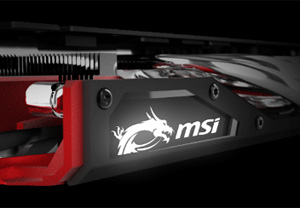 Catching the Vibe with Cool LED Effects
Featuring a premium LED illuminated MSI GAMING Dragon to lighten the mood. This brand new function allows you to choose from 5 unique modes to set the right ambience for your gaming moments with just one click.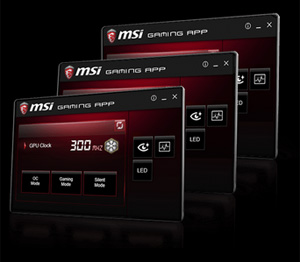 Gaming APP
The MSI Gaming App allows for one-click performance profiles that unlock extra performance for gaming or keep your card silent during light use. It also features the EyeRest tab, giving you easy access to image quality improving technology. The LED control tab gives you full control over your MSI GAMING LED lights to set the mood.
OC Mode - Maximum Performance through higher clock speeds and increased fan performance.
Gaming Mode (Default) - The best balance between in-game performance and thermal.
Silent Mode - The best environment for minimal fan noise.
On-Screen Speed & Temperatures
Real-time monitor GPU Core, DRAM Frequency, GPU & CPU Temperatures and much more, in game or in other fullscreen applications, customizable to your preference.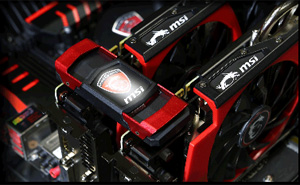 SLI Gaming
The only thing better than gaming with one MSI GTX 900 series GAMING graphics card is to have two or more running in SLI. The 2Way SLI Bridge L is the perfect link for your ultimate MSI GAMING SLI setup. Equipped with a premium LED illuminated GAMING logo, that can be synchronized to show the same effects as your MSI GAMING GTX 900 graphics cards. Optimized for 4K+ resolutions and 144Hz+ refresh rates, the MSI GAMING SLI bridge is ready for next generation gaming!
Military Class Components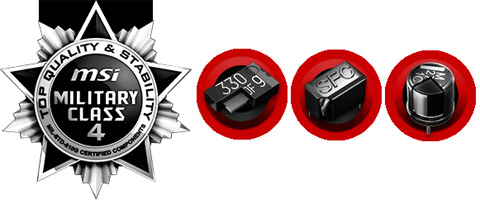 One of the deciding factors in performance is the quality of the components used. That is why MSI only uses MIL-STD-810G certified components for its Gaming cards because only these components have proven to be able to withstand the torturous circumstances of extreme gaming and overclocking.
HI-C CAP - MSI's Hi-c CAPs are tiny, and super-efficient capacitors. Their small footprint allows the installation of heat sinks and their high efficiency
SUPER FERRITE CHOKES - Super Ferrite Chokes use a Ferrite core that is Super-Permeable. This allows the Super Ferrite Chokes to run at a 35 degree Celsius lower temperature, have a 30% higher current capacity, a 20% improvement in power efficiency and better overclocking power stability.
SOLID CAP - With their aluminum core design, Solid CAP's have been a staple in high-end design mainboard designs and provides lower Equivalent Series Resistance (ESR) as well as its over-10-year lifespan.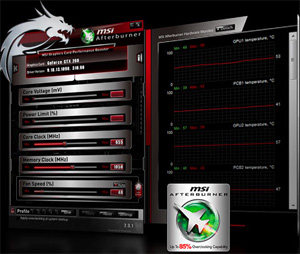 Afterburner
MSI Afterburner is world's favorite cross-vendor GPU overclocking tool. The easy interface gives access to the most detailed information about your graphics card and allows for tinkering with pretty much anything available on your graphics card.
Compatible with 64-bit Apps, available in many languages, including, Russian, Spanish, Chinese and Korean and completely customizable with many user-generated skins, everyone feels at home.
You can also run Afterburner on your iOS or Android smartphone and the built-in benchmarking utility Kombustor gives you insight in your Graphics Cards' true performance.
Predator
A built-in screen and video capturing tool named Predator which captures your screen as still images or videos with the push of a button and allows you to capture and record your coolest, goofiest and most awesome gaming moments on your PC!
XSplit | Gamecaster
XSplit Gamecaster & Broadcaster V2 lets you easily record your gaming moments and broadcast your live gameplay sessions to Twitch, YouTube, UStream and more.
It's simple, easy to use and ideal for sharing your gameplay with friends, family or the world - Or for capturing those perfect gaming moments, just for the heck of it.
So what are you waiting for? Join the revolution and start streaming and recording with XSplit Gamecaster today.